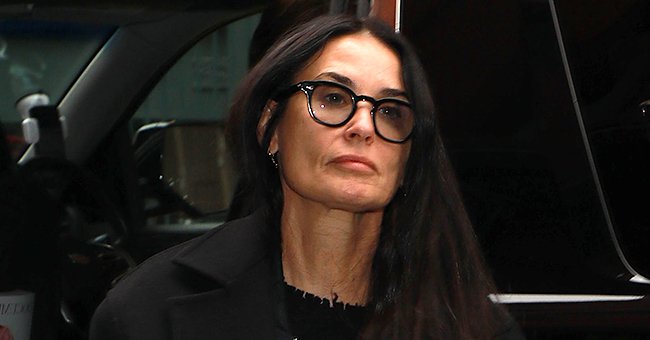 Demi Moore's Mother's Parenting Included Trading Her for Money to a Stranger

Demi Moore is one of the world's most famous actresses. She was a pillar of 1990s cinema as an icon of beauty and sensuality. However, her fame and recognition were preceded by difficult tests of fate.
She didn't have an easy childhood as it was marked by a mother who constantly drank and even traded her for a few hundred dollars.
Demi Moore rose above all, achieved great success in her career, and is a mother of three girls.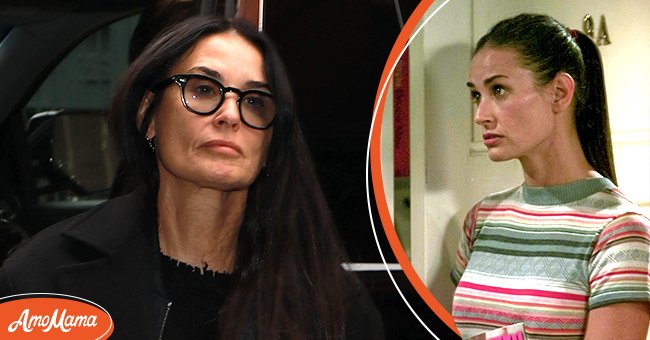 Photo of Demi Moore on May 03, 2019, in New York (left), Demi Moore on the set of "Will & Grace" (right) | Photo: Getty Images
ABOUT DEMI MOORE
Demi Moore, whose birth name is Demi Gene Guynes, was born on November 11, 1962. Her birth father, Air Force Airman Charles Harmon Sr., left her mother, Virginia King, after a marriage of two months.
By the time Moore was born, her parents were no longer together. When she was three months old, her mother remarried a newspaper advertising salesman, Dan Guynes.
Her stepfather changed jobs a lot, and this meant they had to move houses several times. At 12, she underwent two eye surgeries to correct severe strabismus.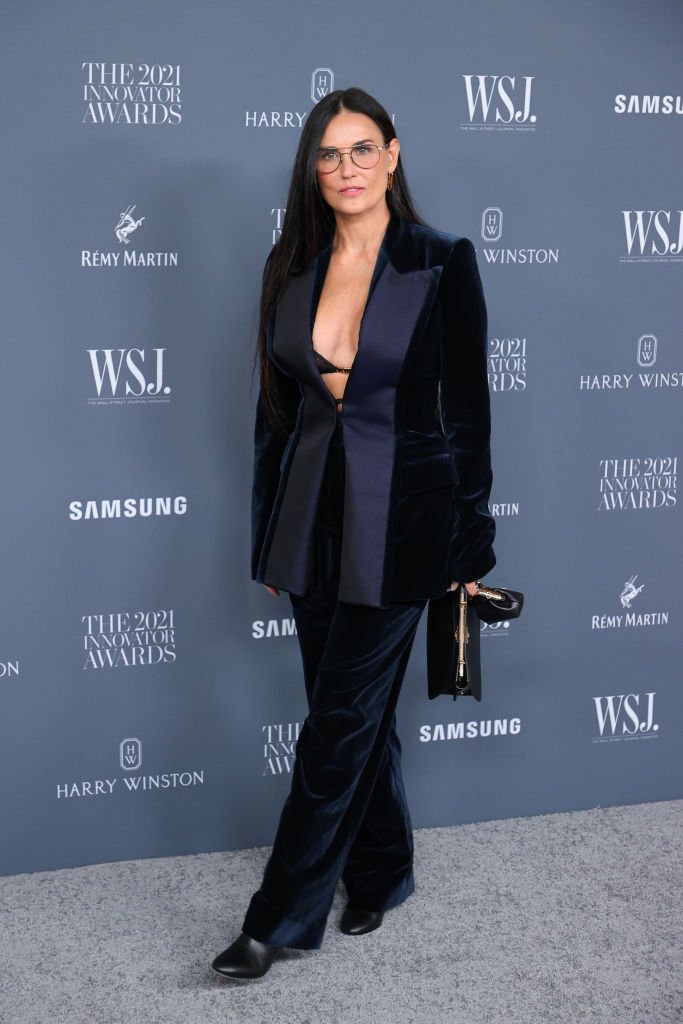 Demi Moore at the WSJ Magazine 2021 Innovator Awards on November 1, 2021, in New York | Photo: Getty Images
She also suffered from kidney dysfunctions, and at 13, she discovered the truth about her birth father. While still a teenager, she left her mother to live with her grandmother.
She enrolled at Fairfax High School, which she left in her junior year, and signed with the Elite Modeling Agency before enrolling in drama classes.
In 1981, she married Musician Freddy Moore and took his surname for the rest of her artistic career, which, fortunately for her, took off in the same year.
In 1981, she landed a role in "General Hospital" before making her film debut in "Choices." She then starred in movies like the 1984 "Blame it on Rio" and "No Small Affair."
In 1985 she started getting public recognition when she starred in "St. Elmo's Fire." In 1986, she had a positive turning point in her career with "About Last Night."
However, her most successful movie is "Ghost" — a 1990 romantic fantasy thriller directed by Jerry Zucker. Moore attained her A-list status with roles in "A Few Good Men," "Indecent Proposal," and "Disclosure."
By 1995, she had become the highest-paid actress in Hollywood for her role in "Striptease." On the one hand, her career took off; however, on the other hand, her marriage with Freddy Moore lasted just five years.
In 1987, she was married to Bruce Willis, and the two became one of the most famous couples until 2000 when they divorced. The couple had three daughters: Rumer Glenn, Scout LaRue, and Tallulah Belle.
After her divorce from Willis, Moore remarried for the third time in 2005, with another actor, Ashton Kutcher. Their marriage ended in divorce in 2013.
She didn't have children with Kutcher, but Moore revealed that she had suffered a miscarriage in the sixth month of her pregnancy. On September 24, 2019, Moore published her tell-all memoir.
The book titled "Inside Out" revealed her dark childhood, the adversities she had faced, and her resilience. Her memoir was an instant number-one New York Times bestseller.
MOORE'S RELATIONSHIP WITH HER MOTHER
The actress talked about her days growing up in the book, explaining that her parents battled alcoholism and raised Moore in an environment filled with infidelities and fights.
When Moore was only 12, her mother had attempted suicide, and she had to save her from an overdose. Moore had to take out the pills her mother had tried to swallow from her throat while her father held her mouth open.
At 13, she found her parents' marriage certificate, and that was when she realized that Dan Guynes, the man she knew as her father, was not her birth father.
When she asked her mother if Guynes was her father, her mother lied to her. When Moore visited an aunt in Texas, she asked her, and she eventually invited Moore's birth father over.
Moore's mother never wanted Moore to know that her birth father existed. Moore felt betrayed that everyone but her knew, but she also understood that her mother had felt protective.
Another very serious episode that marked her adolescence forever was when her mother gave her off at 15. Moore's mother supposedly traded her to an acquaintance, who raped her, for $500.
When she sat down with "Good Morning America's" Diane Sawyer to discuss her memoir, Moore mentioned that the man had revealed the amount he had given her mother to be with her.
Even though it was a painful experience, Moore doesn't believe that her mother sold her. However, she blamed her mother for putting her in harm's way and giving a man access to her body.
MOORE BECOMING A MOM
After publishing her book, many TV shows hosted Moore, where she talked about her troubled childhood and relationship with her mother.
She recalled that after Dan and her mother separated, she became responsible for her mother's wellbeing. Taking care of her mother was challenging, seeing as she depended on alcohol at the time.
Two years after Moore's stepfather's separation from her mother, he committed suicide at 37. His suicide only worsened Moore's mother's alcoholism.
In 1990, Moore broke off contact with her mother after she walked away from a rehab stay that Moore had paid for. However, Moore had reconciled with her before she died of cancer in 1998.
Just as Moore had a strained relationship with her mother, her daughter, Tallulah, also had a strained relationship with her. Tallulah and Moore's rocky relationship began when Moore was married to Kutcher.
There was a painful lack of communication between Moore and Tallulah. Moore had been dealing with addiction and was dependent on Kutcher, and Tallulah felt abandoned.
Rumer and Scout having moved out worsened Tallulah's feeling of abandonment. Tallulah felt forgotten and believed that Moore didn't love her anymore.
Tallulah did not speak to Moore for three years, and Mothers Day made it more heartbreaking for her. However, after Tallulah had "a metamorphosis of inward self-reflection," she and Moore reconciled.
Today, Moore is closer to her children more than ever. Their closeness led them to quarantine together during the coronavirus pandemic.
If you or someone you know is considering suicide, please contact the National Suicide Prevention Lifeline at 1-800-273-TALK (8255), text "help" to the Crisis Text Line at 741-741, or go to suicidepreventionlifeline.org.
Please fill in your e-mail so we can share with you our top stories!