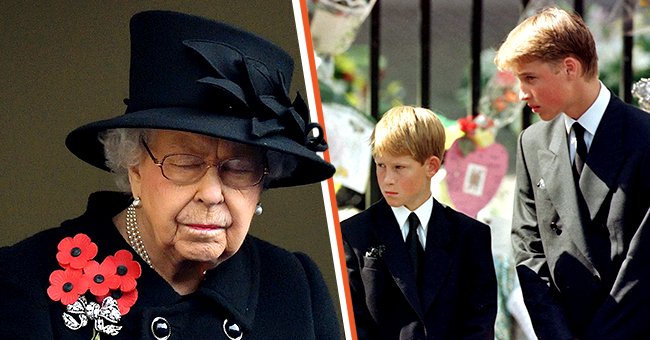 Queen Elizabeth II | Prince Harry and Prince William | Source: Getty Images
The Queen's Decision to Shield Princes William and Harry after Lady Diana's Death
When Diana, Princess of Wales, passed away in 1997, Queen Elizabeth had to make tough decisions about her grandsons and was met with backlash from the public.
The Princess of Wales, Lady Diana Spencer, passed away on August 31, 1997, after her driver Henri Paul crashed into the 13th pillar of the Pont d'Alma bridge in Paris, France.
Paul and Diana's friend, Filmmaker Dodi Al-Fayed, died during the crash while Princess Diana was rushed to Paris' La Pitie Salpetriere Hospital. However, several hours later, she passed as a result of her injuries.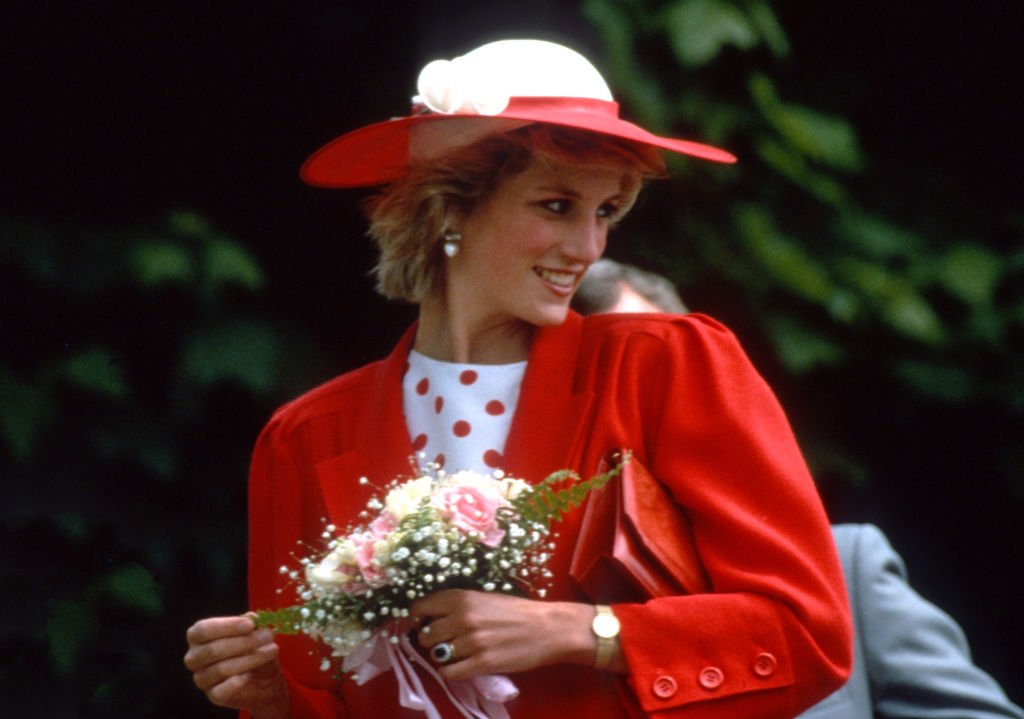 Diana, Princess of Wales, wearing a red jacket, visits Atlantic College, 1985, Llantwit Major, United Kingdom. | Source: Getty Images
Hearts broke worldwide as news that the "People's Princess" had passed away became known.
At the time of her death, she and Prince Charles's two sons, Prince Harry and Prince William, were spending time with family at the royal family's Balmoral Castle in Scotland with their father.
Queen Elizabeth decided to shield the boys from the public so they could grieve the devastating loss of their mother in privacy. They were 12 and 15 at the time.
Part of Queen Elizabeth's attempt to keep the boys shielded included keeping them at Balmoral Castle for five days after their mother's passing. She also hid any newspaper reporting on Diana's death.
The monarch did not speak out publicly until the Thursday after Diana's death. The late princess passed in the early hours on Sunday, meaning the Queen only addressed the nation five days after her passing.
People met the Queen with backlash as some felt she was distant and heartless following Diana's passing. Others were concerned that she didn't fly a flag in Diana's honor at the royal residence. One woman told CNN at the time:
"There is this massive flagpole and it is totally empty, and the people don't understand why. They say because the queen's not there,... Maybe the queen should be there."
On the contrary to many beliefs that the Queen disliked Princess Diana, she approved of her son's marriage to her, and the two had a good and polite relationship.
A spokesperson for Buckingham Palace stated the British flag or Union Jack, substituting the Royal Standard, would fly at half-staff at the Palace during Princess Diana's funeral.
After various media outlets reported the public's unhappiness with how the royal family had handled the situation, the family released a statement. It declared that comments that they were "indifferent" to the country's sorrow of Diana's death had hurt them.
At the time, the royal family felt they tried their best to make the right decisions, but as one citizen pointed out, "Whatever they do, people will find fault."
Despite whatever backlash the palace and the Queen received for their reactions to Princess Diana's death, Prince William and Prince Harry were grateful they were allowed to grieve their mother in privacy.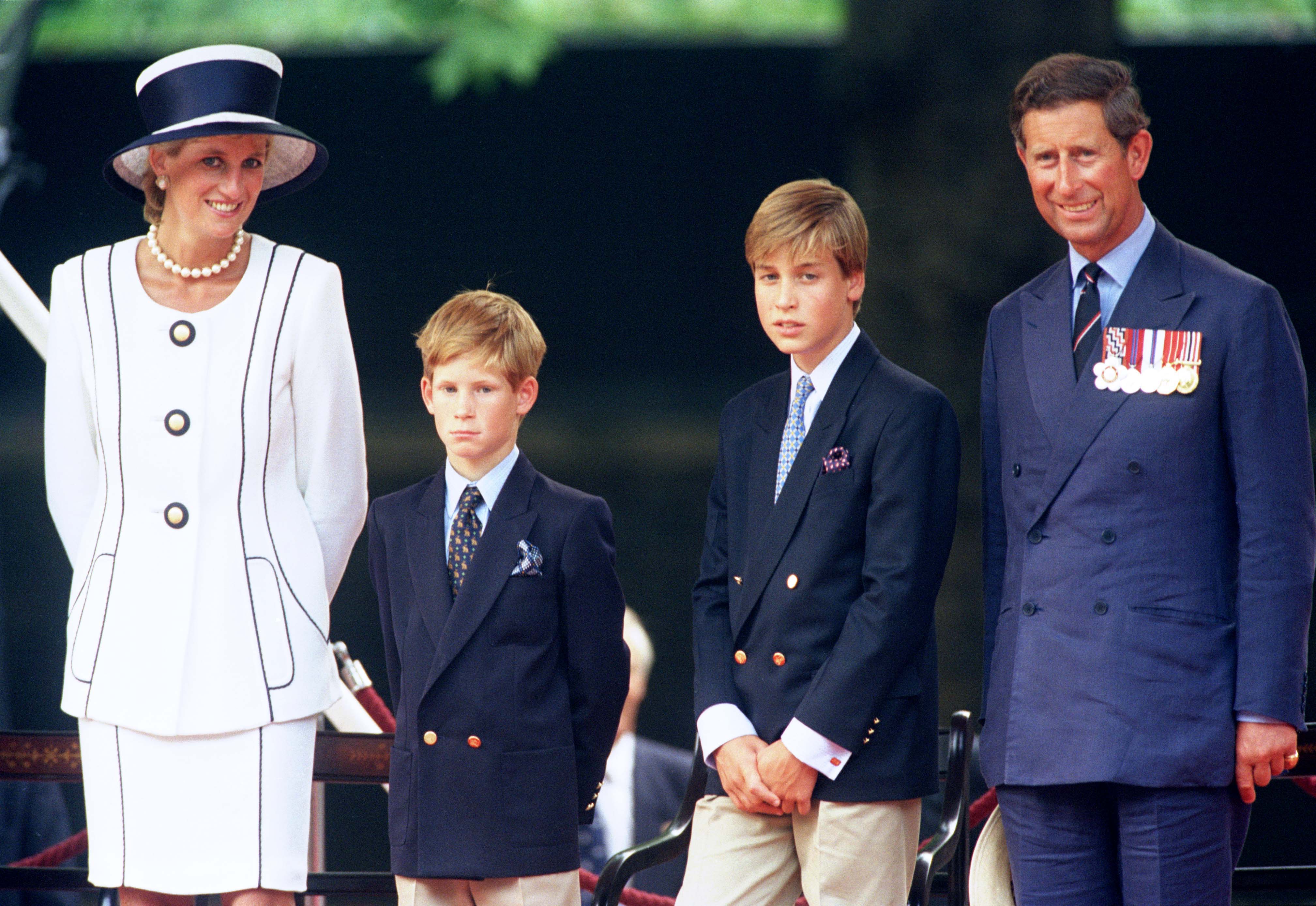 Prince Charles and Princess Diana, of Wales, Princes William and Prince Harry at The Vj Day 50Th Anniversary Celebrations, London. | Source: Getty Images
In a 2017 BBC documentary called "Diana, 7 Days," Prince Harry and Prince William opened up about what they experienced in the first week following their mother's passing. William recalled:
"I remember just feeling completely numb, disorientated, dizzy. You feel very, very confused. And you keep asking yourself, 'Why me?' All the time, 'Why? What have I done? Why?'"
The brothers acknowledged how hard it was for their grandmother to make decisions as she was torn between being the monarch and their grandmother.
Harry speculated on the thought process his family was going through at the time. He explained it was a matter of "how do we let the boys grieve in privacy?" but then when do they "put on their prince hats and carry out duties?"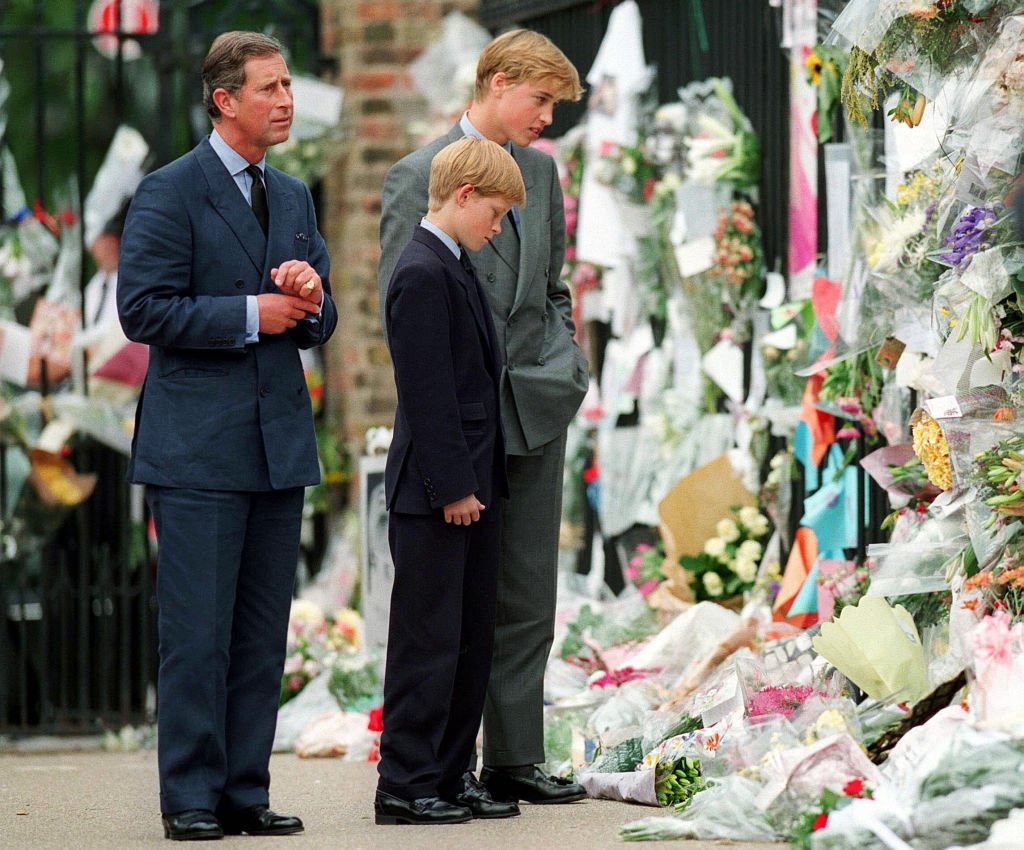 The Prince of Wales, Prince William and Prince Harry look at tributes to Diana, Princess of Wales outside Kensington Palace on September 5, 1997, London, England. | Source: Getty Images
While in Balmoral, the royal family attended a service at Crathie Kirk Church. Later, when they arrived home, the young royals were greeted with letters, flowers, and tributes for their mother.
The following Monday, Diana's sons joined their father, grandfather, Prince Philip, and their uncle, Earl Spencer, to walk behind Princess Diana's coffin during the funeral procession.
Although the Princes seemed conflicted on whether it was the "right or wrong" decision, William stated the family chose together. Harry revealed he was glad to have participated:
"Generally, I don't have an opinion on whether that was right or wrong. I am glad I was part of it. Looking back on it now, I am very glad I was part of it."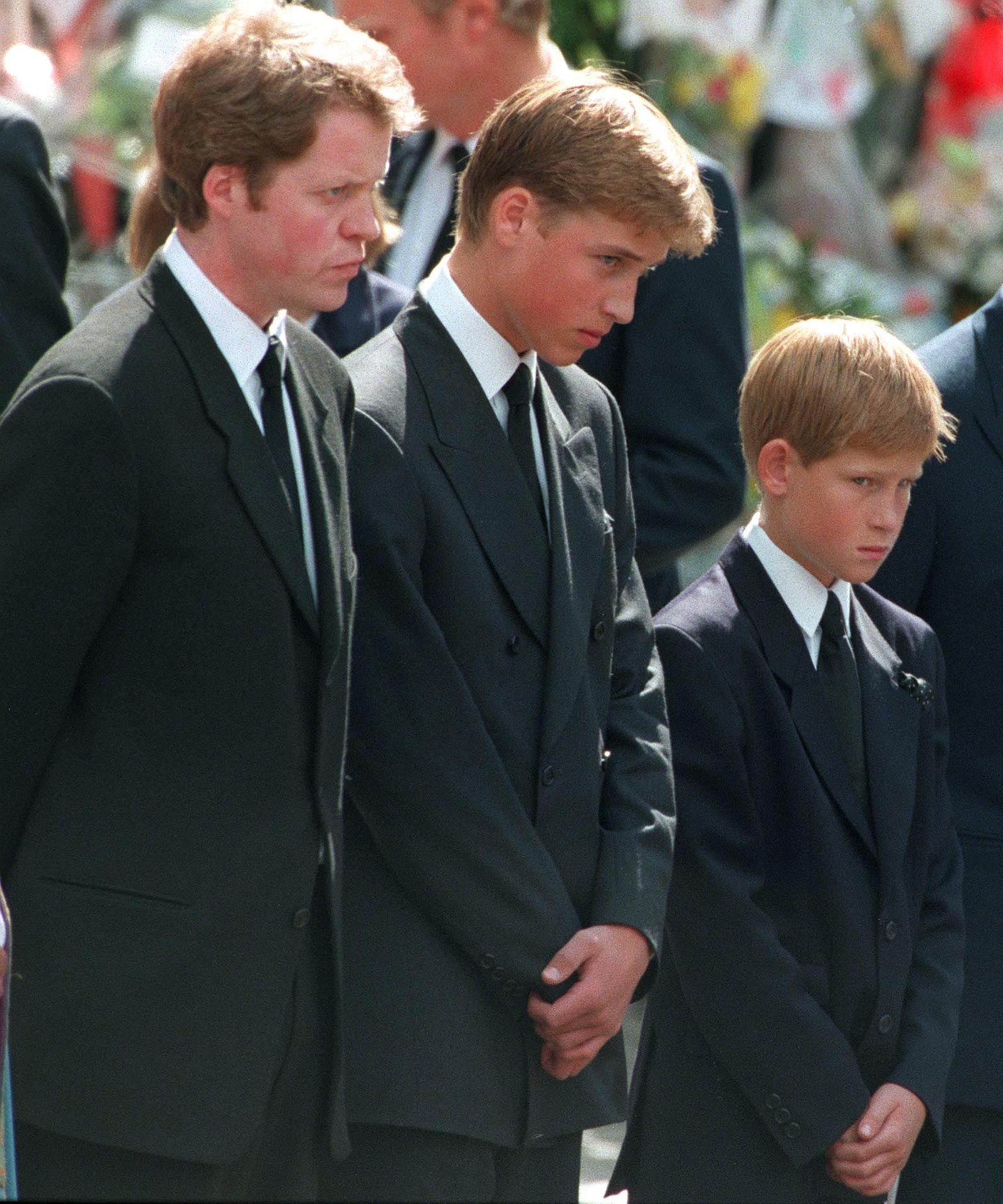 Princes William, Prince Harrys and their uncle Earl Spencer outside Westminster Abbey on the day of Princess Diana's funeral service on September 6, 1997. | Source: Getty Images
Prince William and Prince Harry's emotional conversation about their mother's passing came after Prince Harry admitted he regretted not speaking out about his mother's death during a charity event in 2016.
During an event for the mental health charity Heads Together, Harry opened up about his mother's passing. He told former England captain Rio Ferdinand that it took him "28 years of [his] life" to speak about losing his mother.
The two Princes have continued Diana's charitable and powerful legacy with their philanthropic work. They are now proud fathers to their children, and Diana's message will live on with her grandchildren.
Please fill in your e-mail so we can share with you our top stories!