Getty Images | youtube.com/GrahamBensinger
TMZ: Michael Strahan Was Accused of Cheating on Nicole Murphy Who Once Failed to Provide Proof

Nicole Murphy once tracked down her then-fiance to a hotel room in Beverly Hills as she believed he was with another woman. She banged on the door for 20 minutes before being kicked off the property.
Former New York Giants star Michael Strahan, and Nicole Murphy, Eddie Murphy's ex-wife, were once engaged. However, Murphy ended their relationship publicly and claimed she had proof of his infidelities.
At the beginning of their relationship, Strahan and Murphy seemed truly happy together. They started dating in 2007, and Strahan proposed in 2009.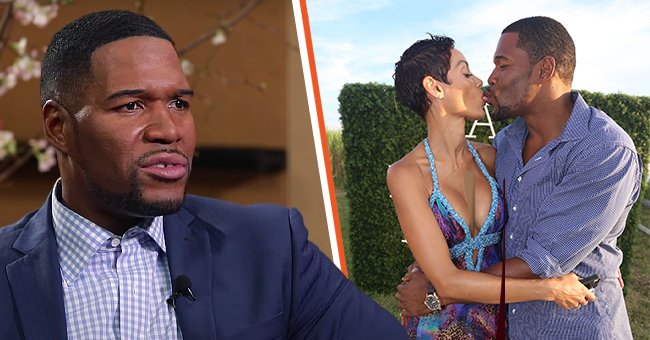 Michael Strahan pictured talking to Graham Bensinger in 2018 [Left]. Nicole Murphy and Michael Strahan sharing a kiss at the 14th Annual Art For Life Gala, 2013 [Right]. | Photo: Getty Images
In 2008, Murphy boasted about her relationship with the NFL commentator and said they had a relationship based on communication and shared interests.
However, beneath the surface, the relationship was not as solid as it seemed. Murphy had started spending time with Universal Records A&R Exec Demetrius Spencer.
She also admitted that she felt Strahan was spying on her. A similar allegation Strahan's ex-wife Jean made during their 2006 divorce trial in which she said he had installed spyware on her phone.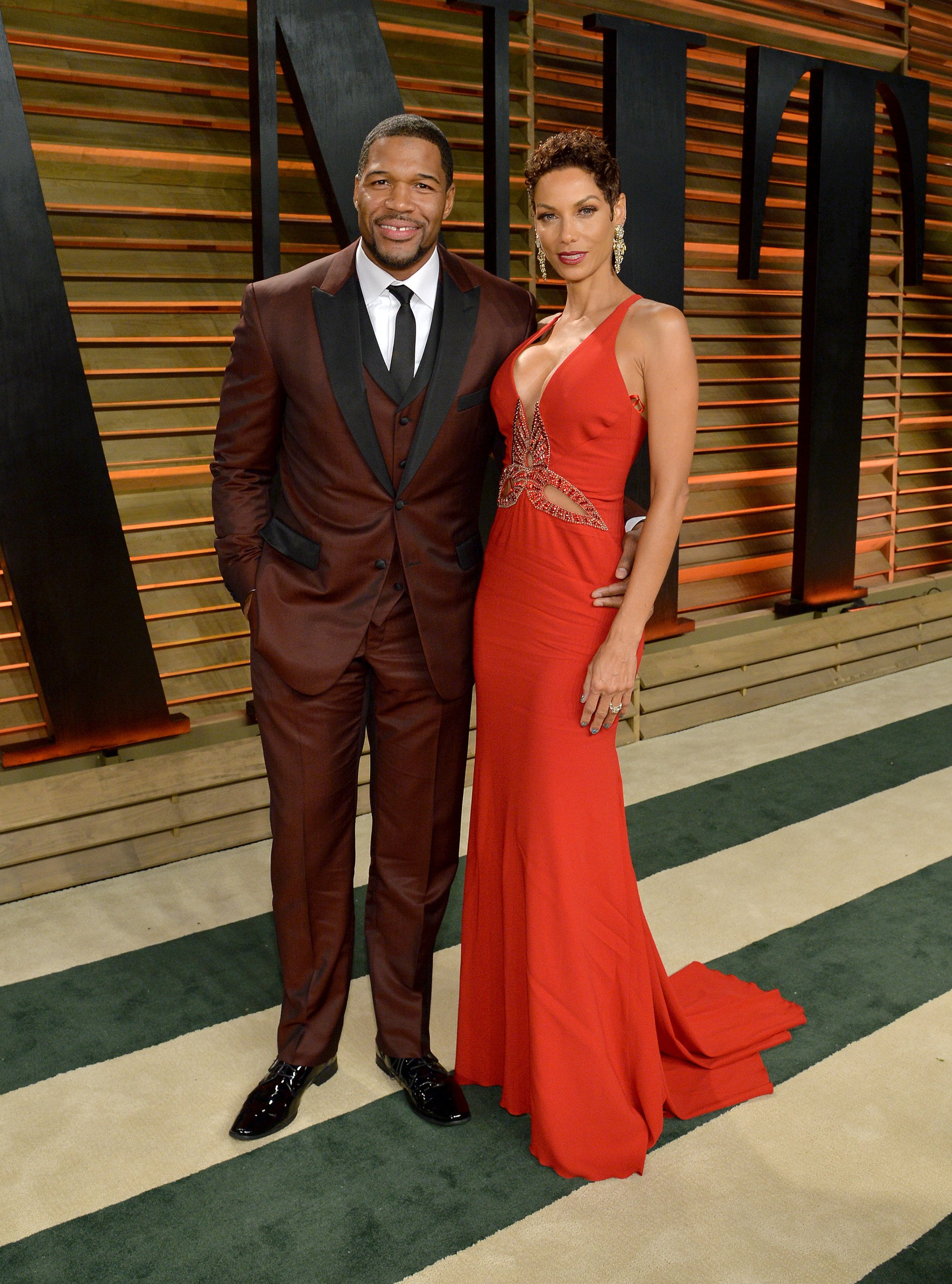 Michael Strahan and Nicole Murphy attend the 2014 Vanity Fair Oscar Party, 2014, West Hollywood, California. | Photo: Getty Images
Murphy shared there were a few instances when he knew where she was without telling him. Eventually, after taking her Range Rover to a mechanic, workers found a tracking device in her car.
Later a source revealed Strahan placed a second tracking apparatus in her car. However, mechanics removed it while Murphy and Spencer were out to lunch.
Spencer and Murphy ended their relationship but remained friends. Although there seemed to be conflicts between Murphy and Strahan, he proposed in 2009, and she accepted.
Strahan was excited about their developing relationship. Shortly after he proposed, he told People that he had a great relationship and was happy. He shared to the outlet:
"I have a great relationship and she's a great girl. I don't like to talk much about my private life, but I'm really happy."
However, the couple never got married. The couple called off the engagement in 2014. It seemed there was a lot at play between them and it was not only cheating rumors that ended their relationship.
A rep for Strahan initially said the breakup was due to scheduling differences. The press also speculated that Murphy's unwillingness to sign a prenup might have been attributed to the split.
But in 2014, shortly after the breakup, Murphy revealed to the public that she had evidence of Strahan's infidelities. According to TMZ, Murphy had first heard of Strahan possibly cheating a few months prior.
But when she was convinced it was confirmed, she went public with the news, which happened to be right as Strahan was entering the Hall of Fame. The nature of Murphy's proof was never released or found.
Furthermore, it seems Murphy was dealing with Strahan's straying ways earlier in the year. The outlet reported that Murphy went on a "search and destroy mission" to find her then-fiance as she suspected him of cheating.
According to the outlet, Murphy got word that Strahan was staying at the Beverly Wilshire Hotel in January 2014. She went to confront him as she suspected he was there with another woman.
She allegedly went to his hotel room and banged on the door while screaming his name and shouting that she knew he was in the room with a woman.
The commotion led to several guests waking up and peaking out into the hallway. Murphy's rant lasted 20 minutes before security escorted her out of the hotel.
Although Murphy was adamant in her allegations of Strahan being unfaithful, it was never proved he was in the hotel room, as he never opened the door. Additionally, she did not share the alleged proof she had that he cheated.
Despite the lack of evidence, being unfaithful seemed to be a common occurrence in Strahan's past relationships. According to A New York Post article from 2005, Strahan's ex-wife's lawyer laid out all the times he had interacted with his mistress.
Despite the problematic end of her relationship with Strahan, Murphy moved on. In 2019 she was seen kissing Director Antonio Fuqua, who was married to Actress Lela Rochon.
At the time, People reported the pair were spotted kissing in Italy. But it seemed it was an extramarital affair for Fuqua as a source stated he was with his wife a few weeks before and they seemed happily married.
In 2021, it seems there is not a man in Murphy's life. Instead, she is focused on her children and her grandchildren. Her Instagram is filled with gorgeous photos of her family, insight into her beauty routine, and stunning photos of herself with friends.
Please fill in your e-mail so we can share with you our top stories!