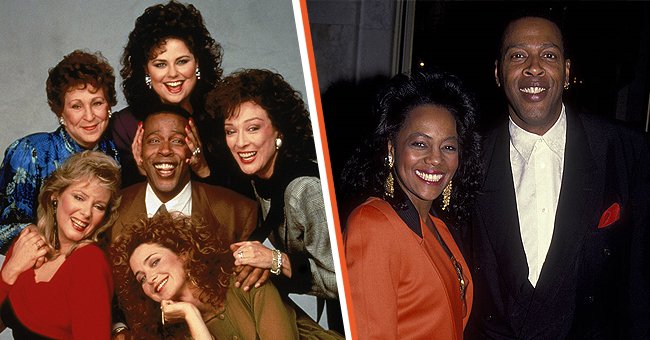 Getty Images
Meshach Taylor & Actress Wife Were Married through Ups & Downs until His Death in 2014
Meshach Taylor is one of a few Hollywood legends who found love in their lifetime. Sadly, he only enjoyed his fairytale romance for three decades before death came calling.
What Meshach Taylor lacked in career longevity, he certainly made up for in his love life. He was married to the love of his life, a father of four amazing kids, a grandfather of four, and the star of over a hundred feature films. There was little left unchecked in the actor's bucket list before his passing.
Yet, his untimely demise at 67, following a long illness, left many stumped. Fans were upset to lose Taylor because of his career escapades and because many had looked up to him as a love mentor, thanks to his longtime marriage to Actress Bianca Ferguson.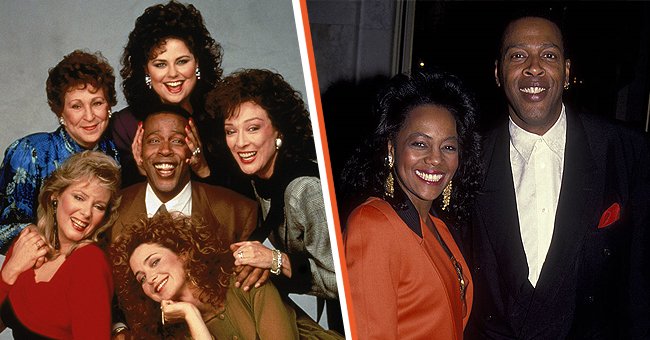 Portrait of the cast of the television series, "Designing Women," circa 1987[left]. Meshach Taylor and Bianca Ferguson attend Clinton For President Campaign Rally on January 28, 1991 at the Beverly Wilshire Hotel [right]. | Photo: Getty Images
Notably, the pair sustained their marriage through ups and downs for over three decades. More amazing is that the couple had three children together to seal their undying love and diligent vessels to carry on their legacies.
Meshach Taylor was an American actor notable for his role as Anthony Bouvier on the sitcom "Designing Women." The icon landed on the planet in April 1947 as the son of Hertha Mae and Joseph Taylor.
He grew up with his parents in New Orleans, where he completed his high school education before proceeding to Wilmington College and Florida A&M University to obtain a degree in dramatic arts.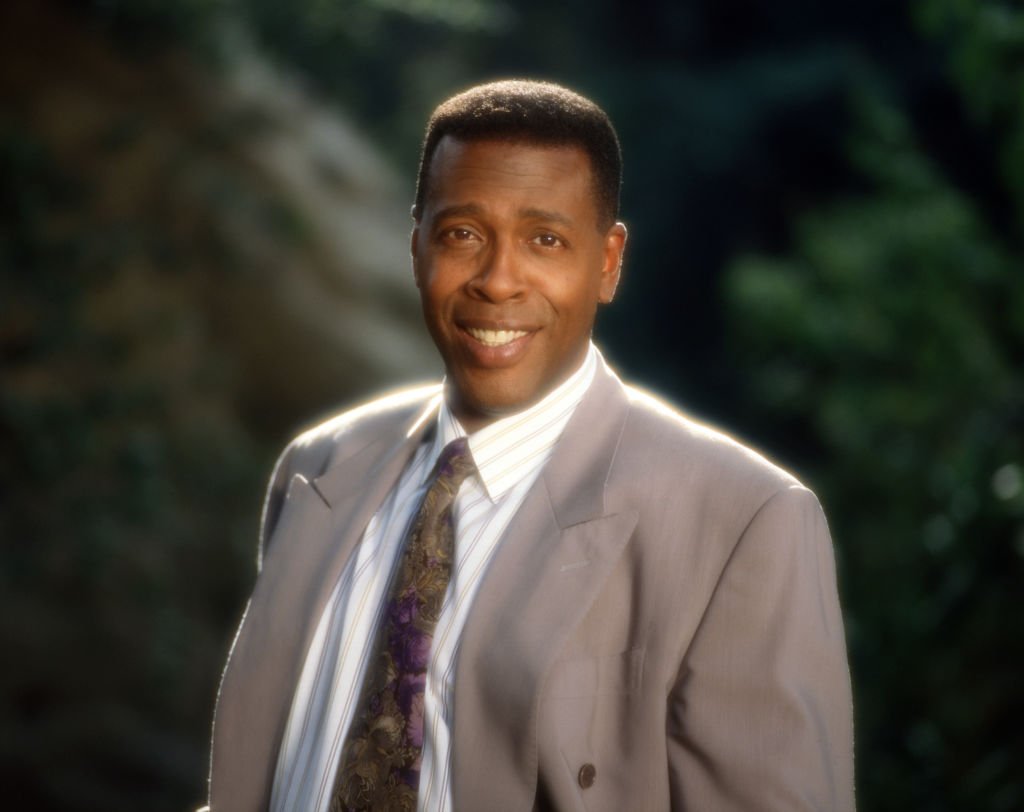 Portrait of cast member, Meshach Taylor (as Anthony Bouvier), in the CBS television comedy, "Designing Women" on August 26, 1991. | Photo: Getty Images
He left college to pursue a career as a State House Reporter for the WIFE radio station, eventually delving into the movie industry. The Boston-born entertainer appeared in various theatre productions, movies, and TV shows throughout his career, which spanned almost four decades.
Some of his notable works include "Designing Women," "Dave's World," "Beauty And The Beast," "Mannequin," "Damien: Omen II," and "All Of Us," among others. He also hosted several talk shows and game shows and starred as Alastair Wright in the Nickelodeon series "Ned's Declassified School Survival Guide."
THE BIRTH OF A LOVE STORY
Taylor was previously married to Sandra Taylor, with whom he shares one child. Following his divorce from his first wife, the actor met "General Hospital" actress Bianca Ferguson.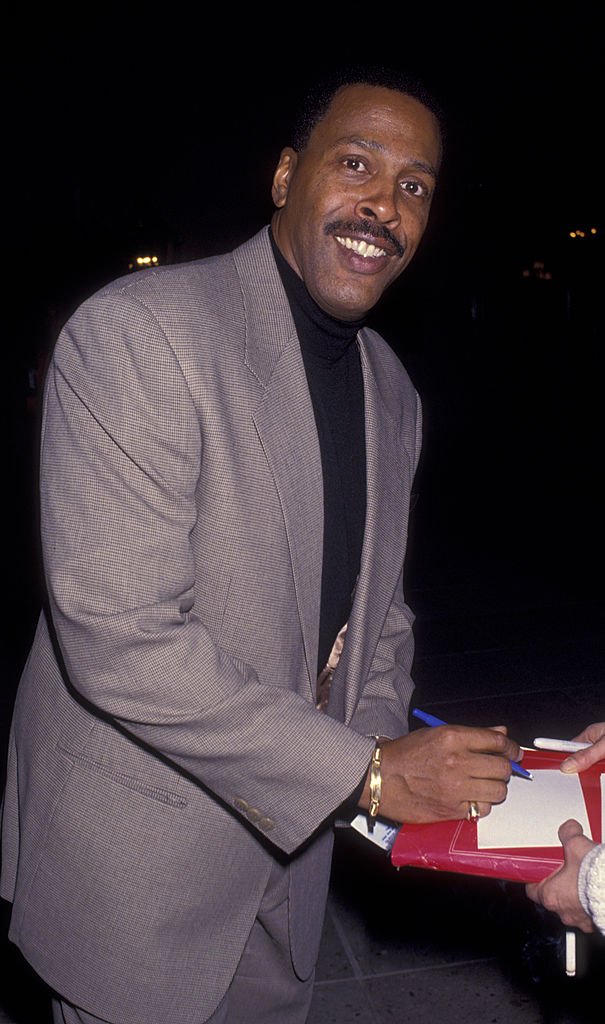 Meshach Taylor attends CBS TV Affiliates Party on January 13, 1994 at the Huntington Ritz Carlton Hotel in Pasadena, California. | Photo: Getty Images
They tied the knot in 1983, marking the start of their life together. The twosome welcomed three children during their marriage, further cementing their love.
Taylor's love for his wife only grew deeper as they expanded their family, supporting each other in the most incredible ways. The icon once recounted how he stood by his wife while she was pregnant. He ensured she never felt awkward by indulging in her cravings with her. He explained:
"My wife was pregnant, and we had been eating everything that wasn't melted down. I hadn't noticed the weight gain because I still felt the same proportionate size larger than her."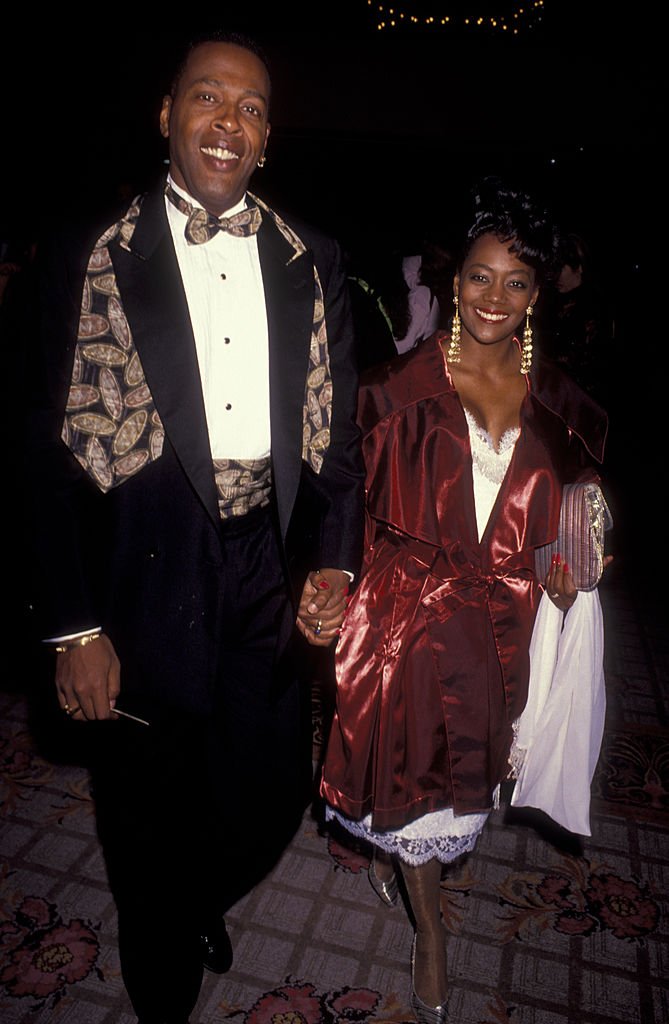 Meshach Taylor and Bianca Ferguson attend Natonal Conference of Christians and Jews Benefit Gala on October 28, 1991 at the Century Plaza Hotel | Photo: Getty Images
At the end of their pregnancy journey, Taylor had gained so much weight that he considered his physique unflattering. With a weight of up to 220lbs, he admittedly cringed just from watching himself onscreen and became determined to get back in shape.
The icon began the journey to lose weight once he noticed the extra pounds. First, he changed his diet, substituting his normal breakfast and lunch for a liquid protein drink.
His only solid meal of the day was dinner, which usually comprised grilled fish, chicken, and lots of fresh veggies. He also added a mile and a half walk a day to his routine. After two and a half months of consistency, the star attained his body goals and remained committed to staying fit.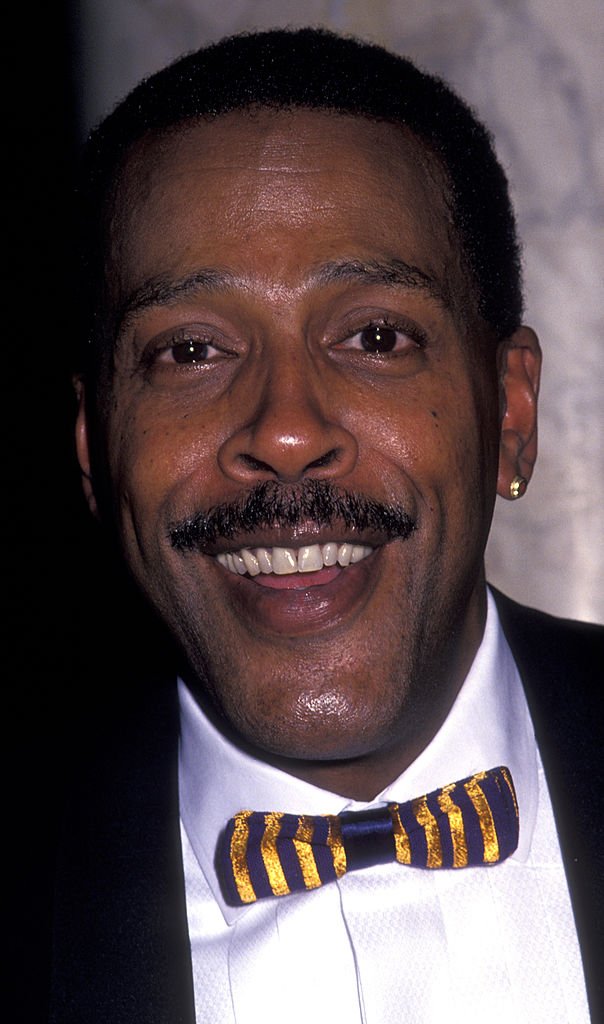 Meshach Taylor attends Gourmet Gala Benefit for March of Dimes on November 1, 1993 at the Plaza Hotel in New York City. | Photo: Getty Images
WHAT BIANCA FERGUSON THOUGHT ABOUT HER HUSBAND
Notably, Ferguson's love for her husband went beyond what his body looked like. The actress once described her husband as an "activist actor."
True to her words, he knew how to stir the tides in all his movie appearances. Describing his rendition of Anthony Bouvier on "Designing women," she said:
"He walked that tight rope of racism and classism every week, week after week, giving them and millions of viewers a richer deeper view of African-American men."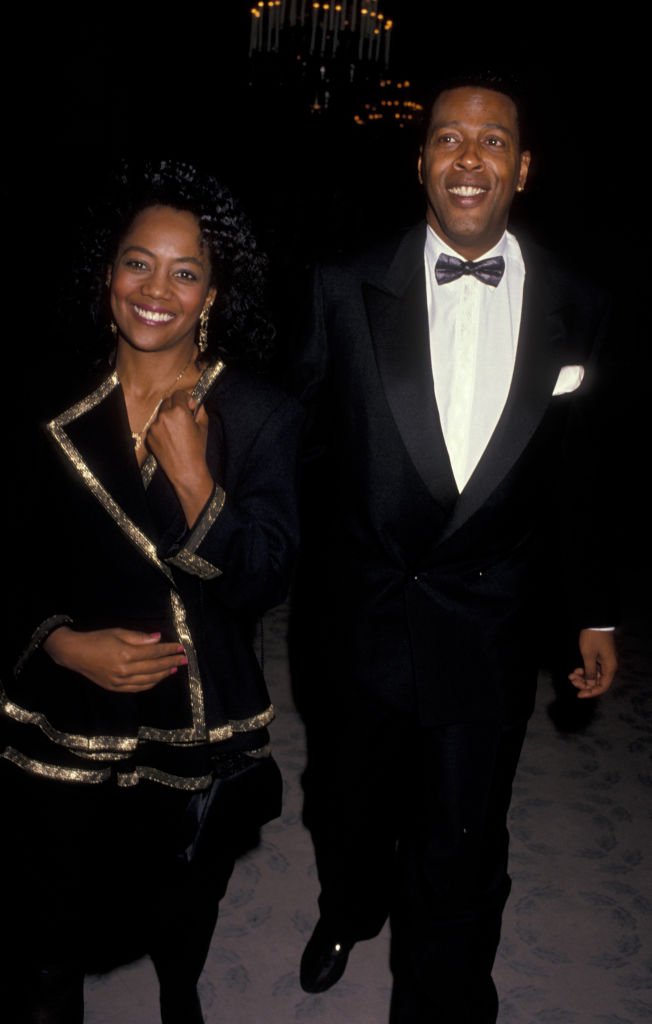 Meshach Taylor and Bianca Ferguson attend National Jewish Fund Dinner Gala on November 29, 1989 at the Beverly Hilton Hotel | Photo: Getty Images
To her, Taylor showed the world what trust, loyalty, and friendship were all about. In the movie "Criminal Minds," he went at it again, giving a world-class definition of "a courageous man who had saved lives."
GREATEST PERFORMANCE AT THE WEAKEST TIME
Meshach Taylor spent his last years battling colorectal cancer. Yet, he remained a loving husband, an affectionate father, and a caring son until the very end.
Taylor's mom Hertha Mae, marked her 100th birthday just days before his demise. Notably, he demonstrated filial piety by braving his ailing health and uncomfortable pain to fly to Indiana along with his kids to mark the big day with her.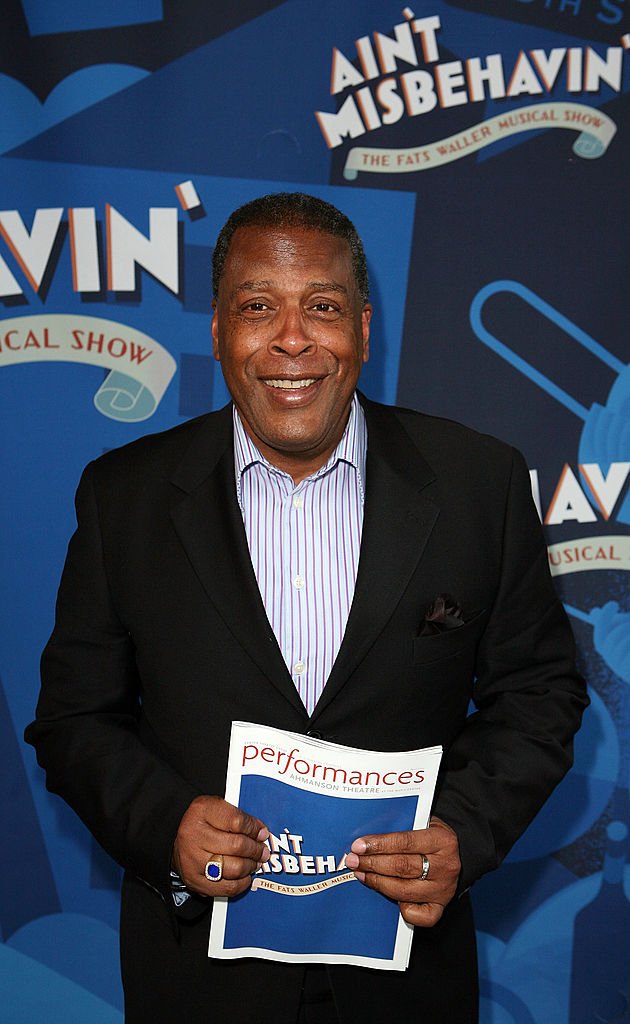 Actor Meshach Taylor arrive for the opening night performance of "Ain't Misbehavin'" at the CTG/Ahmanson Theatre on April 24, 2009 in Los Angeles. | Photo: Getty Images
The centenary celebration was memorable, as generations of family, friends, and her former student turned up at Riverside Park to celebrate Hertha. Coincidentally, the festivity also marked the annual Riverdale reunion.
Ferguson was admittedly proud of her husband's selfless determination to be there for his mom. Recalling her exchange with him after embarking on the trip, the mother of three said:
"I told him, baby, you did your greatest performance at your weakest time."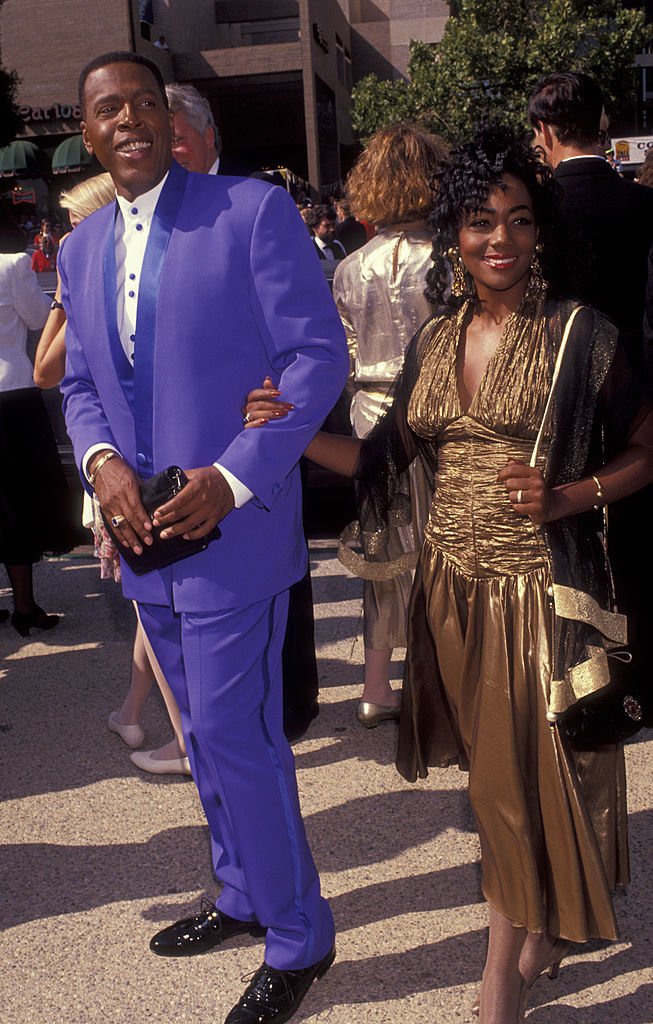 Meshach Taylor and Bianca Ferguson attend 43rd Annual Primetime Emmy Awards on August 25, 1991 at Pasadena Civic Auditorium in Pasadena, California. | Photo: Getty Images
Tariq, the legend's only son, confirmed that the actor was surrounded by loved ones while on his deathbed. His 100-year-old mother was also present at his deathbed, keeping him company through his last moments on earth.
Even as the actor lay on his deathbed, many well-wishers sent condolences to the family, sympathizing with them. As the premature condolences kept pouring in, Tariq was forced to release an update on his dad's health while thanking everyone for their love and prayers.
After confirming his dad was yet to succumb to his ailing health, he revealed the legend was on the verge of transitioning. Meshach Taylor died days later, on June 28, 2014, in his home in Altadena, California, leaving behind his mom, wife, four children, and four grandchildren.
Please fill in your e-mail so we can share with you our top stories!