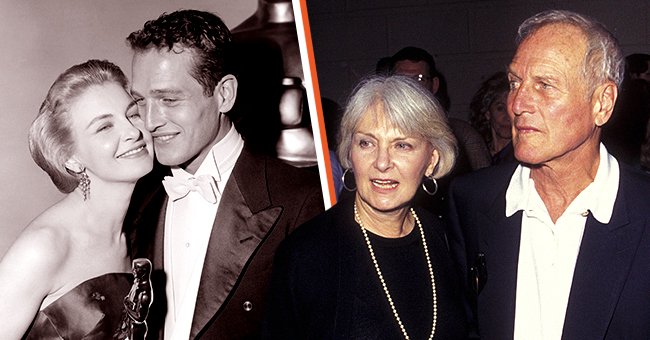 Paul Newman and Joanne Woodward | Source: Getty Images
Paul Newman's 50-Year Marriage Started at the Expense of His Relationship with His 1st Wife
Paul Newman and Joanne Woodward's marriage will go down as one of Hollywood's greatest love stories. However, Woodward was not impressed with her future husband when they first met.
"Cool Hand Luke" star Paul Newman and "Rachel, Rachel" actress Joanne Woodward had one of the longest marriages in Hollywood. It lasted 50 years, only ending when Newman passed away in 2008.
Their union saw them welcome three daughters, Elinor "Nell" Newman, Melissa "Lissy" Newman, and Claire "Clea" Olivia Newman. The couple raised their daughters out of the public eye in their Connecticut home.
Joanne Woodward and Paul Newman posed for a portrait for publicity for "The Long Hot Summer," 1958. | Source: Getty Images
Clea described her parents as having "an unusual connection and passion for one another that [was] rare." Their connection and love saw them through a few challenging situations, including Newman's alleged affair and the death of his oldest son, Scott.
Besides a few lows, the couple experienced a lot of incredible highs together, which included working together in over ten films. Some they starred in together, others starred Woodward and Newman directed.
A few films they starred in were "From the Terrace" in 1960, "Paris Blues" in 1961, and "A New Kind of Love" in 1963. However, their most successful movie together was the 1958 film "The Long Hot Summer."
The movie was about a small sweltering town in Mississippi based on William Faulker's short stories. During the filming in 1957, Newman and Woodward fell in love with each other.
According to History.com, by the end of filming, the couple was discreetly living together. When Newman's divorce from his first wife, Jackie Witte, was finalized, the new couple headed to Las Vegas.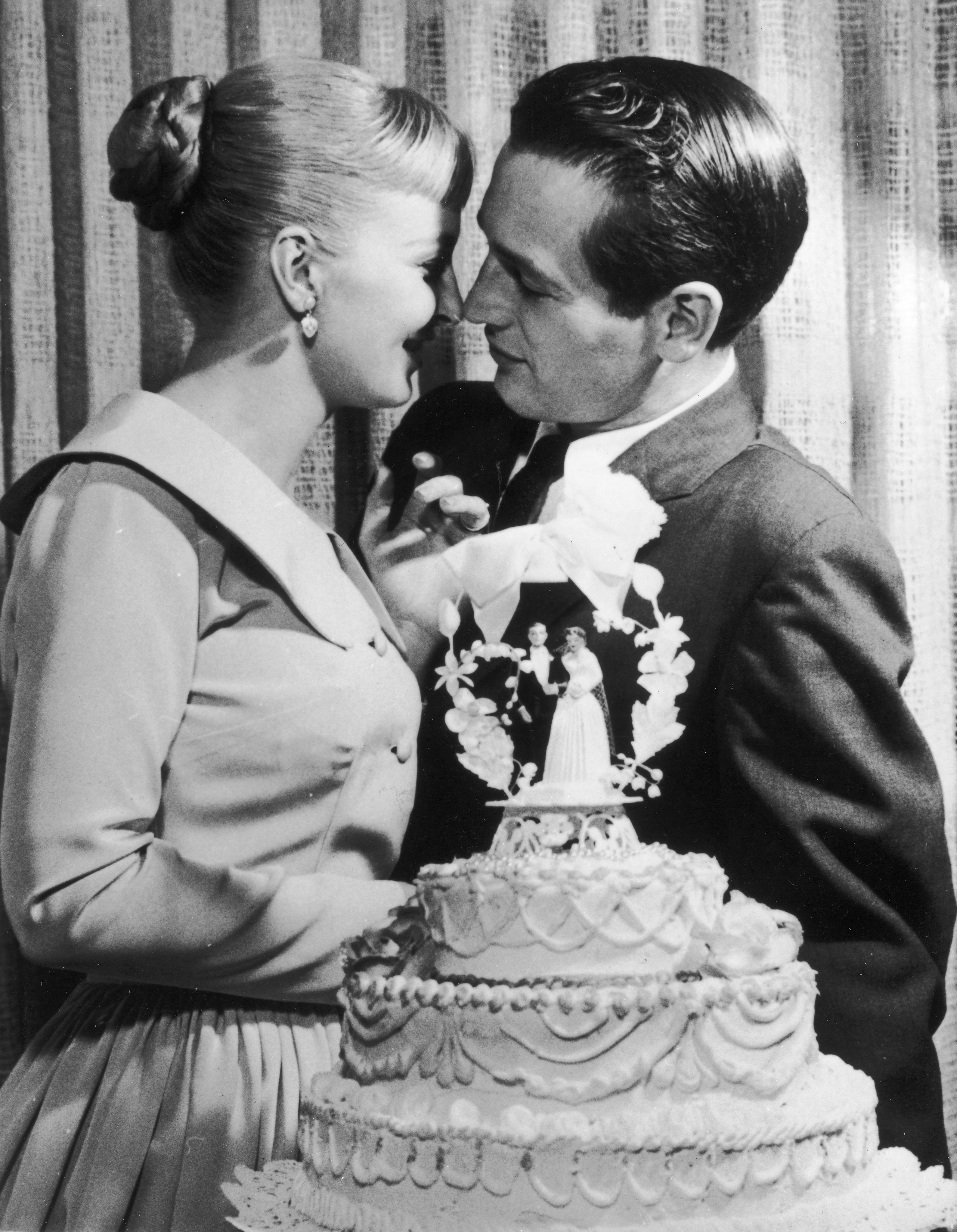 Newlyweds Joanne Woodward and Paul Newman kissing in front of their wedding cake at the El Rancho hotel-casino, Las Vegas, Nevada, on January 29, 1958. | Source: Getty Images
In Las Vegas, Newman and Woodward exchanged vows and were married in January 1958. After their wedding, the couple's respective careers took off.
The same year, Woodward won an Oscar for Best Actress for "The Three Faces of Eve." At the same time, Newman received his first Oscar nomination for "Cat on a Hot Tin Roof."
Newman also channeled his passions into directing and producing. He directed his wife in a few movies including, "Rachel, Rachel "in 1968, which was his directorial debut.
At its release, Newman admitted that he felt Woodward had given up her career to raise their children, so he directed the film for her.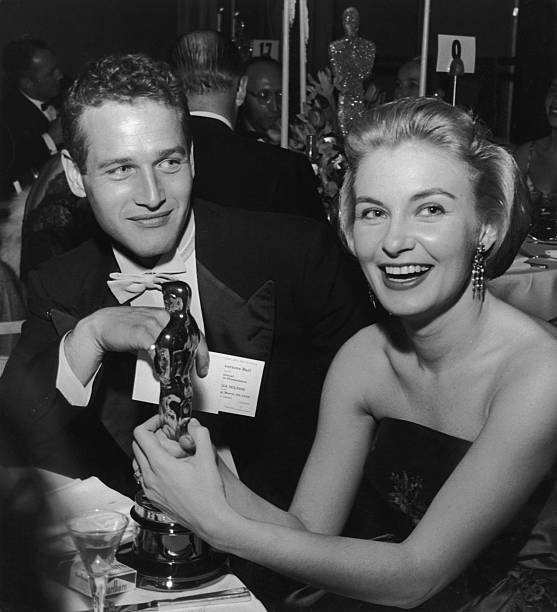 Paul Newman and Joanne Woodward pictured at the Governor's Ball, an Academy Awards party held at The Beverly Hilton Hotel in 1958. | Source: Getty Images
Their efforts for the film paid off, as Woodward was nominated for Best Actress for her role as the title character. The nomination was one of four Oscar nominations the movie received.
With a pairing that seemed to benefit each other both in their careers and personal life, it is interesting to note that when they first met, Woodward was not at all impressed with Newman.
The pair first met and worked together on a stage production called "Picnic." Newman had a supporting role, while Woodward was an understudy for the female leads.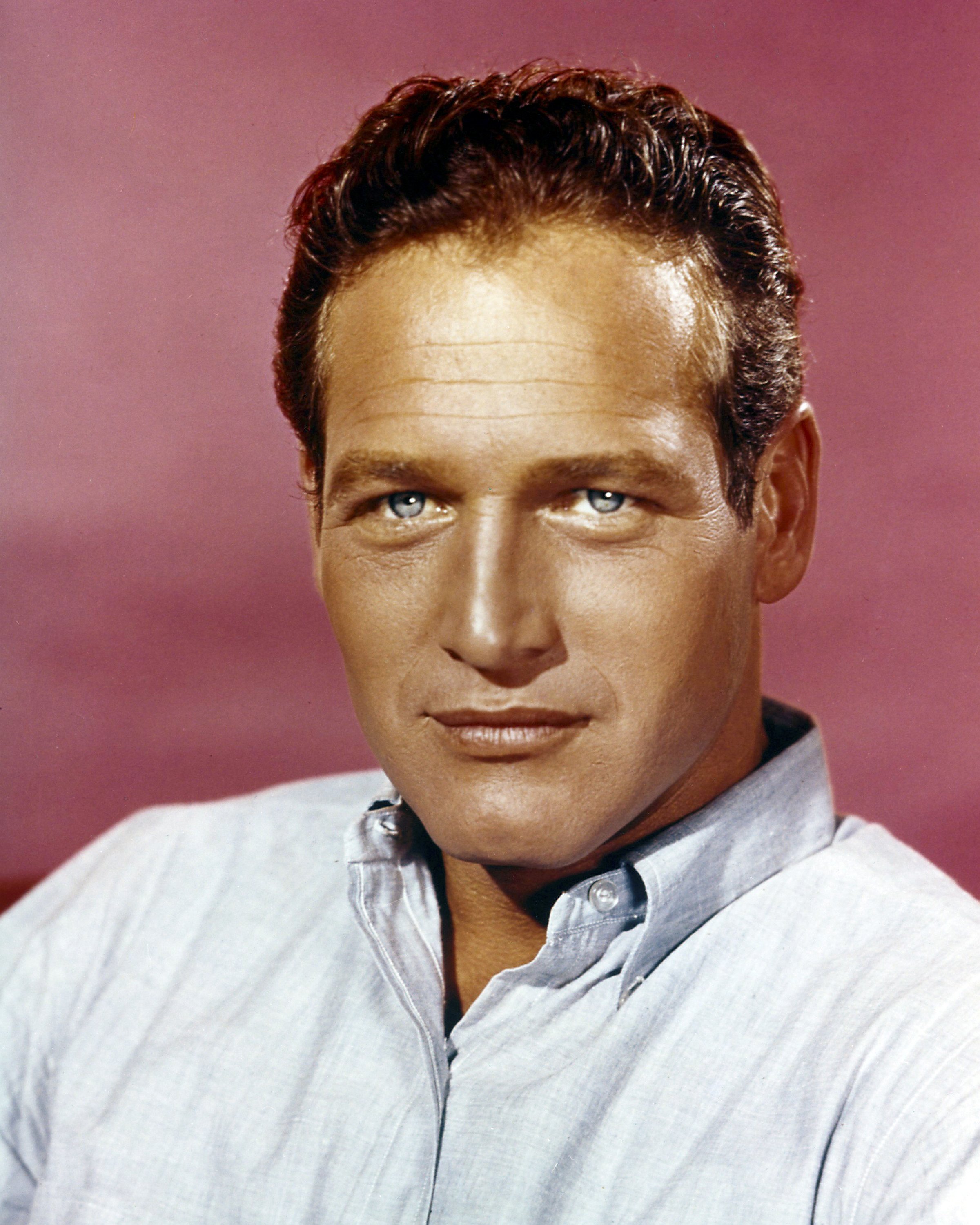 Portrait of Paul Newman from the 1960s. | Source: Getty Images
At the time, Newman was married to his first wife, Jackie, and the couple had three children together. However, that did not stop him from thinking Woodward was an "extraordinarily pretty girl."
They first met in the office of Maynard Morris, an MCA agent. Woodward once recalled: "I was hot, sweaty and my hair was all stringy around my neck." So she sought Morris's air-conditioned office to cool down.
She talked to her friend, the receptionist, when Morris brought out Newman and introduced the two. Woodward once said he looked "like an ice cream soda ad."
Joanne Woodward posed in front of her car in 1957. | Source: Getty Images
Newman was dressed in a neat and perfect seersucker suit, with styled hair, blue eyes, and not a drop of sweat. While most women would've been impressed with his looks, Woodward thought, "Oh, that's disgusting."
During an interview, Newman admitted although he might have looked perfect, that was not necessarily the case. The seersucker suit was the only one he had, and he had to wash and iron it each day.
Although Newman was trying his best to keep up his image, Woodward was not impressed. Furthermore, in Marian Edelman Borden's biography about Newman, she quoted Woodard saying:
"I hated him on sight, but he was so funny and pretty and neat."
However, the feelings were not mutual as Newman was charmed by the 22-year-old Woodward and thought she was beautiful, modern, and independent.
Eventually, Newman explained that he persuaded her to realize he was more exciting than she first thought and not just another pretty face in Hollywood.
A few years later, whatever negative thoughts Woodward first had of Newman were gone as they married and had a happy marriage for five decades.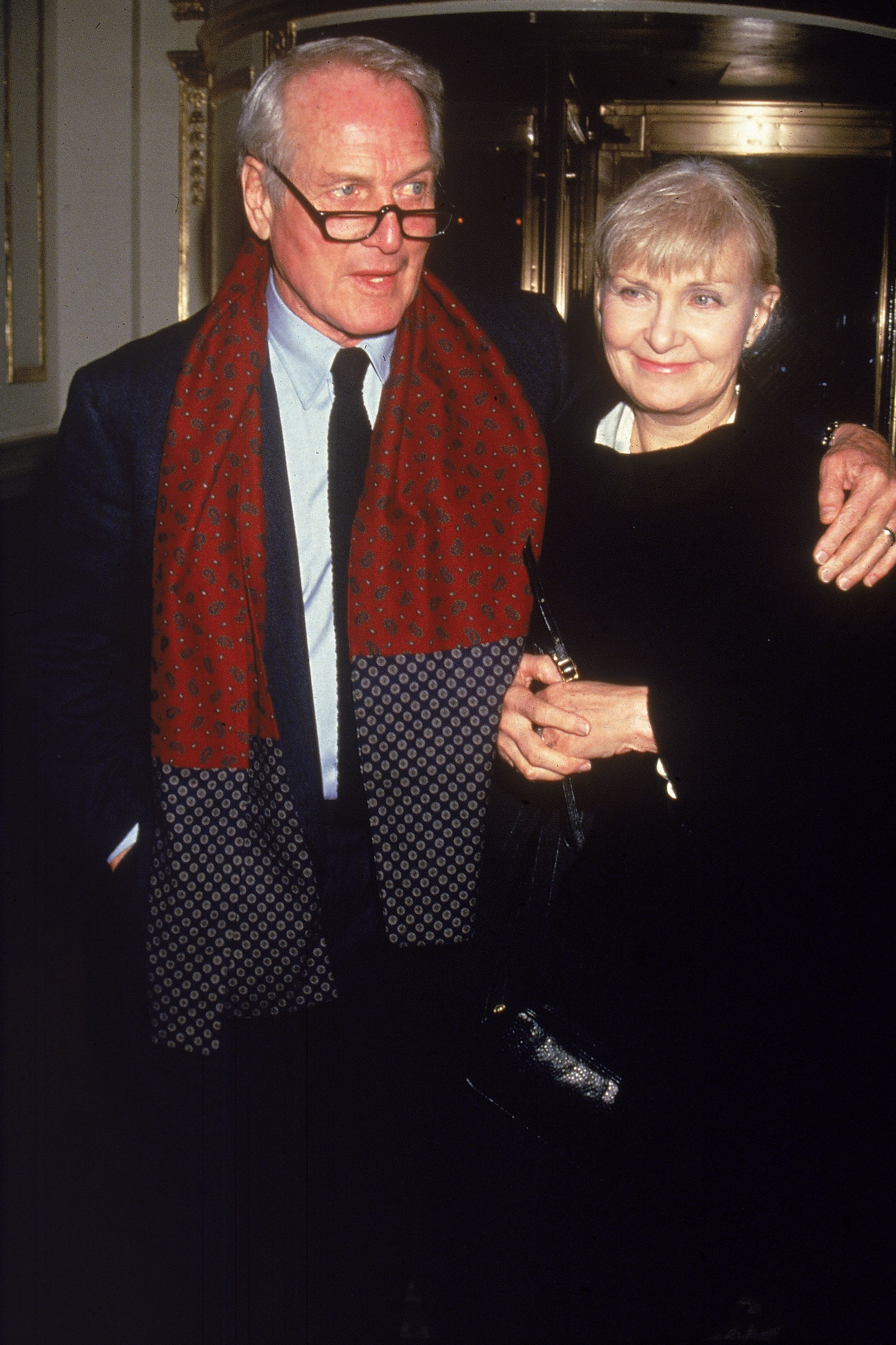 Paul Newman and Joanne Woodward attend the premiere of the film "Nobody's Fool," 1994. | Source: Getty Images
On January 29, 2008, Woodward and Newman celebrated their 50th anniversary and the love they always had for each other. A love that other celebrities had also testified to.
"Baby Driver" actor Ansel Elgort once shared that he had asked a driver who his favorite passenger was. The driver answered it was Newman because he was kind and asked him about himself.
The driver also told Elgort that Woodward was with Newman, and even in their old age, the two love birds sat in his backseat, kissing, giggling together, and Newman had his arm around her.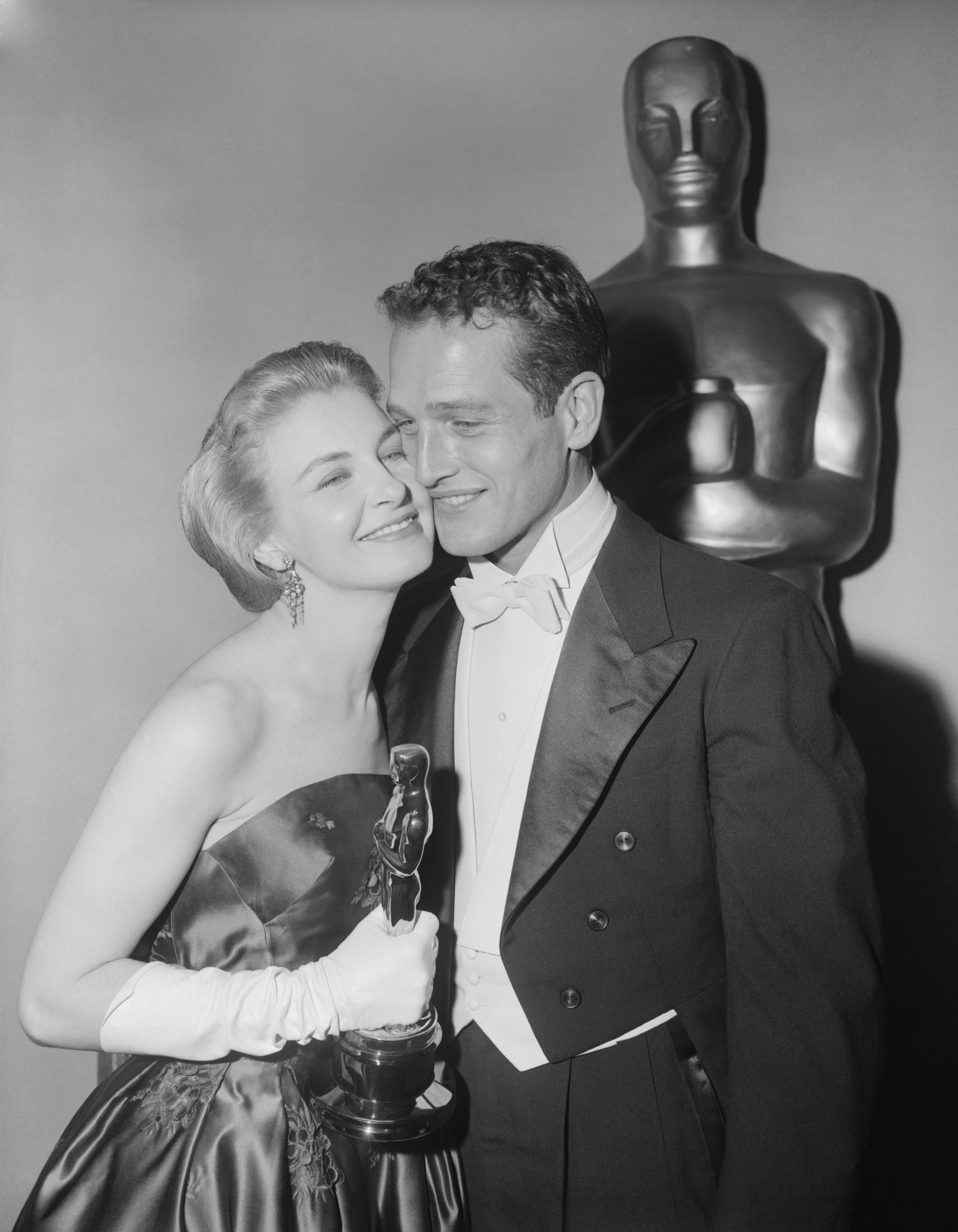 Paul Newman and Joanne Woodward at the 30th Annual Academy Awards after Woodward won her Oscar in 1958. | Source: Getty Images
Throughout their long relationship, Newman and Woodward supported each choice the other made. Woodward even supported Newman when he took on race car driving.
For their 25th wedding anniversary, she bought him a Rolex watch, engraved with "Drive Slowly, Joanne." It showed her cautious but supportive attitude toward her husband.
The couple's long relationship ended the same year their celebrated 50th wedding anniversary as Newman passed away after battling lung cancer.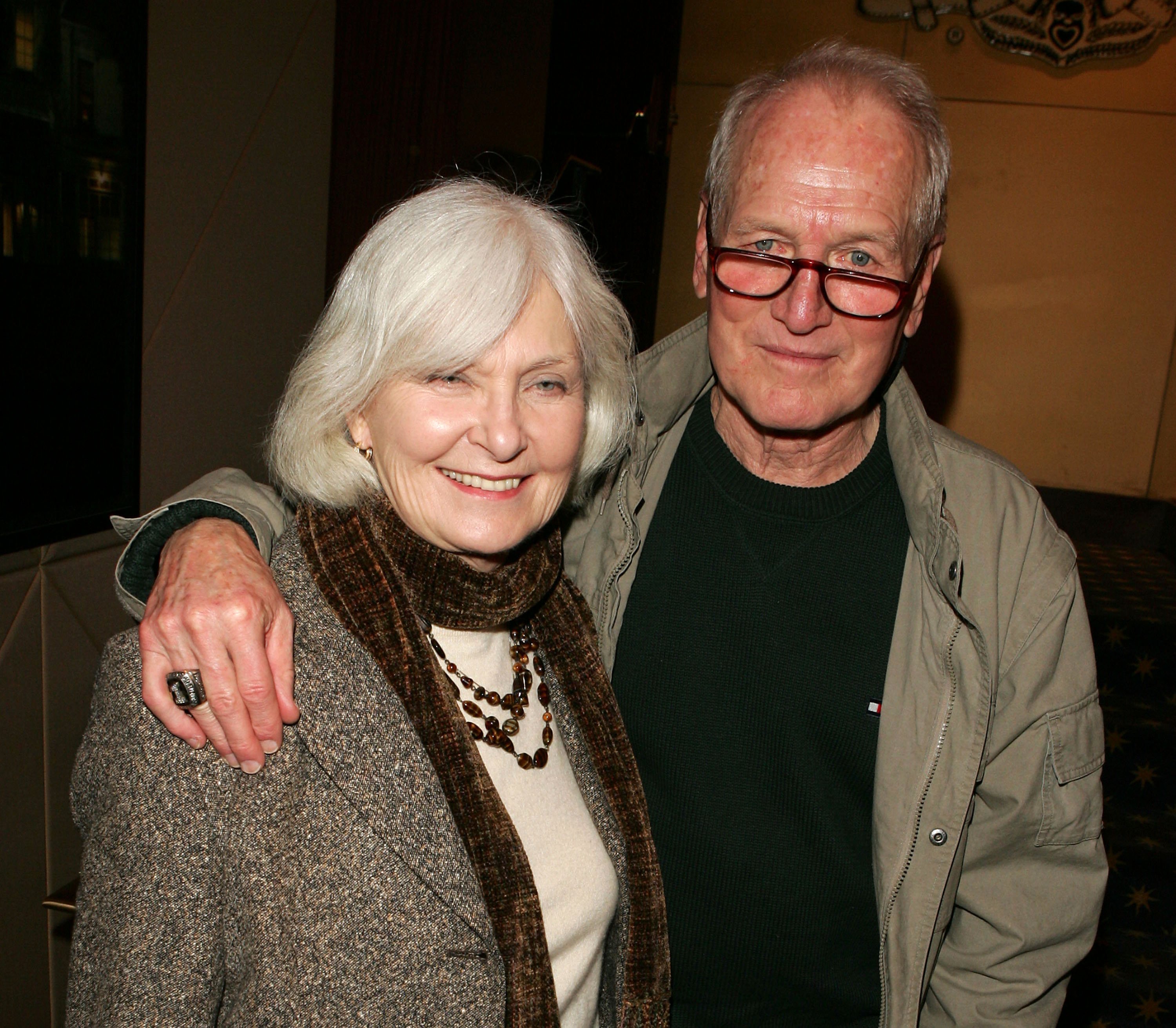 Joanne Woodward and Paul Newman attend a reception for a special screening of "The Woodsman," 2004, New York City. | Source: Getty Images
He died at 83, with his loving wife and other family members by his side at their farmhouse near Westport, Connecticut. A statement from the family said he died privately and discreetly, just as he had lived.
Besides having a successful acting career, Newman had a successful charity. His food product brand "Newman's Own" raised more than $250 million in profits for charities worldwide.
Although Newman has passed, his legacy and love for Woodward remain in their daughters, the films they created together, and every photo they took together.
Please fill in your e-mail so we can share with you our top stories!