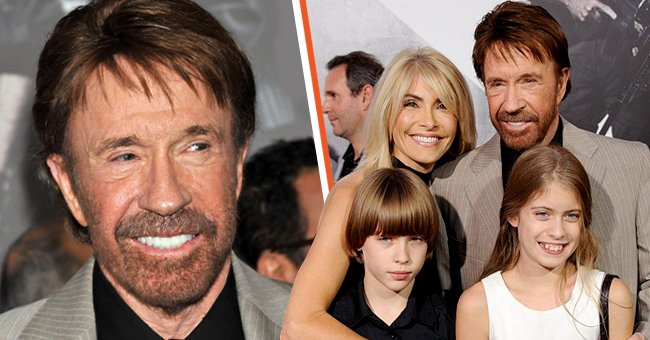 Chuck Norris | Chuck Norris, Gena Norris, and their kids | Source: Getty Images
Chuck Norris Sacrificed His Career to Take Care of His Wife after She Suffered 'Brain Damage'
As a martial arts expert, Chuck Norris became a legendary action movie actor who made fans fall in love with his skills.
In 1972, Chuck Norris made his official movie debut when he starred alongside Bruce Lee in "Way of the Dragon." The actor hasn't stopped since then and now boasts an immense professional career.
However, in recent years, Chuck Norris has had to take things slow with his career, and the reason is because of his wife's health complications.
CHUCK NORRIS AND MARTIAL ARTS
Carlos Ray "Chuck" Norris is an American actor, martial artist, television producer, screenwriter, and writer. He was born on March 10, 1940, and was the oldest of three kids.
Even though he was the oldest, he was a shy, nonathletic kid and a target for bullies as a youth. At 18, he began studying martial arts in Korea in the 1950s and got the nickname Chuck.
At the time he was studying martial arts, he was also serving in the US Air Force. After his service, he returned to the United States, was discharged, and opened his karate studio while waiting to join the police force.
In the 1960s, he participated in various karate championships and became world champion in the middleweight category in 1968. Norris kept the title for six years until 1974, when he retired from competitions.
Before becoming known to the general public, he was also a martial arts teacher. Donnie and Marie Osmond, Bob Barker, Priscilla Presley, and Steve McQueen were among his illustrious students.
In 1969, Norris won the Fighter of the Year award by Black Belt magazine. In 1979, he founded the UFAF (United Fighting Arts Federation).
In 1988 he published his autobiography "The Secret of Inner Strength: My Story," which soon became a bestseller. After a few years, he released another book, "The Secret Power Within: Zen Solutions to Real Problems."
In 1997 Norris received recognition of the highest value in martial arts. He became the first non-Asian to be awarded the eighth degree "Black Belt Grand Master."
NORRIS'S MOVIE CAREER
Norris began his career in entertainment at the end of the 1960s, thanks to a push from one of his students, Actor Steve McQueen.
During this period, Norris met Bruce Lee, and they became friends. In 1972, he and Lee starred in one of his first major films: "Way of the Dragon."
Following the success of the film, Norris decided to devote himself completely to an acting career. In the 1970s, he then starred in the films "Yellow Faced Tiger," "Breaker! Breaker!" and "A Force of One," mostly action films.
From the early to mid-1990s, he worked with his brother, a director, in movies such as "Delta Force 2," "The Hitman," "Sidekicks," "Hellbound," "Top Dog," and "Forest Warrior."
In 1993 he began acting as Sergeant Cordell Walker on the action series "Walker, Texas Ranger." His role made him famous worldwide. In 2005, Norris founded the World Combat League (WCL), and part of the proceeds are given to his Kickstart Kids program.
NORRIS'S FAMILY
Besides being an outstanding actor and martial arts master, Norris is also a loving husband and father. In 1958 he married his high school sweetheart Dianne Kay Holechek, and they had two children, Mike in 1962 and Eric in 1965.
After 30 years of marriage, the couple was divorced in 1989 after being separated in 1988. However, in 1964, Norris had a daughter from an extramarital affair, and her name is Dianna DeCioli.
In 1998 Norris got married a second time to Model Gena O'Kelley. She had also been married before and had two children from her previous marriage.
Norris and O'Kelley welcomed their twins named Dakota Alan, a boy, and Danilee Kelly, a girl, on August 30, 2001. Norris revealed that O'Kelley is more than his wife; she's also his best friend and business partner.
O'KELLEY'S HEALTH ISSUES
Norris has appeared in fewer movies since the early 2010s. His absence is perfectly explainable as Norris had to give up his career to care for his wife.
In 2013, O'Kelley developed some health issues which required her to get an MRI scan. For the scan, she had to be injected with contrast dye containing a heavy metal called gadolinium.
The hospital told her that the contrast had no side effects, and by drinking a lot of water, she would get it out of her system. Within eight days, she had to take three scans, and on the ninth day, she started experiencing burning sensations.
Within a few weeks, she was rushed to the hospital six times, and the doctors were baffled but believed she could not have had gadolinium toxicity.
Her symptoms included nerve pain, muscle weakness, full-body tremors, difficulty in breathing, and at some point, her brain felt so damaged that she couldn't think anymore.
Norris felt scared at this point as he didn't know what else to do. He called Dr. Bruce Fong at the Sierra Integrative Medical Center in Reno, Nevada. Dr. Fong asked him to get O'Kelley to him immediately.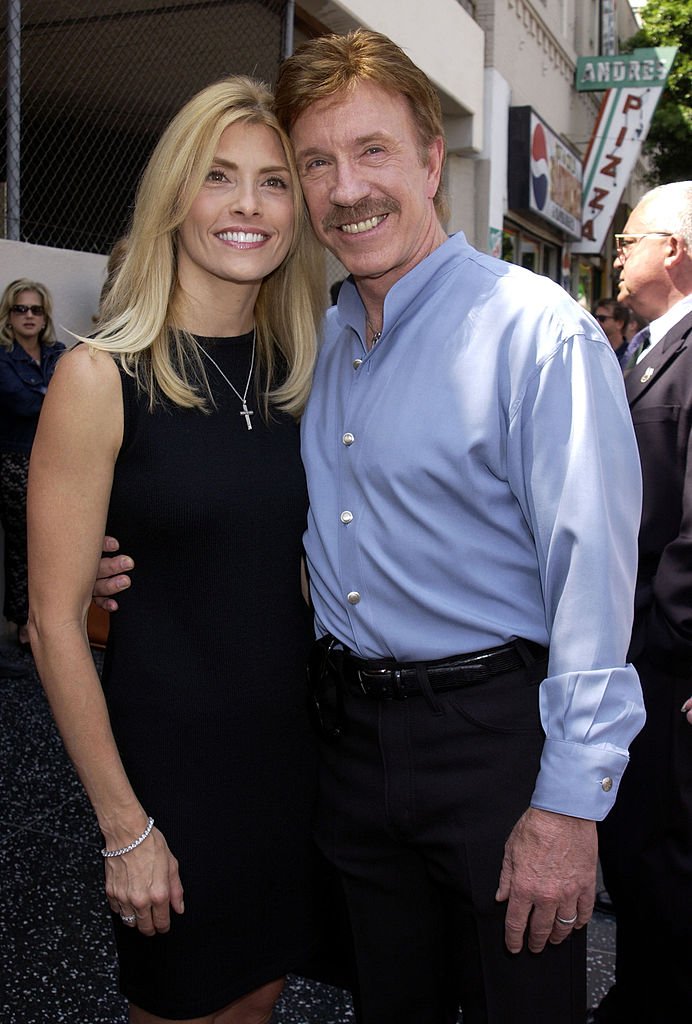 Chuck Norris and Gena O'Kelley during Michael Bolton Honored with a Star on the Hollywood Walk of Fame for His Achievements in Music in Hollywood | Source: Getty Images
Norris quickly got a paramedic into his jet, and they went to see Dr. Fong. O'Kelley had IVs every day for nutrition, and Norris never left her side as he slept on the couch while nursing her to health for five months.
She lost so much weight that she couldn't swallow and had to eat baby food. Even though she was no longer bedridden, she still received stem cell therapy treatments four years after leaving Dr. Fong's hospital.
Norris and O'Kelley also decided to speak out about the dangers of MRI contrast agents. They sued several healthcare companies because O'Kelley was poisoned by a chemical used during MRI scans.
The couple decided to pursue the litigation to shine the light on a problem. The couple believes that pharmaceutical companies that produce MRI contrast agents are not addressing the problem.
Norris and O'Kelley use their litigation to give a voice to the thousands of other victims who have been ignored.
Please fill in your e-mail so we can share with you our top stories!