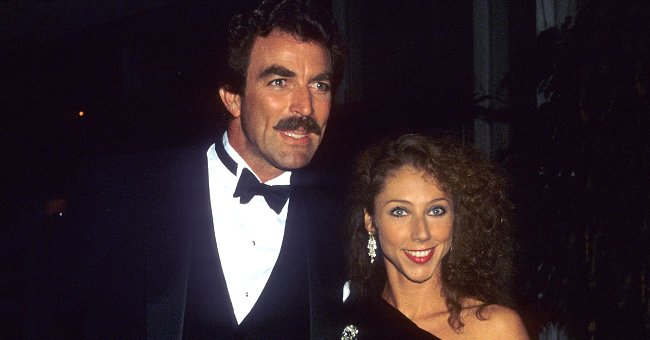 Getty Images
Tom Selleck: The Dinner Date with Jillie That Healed Him after a Breakup & Started Their Story
T.V. star Tom Selleck may be a Hollywood A-lister, but he sure knows how to keep his love life under wraps. The actor secretly tied the knot with his co-star Jillie Mack in the '90s and kept mum about it for about a month.
Tom Selleck and his love, actress Jillie Mack sneaked off to get married in Lake Tahoe in August 1987 to the Dream Maker, an open-all-hours wedding chapel in Incline Village, Nevada.
The couple said their 'I do's in the evening that day, Selleck was 42, and his bride was 29. They met in 1983, not long after the film producer ended things with his then-girlfriend Mimi Rogers.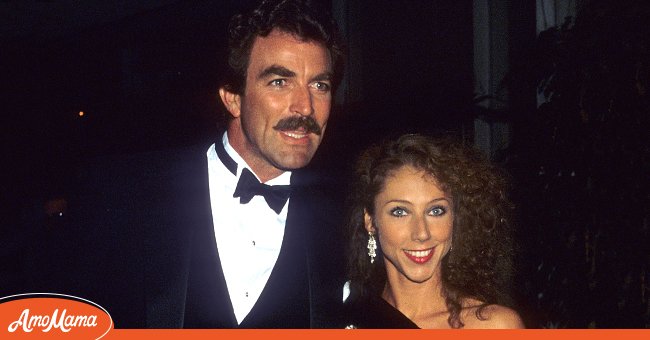 Actor Tom Selleck and girlfriend Jillie Mack attend the 41st Annual Golden Globe Awards on January 28, 1984 at the Beverly Hilton Hotel in Beverly Hills, California | Photo: Getty Images
THE DINNER DATE
Selleck was in London back then when filming the movie "Lassiter." While there, he went to see his friend Brian Blessed in Andrew Llyod's Webber's musical "Cats."
While backstage, he met several actors, including his future wife, Mack. Selleck joked, "She looked pretty good in a leotard," right before he said he was fascinated by a kitten on stage, which was her character.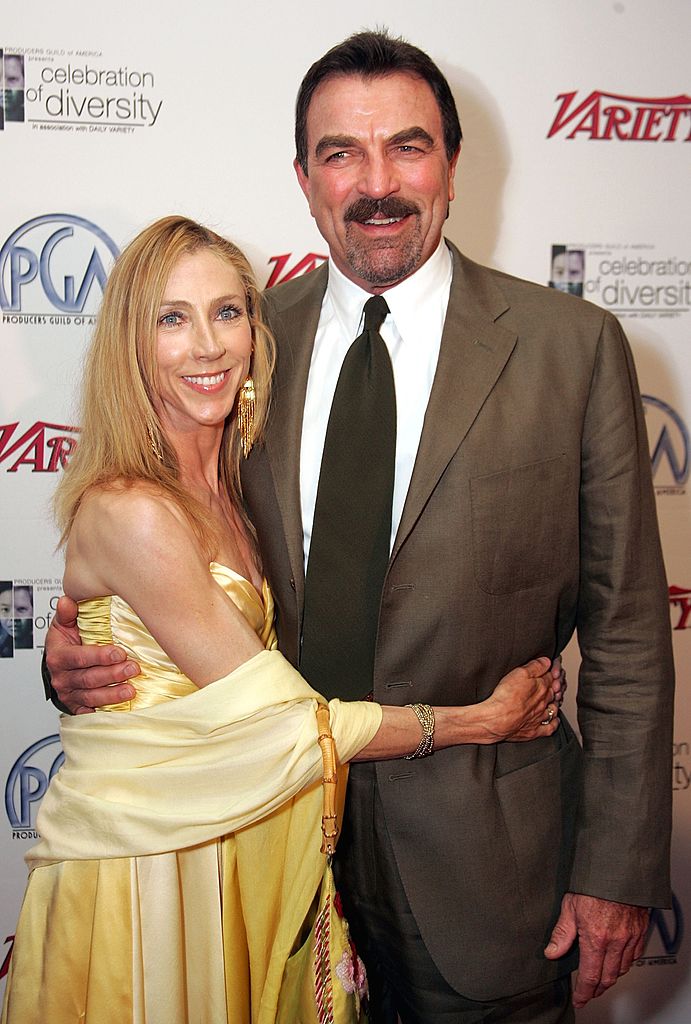 Tom Selleck and his wife Jillie Mack attend the Producers Guild Of America Presents 2006 Celebration of Diversity on May 9, 2006 at the Beverly Wilshire Hotel in Beverly Hills, California | Photo: Getty Images
During his appearance on "Live Kelly & Ryan" in September 2017, at the time of their 30th wedding anniversary, he admitted it took him several visits to "Cats" before he could gather the courage to call her on a theater phone.
He shared the British native had to go on stage, and he said, "I was hemming and hawing, and she finally asked, 'Do you want to meet for a cocktail?'"
Notably, Mack was unfazed by the Michigan native's fame, stating that her television had been stolen three months before and that she had never heard of him. Her London agent, Bryn Newton, revealed:
"They had dinner one night, and it went on from there."
After Mack's contract ended, she headed to the U.S., and ever since, she and Selleck made appearances as a couple, from attending prestigious awards to his Hollywood Boulevard unveiling.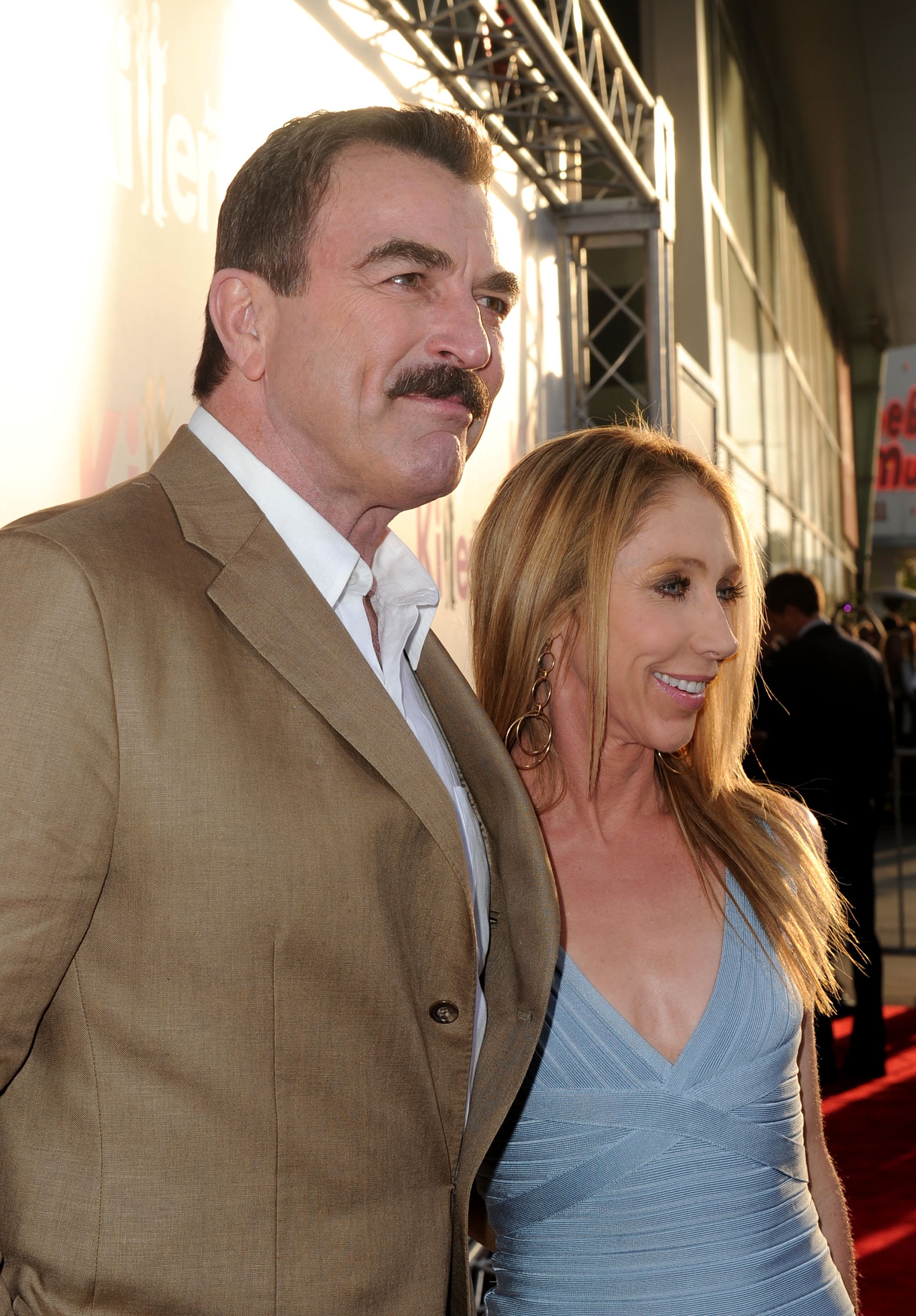 Tom Selleck and Jillie Mack arrive at the premiere of "Killers" held at ArcLight Cinema's Cinerama Dome on June 1, 2010 in Hollywood, California | Photo: Getty Images
THE INCREDIBLE WEDDING
Selleck reportedly worked hard to ensure the ceremony remained a secret. His brother, Bob, a real estate executive, made all the wedding arrangements under the false identities of "Tom Jenkins" and Suzie Mark."
He only disclosed the pair's real identities to the minister only minutes before the service. News of the Hollywood duo getting married only surfaced 27 days later when the Nevada Appeal reported it.
At first, Selleck's publicist, Esme Chandlee, denied the reports, but a few hours later, she confirmed it and did not give any further details.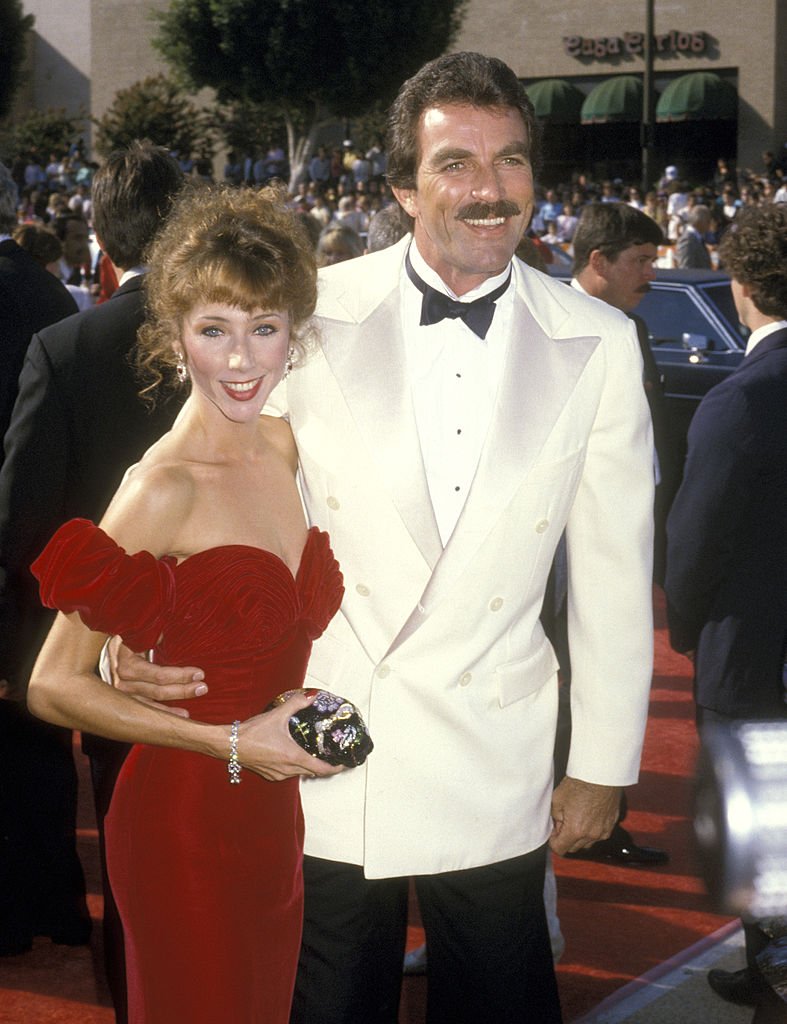 Tom Selleck and Jillie Mack during 38th Annual Primetime Emmy Awards at Pasadena Civic Auditorium in Pasadena, California | Photo: Getty Images
The "Magnum P.I." actor even went as far as to have the nuptials photos taken on a Polaroid with the intention not to have the images splashed all over the press.
The pastor of Lake Tahoe's Lakeside Christian Essence Church, Rev. David Immel, shared that Selleck and fellow Hollywood stars prefer coming to the Dream Maker because their privacy is protected there.
Yet after the wedding made headlines, he contacted People offering to reveal details about the ceremony. Facts about the couple's day included Selleck's parents, Robert and Martha, and his brothers being part of the entourage.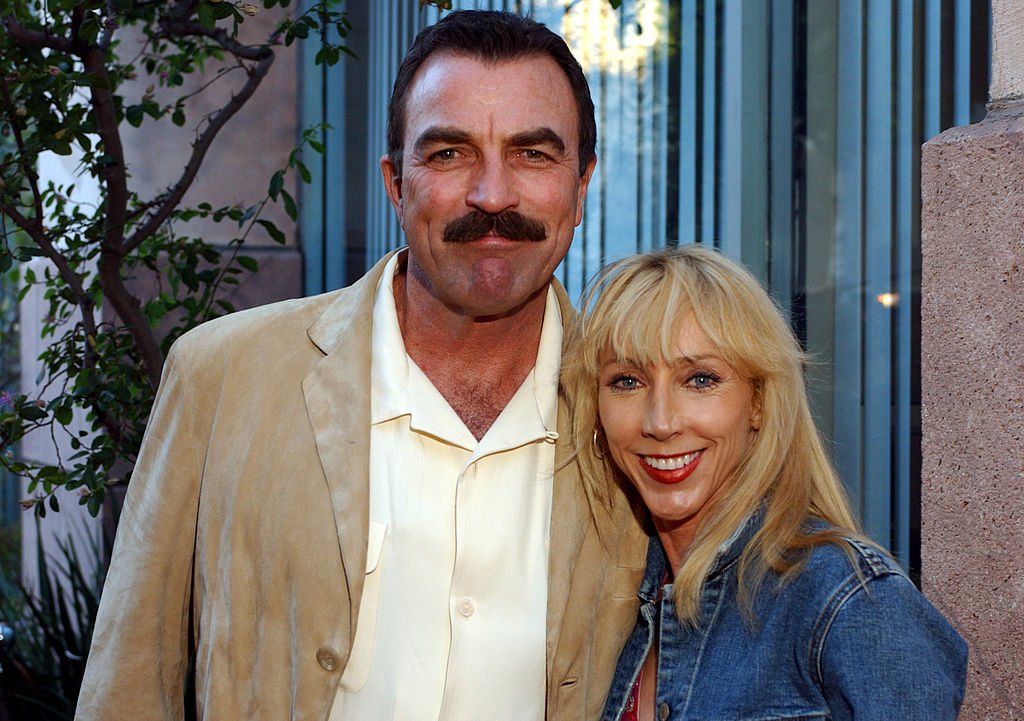 Tom Selleck and Jillie Mack during the 8th Anniversary of the Grand Havana Room and the Premiere of James Orr's Documentaries on the Fuente Family - Arrivals at The Grand Havana Room in Beverly Hills, California | Photo: Getty Images
The family accompanied the bride and groom when they went to pick up the $27 wedding license at the Washoe County Clerk's Office in Reno. The lovebirds arrived at the chapel in causal clothes and then changed into their wedding attires in separate rooms.
They entered the Victorian-style chapel, walked down the aisle, knelt at the altar, and participated in a double-ring nondenominational, $75 ceremony. The Rev. revealed:
"They were both nervous, like any other couple about to get married. Selleck was very concerned that the service would be heartfelt and that it would be meaningful. He is a warm, caring man."
THEIR BEAUTIFUL DAUGHTER HANNAH
The duo shares a daughter named Hannah Margaret Selleck, who is the spitting image of her mom. They welcomed their only child together on December 16, 1988.
Hannah is a 32-year-old Equestrian, a career attributed to her parents as they introduced her to horses at a young age. The family adores horses.
She became a successful showjumper competitor at the grand pix level. In 2010, she established Descanso Farm, driven by her desire to produce high-quality horses in the U.S.
THEIR MARRIAGE TO DATE
Selleck and Mack live on his 65-acre ranch in Hidden Valley, California. Earlier this year, he told Closer Weekly that he keeps the romance alive:
"I get up before Jillie and put on the teakettle, so when she gets up, her tea water is hot. I think I'm pretty romantic."
The Hollywood couple has now been married for 33 years and is still going strong. A friend close to them revealed to the outlet that they still love spending time together and prefer a simple life.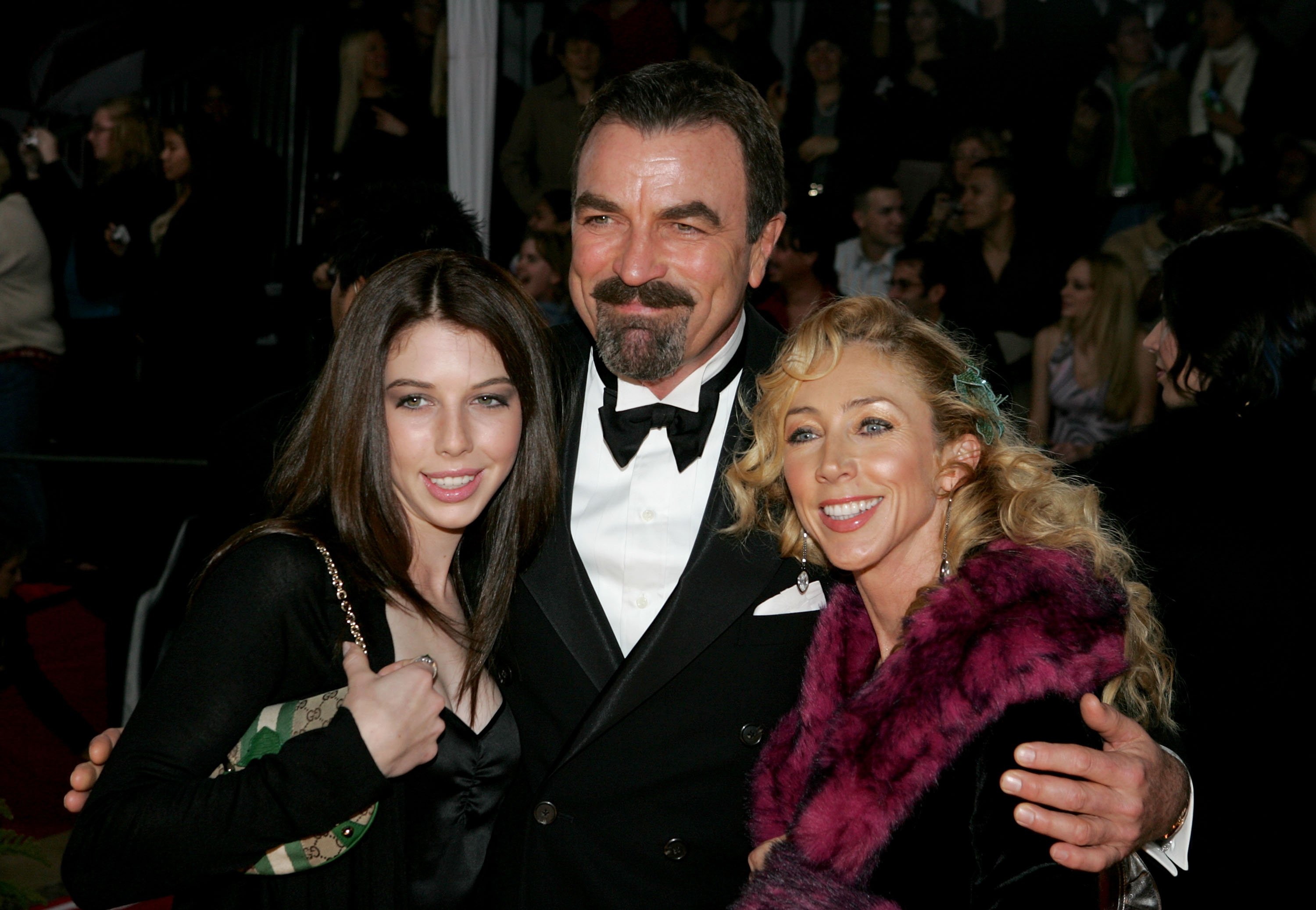 An undated image of Tom Selleck, daughter Hannah and wife Jillie Mack arriving at the 31st Annual People's Choice Awards | Photo
THE FIRST MARRIAGE THAT FAILED
The "Blue Bloods" star was previously married to actress Jacquelyn Ray from May 1971, and they divorced in August 1982. The former couple shares a 55-year-old son named Kevin Selleck, whom Selleck adopted and raised as his own.
The exes were married for eleven years before calling it quits. It was Selleck's first marriage and the second for the model. However, details of her supposed previous marriage are unknown. Ray was born on January 26, 1945, in Burbank, California.
Her acting roles include stints alongside Selleck in "Magnum P.I." In addition, she has also appeared in the 1967 film "In Like Flint."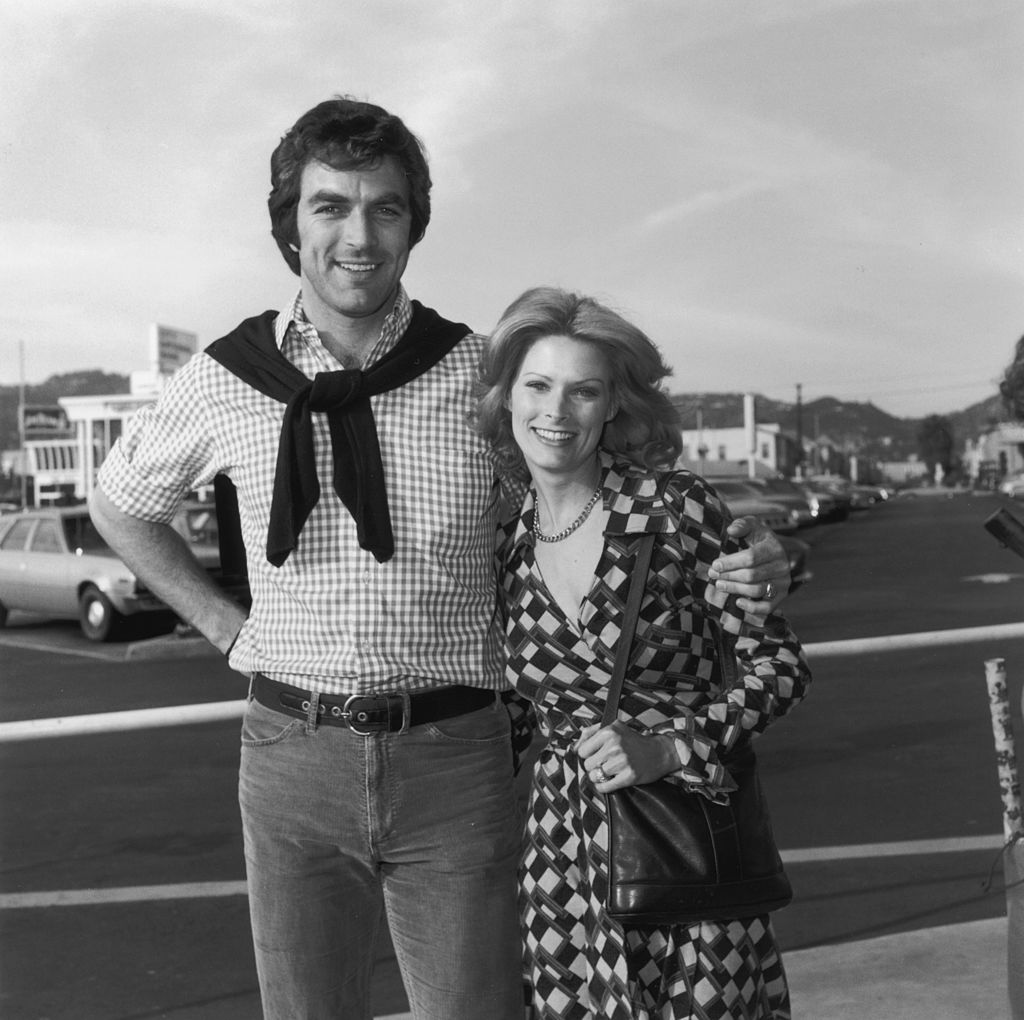 Film producer Tom Selleck poses outdoors with his first wife, actor Jacquelyn Ray in December 1974 in Los Angeles, California | Photo: Getty Images
ON-SCREEN ROMANCE WITH MIMI ROGERS
Selleck was then linked to another actress, Mimi Rogers. The pair filmed "Magnum P.I.," together and perhaps it was an on-screen romance that turned into a real-life one.
The "Desperate Hours" star was previously married to a Scientologist counselor, Jim Rogers, from August 1977 to September 1980.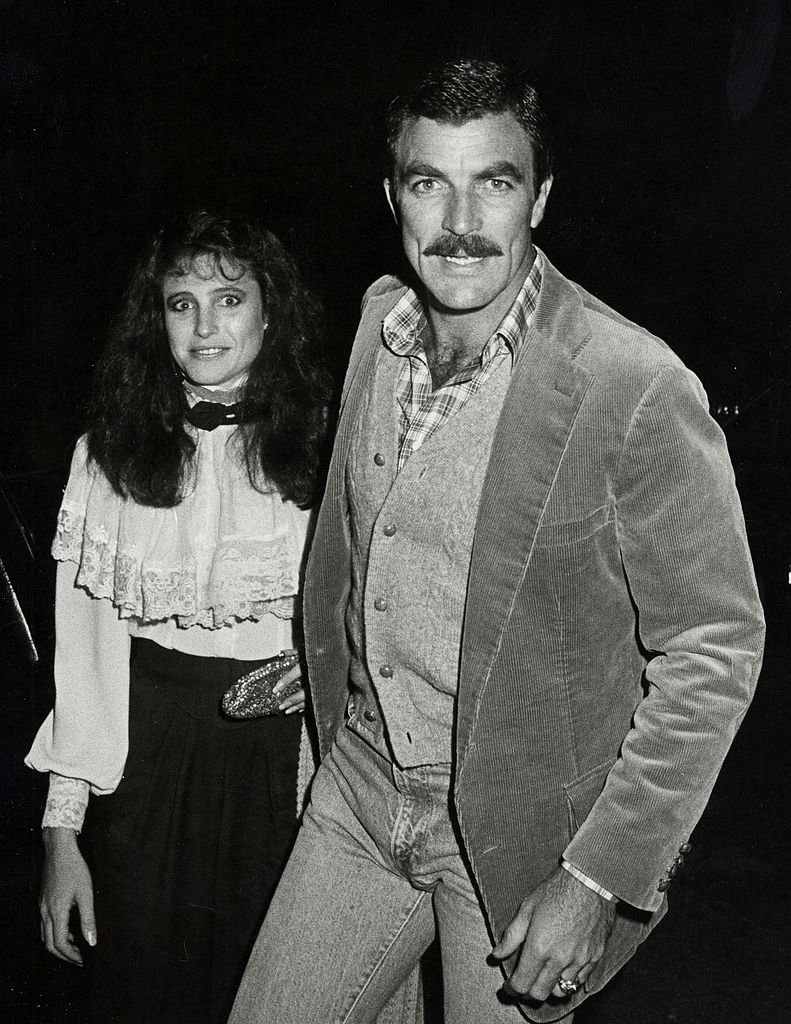 An undated image of actors Mimi Rogers and Tom Selleck attending the screening of "Divorce Wars." | Photo: Getty Images
She then wed movie star Tom Cruise in May 1987, and their wedding was reportedly top secret that not even his publicist knew about it. They got married in a Unitarian ceremony in upstate New York.
But the now-former parted ways in February 1990. Roger's third husband was Chris Ciaffa, whom she wed in March 2003, and together, the pair share two children.
Please fill in your e-mail so we can share with you our top stories!