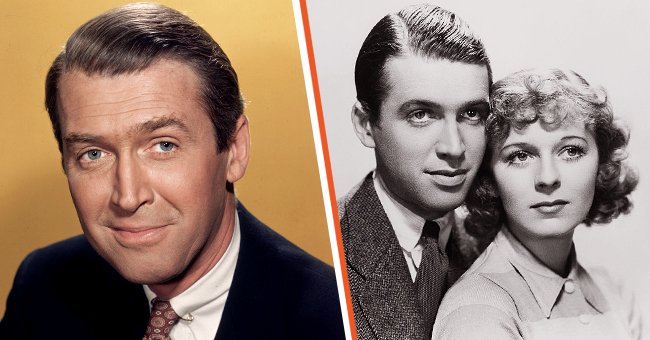 Getty Images
Closer Weekly: Jimmy Stewart's Unrequited Love for Henry Fonda's Wife He Carried through Life
Jimmy Stewart was one of Hollywood's actors known for his screen persona and distinctive drawl. He was also one actor who had a strong morality both off and on-screen.
Even though he was a great actor, his early days in minor roles did not prepare him for Hollywood screens. However, his friendship with Margaret Sullavan helped polish his act.
Though Jimmy Stewart was in love with the actress who married his friend Henry Fonda, his love remained unrequited.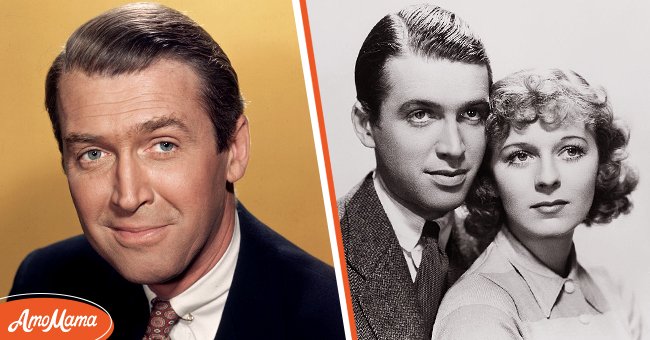 Portrait of James Stewart circa 1955 (left), Portrait of James Stewart and Margaret Sullavan in the early 1930s (right) | Photo: Getty Images
ABOUT JIMMY STEWART
James Maitland Stewart, popularly known as Jimmy Stewart, was born in 1908 in Pennsylvania. He went to Princeton University to study architecture and acted in shows as a member of the Triangle Club.
After he graduated in 1932, he never practiced his trade. The summer after he graduated, he made his Broadway debut in "Carrie Nation" and went on to act in more stage shows.
In 1934, he made his movie debut with "Art Trouble" and signed a seven-year contract with MGM in 1935. He made his Hollywood appearance in a minor role in "The Murder Man."
James Stewart in "Mr Smith Goes To Washington" in 1939 | Photo: Getty Images
In 1938, he became a major star when he took the lead role in "You Can't Take It With You." The movie became the fifth highest-grossing film of 1938 and won the Academy Award for Best Picture.
Between 1941 to 1946, Stewart took a break from acting as he joined the U.S. Army Air Corps during World War II. After the war, Stewart remained a reservist and later became a major general.
Stewart returned to the cinema in 1946 and played the lead role in "It's a Wonderful Life," for which he got an Academy Awards Best Actor nomination.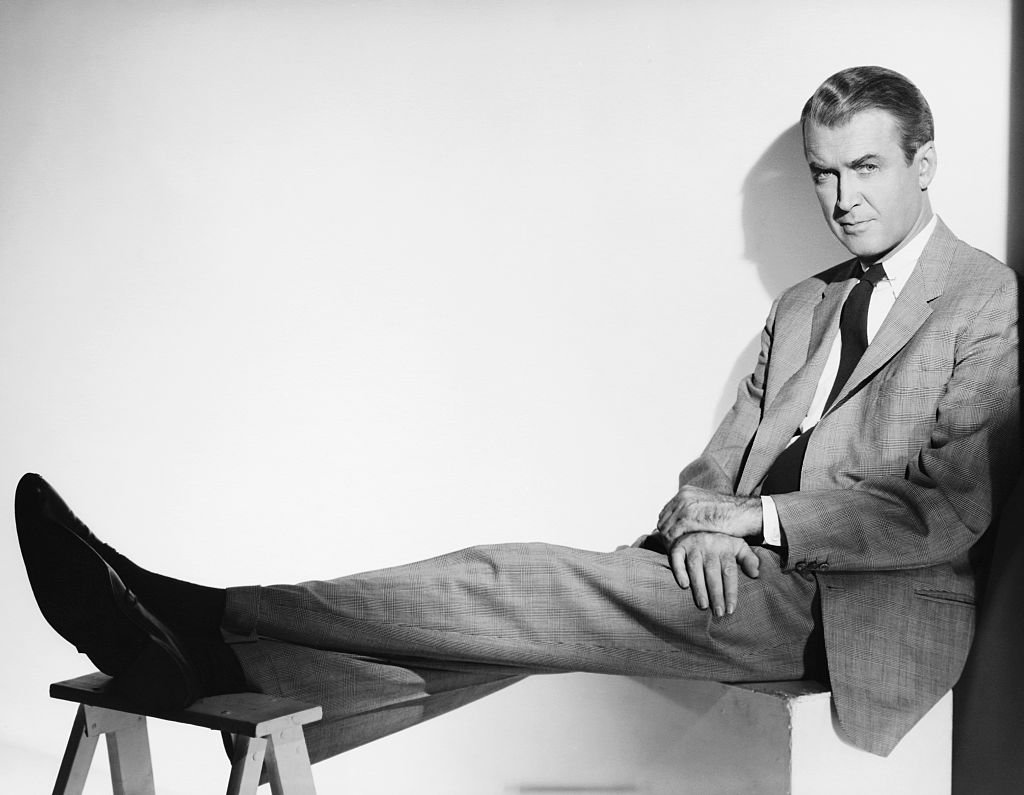 Photo of James Stewart | Photo: Getty Images
He starred in movies like "The Mountain Road" in 1960, "Firecreek" in 1968, "The Jimmy Stewart Show" in 1971, "The Green Horizon" in 1980, and semi-retired from acting in the 1980s.
In 1985, he received an Academy Honorary Award; by the 1990s, he was entirely out of the public eye, and his health had declined.
Before his death on July 2, 1997, Stewart lived with heart problems, had endured skin cancer, wore hearing aids, and finally suffered a heart attack caused by an embolism. The heart attack lodged a blood clot in his lungs, and he died at 89.
James Stewart holding his honorary Oscar on March 25, 1985 in Hollywood | Photo: Getty Images
ABOUT MARGARET SULLAVAN
Born Margaret Brooke Sullavan to a wealthy stockbroker in 1909, Sullavan suffered muscle weakness that made walking difficult when she was a child.
At six, she had recovered and grew up to become a rebellious teenager. Against her parents' wishes, she moved to Boston to study dance at Denishawn studio and drama at the Copley Theatre.
At Harvard University, she performed with the University Players with future stars like Henry Fonda, Stewart, and Kent Smith. Sullavan made her Broadway debut in 1926 in "Hello, Lola."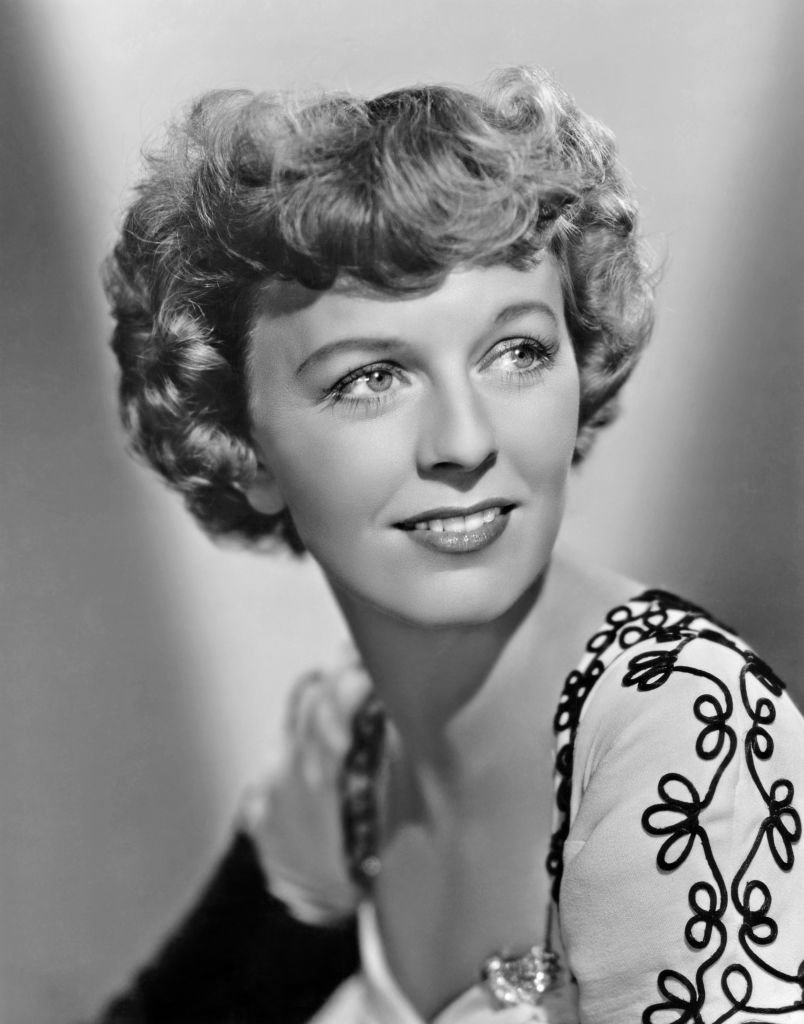 Margaret Sullavan in the movie "Appointment for Love" | Photo: Getty Images
STEWART AND SULLAVAN'S RELATIONSHIP
After Stewart and Sullavan met from their days at the University Players, they became good friends. Their chemistry was intense, and together, they made four incredible movies.
In the mid-1930s, Sullavan had become one of Hollywood's biggest stars. She then used her influence to bring Stewart to Hollywood, and they starred together in "Next Time We Love" in 1935.
Stewart was unsure of himself while they were shooting the movie, but he had Sullavan there to coach, encourage, and polish him. She helped him become the star that he was.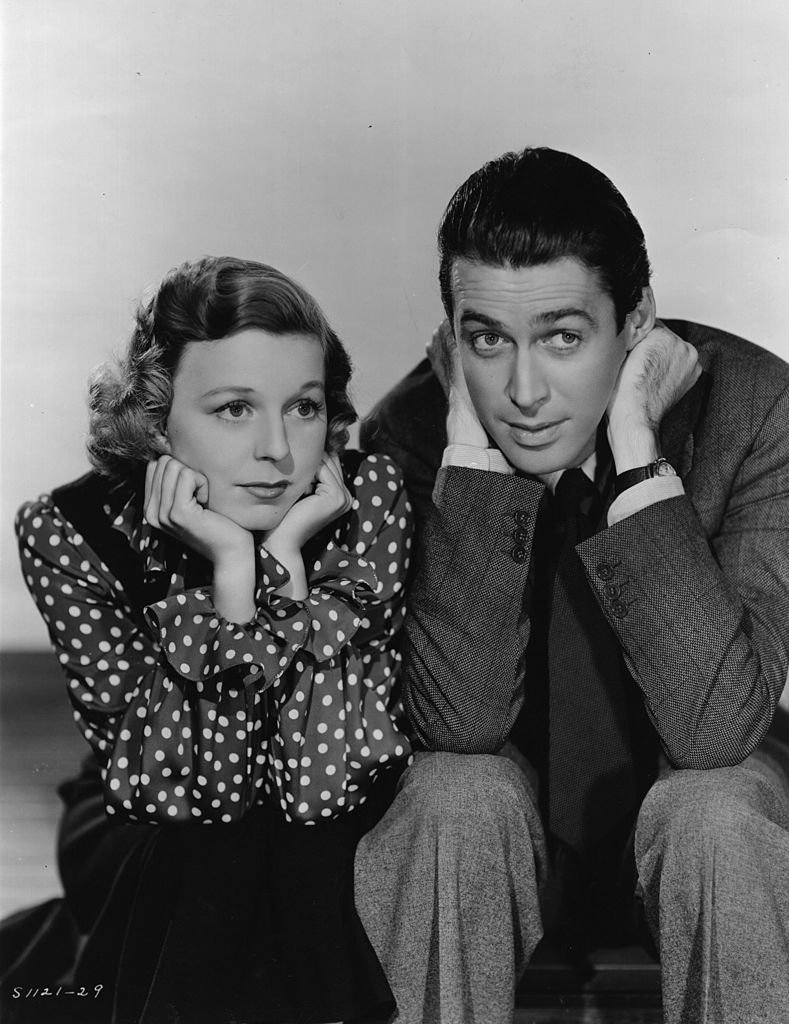 Margaret Sullavan and James Stewart in the movie "The Shop Around The Corner" in 1940 | Photo: Getty Images
There were rumors of an affair between them, but Sullavan married Fonda, who was also Stewart's friend, in 1931. Sullavan and Fonda's marriage lasted only 15 months.
Even though Stewart was in love and had romantic feelings for Sullavan, the love was unrequited as Sullavan regarded him as just a close friend and co-worker.
She was protective, loving, and maternal towards him. Stewart was said to have brought out her finest qualities, while he was said to have been at his best when he played opposite Sullavan.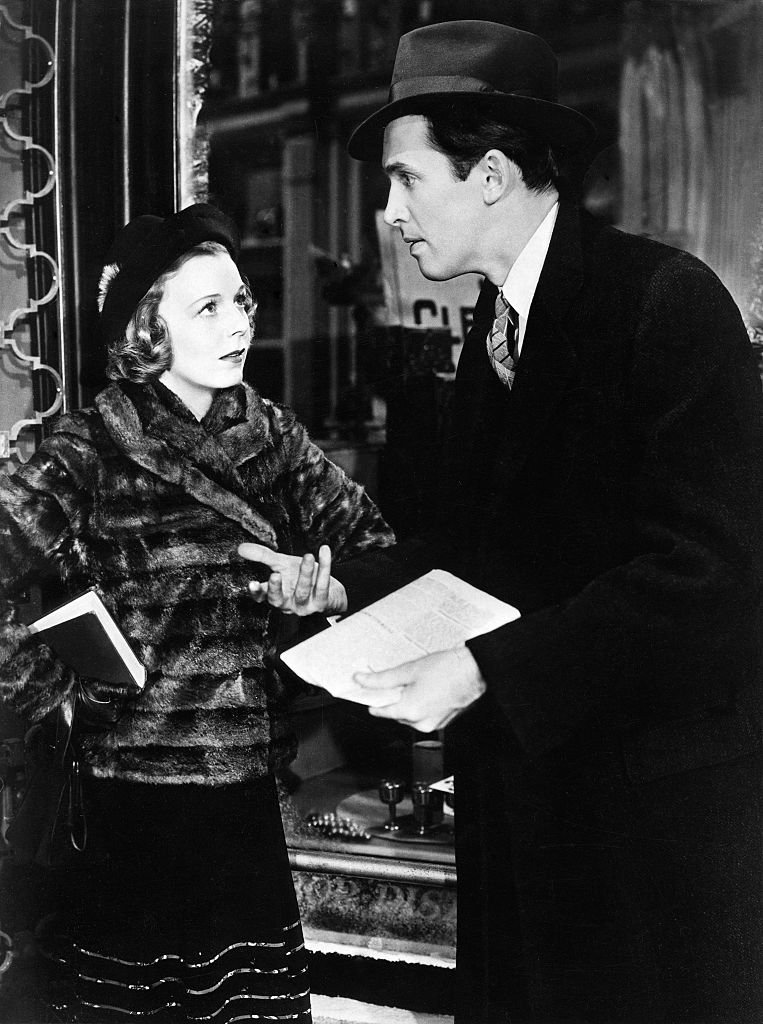 Margaret Sullavan and James Stewart in the movie "The Shop Around The Corner" in 1940 | Photo: Getty Images
Stewart did not get married until his forties and was once called the "Great American Bachelor." During the summer of 1948, he met Gloria McLean at a dinner party.
He was so taken by her beauty, sweet nature, and humor that they were married the following year. He adopted McLean's two sons, Ronald, born in 1944, and Michael, born in 1946. On May 7, 1951, the Stewarts welcomed their twins, Judy and Kelly.
Margaret Sullavan and James Stewart in the movie "The Shop Around The Corner" in 1940 | Photo: Getty Images
STEWART'S FRIENDSHIP WITH FONDA
Fonda and Stewart had a friendship that lasted for over 50 years. Their friendship helped them through the good and the bad times. They were said to be very much alike and quiet introverts.
In the Christmas of 1934, their love for airplanes made them splurge on the largest model airplane kit they found at Macy's. They had bought this as a Christmas present for each other.
While they shared a lot of similarities, especially in pastimes, temperament, and humor, they were opposites in many ways. Fonda was married five times, while Stewart was married once.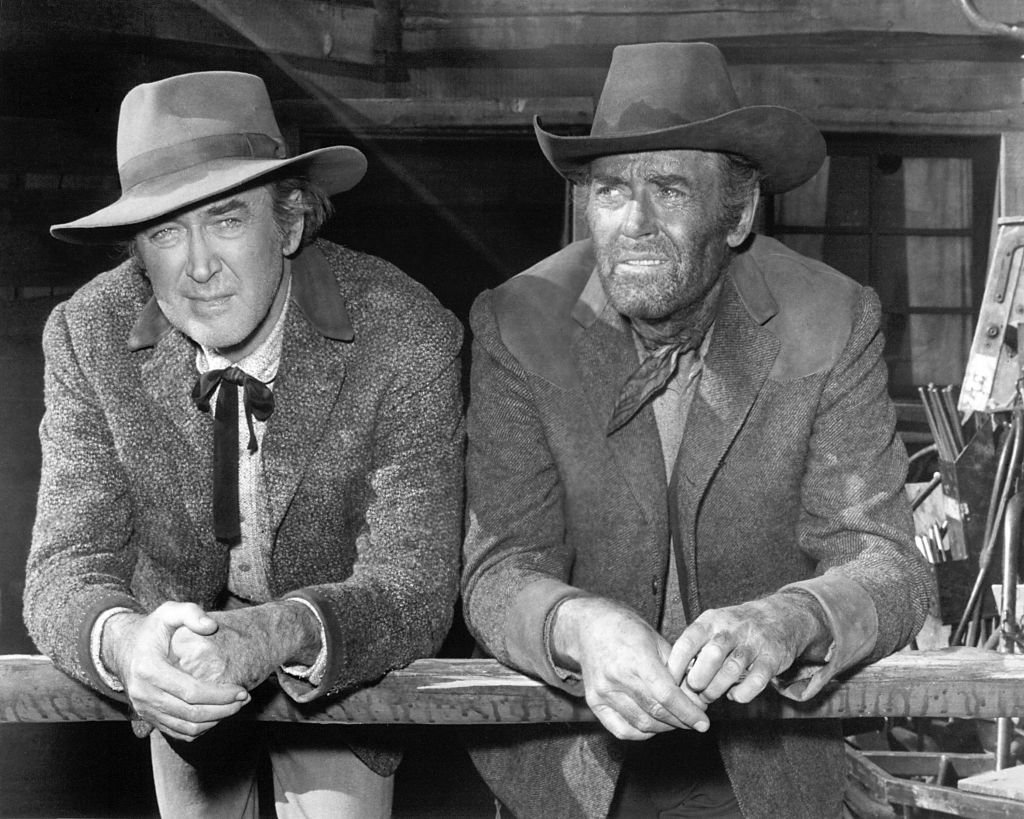 James Stewart and Henry Fonda in the western "Firecreek," in 1968| Photo: Getty Images
Stewart disapproved of Fonda's lifestyle, and by being vocal about it, he almost destroyed their friendship. After they patched up their differences, Stewart decided he wouldn't judge Fonda.
Stewart valued their friendship so much that he decided that he would never pitch in his thoughts and opinions in matters concerning Fonda's private life.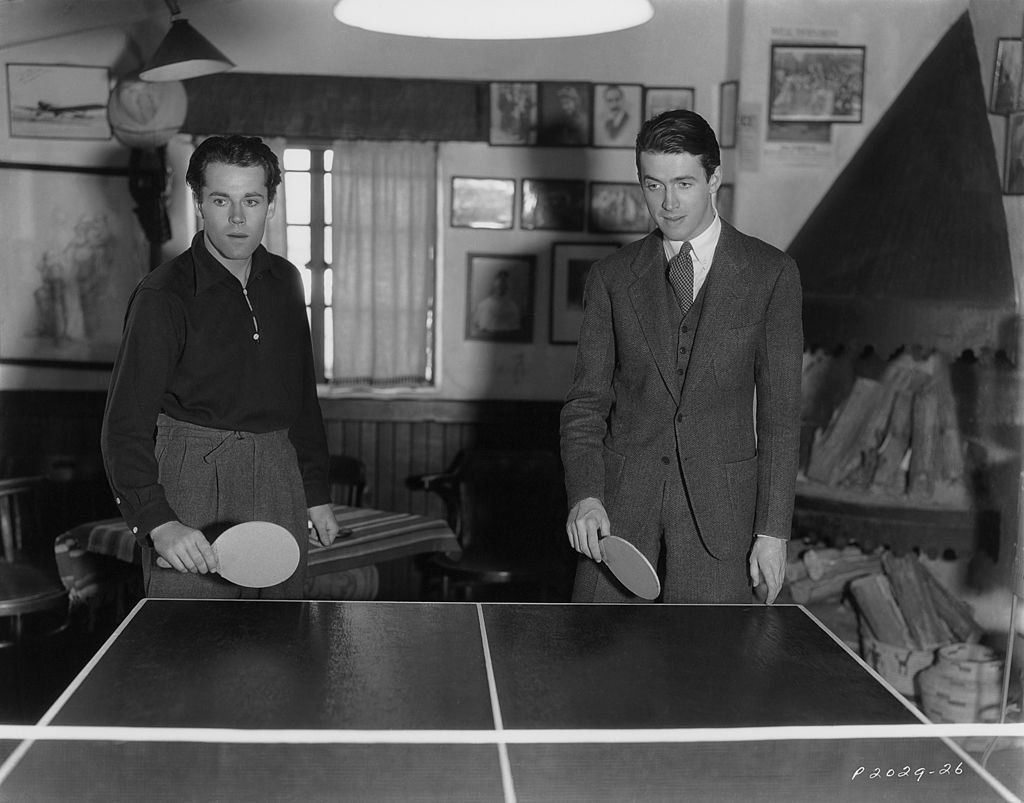 Henry Fonda and James Stewart play a game of table tennis in 1937| Photo: Getty Images
STEWART'S REACTION TO SULLAVAN'S DEATH
On January 1, 1960, Sullavan died at 50 in her hotel room. She had taken an overdose of sleeping pills, and though they found no suicide note, her death was ruled as an accidental overdose.
The news of Sullavan's death was devastating for Stewart, and his wife said he became something of a recluse for a while. His wife had to make him take a vacation, and for several months, Stewart was considering retirement.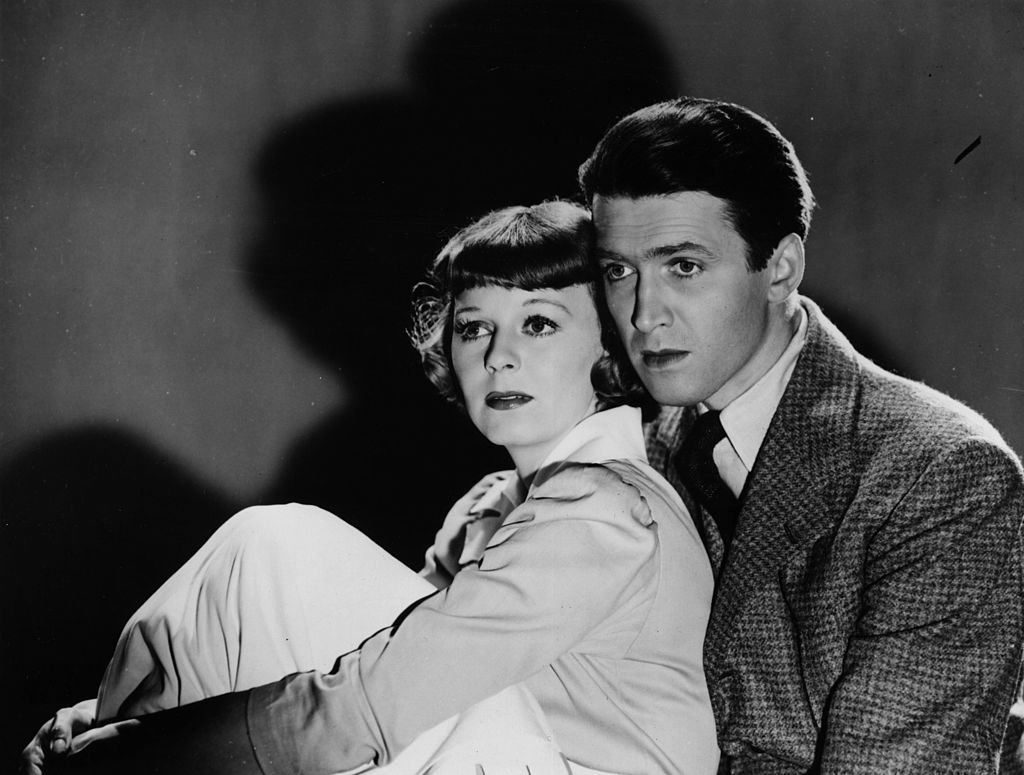 Margaret Sullavan and James Stewart in the movie "The Mortal Storm" in 1940 | Photo: Getty Images
He had lost the spark that he always carried about with him. McNeal believed that the loss of spark did not come from the failures of his movies at the time.
She thought that her husband had lost his spark because of the death of Sullavan. In 1981, Sullavan was inducted, posthumously, into the American Theater Hall of Fame.
Please fill in your e-mail so we can share with you our top stories!