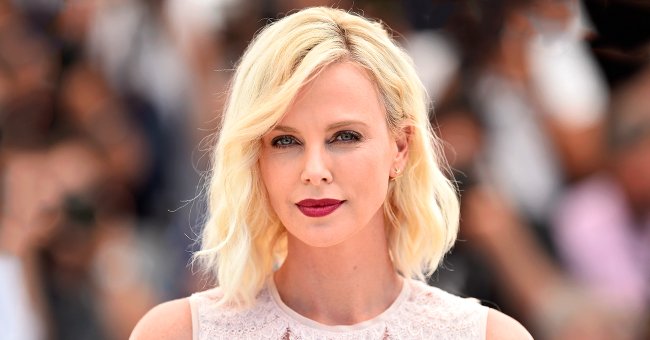 Instagram/charlizeafrica | Getty Images
Charlize Theron Has 'Great Confidence' in Raising Black Girls as Black Women 'Put Her in Place'
South African-born actress Charlize Theron gained great confidence in raising her two daughters, Jackson and August, through help from Black women and their knowledge of Black girlhood.
Charlize Theron is a talented actress who has a successful career in Hollywood. She has appeared in many films, in various genres, from comedy to action thrillers, and her latest children's animation, "The Addams Family 2."
One of her most known films is "Monster." The role earned Theron an Academy Award and Golden Gold Award for best actress in 2004. Theron was in her 20s when she won, and her career has only continued to grow since.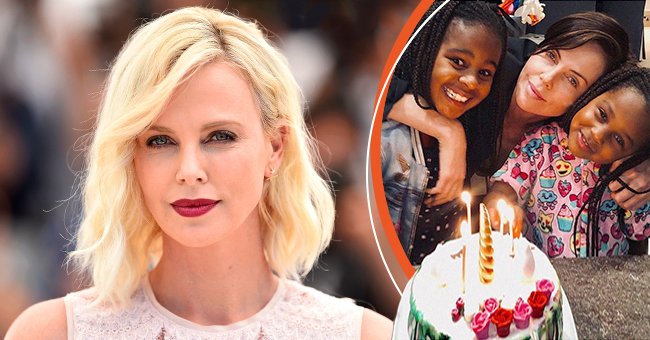 Charlize Theron pictured at 69th annual Cannes Film Festival in 2016 [Left] Theron and her two daughters, Jackson and August, pictured on Instagram in 2020. | Photo: Getty Images & Instagram/charlizeafrica
CHILDHOOD IN SOUTH AFRICA
Before finding her fame in Hollywood, the "Mad Max" actress endured a difficult childhood in Johannesburg, South Africa, with her mother, Gerda, and father, Charles.
The family lived on a remote farm outside of the city. According to The Daily Mail, Theron's father was an alcoholic and abusive and regularly beat Gerda. When Theron was 15, Charles' torment reached its peak.
He came home in a rage, carrying a gun, and threatened to kill his wife and daughter. However, Gerda managed to shoot her husband in self-defense, and he died.
The "Bombshell" actress and her mother continued having a close relationship, especially as Theron decided to become a mother and adopt her two children, Jackson and August.
BECOMING A MOTHER
During an interview with Chelsea Handler for Elle, Theron shared that she was ready to be a mother when she reached her thirties. Previously, having a child was one of the scariest things Theron could imagine.
So in 2012, Theron walked into motherhood when she adopted her first child, Jackson, who later came out as transgender. Three years later, Theron became a mother to two as she adopted August, her second daughter.
During a W Magazine podcast called "Five Things with Ling Hirshberg," Theron shared that having the choice to adopt and have children was powerful and empowering for her.
After welcoming her two children, the "Atomic Blonde" actress has been open about her experiences, life with her children, as well as motherhood, and how her mother has played an essential role in raising her children.
In 2012, shortly after adopting Jackson, Theron told InStyle that she had always wanted to experience motherhood and hoped she could be like her own mother when raising her children. She told the outlet:
"Motherhood was something I always knew I wanted to experience. I can only hope to be 10 percent of the mom mine was to me. She encouraged me to be confident and enjoy life."
The actress wanted to encourage her child to be confident and enjoy life just like Theron's mother had done for her. Little Jackson seemed to have genuinely changed his mother's life.
While promoting her film "Snow White and the Huntsman" in May 2012, two months after she adopted Jackson, Theron told the media that it was everything she had ever hoped.
At the time, Theron had just celebrated her first Mother's Day, which involved plenty of snuggles, and was enjoying motherhood. She revealed that she could not remember life before her child's arrival:
"I feel like I can't remember anything prior to him. I feel like it was always just meant to be what it is."
Later in 2013, Theron teared up while talking about her firstborn, whom she called "Heaven on toast," while accepting her Variety's Power of Women award. She shared that Jackson was growing so big so fast.
The actress and daughter also took an opportunity to thank her mother for teaching her how to be a strong woman. Theron gave her mother the "Power of Women" because she believed her mother was more powerful than herself.
JACKSON COMES OUT
Theron has been honest and open with life with the oldest child. Jackson was born a male, but at the age of three, she looked into her mother's eyes and told her, "I am not a boy."
In 2019, after rumors that Theron was raising her son as a girl as photos of the young child wearing dresses, skirts, and long braids surfaced, the "Tully" actress spoke out about her child's identity.
She candidly told The Daily Mail that she also thought her child was a boy. However, Jackson then shared she was a girl. Therefore, she told the outlet that she had two daughters she wanted to protect.
Theron emphasized that who her children wanted to be was not for her to decide. Instead, her job as a parent was to celebrate and love them and make sure they had everything they needed to be themselves.
THERON ON RAISING BLACK GIRLS
Besides being open about her oldest daughter's identity, Theron once shared that as a white woman, she knows she will not have all the answers when it comes to raising her two Black daughters. Fortunately, she is not afraid to ask questions.
During an interview with Essence, Theron shared that all parents know they lack knowledge in specific areas, so she ensures she has a knowledgeable network around her that can fill in the gaps. She said:
"I am so grateful to the incredible village of strong Black women in my life who I can pick up a phone to, or come over to my house and they'll tell me: 'You need to stop doing this.'"
Theron shared that the women put her in her place when it came to helping her children take pride in their appearances, and because of that, she feels great confidence in raising her children.
For issues of Black girlhood, besides hair-care, Theron shared that she listens to her daughters and takes guidance from them. The "Young Adult" star has consistent conversations with her daughters about their identity.
THERON HAS RECEIVED BACKLASH
Even though Theron always wanted to be a mother and openly support her children's identities, she has received backlash and been slammed by fans and users online.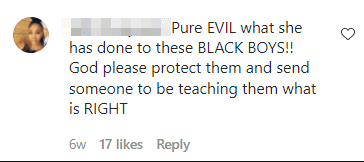 An Instagram user's comment on Charlize Theron's photo with her children. | Photo: Instagram/charlizeafrica
On an Instagram post celebrating her daughters for National Daughters Day, a few users commented that Theron was the "devil" and "evil" for turning Black boys into girls.
While on a video of the children and Theron jumping into the ocean, a user commented that they could not imagine a Black woman "assisting in perpetuating this madness."
However, it seems Theron and her family have not let the negative comments get in their way of enjoying life together. Theron has continued to discuss her daughters and her parenting publicly and share photos of their lives on Instagram.
Please fill in your e-mail so we can share with you our top stories!