Getty Images
Donny Osmond Once Disappeared from the Spotlight for Years — Nobody Knew Him When He Came Back
Donny Osmond started his entertainment career at a very young age, and by the time he hit his teens, he had become a teen idol on the cover of various magazines.
In his early twenties, his career began to stall, and even though his publicist wanted him to involve himself in a drug scandal purposely, Donny Osmond knew that wasn't the way.
He decided to disappear from the spotlight, changed his image, and made a successful comeback with new music that people didn't know had been recorded by him.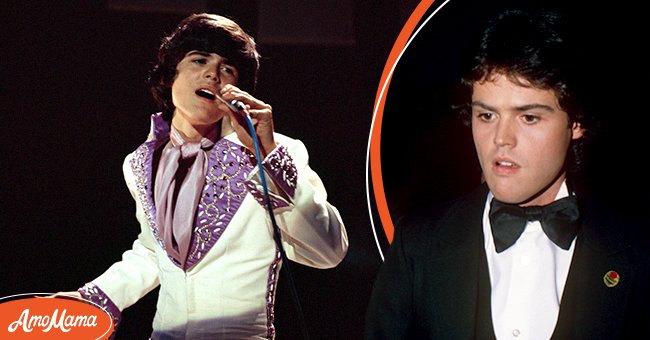 Donny Osmond performs on stage circa 1972 (left), Donny Osmond at a formal event circa 1970 in New York (right) | Photo: Getty Images
YOUNG PRODIGY TAKES HOLLYWOOD BY STORM
Born Donald Clark Osmond on December 9, 1957, he is a singer, actor, and television host. He was the seventh son of Olive Osmond and George Osmond.
On vacation to Disneyland, he and his older brothers Wayne, Alan, Merrill, and Jay were discovered by Walt Disney. In 1962, they appeared on "The Andy Williams Show" and performed on the show for nine years.
After they recorded "One Bad Apple" by Mike Curb and Rick Hall, they became famous. In the early 1970s, Donny became the star of the group.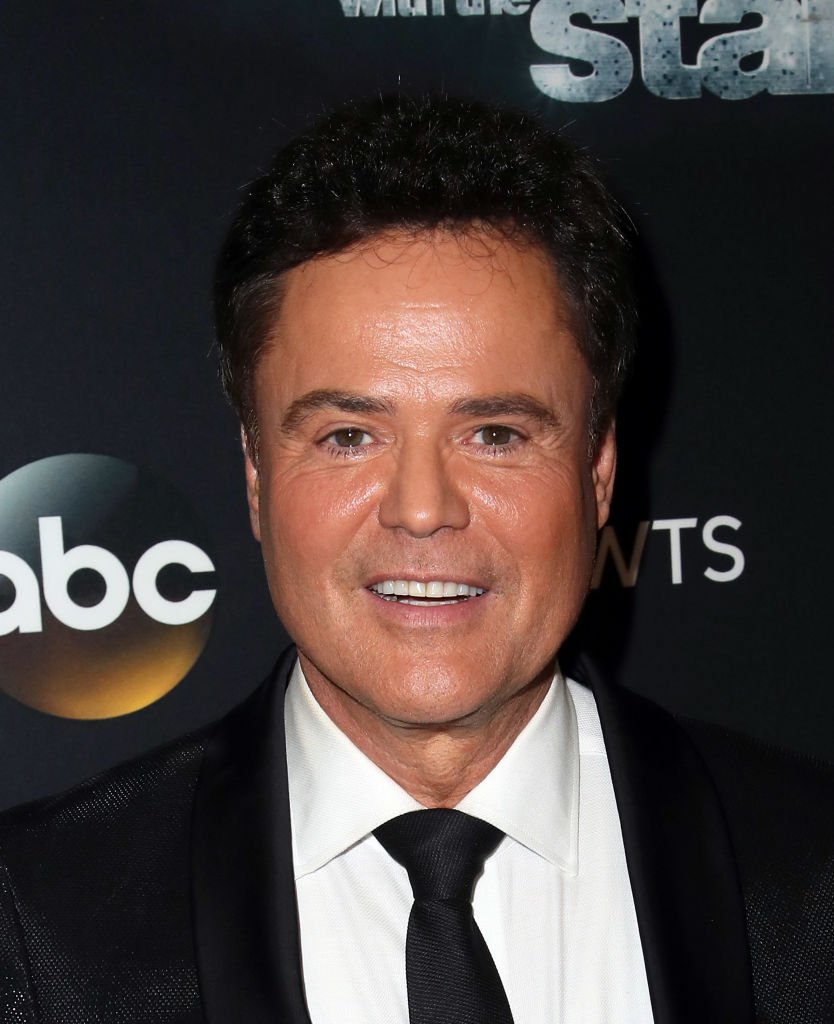 Donny Osmond at the "Dancing with the Stars" Season 24 on April 17, 2017, in Los Angeles | Photo: Getty Images
For several years, the brothers traveled the world performing songs as "Puppy Love," "Go Away Little Girl," "Crazy Horses," "Twelfth of Never," and "Down By the Lazy River."
By the time Donny was 13, he had four top 10 singles on the radio. At 17, he had 12 top 40 hits, either solo or with his brothers, and was on the cover of several teen magazines.
In 1974, their sister, Marie, started performing with them, and in 1975, they got to host their TV variety show, "The Donny & Marie Show," which lasted for four years. In the late 1990s, he and his sister had another show.
In 2009, Donny took part in the ninth season of "Dancing With The Stars" to prove he was a better dancer than his sister. In November, he won the show with his dancing partner Kym Johnson Herjavec.
DONNY ONCE MADE HIS FATHER MAD
Donny might have been a star at a young age, but he was still a child at heart. He trashed a hotel room at one time, and his dad was so mad at him.
Donny had clogged the toilet just because he could, flipped the mattress, and thrown things out the window. He only wanted to have fun as a child.
THE PRODIGY HITS ROCK BOTTOM
With a decline in his career, Donny was looking for a new sound, but in the late 1970s, no record label was ready to give him the kind of freedom he wanted.
Things became worse in 1982 when he made his way into Broadway musical theatre with "Little Johnny Jones." He wanted to build credibility in a new field.
However, things did not go as planned as the play was closed on opening night because critics made fun of it. The play was one he was very proud of, but it was also one that demoralized him the most.
Even though they had stopped the show twice for standing ovations, Donny was irritated that the critics made jokes about his toothy smile and talked about the image rather than the show.
The negative remarks became too much for Donny, making him grow a beard and withdraw from the spotlight for almost two years. He had tried to hide because it was the first time he had failed at something.
He was 24 at the time and started to feel like he wasn't any good and that his career was over. He became a punchline and a dated reference.
To create a different story for the press, his publicist suggested that Donny purposely get arrested crossing the U.S. border with drugs.
He fired the publicist because he could not imagine explaining such a situation to his wife, kids, and the people he taught at Sunday school.
In 1988, Donny began to contemplate quitting the entertainment industry and starting a security company because he loved electronics and technology.
As a teenager, he would sometimes solder his circuit boards on tour. In addition, because he always had a lot of security, he thought he knew enough to start a successful security business.
DONNY'S NEW IMAGE WAS GOOD AND BAD NEWS
Despite the numerous thoughts and ideas he had, thankfully, Donny persevered and decided to change his image instead. He concluded that even though he looked like a little boy, he wasn't a boy anymore.
Being a pop music lover, he started dressing like George Michael in cut-up jeans and a black leather jacket. He also started working with singer-songwriter Peter Gabriel but, Donny couldn't get a record deal.
He recorded "Soldier of Love," which became a top 30 hit in the United Kingdom during that period. Various radio stations played the song without releasing the name of the artist.
For weeks, the song climbed the charts in America, with listeners trying to guess the identity of the "mystery artist." Then his manager called him and said:
"I've got good news and bad news. The good news is you've got a hit song. The bad news is nobody knows it's you!"
He was hurt, but he also saw it as a fantastic opportunity. After Donny revealed his identity, the song reached No. 2 on the Billboard Hot 100 that year.
Much pessimism faced Donny with his comeback efforts, but he maintained stubborn perseverance, which he got from his father. About his father, Donny said:
"He had a very difficult life. . . . He came from a broken home and lost his father when he was 3. When I think of all the hardships he had to go through, it's an inspiration to me."
At this time, Donny was signed to Virgin Records and had completed the "Soldier of Love" project with the New York-based writer and producers Carl Sturken and Evan Rogers.
SECRET TO SUCCESS
Donny relaunched his career with his new image as the next single he released, "Sacred Emotion," made it to No. 13 on the Billboard Hot 100. Luckily, he didn't need a drug scandal for his comeback.
Donny, who released his 65th album titled "Start Again" in September 2021, believes that reinvention is the key to his longtime success in the entertainment industry.
For Donny, a long career means not resting on his laurels. It's about finding different ways of doing things, and because no one is perfect, when mistakes are made, people have to learn to start again.
A JACK OF ALL TRADES
In addition to his successful music career, he and his wife Debra, whom he married on May 8, 1978, launched their home furnishing line called Donny Osmond Home in 2014.
The couple who love a family-oriented casual and comfortable space decided to sell this concept to people as they sell everything from furniture and lamps to electric fans.
Around the house, Debra revealed that Donny might not be a great plumber, but when it comes to wiring, he's her go-to electrician. She believes that he can wire a whole house.
CURRENT INJURY HAMPERS LONDON SHOW
At 63, Donny is not ready to leave the stage as his career has kept waxing strong. However, on December 4, 2021, while performing on stage in Pantoland, he was said to have suffered a "slight injury."
The injury made him miss the next day's show as doctors had to evaluate him, and he hoped to return to the show on December 7, 2021.
His fans worldwide have taken to their social media platforms to send him their healing thoughts, and we also wish Donny a speedy recovery.
Please fill in your e-mail so we can share with you our top stories!