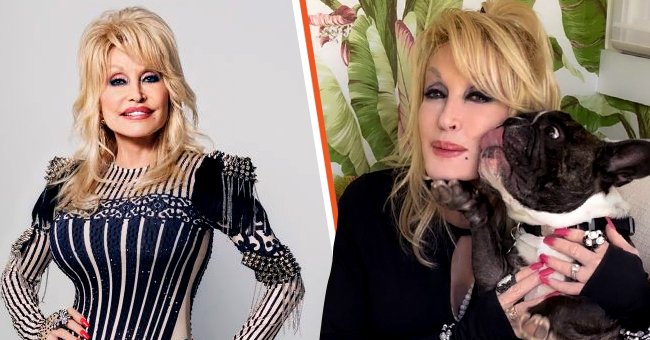 Instagram/dollyparton | Getty Images
Inside Dolly Parton's Brentwood Home She Previously Decorated with a Christmas Tree in Every Room
Iconic American singer Dolly Parton lives outside of Nashville, Tennessee, with her longtime husband, Carl Dean. Get inside their 3,324-square-foot mansion.
Dolly Parton is an iconic singer who will always be remembered and celebrated for her accomplishments in the music industry.
However, her road to becoming a Country music star was not easy as she faced multiple challenges. On January 19, 1946, Dolly was born as the fourth of 12 children to Avie Lee Caroline and Robert Lee Parton Sr.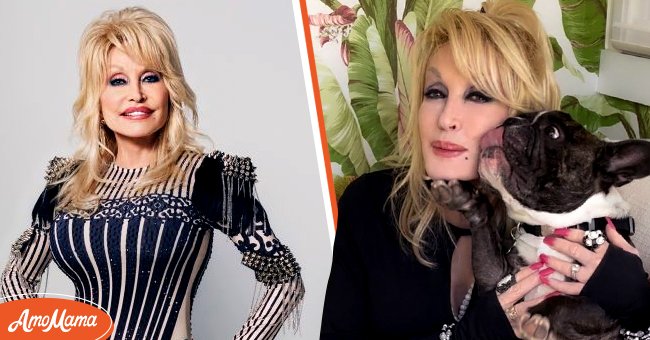 Portrait photo of American singer Dolly Parton. [Left] | Dolly Parton in a photo with her dog. [Right] | Photo: Instagram.com/dollyparton Getty Images
She had a poverty-stricken childhood and lived with her 11 siblings and their parents under one roof in rural Tennessee. Dolly has previously revealed how her younger siblings urinated on her every night.
She said they slept three and four in the bed. Dolly would wash before sleeping but would get wet by the kids as soon as she got to the bed. Hence, she would wash again in the morning.
As their family grew larger, the older kids were given more responsibilities and had to look after their younger siblings.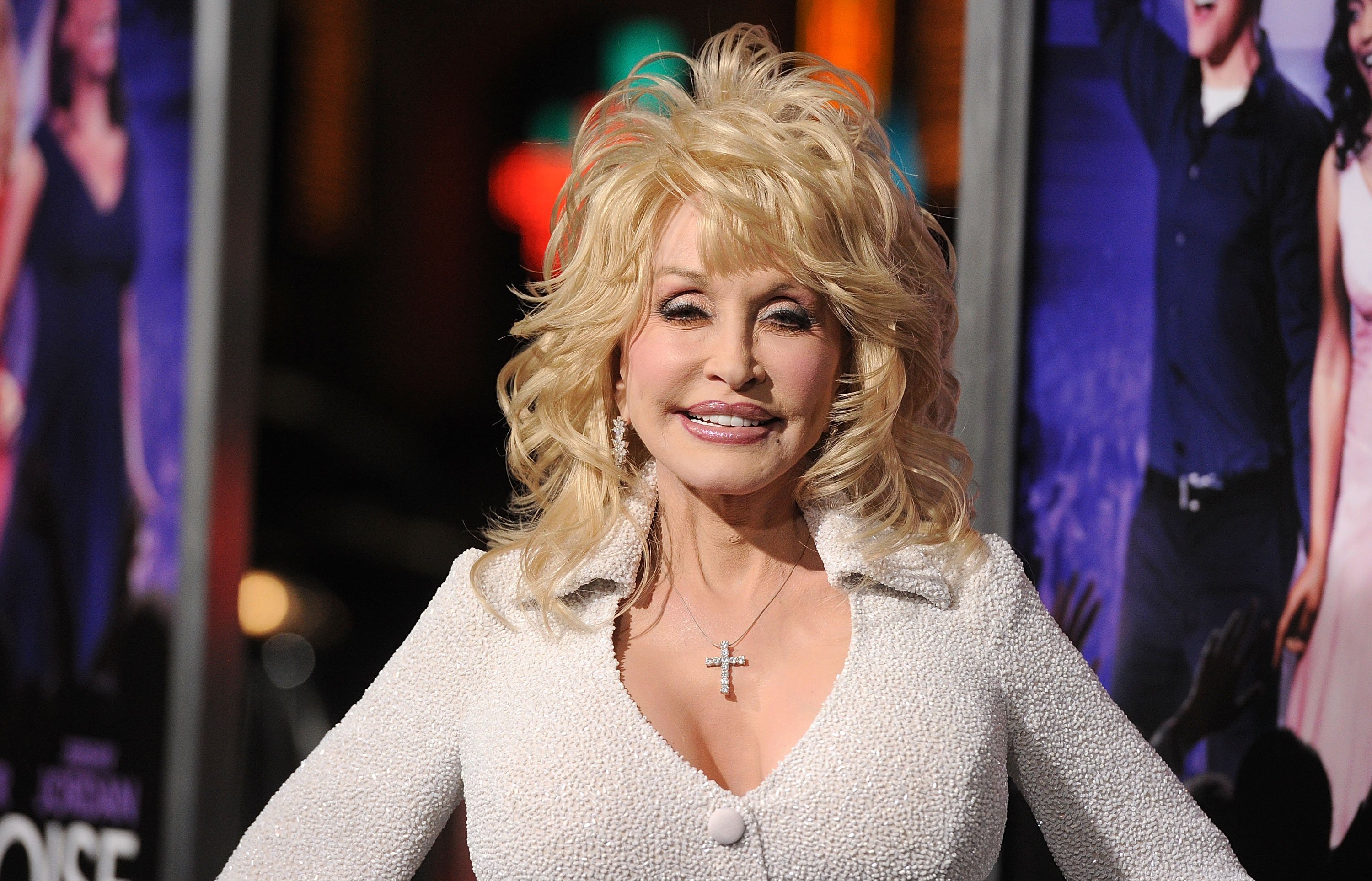 Dolly Parton at the premiere of "Joyful Noise" held at Grauman's Chinese Theatre on January 9, 2012. | Photo: Getty Images
Dolly was just nine years old when her family experienced tragedy after one of her baby brothers, Larry, died as a newborn. His death caused her so much heartbreak.
In the years that have followed, she has lost two more siblings. Floyd Parton, her longtime songwriting collaborator, died at 61 in 2018, while her brother Randy Parton died of Cancer in January 2021.
Despite the poverty-stricken nature of Dolly's upbringing, she learned so much from it, and those lessons formed the building blocks of her successful career.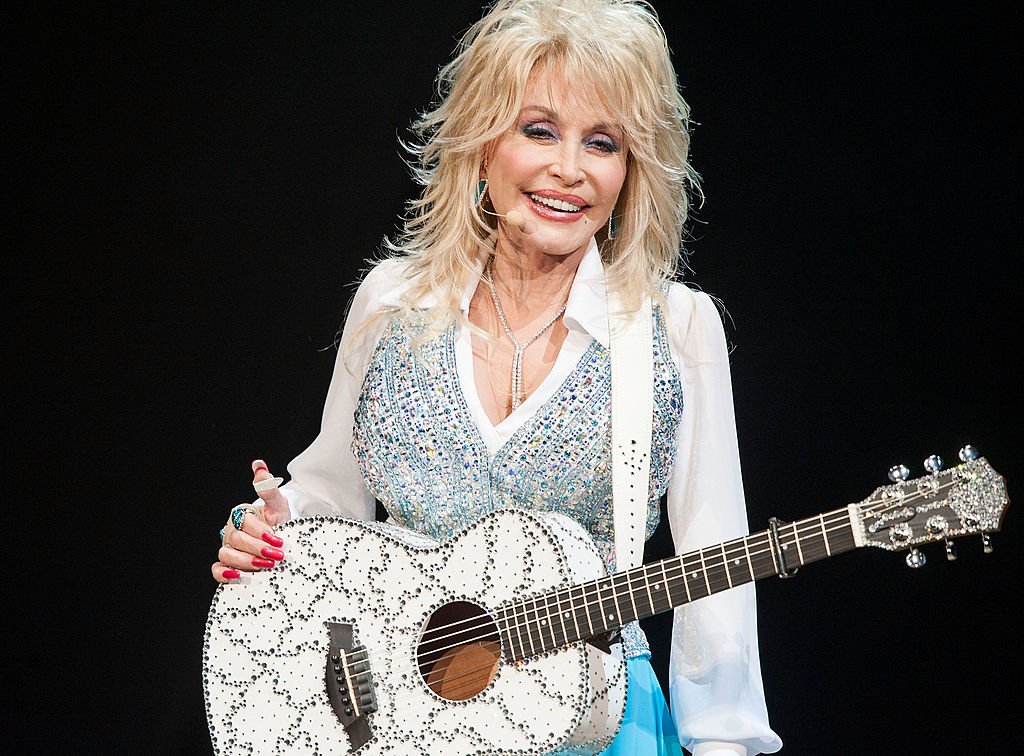 Dolly Parton performs at Agua Caliente Casino on January 24, 2014, in Rancho Mirage, California. | Photo: Getty Images
During an interview with "USA Today," she revealed how she learned to draw a crowd while living with her parents and siblings at their Locust Ridge house in the Great Smoky Mountains of East Tennessee.
Then, Dolly would stand at the porch of their house, put a tobacco stick in the porch's cracks, and place a tin can on the stick to form a microphone.
She would follow that up by singing to the chickens, pigs, dogs, and kids and imagine a bigger world. She revealed she imagined, dreamed, and worked for it, and God was good enough to let her have it.
Dolly, whose parents married as teenagers, described her family as mountain people who grew up in the church. She said they grew up knowing Jesus loved them and God made all things possible.
The legendary singer added that she has carried that knowledge through her life and gathered much strength from it too. She also said:
"I just always felt like I knew who I was, and I just try to stay anchored within myself and my beliefs."
With that mindset, Dolly has enjoyed so much success in her career, winning nine Grammy Awards and selling millions of records worldwide.
Dolly's first exposure to music came from her family members, including her mom, who sang and played the guitar. Also, she learned about music at an early age while performing in church.
With Christmas around the corner, Dolly would surely have put up Christmas decorations in her beautiful home.
When she was young, her relative gifted her a guitar, and she started writing songs. Then, when she was 10, she began performing professionally and appeared on local TV and radio shows in Knoxville.
Dolly always wanted to be a singer, and her determination helped her rise to the top of her career in the years that followed. However, she never forgot about her upbringing and her family's Locust Ridge home.
Dolly's childhood home in Tennessee, where she grew up with her parents and siblings, had just a room and a kitchen and way too many memories, which she would never forget.
The house is reportedly still standing today, but that is not the only place where it can be seen because Dolly created a replica for a good reason.
The singer has a theme park named "Dollywood," and she decided to reconstruct her family home so that people can view it. Within the replica of the house, Dolly included trinkets taken from her home.
One can also observe the keen attention to detail. Dolly once joked that she spent millions making the replica look like $50. Dolly's humble childhood home had a profound effect on her, so much so that she sang a song about it titled "My Tennessee Mountain Home."
Dolly has been living in the same home in Brentwood, Nashville, since 1999. She shares the home with her husband, Carl Dean, whom she has been married to since May 30, 1966. She bought the house for $400.
The singer's Brentwood home is a world away from her childhood home, but she is keen to give it a traditional feel with much authentic wood and rustic finishes.
Dolly's home is filled with glitter from the ceiling to the floor. But, unlike her over-the-top nature when it comes to her appearance, she chose a more humble abode.
In 2018, Dolly allowed many fans to catch a glimpse of her beautiful home when she allowed cameras into it as part of the first episode of her friend and actress Reese Witherspoon's inspirational series "Shine On."
Dolly has a modest kitchen with white wooden cupboards and a brown central island with white marble worktops. She has silver appliances, including two dishwashers, a double fridge, and a double oven.
Dolly also has a music room with a black piano. The room is decorated with cream walls and patterned green carpet with ruched floral binds.
In a part of Dolly's home lies her enormous collection of awards. This room is complete with a large painting honoring her 100 million records worldwide sales. The room keeps to the country singer's home's vintage theme, featuring patterned wallpaper and wooden furniture.
On August 28, 2020, Dolly shared a picture of herself posing with her awards in front of the large painting. She wrote in the post's caption that she received BMI Million-Air Certificates for seven of her songs and added:
"It has always been the greatest privilege to share my music and stories with all of you!"
Dolly's living room has a cream leather armchair and a small mirrored side table that holds a bubble lamp and a butterfly ornament.
On May 20, 2019, she shared a video wishing Cher a happy birthday. It showed a different angle of her living room, including the other furniture like a brown sofa with burgundy and brown patterned cushions and a floral burgundy rug.
Dolly's home features a painted yellow hallway and has a wooden stair railing. She also added a retro wooden side dresser and a glass candle lantern in the corner.
Dolly showed her fans a glimpse of her family room while dressing up for her husband's birthday in July. Behind her was their fireplace, which featured a lovely marble surround and mantle. Meanwhile, Dean sat on a dark swivel chair.
With Christmas around the corner, Dolly would surely have put up Christmas decorations in her beautiful home. In December 2018, she appeared on Ellen's show and opened up about her Christmas decorations.
During the interview with Ellen, Dolly revealed she has many rooms in her home and has a Christmas tree in every one of them.
She revealed the trees are of different sizes. Dolly also said she has other houses and decorates them using different themes. There is no doubt this would be another beautiful Christmas in Dolly's household.
Please fill in your e-mail so we can share with you our top stories!