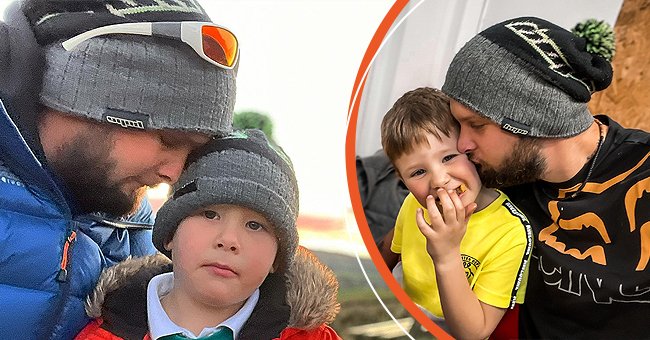 facebook.com/WalkingWithSarcoma
Terminally Ill Dad Refuses Treatment to Spend Possibly His Last Christmas with Son Thanks to a Friend
A Hartlepool man recently warmed his way into the hearts of thousands after the story of his act of kindness to his friends went viral. Many social media users are calling him a hero.
Love is a warm gesture that unites the human race. Nothing is more exciting than seeing an act of kindness from one person to another, and a Hartlepool man recently showed everyone why love is so important.
Ellis Stewart has been walking 10 kilometers every day on a treadmill for the past 20 days while dressed as a yeti. Even during daily tasks, he'll be wearing a backpack weighing 10 pounds and running on a treadmill with a 10-degree slope.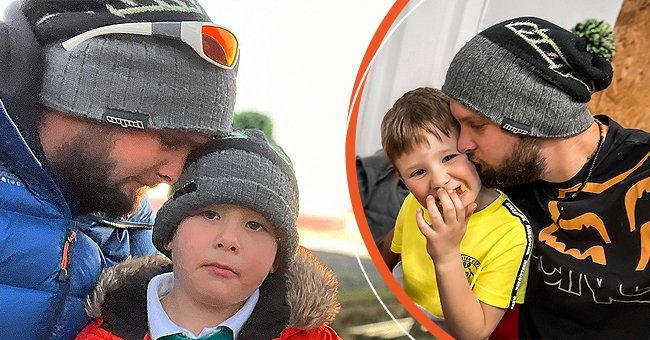 Rob Metcalfe and his adorable son. Caleb | Photo: facebook.com/WalkingWithSarcoma
The Hartlepool indigene is undertaking this challenge to help raise awareness for his close pal. Stewart hopes to help raise funds, about £2,000 for his sick friend, 32-years-old Rob Metcalfe, diagnosed with Synovial Sarcoma.
Metcalfe, who lives in Yorkshire, has undergone two operations and multiple rounds of radiotherapy and chemotherapy but has been advised that nothing else can be done.
In February of this year, Metcalfe decided to stop receiving treatment and spend the rest of his life with his four-year-old son, Caleb, making as many memories as he could.
To help his friend, Stewart set up a GoFundMe page asking people to donate to his ailing friend and help him spend memorable time with his young son.
In a long note written on the page, Stewart explained that he became acquainted with Metcalfe in 2019 after a mutual friend connected them due to their love for outdoor events and mountain adventures.
Stewart noted that all the funds donated would go directly to his sick friend and would be used in cementing his legacy with his son. He wrote, "This money will go towards helping Rob create the memories he seeks with Caleb and to help cement his legacy for his son. Rob is on borrowed time."
According to Stewart, Metcalfe had planned some memorable trips with his son with the little time he had left, but due to lack of finance which was spent on his treatment, he cannot accomplish his dreams.
Stewart's actions have been praised by users online and close friends. Jenny, Metcalfe's mother, expressed her gratitude for his bravery and kind heart, referring to him as an amazing friend to her son.
According to Jenny, her family's focus is ensuring Metcalfe gets as much quality time as he can afford to with his 4-year-old. Their last visit to the doctor showed he had as little as six months left to live as his cancer had fast spread.
Please fill in your e-mail so we can share with you our top stories!