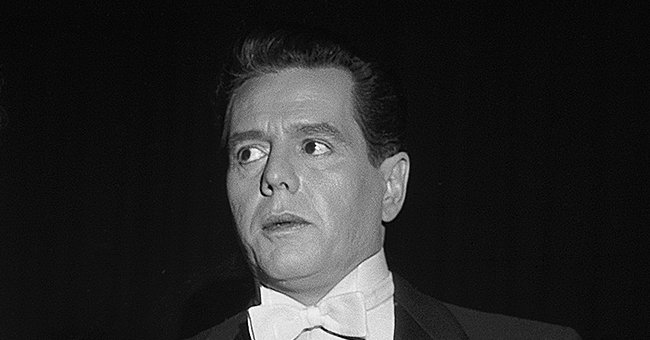 Dezi Arnaz. | Getty Images
'I Love Lucy' Star Desi Arnaz Was Once Almost Pushed Out of a Window by His Girlfriend's Husband
During his lifetime, Desi Arnaz had as many scandals as his milestones. Among the controversies was his affair with a married woman, whose husband almost threw him out a window.
Besides being an icon on TV, Desi Arnaz was known for his famous relationship and marriage to Lucille Ball. But before Ball ever got in the picture, Desi was in love with another woman.
He chronicled the story of his relationship with this woman, called Freckles, in his 1976 book, "A Book." There, Desi wrote of his affair with Freckles and an incident that could have turned volatile. Here's a look back at that escapade.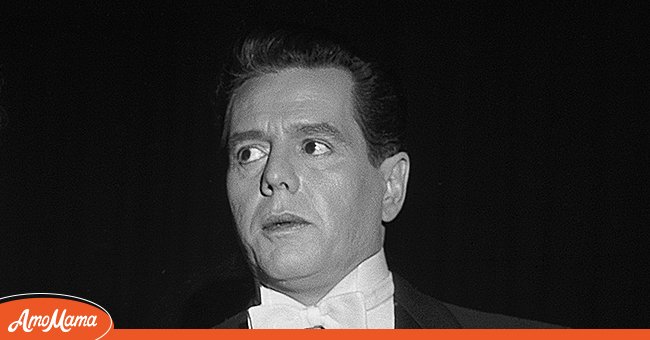 Picture of actor Desi Arnaz | Photo: Getty Images
DESI'S AFFAIR WITH FRECKLES
In his book, the "I Love Lucy" star described Freckles as one of the "most astonishing" women he ever met, the reason being that she always gave him his space. The two met at a nightclub and continued seeing each other subsequently.
Freckles never complained and were content with the terms in their relationship. He shared that Freckles was never critical of his affair with other women despite knowing. Desi wrote that Freckles could put up with his excesses, and she never nagged.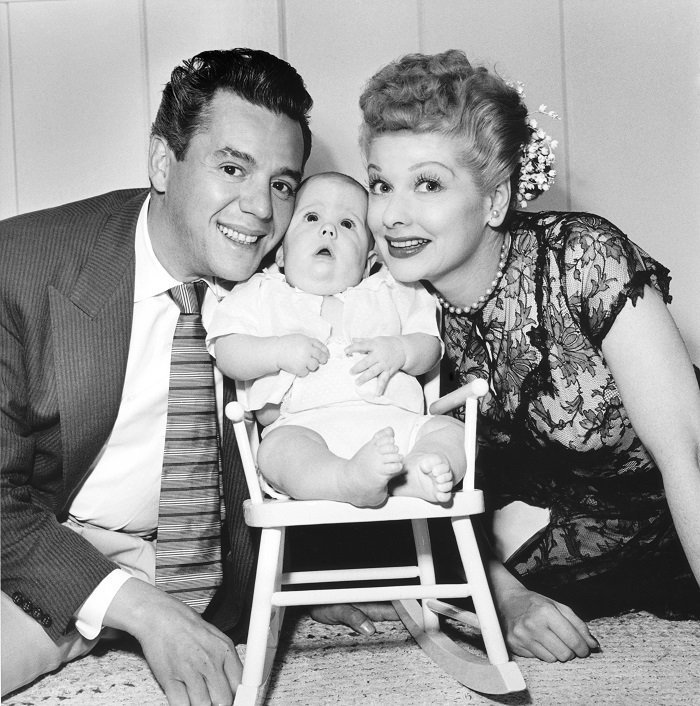 Lucille Ball and Desi Arnaz pose with their son Desi Arnaz Jr. at their home in California on January 1953 | Photo: Getty Images
He could go on weekend detours to indulge himself with another woman, but Freckles would pretend not to know and simply ask him how the events went.
Despite how well Desi's relationship suited him, there was a problem; Freckles was a married woman. However, she and her husband were separated, and Desi wished to marry her after their divorce was finalized.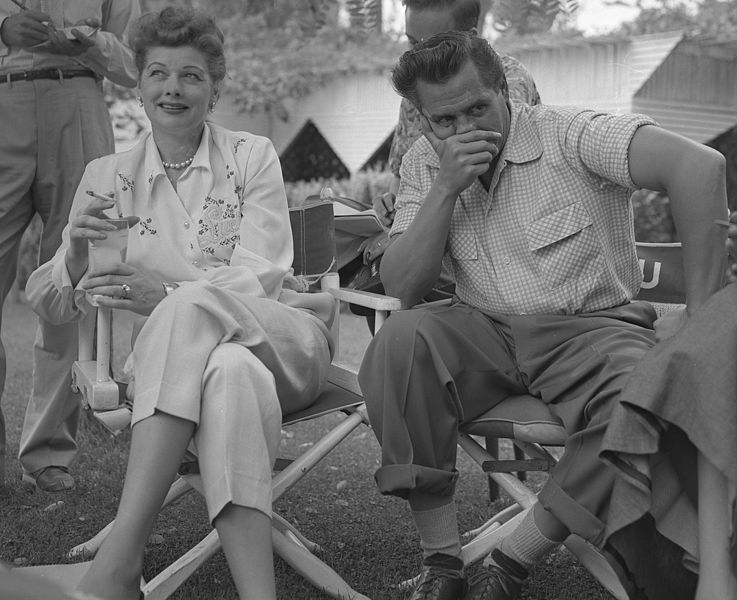 Lucille Ball and husband, Desi Arnaz seated in directors chairs at press conference in Los Angeles, California, circa 1953 | Photo: Public Domain, Wikimedia Commons
FRECKLES' SPOUSE CONFRONTED DESI
He wrote of the intense moment there was a confrontation between him and Freckles' husband. On one of their clandestine affair nights, Desi and Freckles were returning to her apartment when they saw her husband in the lobby.
A brief exchange ensued between the two men, of which Desi's husband insisted he wanted to discuss with Desi. She became alarmed and warned Desi that her husband might be planning to kill him because it wasn't his first time.
The two men walked outside, and at this, Freckles' spouse pounced on Desi and started throwing punches. Desi fought back while stressing that he did not want to get physical.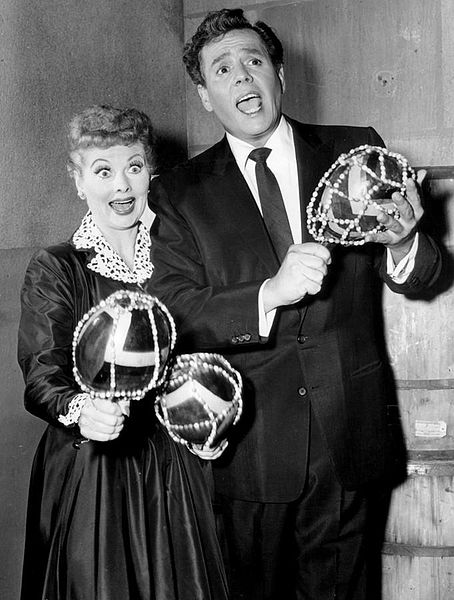 Publicity photo of Lucille Ball and Desi Arnaz for "The Lucille Ball-Desi Arnaz Show." | Photo: Public Domain, Wikimedia Commons
Freckle's husband ended the brawl and invited the "Too Many Girls" actor to his apartment. Desi wrote in his book that he agreed, but he knew the man had ulterior motives.
Once they were in the apartment, Freckles' husband opened the window and asked Desi to take in the view of the city from the open window. Desi became suspicious and shut down the idea.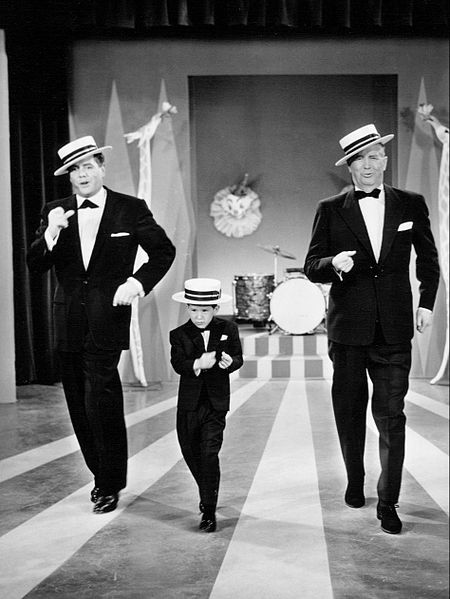 Desi Arnaz, Richard Keith and Maurice Chevalier from The Lucy-Desi Comedy Hour | Photo: Public Domain, Wikimedia Commons
The story took another turn when Freckles' husband became calm and asked to prepare Desi breakfast. Desi wrote of the turn of events in his book:
"His first plan was to push me out of the window, but he then cooked a wonderful breakfast for me."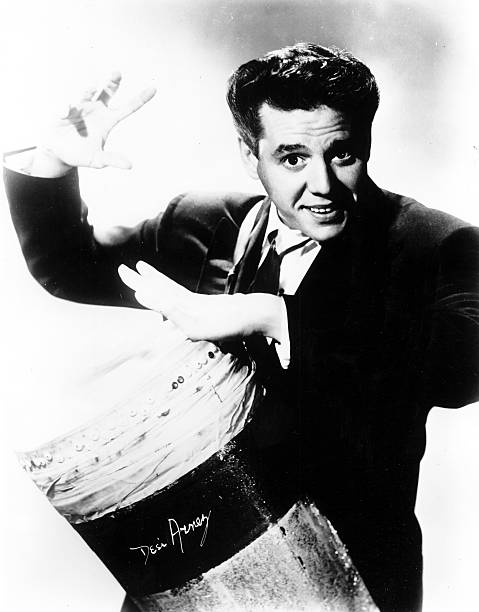 Photo of actor Desi Arnaz, circa 1970 | Photo: Getty Images
Away from all the fame borne of his brainchild, "I Love Lucy," desi was a Cuban-born actor and musician who grew up struggling as an immigrant. Before leading his first entertainment gig as a guitarist, he worked odd jobs for a while.
In the years that followed, Desi created his band. He transitioned into acting from there and starred in the Broadway Musical "Too Many Girls." In the film version of the musical, he met Lucille Ball.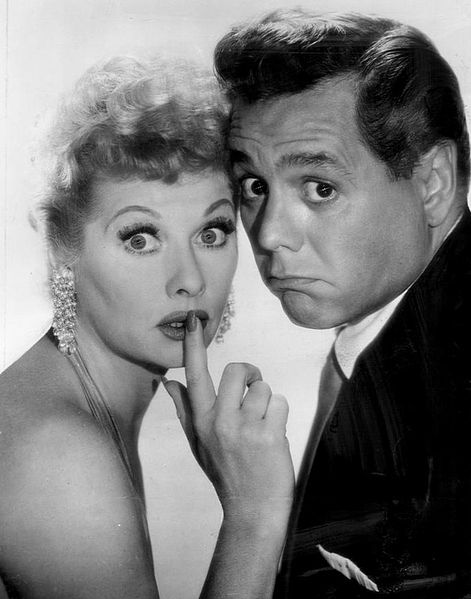 Publicity photo of Lucille Ball and Desi Arnaz for "The Lucille Ball-Desi Arnaz Show." | Photo: Public Domain, Wikimedia Commons
Ball always loved to be on stage, although she suffered impoverishment growing up. Her dreams could not be distorted by the hunger in her family, and by her teenage years, Ball's mother scraped some money to send her to John Murray Anderson School for the Dramatic Arts.
She did not have much luck with the tutors at John Murray, so after her studies, Ball turned to modeling as a poster girl, and it was through one of the billboards that a Hollywood agent recognized the model.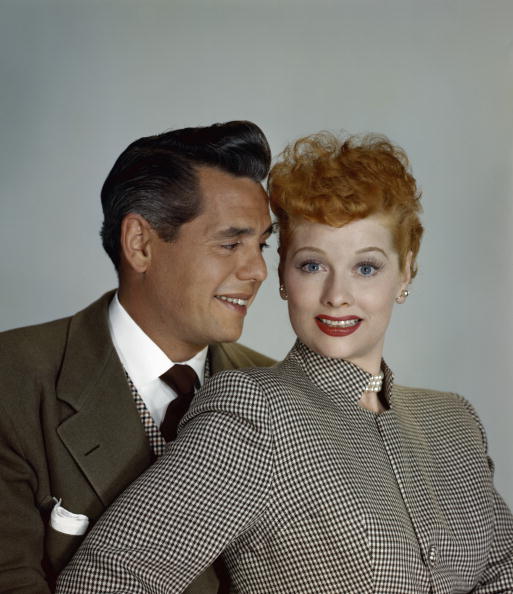 Photo of Actress Lucille Ball and her husband actor Desi Arnaz | Photo: Getty Images
She immediately jumped at the opportunity and was off to the glamorous acting world. Ball took minor roles in a few films, getting signed to RKO Studios. From there, she started on "Too Many Girls" and met Desi.
The two actors got married in 1940, and in the following, they became parents to two children, Lucie and Desi Arnaz Jr. They also became a power couple by virtue of their popular TV show, "I Love Lucy."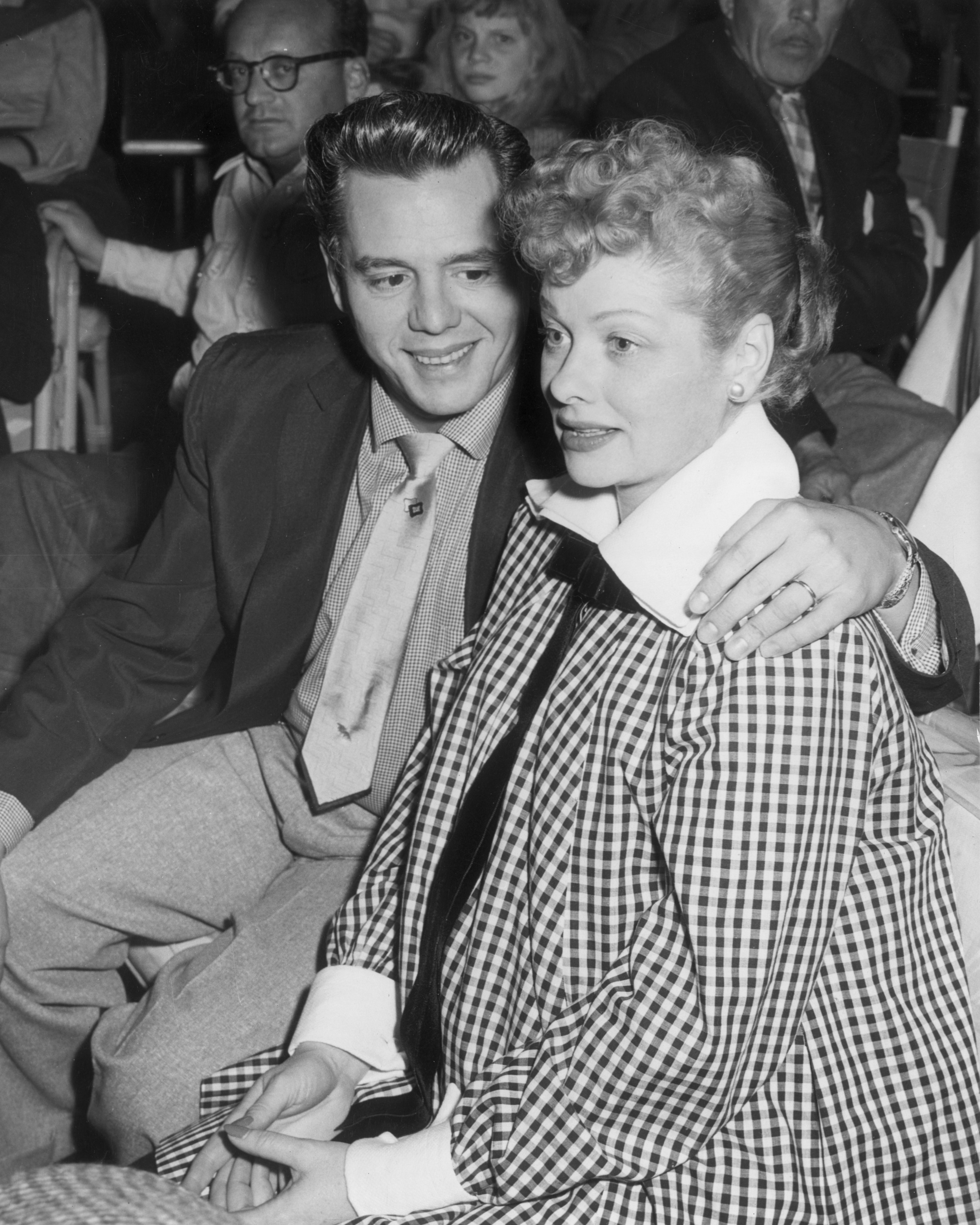 Desi Arnaz embraces his wife, Lucille Ball while watching a televised football game at the Racquet Club in Palm Springs, California, circa 1953 | Photo: Getty Images
THE COUPLE'S LEGACY LIVES ON
It's been many years since Desi and Ball passed on, but their legacy continues. Their longtime TV classic keeps resonating in Hollywood, and their children are also carrying on their Hollywood legacy as actors.
Their daughter Lucie is in her seventies and has had a good stint in Hollywood. Lucie and her brother had an early start in the industry and appeared in their mom's shows, "The Lucy Show" and "Here's Lucy."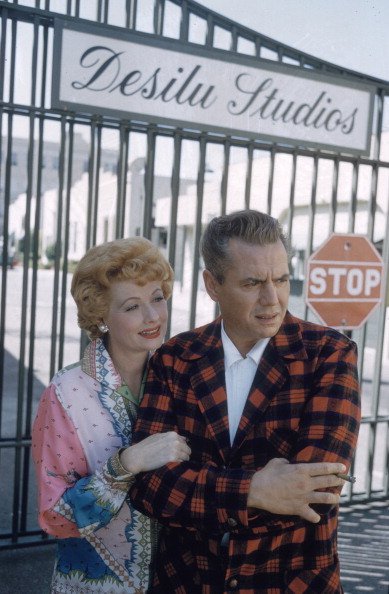 Lucille Ball and Desi Arnaz at Desilu Studios, California | Photo: Getty Images.
Once speaking on her parents' talents and from whom she gleaned her talent, Lucie attributed her natural humor to her father. She, however, noted that Ball was not a "funny lady," although she could turn her scripts to iconic comedy scenes.
The 70-year-old stated that her dad was Ball's direct opposite, although they both shared credit for the hard work and expertise to make their TV show. Lucie described Desi as an actor with sensational humor, and he taught her that it was the most important thing anyone could have in any situation.
Please fill in your e-mail so we can share with you our top stories!