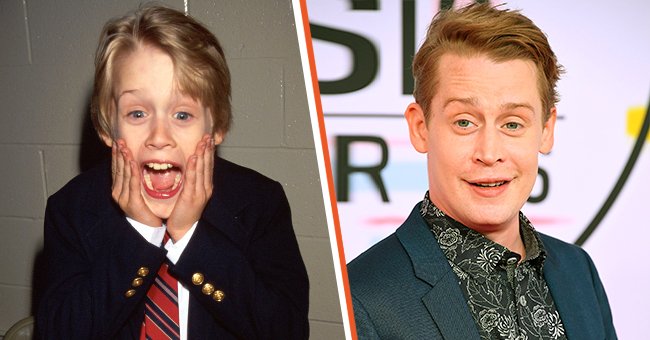 Macaulay Culkin. | Photo: Getty Images
Macaulay Culkin & His 6 Siblings' Unconventional Upbringing - Child Fame They Never Asked For
The Culkin siblings are talented performers and were introduced to acting from a young age. However, they were barely interested in show business at the time and were instead pushed into it unwillingly.
In a Vanity Fair article from December 2018, Kieran Culkin talked about surviving his difficult childhood and making peace with the family profession.
His father, Kit Culkin, 77, the family patriarch, has been a stage actor since he was young and ensured his children followed suit to carry on the legacy.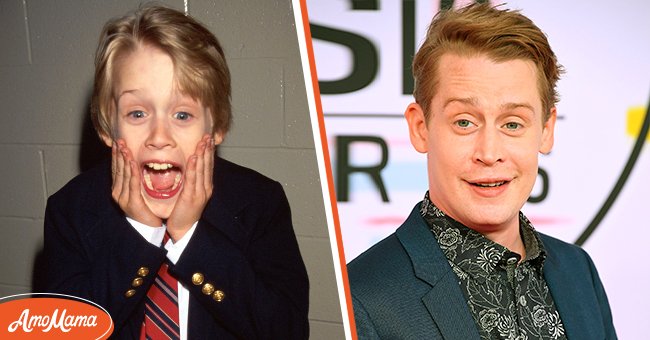 (R) Actor Macaulay Culkin imitating a facial expression from his "Home Alone" character. (L) Macaulay Culkin arrives at the 2018 American Music Awards at Microsoft Theater on October 9, 2018 in Los Angeles, California | Photo: Getty Images
GROWING UP CULKIN
When asked about how he got into showbiz, 39-year-old Kieran revealed that he has been in the acting industry for twenty-nine years now and explained:
"My parents' friends were running a little theater, the Light Opera of Manhattan, and whenever a production needed a kid, they were like, 'What age and what gender? We've got seven of them right over here.'"
The actor felt they were always used as just as onstage props. His older sister Dakota, who died in a car accident in 2008, had no interest in acting either but was pushed into it until she finally stood up for herself.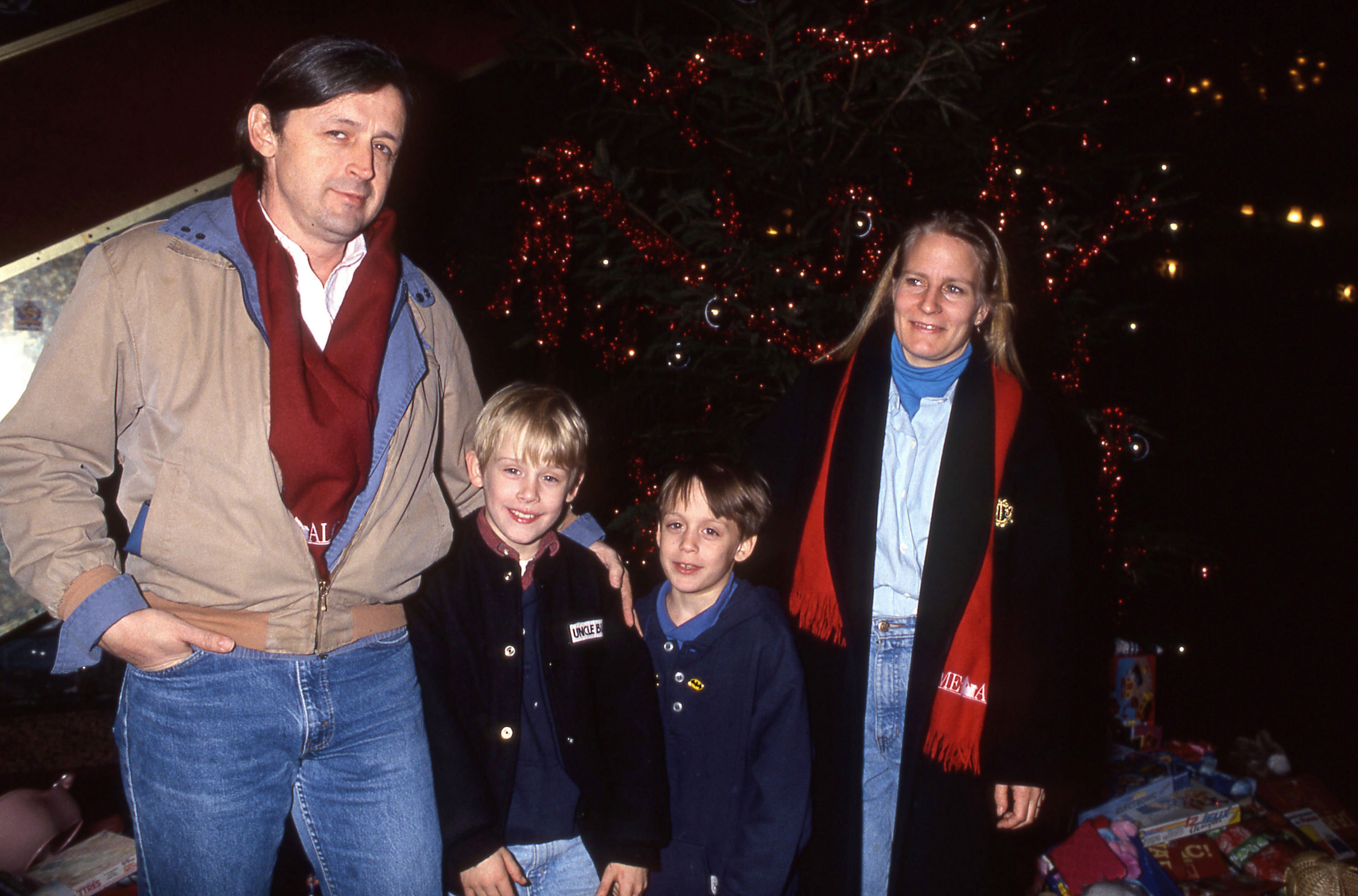 Macaulay Culkin with his mother, Patricia Brentrup, his father Christopher Kit Culkin, and brother Kieran on December 11, 1990 in Paris, France | Getty Images
All the siblings have been and are still in the entertainment industry. While Kieran started from an early age, it is surprising that he never had any technical training:
"I was just sort of already doing it, continued to do it, and then, Oh, man, I have a career!"
Kit and his former partner switchboard operator Patricia Brentrup share seven children: Dakota, Quinn, Kieran, Christian, Shane, Rory, and Macaulay.
The kids were born into poverty. The family lived in a railroad apartment in a tenement on East 94th Street and Second Avenue, which was not suitable for a couple, according to the "Succession" star.
Kieran explained the space was merely a hallway and there were no separate doors, except for the bathroom, which did not have a lock, adding:
"They raised seven kids in that apartment for years! They just kept bringing babies home to this little space."
His older brother Macaulay, 41, joked to New York magazine in 2001, "I guess we couldn't afford doors or something." Life was somewhat unorthodox for the siblings as only some went to school.
Their mom was a telephone worker and was the pillar of the family. The family's longtime agent and manager, Emily Gerson, described Brentrup as having maintained strong family values and instilled that in her children.
According to Kieran, he still has a good relationship with his mother, who, after residing in New York after three decades, married a different man and moved to Billings, Montana. He shared that his mom has taught him many things and is a remarkable woman.
Meanwhile, dad was working at the Catholic church at the time, and some of Macaulay's earliest childhood memories include helping his father at work:
"I'd help him set up, set up Mass and stuff like that."
RISE TO CHILDHOOD STARDOM
When Macaulay bagged his first acting gig at the age of six, things for the family were rather dire. Casting director, Billy Hopkins, told New York:
"They were so poor I had to use my own money to make sure that he got to and from rehearsal."
Hopkins revealed young Macaulay would even crawl under the seats at the theater to look for change that had fallen out of people's pockets while adding his family was like the Beverly Hillbillies.
Things gradually began to look up for Macaulay as he started racking up film credits, and by the time he starred as the beloved Kevin McCallister on "Home Alone" in 1990, he had cemented his name as a Hollywood child star.
The film, which also starred his younger brother Kieran as Kevin's bed-wetting cousin, Fuller, became the highest-grossing live-action comedy of all time.
Macaulay earned a Golden Globe nomination for Best Actor in a Musical or Comedy. He made history by becoming the youngest actor ever to earn a $1 million payday in 1993 for the movie "My Girl."
THE FAME RIFT
His parents were managing him at the time, and his dad became one of the most powerful men in Hollywood. Premiere magazine rated Kit as the 48th most powerful person in the industry.
However, his downfall came even sooner when he started making enemies. After he and Brentrup quit their jobs to oversee Macaulay's future, he began making demands nonstop.
He threw his executive weight around dictating movie projects involving his son. Even when Macaulay pleaded with him to take a break from filming, he disregarded his feelings.
For Macaulay, it seemed as though his father was punishing him of some sort as he even made him sleep on the couch for no reason, regardless of how much money he made.
During an interview with Marc Maron on his "WTF" podcast in 2018, Macaulay revealed life with his dad was unpleasant even before he became famous.
He alleged Kit was abusive physically and mentally and firmly believed that much of the hostile treatment from him stemmed from the resentment of his son's success:
"He was jealous. Everything that he tried to do in his life, like, I excelled at before I was 10-year-old."
Kieran shared that Kit is not a good man and was not a big part of his life after turning fifteen. Even when he was away from home for a while, the kids did not care that he was gone.
Kieran said their mother was the more loveable parent and that when their dad was not there, things at home were good and better.
After Kit alienated his children and Brentrup, he eventually lost everything. Macaulay revealed he walked away from acting after starring in the 1994 film "Richie-Rich" and told his parents, "I'm done guys, hope you made all your money because there is no more coming from me."
CUSTODY BATTLE & ESTRANGEMENT
His mom then filed for custody, igniting a nasty public battle that led to Macaulay taking his parents to court to prevent them from controlling his $17 million earnings.
From there on, he and his father were estranged and have been ever since. His ailing father has revealed that he has lost hope for reconciliation with his famous son.
The Daily Mail reported in 2016 that Kit suffered a debilitating stroke in January 2014. He spent some time in intensive care, and it took him months to learn how to speak and write again.
When coming to his son, Kit had some harsh words for Macaulay, who sided with his mom in a bitter custody battle in 1995. "I don't consider him my son anymore," he said.
Following his breakup from his longtime partner Brentrup and his family, he uprooted to Oregon, away from the limelight. He now resides in a small home with his partner of twenty years, Jeannette Krylowski.
THE KIDS' ADULT LIVES
As for his son Macaulay, born in August 1980, the global star is now a dad himself and has a son named Dakota, whom he welcomed with his girlfriend, Brenda Song, in April 2021.
Apart from his six siblings, Macaulay also had a half-sister, Jennifer Adamson, from his father's previous relationship with Adeena VanWagoner. Jennifer sadly died in 2000 at age 29.
His brother Kieran was born in September 1982. He continued to act throughout his childhood, appearing in movies like "Father of the Bride" and its sequel.
He eventually landed his most prominent role ever as Roman Roy in the HBO series "Succession" and earned an Emmy nomination for his performance.
Another younger brother is Rory, who was born in July 1989. Like his siblings, he acted when he was a young child and made his first movie debut alongside Macaulay in 1993's "The Good Son." The 32-year-old's first significant starring role is on "Signs."
Shane, 45, was born in 1976 and is the elder brother and was named after his father's favorite movie, "Shane" (1953). Like his siblings, he also began acting from a young age, but his only listed credit is on the 1989 appearance on the series "Great Performances."
His younger sister Quinn, 37, was born in November 1984. She also appeared on "Home Alone" as the girl at the airport and lent her voice to Katie McClary in the animated series "Wish Kid" throughout 1991.
The youngest sibling is Christian, born in January 1987. Unlike his brothers and sisters, who appeared in several films and TV shows, Christian, 34, only made one appearance in the 1994 film "It Runs In The Family."
His big sister Dakota was born in June 1978 and seemingly avoided the spotlight. His siblings were shaken by her passing, but Macaulay has kept her memory alive, naming his first child after her.
Please fill in your e-mail so we can share with you our top stories!
The information in this article is not intended or implied to be a substitute for professional medical advice, diagnosis or treatment. All content, including text, and images contained on news.AmoMama.com, or available through news.AmoMama.com is for general information purposes only. news.AmoMama.com does not take responsibility for any action taken as a result of reading this article. Before undertaking any course of treatment please consult with your healthcare provider.