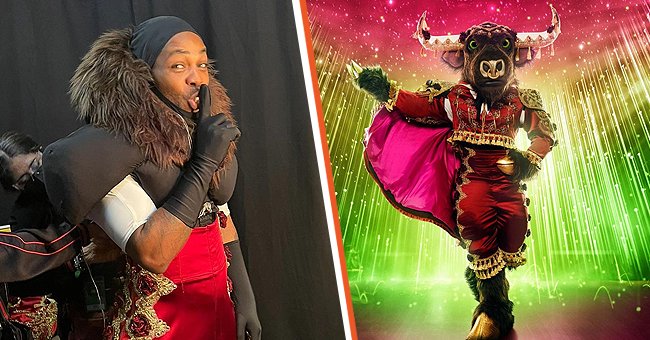 instagram.com/todrick | instagram.com/maskedsingerfox
Todrick Hall Confesses He Participated in 'The Masked Singer' despite Being Scared during the Show's Finale
"The Masked Singer" competition's fans already predicted the singing Bull was none other than the dancer and former YouTube sensation, Todrick Hall, long before he took off the mask in the season finale.
Another season of "The Masked Singer" has come to an end. The Queen of Hearts, who was revealed to be singer-songwriter Jewel, won while the first runner-up was the Bull was revealed to be Todrick Hall.
Hall had a successful time on the show and blew away the judges, Jenny McCarthy-Wahlberg, Robin Thicke, Nicole Scherzinger, Ken Jeong, and the show's fans with his outstanding performances.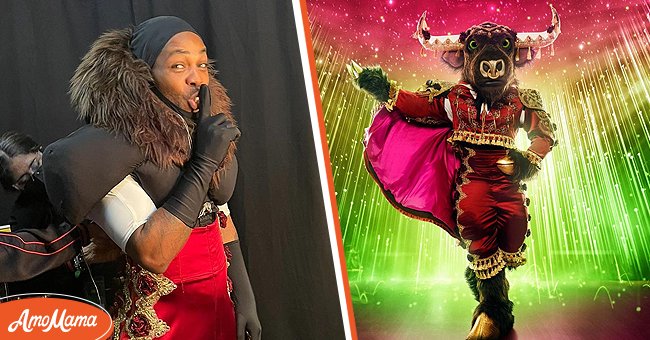 A behind-the-scenes glimpse of Todrick Hall in his Bull Costume [Left] The Bull's promotional photo for "The Masked Singer" [Right] | Photo: Instagram/todrick & Instagram/maskedsingerfox
A few of the songs Hall performed included Train's "Drops of Jupiter," Rascal Flatts's "What Hurts the Most," Britney Spears's "Circus" "Rain on Me" by Lady Gaga and Ariana Grande, and Bob Dylan's "Make You Feel My Love."
After the Bull's first performance and his first round of clues, host Nick Cannon and Scherzinger remarked they knew who it was but did not give any details.
Later, Hall shared with TMZ that Scherzinger not only recognized his singing vocals, but it was his scent and the particular cologne he uses that led her to believe the Bull was him.
Fans of the show guessed the Bull was none other than Hall. YouTuber and "The Masked Singer" fan Joey Contino made a video about how he was convinced the Bull was Hall and explained how the clues pertained to him.
Since the finale, Hall had reflected on his time on the show both in interviews and on Instagram. On Instagram, the Broadway star shared a few behind-the-scenes photos from the show and wrote:
"Becoming the bull has been such a fun journey, and thank you all for your support!"
He revealed that he would not have been confident enough to do the show before the pandemic. However, he promised himself that he would try things that scared him, and "The Masked Singer" was one of those things.
Despite his initial fears of singing on stage and being a part of the show, Hall remarked he would never forget the "incredi-BULL" experience. Fans definitely won't forget his excellent performances either.
Besides having several performances to look back on with pride, Hall can remember his time on the show when he looks at his Bull costume. Unlike other contestants, Hall made sure to take his beloved costume home.
Please fill in your e-mail so we can share with you our top stories!