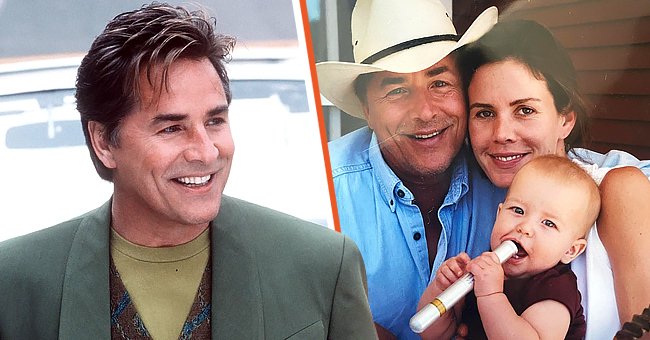 Getty Images
Don Johnson's 5th Marriage with 'Statuesque Brunette' He Met at Party Proved to Be His Longest
After four failed marriages, American actor Don Johnson's fifth marriage became his longest. Inside his relationship with his wife, Kelley Phleger.
Don Johnson is a famous man in Hollywood, thanks to his roles in some of the world's favorite series. Raised in poverty, Don battled multiple challenges to become a film star.
After struggling to establish himself as a television actor, he landed a starring role as undercover police detective Sonny Crockett in the cop series "Miami Vice" in 1984.
Thanks to the role, Don became a major international star. In 1986, he won a Golden Globe Award for Best Performance by an Actor in a Television Series - Drama.
Don is also known for playing Nash Bridges in the CBS-TV police drama "Nash Bridges" from 1996 to 2001. The actor has starred in more television series and films in his illustrious career.
While Don's career is undoubtedly impressive, he is also known for his multiple relationships and marriages. The actor has been married five times, including twice to the same woman.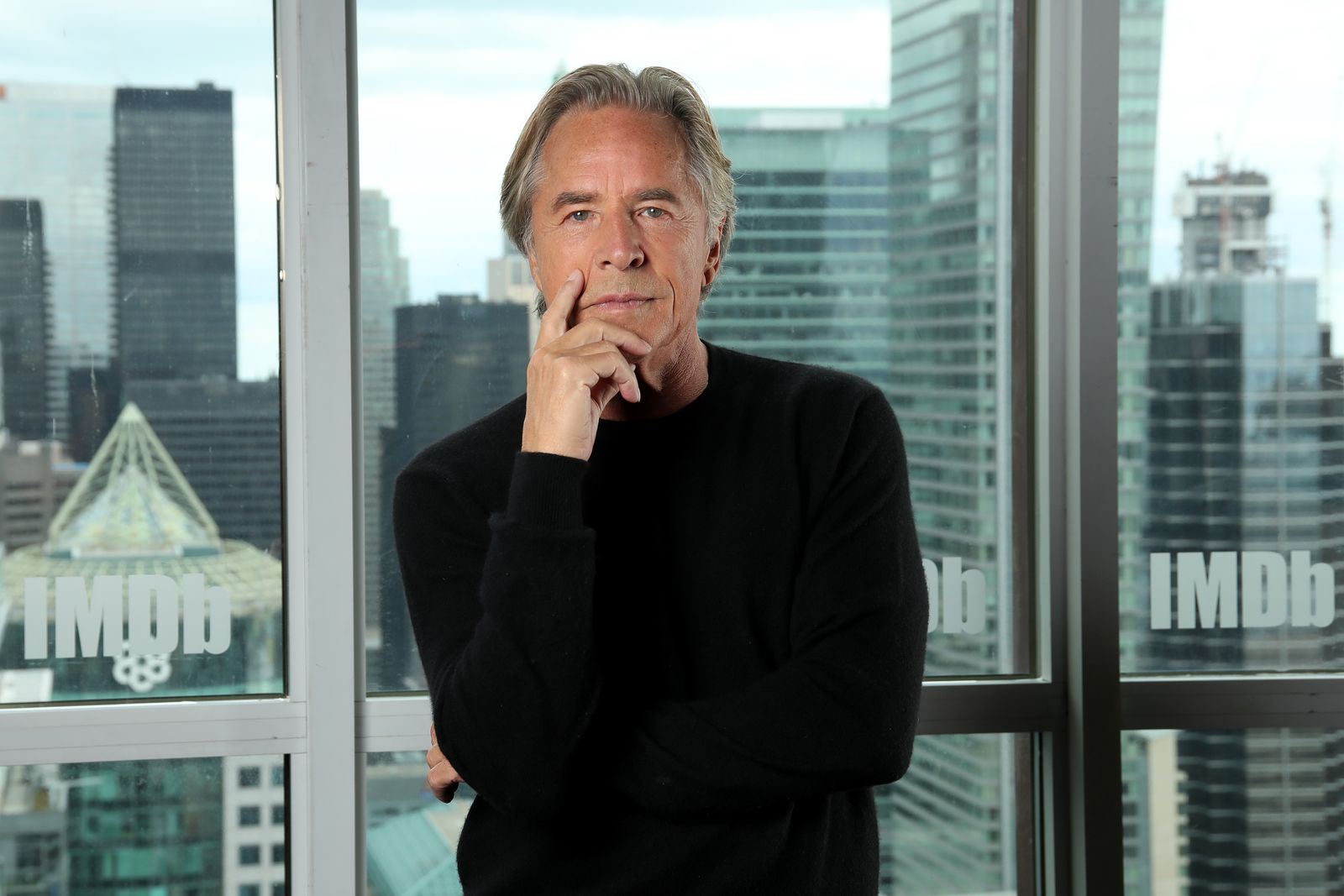 Don Johnson at The IMDb Studio Presented By Intuit QuickBooks at Toronto 2019 on September 08, 2019 | Getty Images
Don's first two marriages were similar in that none of the women's names have been publicized. In 1968, he tied the knot for the first time, but the union was annulled in the same year.
His second marriage was in 1973 and followed the same route as his first union with another annulment. In 1972, Don met actress Melanie Griffith. Then, she was just 14 years while he was starring in "Harrad Experiment" with her mom, Tippi Hedren.
In 1973, Don and Griffith moved in together. They got engaged when she turned 18 and tied the knot in January 1976. However, they separated six months after getting wed and finalized their divorce in December 1976.
After finalizing his divorce from Griffith, Don dated famous women like Sally Adams, Patti D'Arbanville, Barbra Streisand, Uma Thurman, and Ann Miller.
However, in 1989, he remarried Griffith. That same year, the couple welcomed their daughter and actress Dakota Johnson. During an interview with The Telegraph, Don was asked why he went back to Griffith. He said:
"It was simply a matter of two old souls connecting so that Dakota could be born."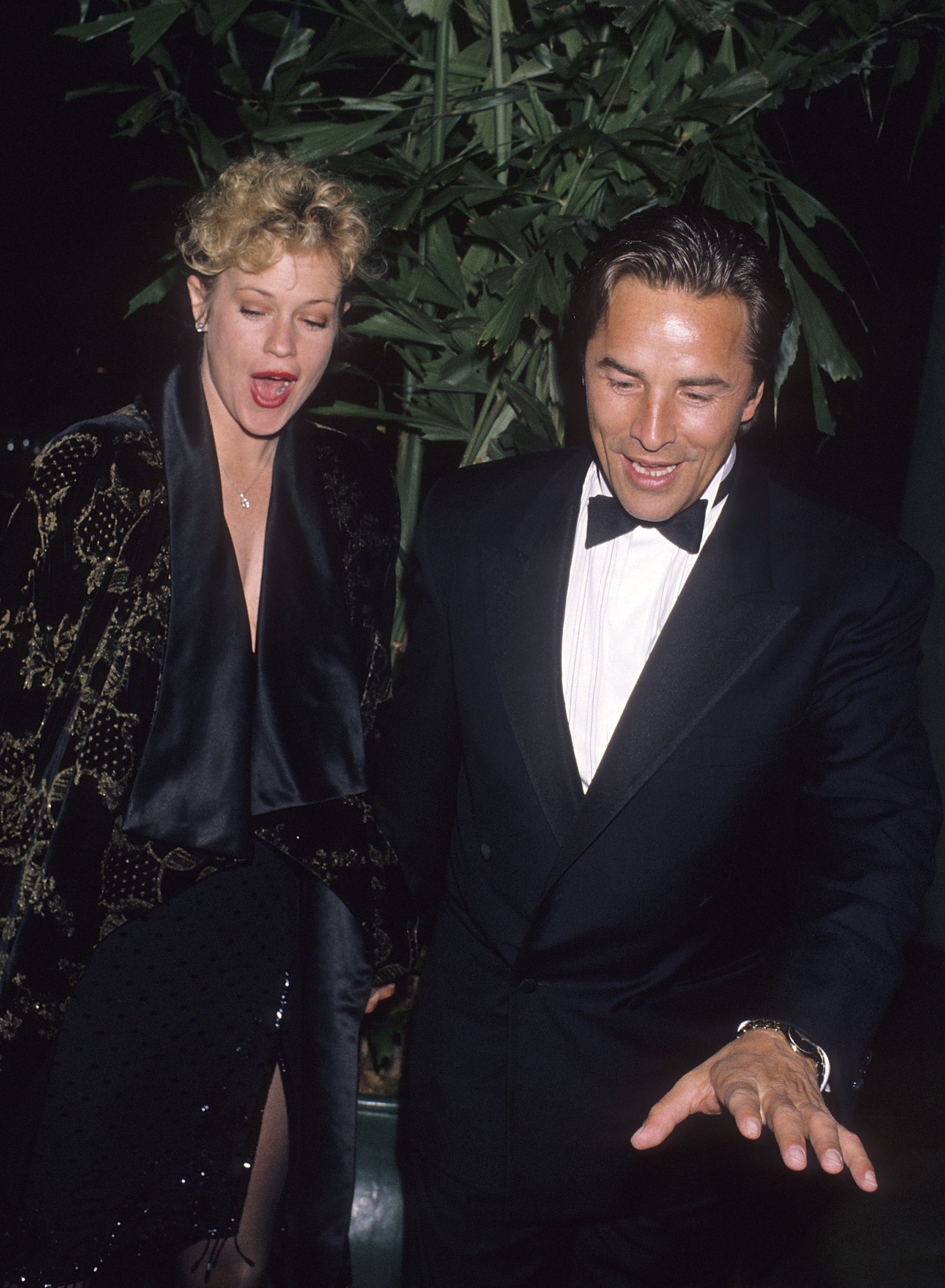 Melanie Griffith and Don Johnson pictured the First Annual Fire & Ice Ball to Benefit Revlon/UCLA Women's Cancer Research Program in 1990. | Photo: Getty Images
Don and Griffith's second marriage faced many issues, including Don's alcohol addiction. In June 1994, the actor checked into the Betty Ford Center to undergo treatment for alcoholism and abuse of prescription drugs.
It added to his marital issues at the time. Griffith had begun divorce proceedings three months before Don checked into rehab.
During an interview amid rumors of a breakdown in their marriage, Griffith said Don was not an angel and was not easy.
She said it was hard for her to imagine life without him but added that they were changing differently. In 1996, the couple split for good.
While playing Nash Bridges on "Nash Bridges," Don met Kelley Phleger, a teacher and socialite, at a birthday party for San Francisco mayor Willie Brown.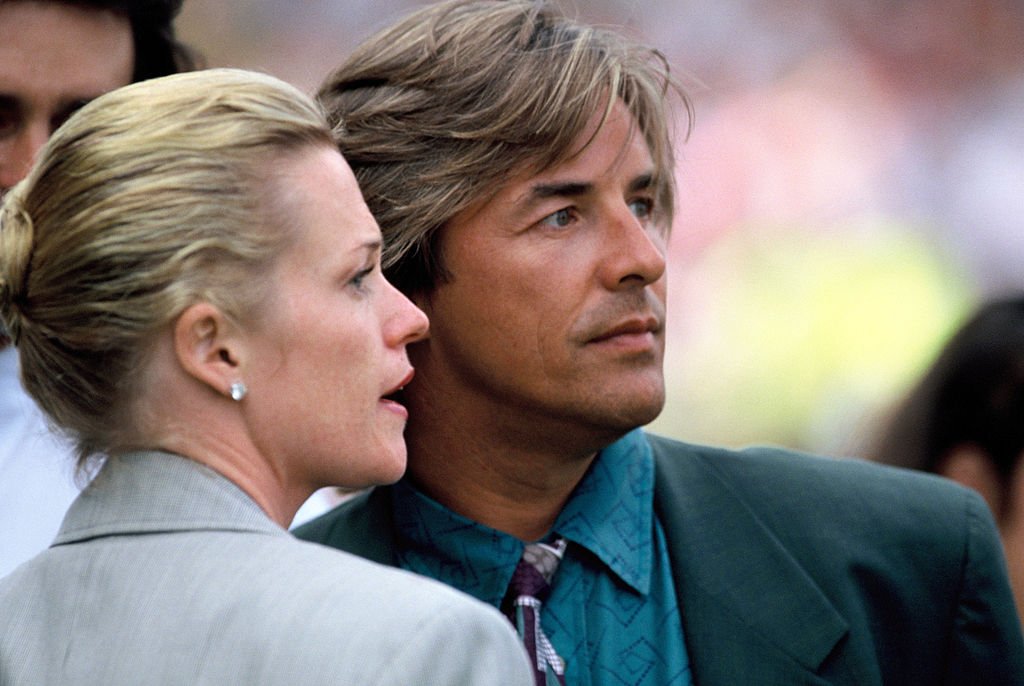 Don Johnson and Melanie Griffith at the opening ceremony of the European Summer Special Olympics, 1990, London, England. | Photo: Getty Images
Before meeting Don, Phleger had a longtime relationship with then-California Governor Gavin Newsom. While speaking to The Telegraph, Don opened up about his first meeting with Phleger. He said:
"It was love at first sight. There was a statuesque brunette who was clearly a woman of substance, so I made it my business to meet her. Then I basically interviewed her."
Don explained that he interviewed Phleger to find out who she was. He was able to ask the right questions because he had experience being interviewed by professionals. After interviewing her, he told her:
"Listen. I have to be up early in the morning to shoot, so I have to leave now, but I'm going to marry you."
Phleger asked Don if he was crazy, and he said, "A little bit, but it hasn't seemed to interfere with my actual functioning."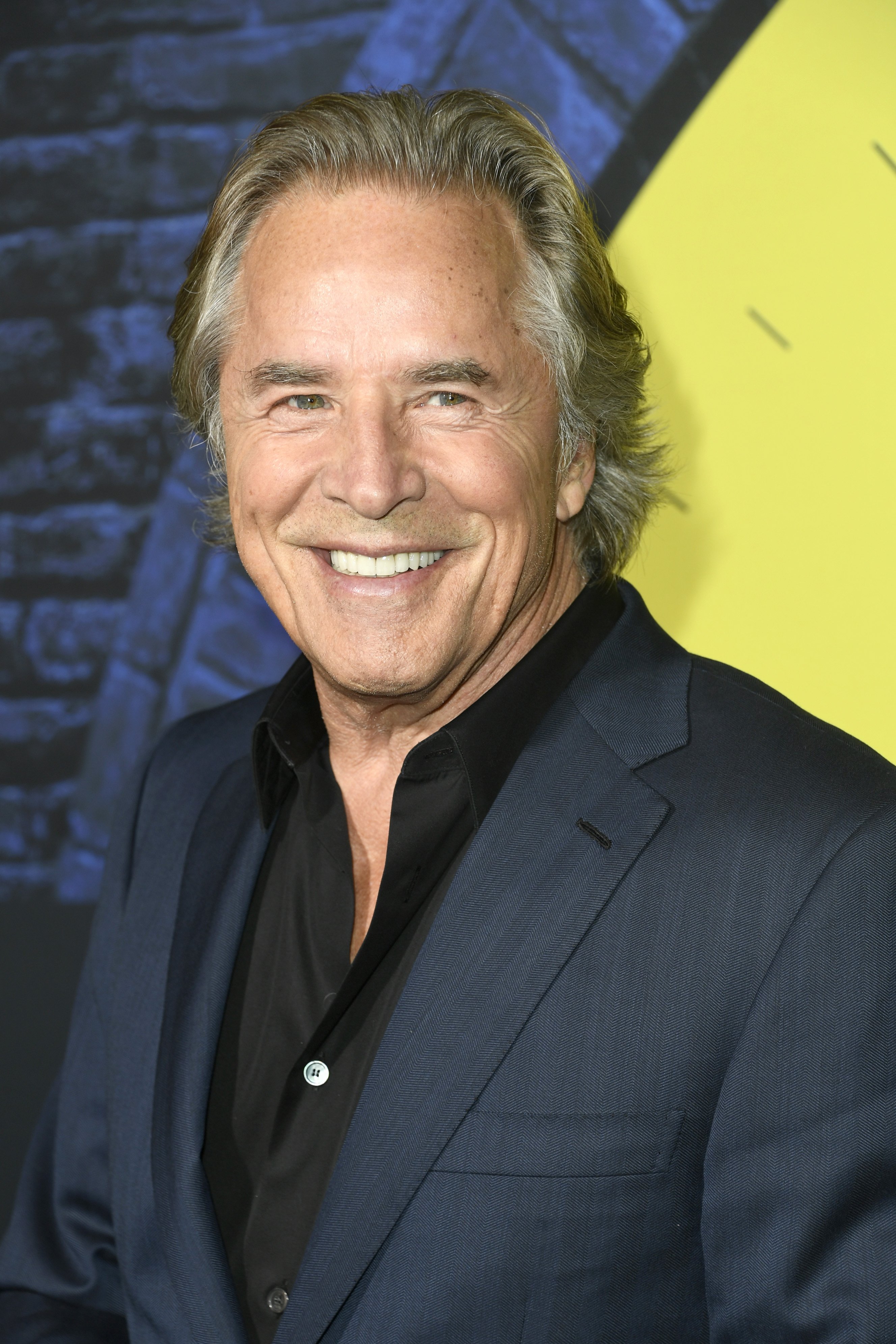 Don Johnson at the premiere of HBO's "Watchmen" in 2019. | Photo: Getty Image
Phleger did not speak to Don for a year, but they married within two-and-a-half years on April 29, 1999. Don's fifth marriage has turned out to be his longest as he and Phleger have remained since then.
After 22 years of marriage, Don and Phleger are still going strong. An insider told Closer Weekly the couple wants their time together with their family to be sacred. The source also said Don and Phleger live a charmed life.
Don and Phleger looked the perfect couple when they posed for a rare snap at the "Once Upon A Time In Hollywood" premiere in July 2019.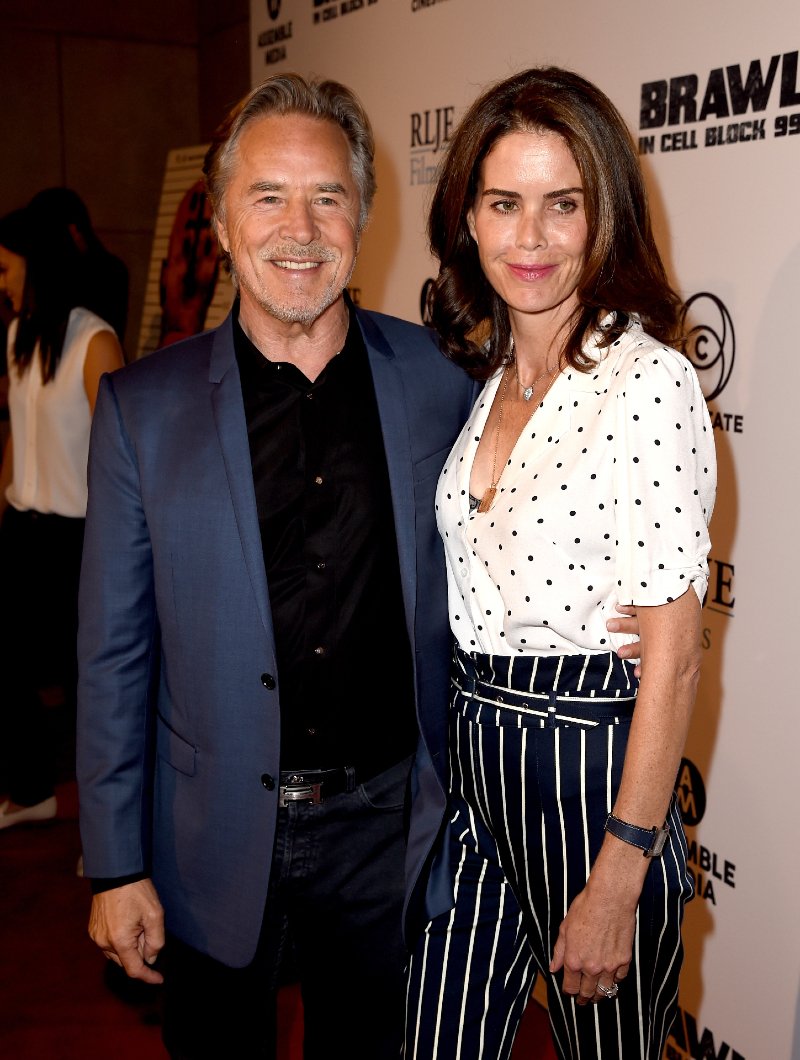 Don Johnson and Kelley Phleger arriving at the premiere of "Brawl In Cell Block 99" in Los Angeles, California, in September 2017. | Image: Getty Images
The couple is parents to three children, Grace, 21, Jasper, 19, and Deacon, 15, born on their seventh anniversary.
Deacon is Don's fifth child. Besides Dakota, he also has a son, Jesse Wayne Johnson, who he shares with D'Arbanville, who he dated and lived with from 1981 to 1985.
Despite the blended nature of Don's family (having five kids with three different women), they are a fun bunch.
The actor described his family as a very artistic, hot-blooded, volatile, and fun family. He revealed they have annual holiday hijinks and usually play pranks on each other.
Some of Don's kids have followed in his footsteps. Dakota is a Hollywood star and has featured in some of the biggest movies, including "The Social Network," "21 Jump Street," and "The Peanut Butter Falcon."
However, she is most famous for playing Anastasia Steele in "The Fifty Shades of Grey" movie series. She has a close bond with her dad, who described her as "stunningly beautiful" earlier in 2021 after she posted a lovely photo.
Jesse is an actor and producer and has appeared in popular series like "Hawaii Five-O," "Twin Peaks," "Grey's Anatomy," and "NCIS." He also produced and starred in the 2013 movie "Chapman."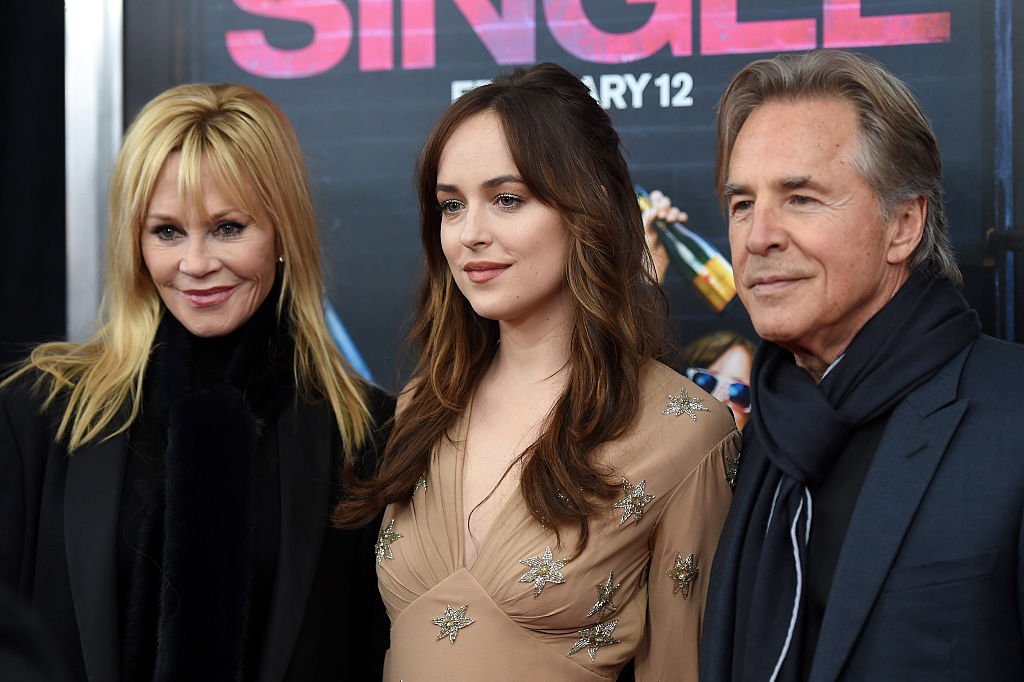 Melanie Griffith, Dakota Johnson, and Don Johnson at the New York premiere of "How To Be Single," 2016. | Photo: Getty Images
Grace does not have a Hollywood career but is also involved in the arts. She is a model signed under IMG Models, has modeled for some of the biggest brands, and appeared in top magazines.
Jasper and Deacon have appeared in some of their dad's pictures on social media. They are sports enthusiasts, and both support the Los Angeles Dodgers.
Please fill in your e-mail so we can share with you our top stories!