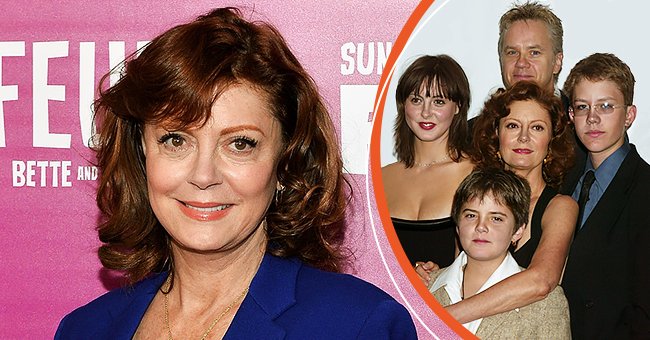 Getty Images
Susan Sarandon Kept Unplanned Pregnancy at 38 despite Advice Implying It Would Ruin Her Career
Susan Sarandon decided to follow her heart when it came to motherhood despite the free flow of advice from women who had tested the waters before her. She ignored them and nurtured more than two pregnancies after turning 38.
More than once, many female celebrities have complained about their experiences in Hollywood. Some maintain that there is marginalization due to their gender and skin color. Women like Susan Sarandon's experience included judgment based on her decision to have a baby later on in life.
Before her sweet story of motherhood, not everyone shared her optimism in welcoming the unplanned pregnancy with open arms.
Picture of actress Susan Sarandon [left]. Susan Sarandon and Tim Robbins with sons Jack and Miles and daughter Eva Amurri [right] | Photo: Getty Images
Even with her inexperience, the actress did not succumb to the pressures. Instead, she charted her course and remained happy by following her choices when starting a family at age 38.
SARANDON'S LOVE LIFE/ FAMILY BUILDING
Sarandon was first a career woman before becoming a wife and mother. During her early years, she witnessed a failed marriage to Chris Sarandon. It lasted for more than a decade, and after the split, she fell in love with Franco Amurri, who fathered her first child, Eva, in 1985.
A few years later, she gave love another chance and courted Tim Robbins from "Mystic River." During her romance with Robbins, the lovers welcomed two kids, Jack and Miles. They loved and raised all three kids, including Eva, in a blended household, until their separation in 2009.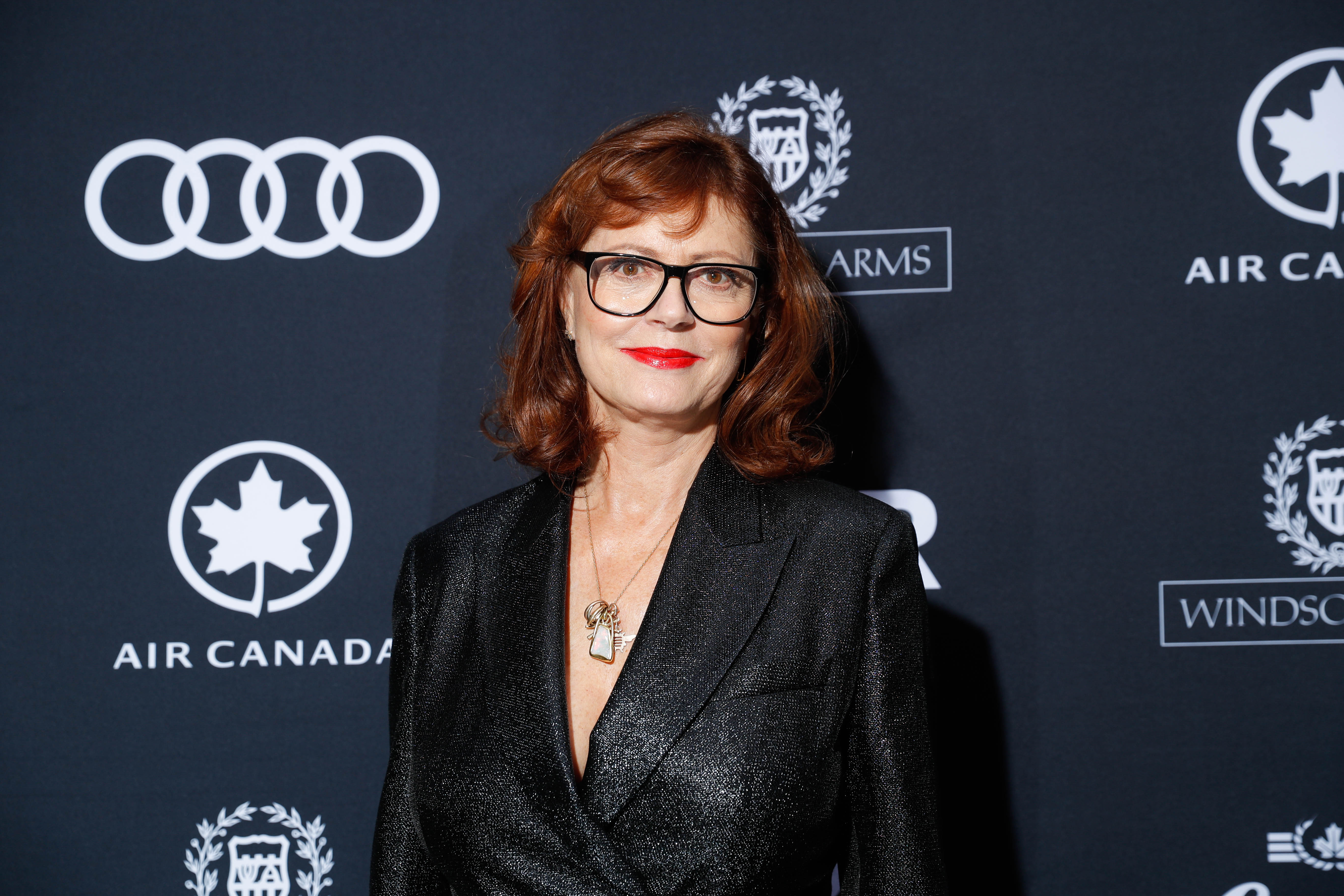 Susan Sarandon at Windsor Arms Hotel on September 7, 2019 | Photo: Getty Images
MANY CALLED HER CRAZY
Sarandon might not have been able to keep her relationships, but she was a great mother who cherished her offspring more than her first love: acting. The onscreen star explained that when she became pregnant for the first time, she was 38. It was unplanned and with a man, she barely knew.
Earlier in her life, the doctor's diagnosis read that she would have to undergo surgery to get pregnant. Although the young actress was not devastated by the news, she became careless and stopped using birth control pills until the unexpected happened.
The almost 40-year-old expectant mother got further advice from women who begged her to forget childbearing. They asked her to consider her age and added that it might take a toll on her career.
It did not deter Sarandon, who ventured into motherhood at 39, after her first baby. Her third child came at 45, even though many labeled her crazy. For the mother of three, the joys of motherhood stand as an overwhelming feeling that compares to nothing.
Now, she not only enjoys bonding with her adult kids, but she also has grandkids with whom she is allowed to behave silly and mischievous. She also has a successful career that has spanned many years, and it has influenced her mini-mes.
WHO ARE HER THREE KIDS?
Eva Maria Olivia Amurri is the name of her first child. She was born in 1985, and she inherited her mother's acting genes. The younger actress has some successful hits, shows, and films to her name.
Sarandon's daughter is also a mother to Marlowe, Major, and Mateo, who she shares with her ex-husband Kyle Martino. The pair tied the knot in 2011.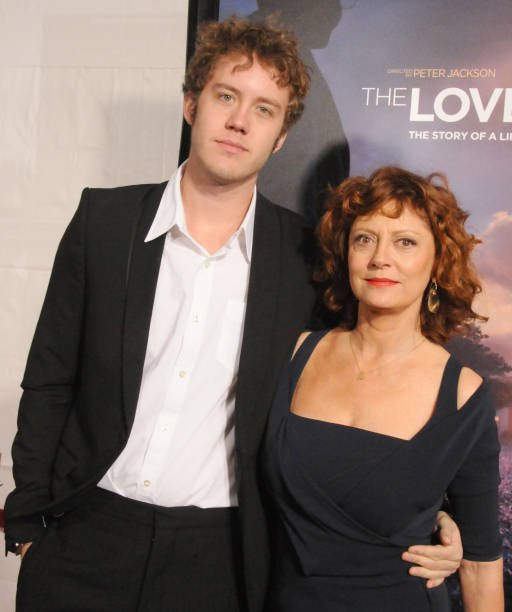 Actress Susan Sarandon and son Jack Robbins arrive at the Los Angeles Premiere "The Lovely Bones" at Grauman's Chinese Theatre on December 7, 2009 in Hollywood, California | Photo: Getty Images
The "Bull Durham" actress also has another child with a knack for entertainment. Jack Robbins, her oldest son, is a director, with films like "I AM Levitation," "FANtasies," and "Ghostmates," to his name.
Miles Guthrie Robbins, the baby of the house, is an upcoming singer with the "Pow Pow Family Band"; he has also featured in a few TV productions, including "The X-Files," "Blockers," and "Halloween."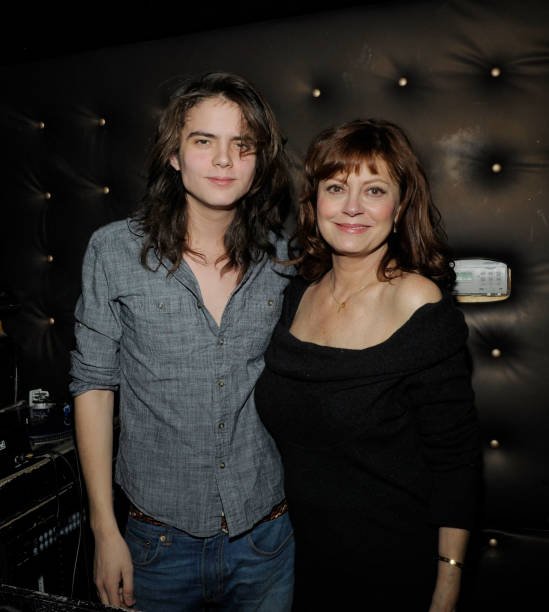 Actress Susan Sarandon and her son Miles Robbins attend the grand opening of The Scarlet on March 9, 2012 in New York City | Photo: Getty Images
SARANDON'S STORY SO FAR
The veteran actress loves her motherhood journey and shows immense support and unconditional love to her babies.
When her daughter announced her divorce, the world was taken aback; many considered the couple's love story as a perfect one. Sarandon knew about their challenges and stepped in for her daughter.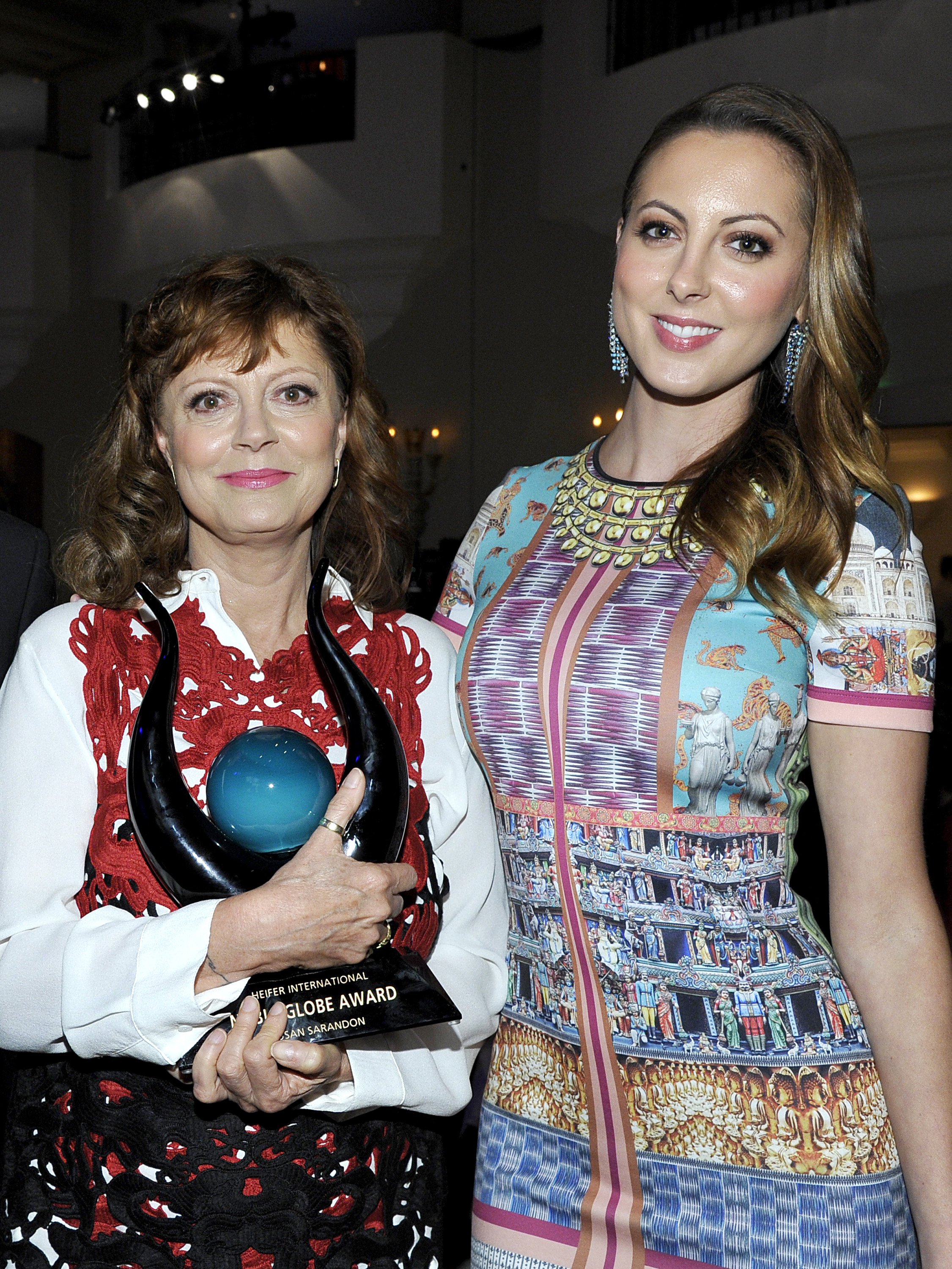 Susan Sarandon poses with the Noble Globe Award and daughter Eva Amurri Martino during Heifer International's 2nd Annual "Beyond Hunger: A Place at the Table" at Montage Hotel on September 19, 2013 in Los Angeles, California | Photo: Getty Images
She was with the young mother every step of the way, and the TV legend was excited when the estranged couple decided to maintain friendship amid their failed marriage.
In 2015, the actress commented on gender fluidity and likened it to her son's preferences to wear dresses when he performs with his band. The mother of three solidly defended his choices while advocating for the LGBTQ.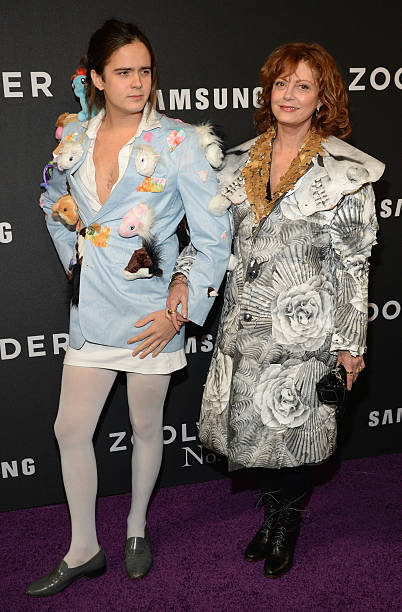 Actors Miles Robbins and Susan Sarandon attends the "Zoolander 2" World Premiere at Alice Tully Hall on February 9, 2016 in New York City | Photo: Getty Images
SINGLE AND OPEN TO CHOICES
Apart from looking out for her young ones, Sarandon is advancing her career and looking for ways to enjoy her life. In 2017, the then 70-year-old, who has remained single for some time, admitted that her sexual orientation can change, adding that dating a woman is not out of the question.
Please fill in your e-mail so we can share with you our top stories!