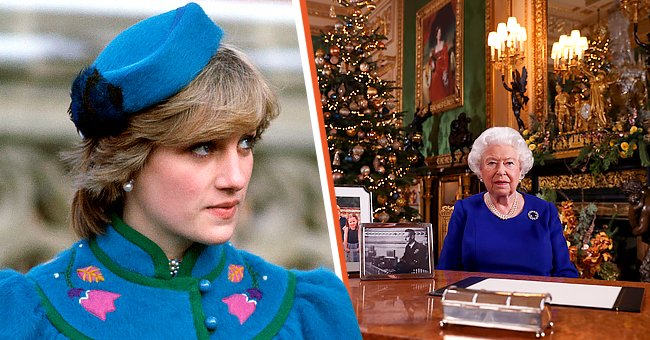 Getty Images
Princess Diana Was Mortified during 1st Royal Christmas - She Was Not Warned about Tradition
Princess Diana's first Christmas after she married Prince Charles came off awkward because there were no heads up about the royal house's unusual Christmas tradition.
Presently the royal house is gearing up for Christmas, but things have been switched due to the pandemic. However, the royal house would usually organize a funky gift-giving day before Christmas in older times.
The gift-giving day is often when the royal members let their hair down, but it wasn't the case for late Princess Diana's first Christmas with them as she did not know the royal family's unique way of gift-giving.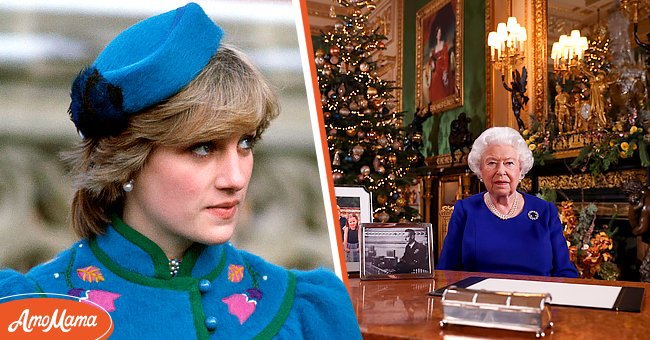 Princess Diana Attending A Service At St George's Chapel, Windsor On Christmas Day. [Left] | Queen Elizabeth II records her annual Christmas broadcast in Windsor Castle [Right] | Photo: Getty Images
QUEEN ELIZABETH CHANGES CHRISTMAS PLANS
It is a tradition that Queen Elizabeth would head to Sandringham, Norfolk, for Christmas and meet locals for well-wishes. However, there's been an announcement that the Queen will not be heading to the usual destination this Christmas.
Instead, she would be celebrating the festive period at Windsor Castle. This decision followed careful consideration after the Queen's doctors advised that she stay back due to her recent health scare.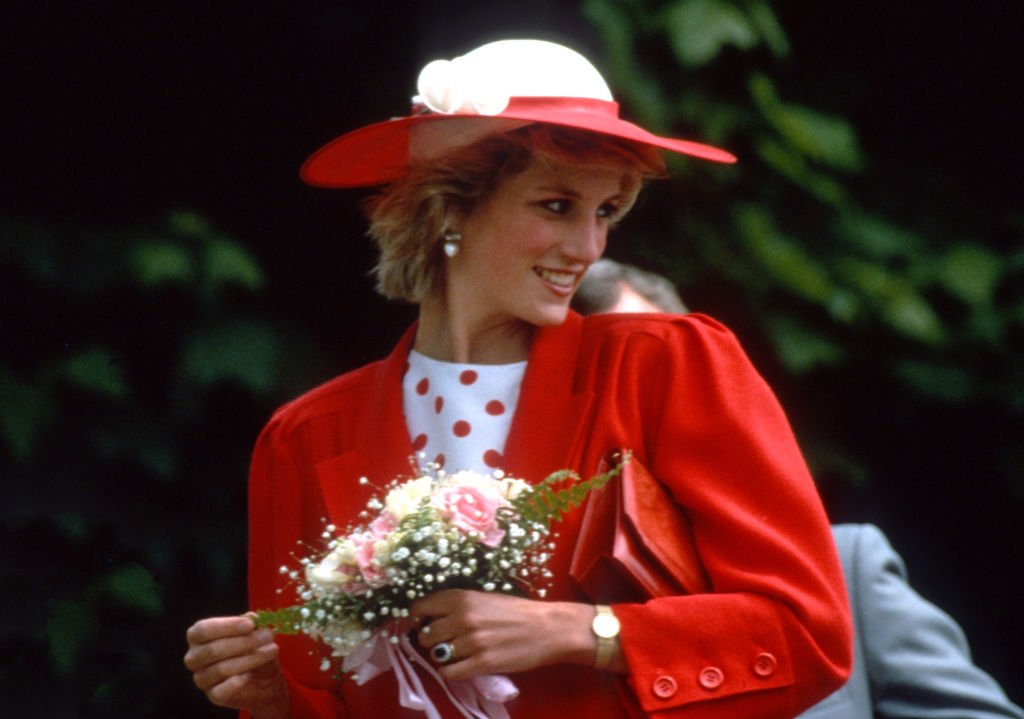 Diana, Princess of Wales, wearing a red jacket, visits Atlantic College, 1985, Llantwit Major, United Kingdom. | Photo: Getty Images
It Is the second time Queen Elizabeth II will be spending her Christmas away from Sandringham in recent years. Last year was the first in 32 years. In like fashion, the Queen canceled her regular Buckingham Palace Pre-Christmas family party.
In older times, the Queen's traditional pre-Christmas party required her to host about 50 of her extended family members, including Prince Charles and Duchess Camilla. Still, this time had to be different because of the outbreak of the omicron variant.
HOW PRINCESS DIANA CELEBRATED CHRISTMAS WITH HER BOYS
During her lifetime, Princess Diana was a Christmas lover and once revealed to a friend that she often could not hide her excitement and would end up opening parcels before the big day.
The Princes of the people also enjoyed the celebration with her sons, Harry and William, but she made sure to instill morals in her kids such that Christmas signified a time of charity for them.
Apparently, no one warned her about what to expect, and she ended up being red in the face.
Diana also made sure they did not get too many gifts as she would buy them inexpensive and moderate presents while giving out the myriads of gifts the young Princess often received.
Her style of celebrating Christmas slightly changed following her divorce from Prince Charles in the mid-90s. The Princess did not spend Christmas with her sons for the first time. Instead, she was at her apartment in Kensington Palace.
Princess Diana was said to have used sleeping pills to get through the day. Leading up to the time of their divorce, Diana and Charles were separated, but they spent Christmas together for the sake of their children.
DIANA FIRST ROYAL CHRISTMAS
She was new in the prestigious family, and this was glaring on her first Christmas celebration with the rest of the royal family. The tradition entails that royal members give trivial gifts enough to evoke laughter.
In past Christmases, Princess Annie gifted Prince Charles a white leather toilet seat that he traveled with after that year. Prince Harry was also in for some gimmicks when he gave the Queen a baby hat that read the words, "Ain't Life A [expletive]."
There were also rules about the exchange of gifts as no royal member was allowed to open their presents until the person who presided over the event gave their consent. Prince Philip presided over the event for the longest time until his passing.
It happened that when Princess Diana joined the royal house and brought forth her gifts on the gift-giving day, she went all out purchasing a cashmere sweater for Princess Anne, who gave her a loo-roll holder. Apparently, no one warned her about what to expect, and she ended up being red in the face.
However, that was the first and only time that happened. Princess Diana wasted no time getting with the program, and in the following year, she gifted Sarah Ferguson a leopard-print bath mat.
Uncle Diana, Megan Markle, and Kate Middleton had no troubles with this Christmas tradition. The pair perfectly pulled off hilarious gifting gimmicks. While Markle once gave the Queen a singing hamster, Middleton gave Prince Harry a grow-your-own-girlfriend kit.
Please fill in your e-mail so we can share with you our top stories!