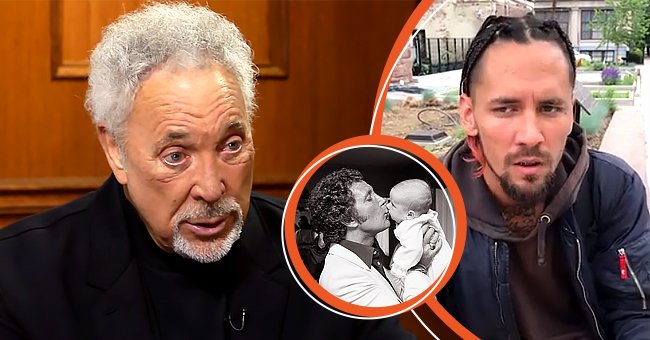 youtube.com/ Walker | youtube.com/LarryKing | Getty Images
Tom Jones' Abandoned Son Desperately Wants Reunion with Him 'Before It's Too Late' for Them
Tom Jones is one of the most popular vocalists of his generation and currently acts as a judge on "The Voice UK," where he mentors young singers. Ironically, he has so far refused to meet his second son, who was born as a result of a three-day fling with a supermodel.
Tom Jones was born Thomas John Woodward in Pontypridd, Wales, on June 7, 1940. He is widely regarded as one of the best vocalists to come from the British Invasion.
His discography is full of multiple top-charting songs in different genres, selling more than 100 million records worldwide. Despite his success in the musical sphere, the legendary Welshman often comes under fire for his love life and romantic exploits.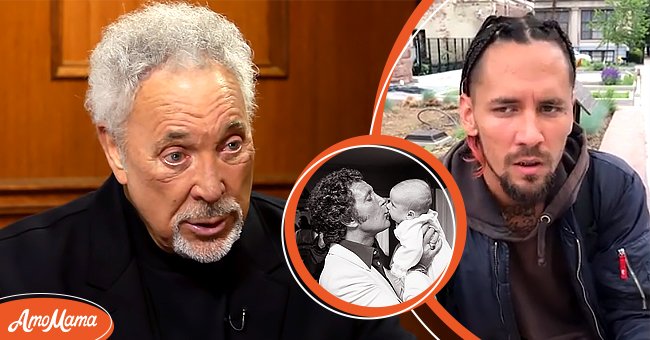 Portrait of singer Tom Jones [left] Portrait of singer Tom Jones and his son Mack [middle]. Singer Tom Jones's son [right]. | Photo: youtube.com/ Walker youtube.com/LarryKing Getty Images
Jones, regarded as a sex icon, once had a sexual relationship with a model for three days. She gave birth to a child that the legendary musician had abandoned for years.
EARLY CAREER
Jones started his musical career singing under the moniker Tommy Scott with a Welsh beat group called "The Senators."
In 1964, he was discovered by producer Peter Sullivan while performing in a club. Sullivan sent him to manager Phil Solomon. His partnership with Solomon did not last long, and Jones returned to Wales to sing in local clubs.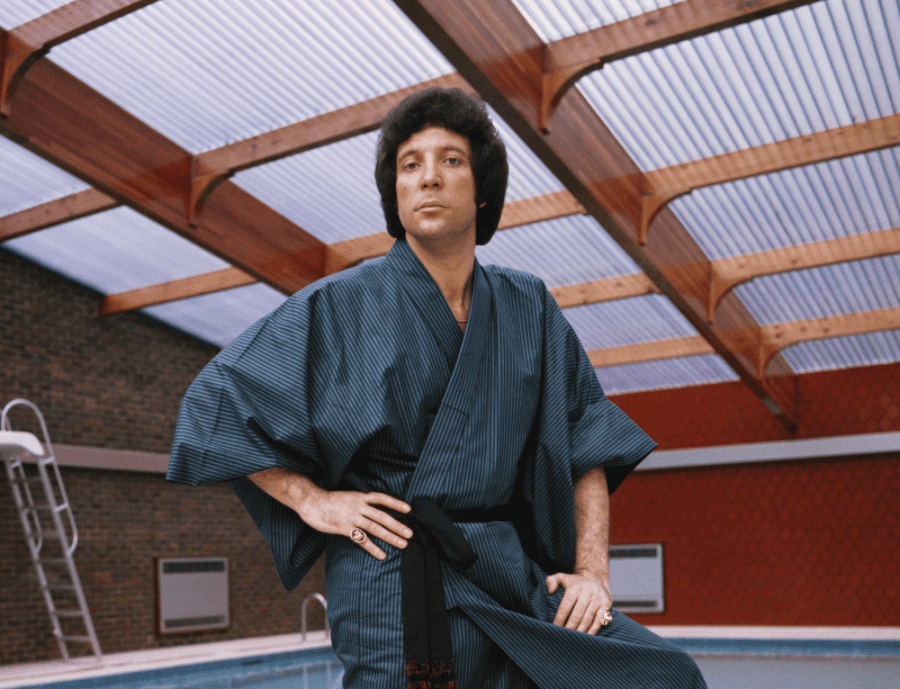 An undated image of Welsh singer and sex symbol Tom Jones standing by his swimming pool and wearing a robe at his home in St Georges Hill, near Weybridge | Photo: Getty Images
Jones was performing in a nightclub when former "Viscounts" singer Gordon Mills, who had become an artist manager, saw him. Mills signed the singer and came up with "Tom Jones" as his music name.
He also helped Jones produce his first album "Decca" which had the single "Chills and Fever." Jones released "It's Not Unusual" in early 1965, and it became a number one hit in the UK and a Top Ten hit in the US.
This was followed by hits like "Once Upon a Time," "Little Lonely One," and "With These Hands." Mills also landed some film themes for Jones to record, including the Top Ten hit "What's New Pussycat?" in June and "Thunderball" in December 1965.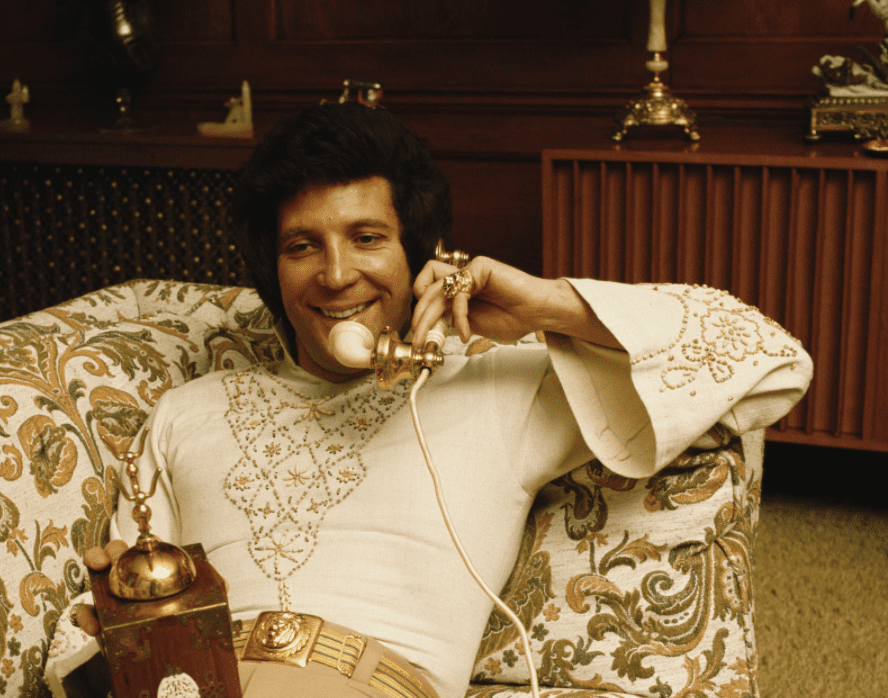 An undated image of Tom Jones on the telephone at his home in St Georges Hill, near Weybridge | Photo: Getty Images
Throughout the mid-60s, Jones sang in almost every form of popular music ranging from pop to rock and show tunes. He also did country, dance, techno, and more.
His vocal style, a full-throated, robust baritone with minimal regard for nuance or subtlety, was a swaggering constant during that period.
Jones later moved to America, where he hosted the TV program "This Is Tom Jones" between 1969 and 1971. His manager Gordon Mills sadly died of cancer on July 29, 1986, resulting in Jones' son, Mark Woodward, taking over as the singer's manager.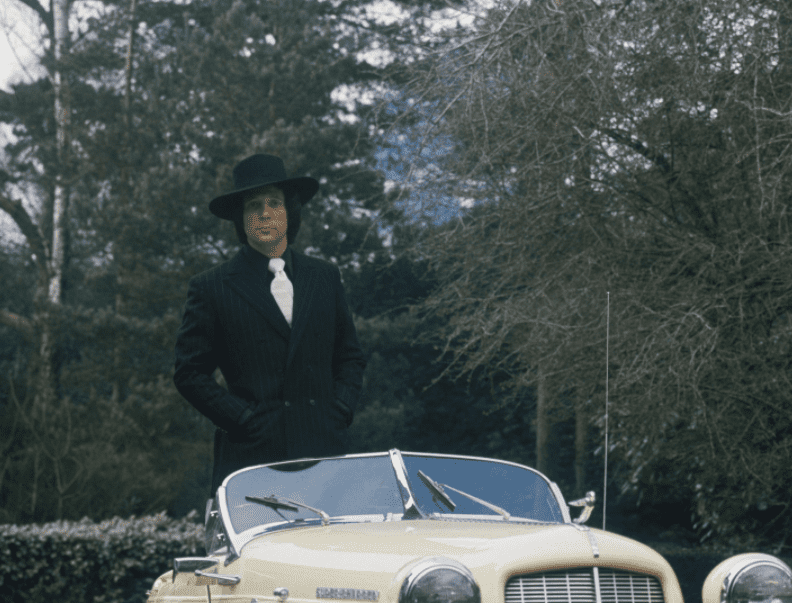 Pictured: An undated image of "The Voice" judge Tom Jones posing in his car | Photo: Getty Images
The change in management prompted Jones to concentrate on the country market, and the artist released a series of slick country-pop albums in the early '80s that earned him a couple of hits.
The Queen awarded Jones a knighthood in 2006. The musician has also worked with artists like Wyclef Jean, Paul McCartney, and Bob Dylan.
MARRIAGE AND AFFAIRS
Jones met his wife Melinda Rose Trenchard while in school in Treforest, Wales. The pair were both 15 years old at the time, but they surprisingly got married a year later, in 1957.
A couple of months later, Trenchard gave birth to their son Mark Woodward. She kept raising their son while Jones toured the world, performing.
Jones performed multiple sexual acts with women worldwide while he was still married to Trenchard. In an article by Telegraph, Jones claimed to have had sex with over 250 women.
There were also reports that the legendary Welshman's son and manager Mark Woodward was the one who arranged the women his father had affairs with.
The musician further explained he used the mouth wash Listerine to disinfect their genitals before the sexual acts. Jones claimed he had no regrets because, despite his well-documented sexual relationships, his wife and son still loved him.
Despite confessions about his affairs, Jones declared Trenchard is his one true love and the most important thing in his life. Sadly, his wife Melinda Rose Trenchard died from cancer in 2016 after almost 60 years of marriage to the legendary musician.
DEALING WITH HIS WIFE'S DEATH
A couple of days leading to the five-year anniversary of Trenchard's death, Jones revealed he did not know he could cope without his wife when she died.
The musician said her death was the lowest point of his life, and he had to seek the help of a grief therapist to get through those dark times.
Jones also stated that before Trenchard's death, she encouraged him to remember her laughing moments and not her dying one. He now takes her memories with him whenever he performs.
The Welshman also sold the Los Angeles mansion he shared with Trenchard before her death because he could not bear staying there any longer.
PATERNITY SCANDAL
Model Katherine Berkery was 24 years old when she met legendary musician Tom Jones in a New York nightclub in 1987. Jones invited her to watch his show the next day and, after they had dinner, went to his suite at Manhattan's Ritz-Carlton Hotel.
Three months later, the model realized she was pregnant. Katherine called the musician's office but was told by an aide that their three-day fling was show business and she should know what to do about the pregnancy.
Katherine gave birth to baby Jonathan on June 27, 1988. She took Jones to court after he denied the child was his. A judge ordered a DNA test that confirmed the musician was the father.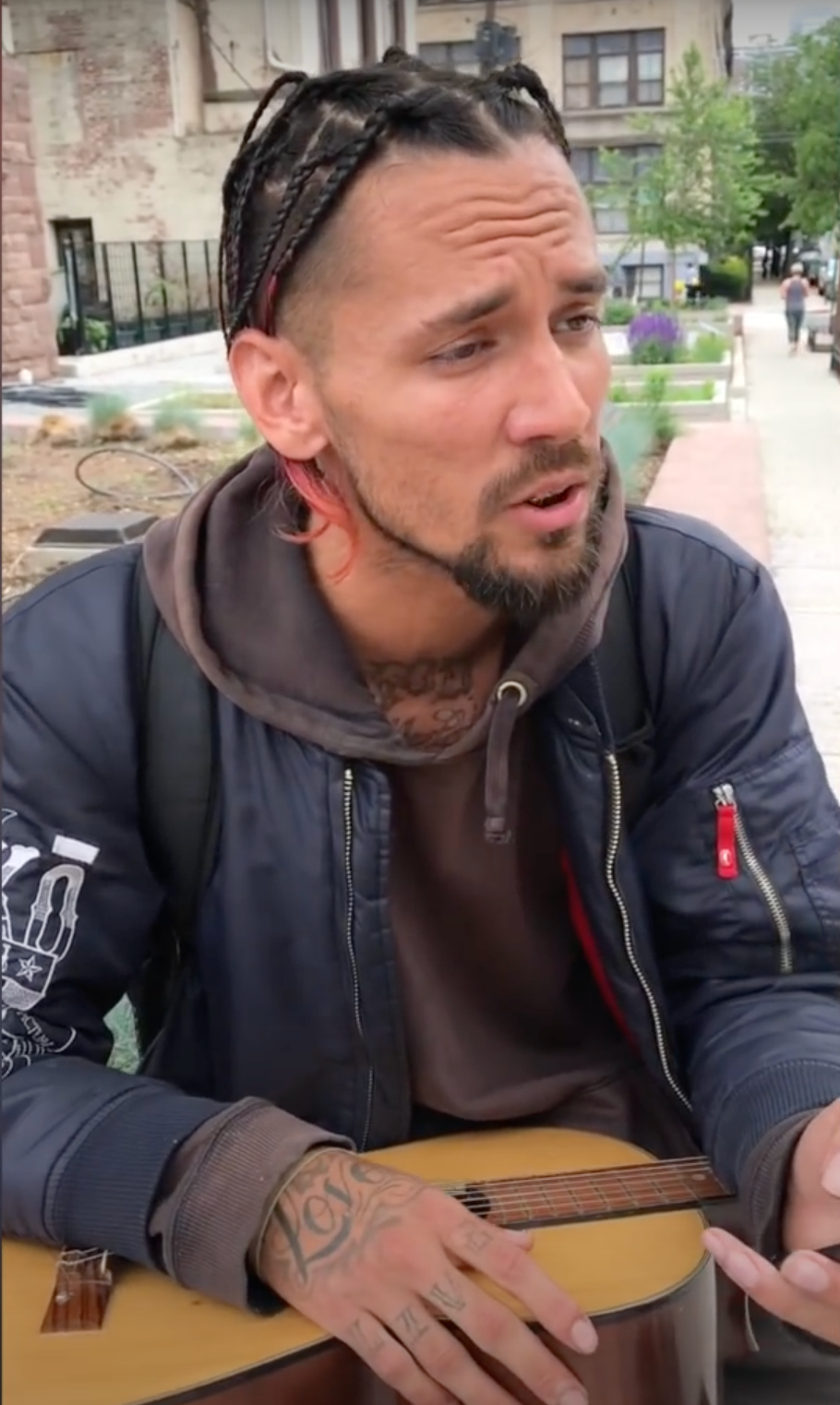 Tom Jones' estranged son speaks about his relationship with his father | Source: youtube.com/@bild
Jones was ordered to pay £1,700-a-month for Jonathan's upkeep for the first 18 years of his life. Although Jones complied, he revealed he did not want anything to do with the child.
ESTRANGED SON SPEAKS
Tom Jones' second son Jonathan Berkery, is an aspiring singer who struggled to make ends meet despite inheriting his famous father's voice and brooding looks. He has also been homeless, on and off, for several years.
Speaking to Daily Mail, Jonathan revealed the absence of a father figure in his life resulted in him leading a dysfunctional adult life. He had done drugs, been arrested, and struggled to hold a job.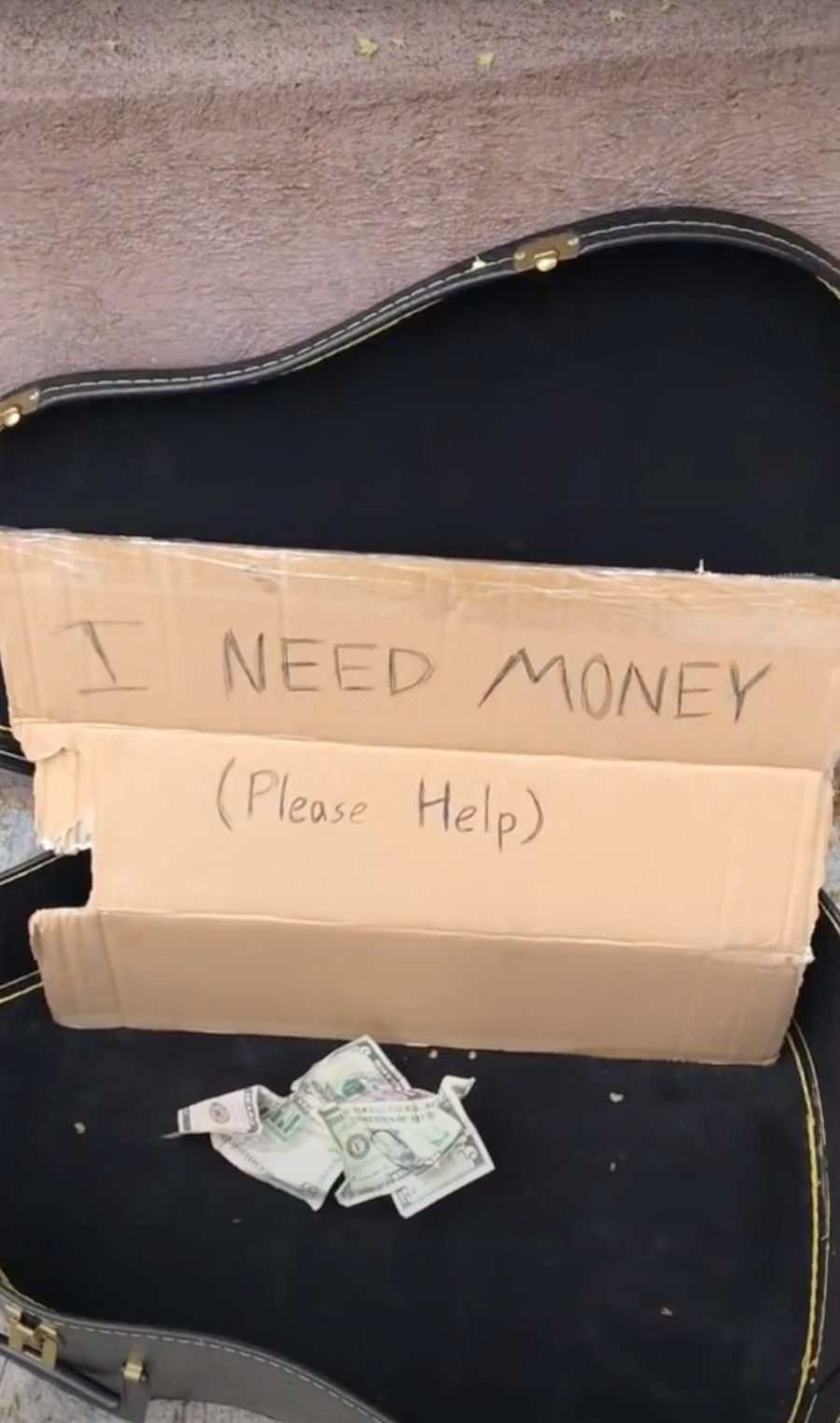 Jonathan's guitar case carrying a sign asking for money as he busks on the streets | Source: youtube.com/@bild
While the legendary musician goes about praising his first son and manager, Mark Woodward, the Welshman has neglected Jonathan all his life.
Despite his estrangement from Jones, Jonathan revealed he tried contacting half-brother Mark to facilitate a meeting between him and their father after the musician lost his wife.
Jonathan could not find a direct line to his half-brother, Mark, so he emailed his assistant, Tom Ludgate, introduced himself and asked for a meeting with his father.
In the mail, Jones said he did not want to spend his life regretting he never attempted to contact them both, and he would also love to hear his father's side and have a real conversation.
Jonathan told Daily Mail that he was confused about whether he would like to meet his father or not for years but has realized that life is too short and he needs to get to know Jones.
Sadly, he did not get any reply to his mail. Jonathan claimed he does not want help with his career; he wants to meet his father before too late. He confessed:
"Not having a father growing up was tough. All I ever wanted was his love. People think I look and sound like a younger version of my dad. I sing all his songs. People stop and stare as soon as I start singing."
Jonathan has yet to build a relationship with his father's family and has expressed his hurt at being shut out of their lives for so many years.
Please fill in your e-mail so we can share with you our top stories!