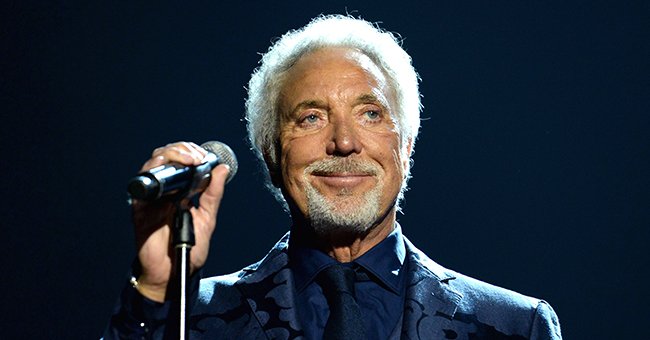 Getty Images
Tom Jones' 'Abandoned' Son Was Homeless & Slept in Shelter despite Dad's Multi-Million Fortune

Although Welsh Singer Tom Jones paid child support until his estranged son, Jonathan Berkery, turned 18, he did not want anything to do with him. Jonathan claimed all he wanted from his father was to embrace him as his child.
Tom Jones' love child Jonathan Berkery was a homeless singer who took after his dad with a rich baritone voice. In June 2018, The Daily Mail reported that the then 29-year-old sang his estranged father's hits in a tone that sounded familiar while out on the streets.
At the time, he was living in New Jersey. Despite his father's $207 million fortune, Jonathan relied on commuters dropping their spare change into his guitar case.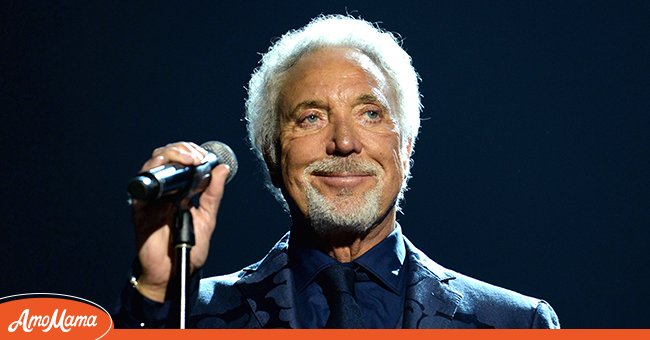 Singer Tom Jones performs onstage at the 25th anniversary MusiCares 2015 Person Of The Year Gala at the Los Angeles Convention Center on February 6, 2015 in Los Angeles, California | Photo: Getty Images
LIVING IN THE STREETS
He had a cardboard sign written: "I Need Money (Please Help)." Furthermore, in tribute to his dad, Jonathan goes by Jon Jones and spent nights in a homeless shelter in Hoboken, having a part-time job stacking shelves.
He revealed he never met his famous father despite efforts to get in touch with him. Johnathan declared all he desperately wanted was recognition from the star:
"I don't want anything from my dad, just his recognition. Not having a father growing up was tough. All I ever wanted was his love."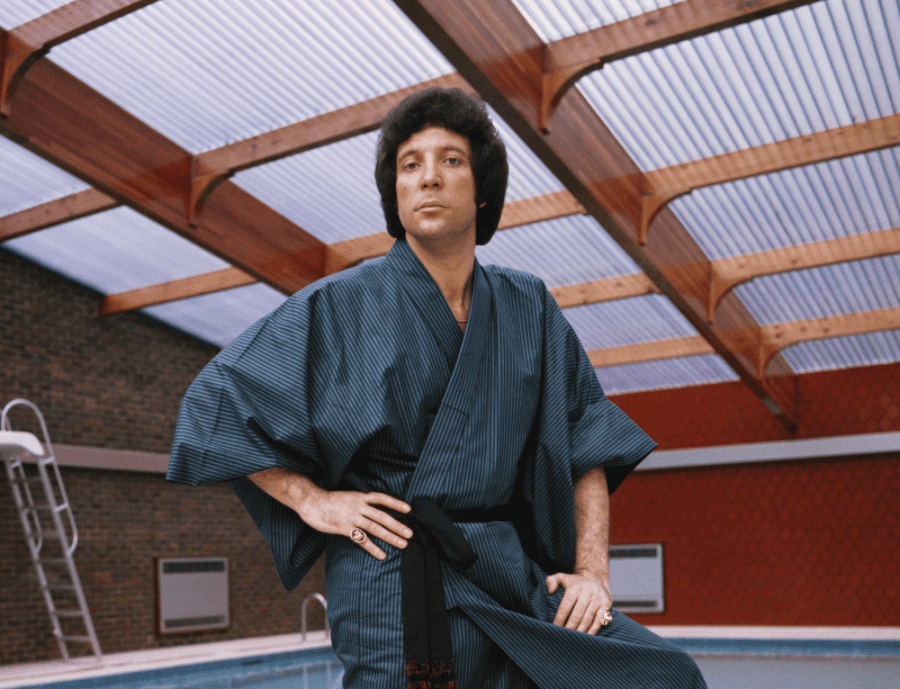 An undated image of Welsh singer and sex symbol Tom Jones standing by his swimming pool and wearing a robe at his home in St Georges Hill, near Weybridge | Photo: Getty Images
HIS CONCEPTION
Jonathan mentioned that people told him that he looks and sounds like the younger version of Jones. He explained that he sang all his father's songs and that people stared when he started singing.
Jonathan was conceived following a three-day fling Jones (then 47) had with a then 24-year-old model, Katherine Berkery, in New York in October 1987.
Upon learning about his existence, "The Voice" judge blatantly denied Jonathan as his son. However, a court-ordered paternity test later proved his parenthood in 1989.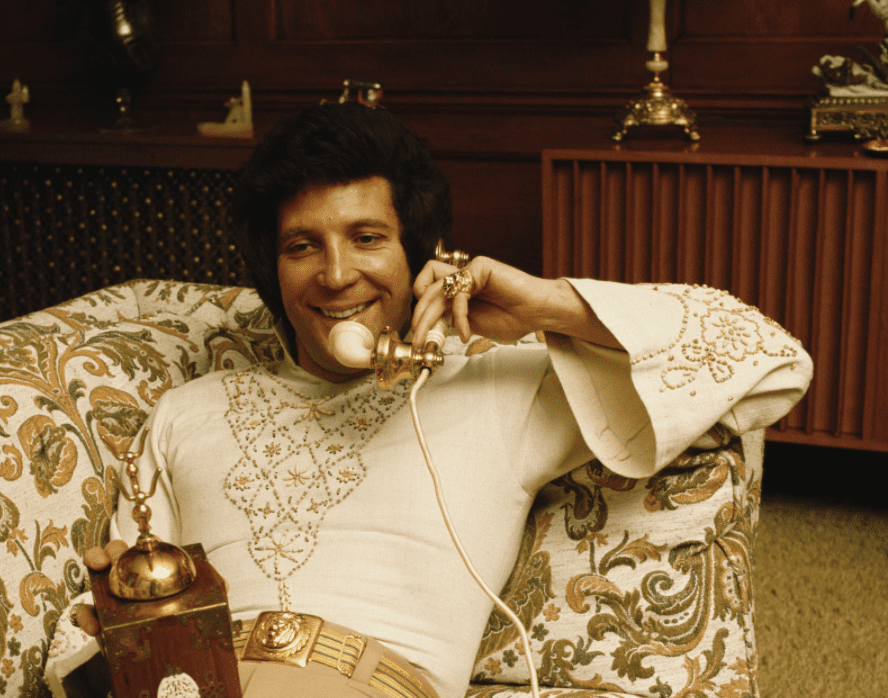 An undated image of Tom Jones on the telephone at his home in St Georges Hill, near Weybridge | Photo: Getty Images
LIVING WITHOUT A DAD
After that, Jones agreed to pay over $2,000 every month for maintenance to support him until he was 18 years old. While he ensured that Jonathan was cared for financially, Jones was an absent father. His son revealed:
"There was never a birthday card, a single Christmas card, a call. I grew up with images of dad all around. But my calls and emails have gone unreturned. He wants nothing to do with me."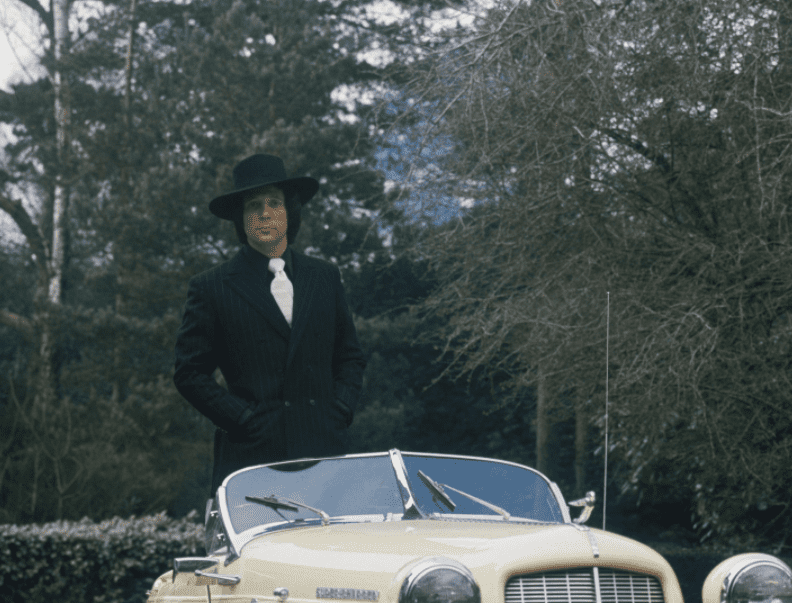 Pictured: An undated image of "The Voice" judge Tom Jones posing in his car | Photo: Getty Images
THE DENIAL
Meanwhile, Jones only acknowledged Jonathan's existence in 2008. He alluded that Johnathan was a mistake and that his mother seduced him into becoming a father unwillingly:
"It wasn't something I planned. I was tricked. I fell for the seduction."
The rejection left Jonathan shattered, who said his father's words cut deep and that he did not ask to be born. He noted people as famous as his dad always end up hurting people along the way.
TROUBLED UPBRINGING
Johnathan's father's non-acceptance did more harm than good as it led him to an enraged drink-and-drug fueled adolescent rebellion. This behavior meant Jonathan could not have proper relationships with girls.
Moreover, he revealed in April 2013 that he dabbled in drugs and became a gun-carrying dealer. The aspiring singer slept on park benches and homeless shelters for more than two years after a drug gang befriended him as a teenager.
Jonathan blamed Jones for his struggles and claimed that it took a long time for him to realize that things were not his fault entirely. He stated he was an angry child who longed for a father figure in his life.
Jonathan added he turned to drugs to help him cope with the rejection from the Pontypridd native. He shared he had been smoking weed since he was 16, which progressed to prescription pills, and other drugs.
Jonathan said he possessed conflicted feelings towards his father and that even though he was his biological parent, he had never been a father to him.
Meanwhile, according to LA Times, Jonathan's mother, Katherine, said that her former lover was disgusting for denying his son.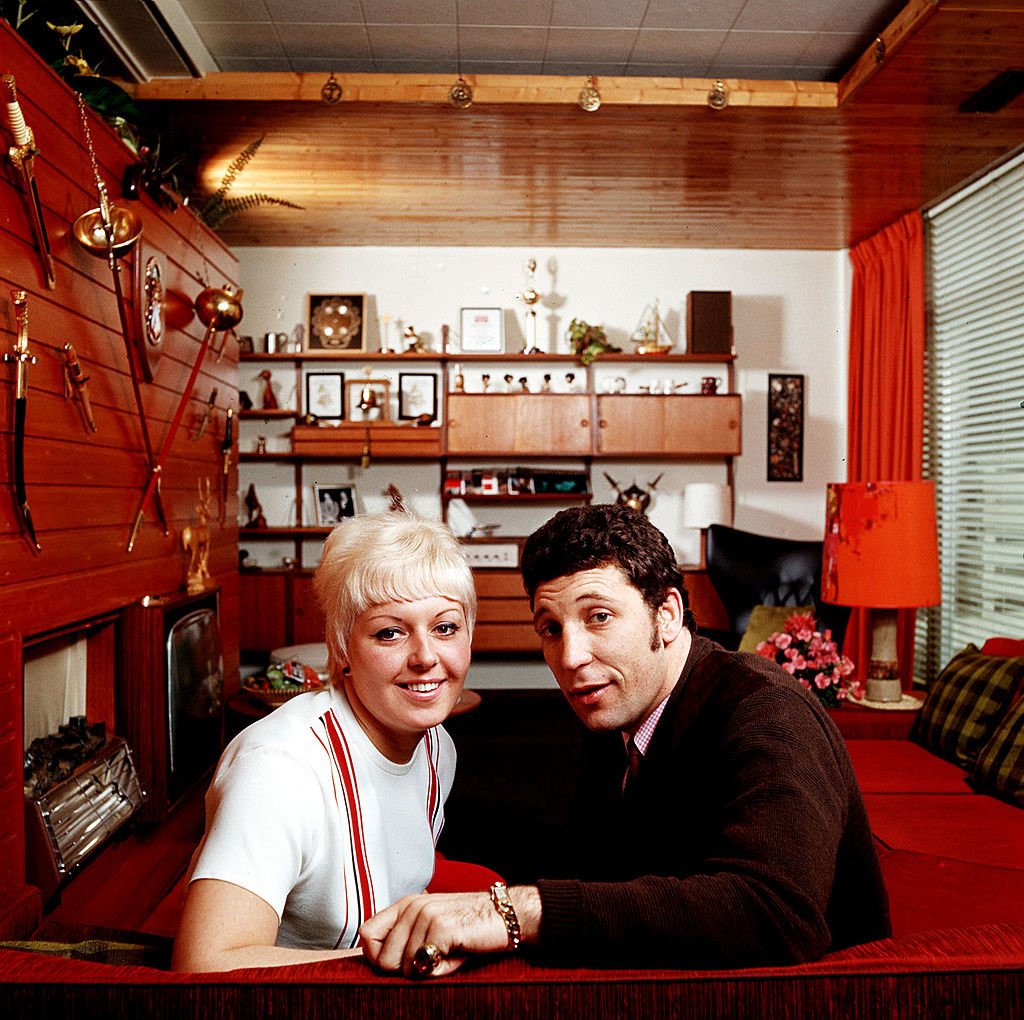 Tom Jones at home with his wife Melinda Trenchard in 1967 | Photo: Getty Images
ROCKY MARRIAGE & INFIDELITY
In 2016, the "Sex Bomb" singer confessed that he slept with 250 women a year during the height of his career. He admitted the affairs occurred while married to his wife of 59 years, Melinda Trenchard.
Despite the serial infidelity, Jones said Trenchard was the love of his life. The two tied the knot in a Welsh mining village in 1957.
At the time of Jones' confession, The Mirror reported that it remains unclear whether Trenchard chose to be oblivious to her husband's decades of philandering or if she was merely unaware until years later.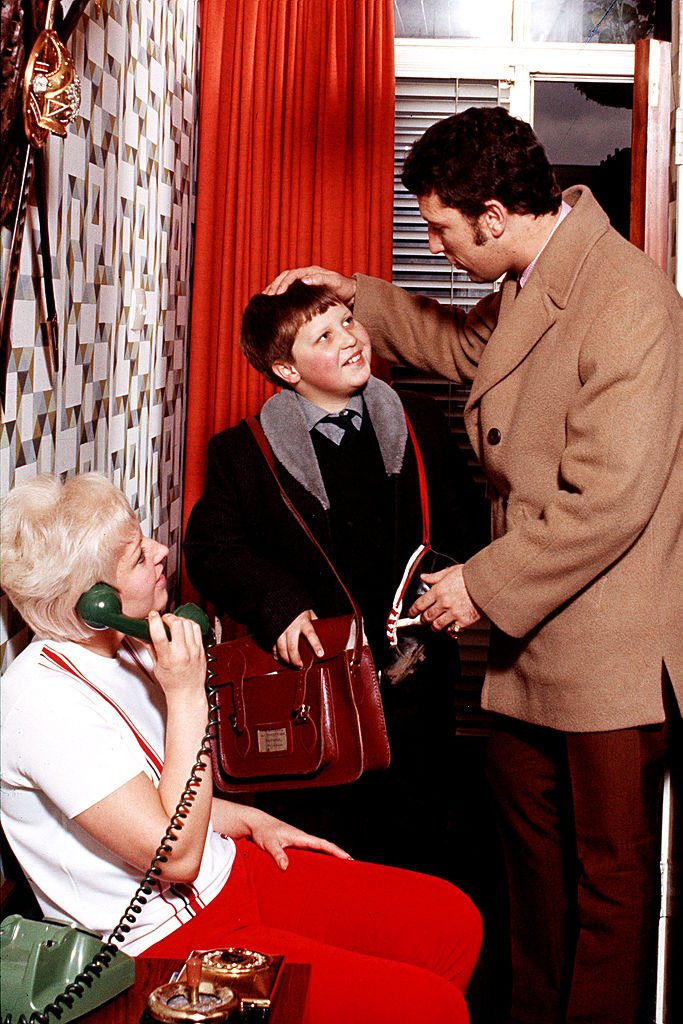 Tom Jones at home with his wife Melinda Trenchard and son Mark in 1967 | Photo: Getty Images
She married Jones when she was just 16 at Pontypridd's register office. They welcomed their one and only child together, son Mark Woodward, on April 11, 1957, a month after becoming husband and wife.
During the peak of her spouse's singing career, Trenchard stayed in the background and confided in a friend that she never felt good enough to be Jones's wife.
Whereas the father of two (born Thomas Woodward) once revealed in his 2015 autobiography, "Over the Top and Back," that he first fell for the mother of his son when they were 12 years old.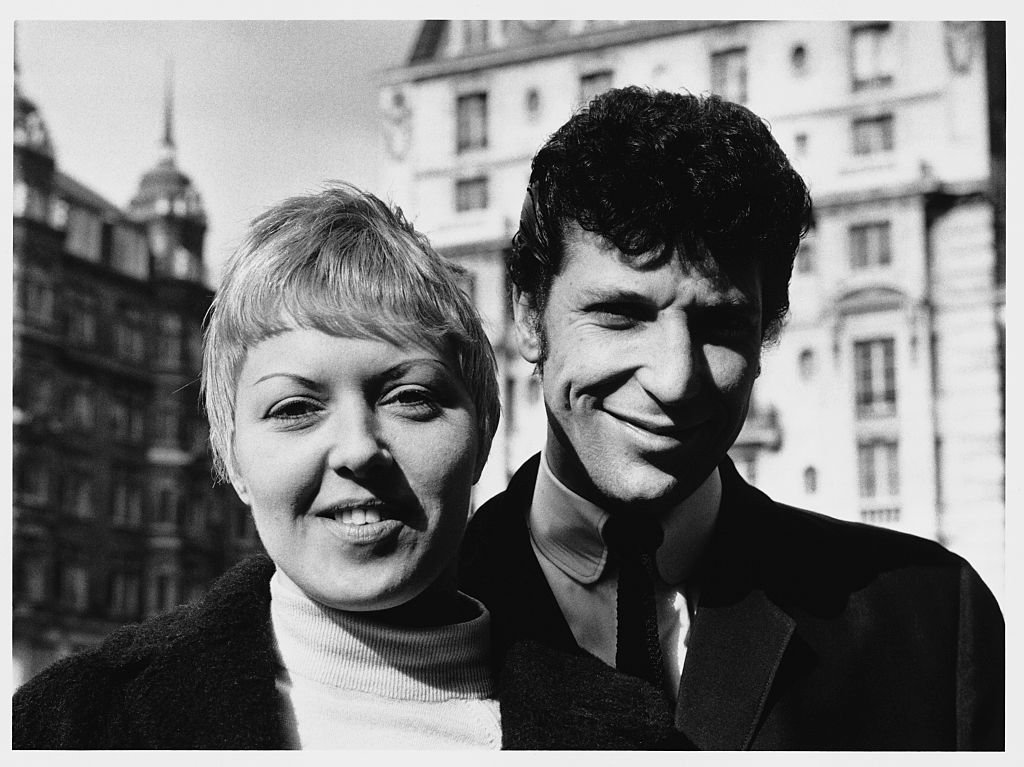 Tom Jones with his wife Linda Trenchard on March 1965 in Hanover Square, London, United Kingdom | Photo: Getty Images
He wrote that he never felt so strongly about anyone else, adding he did not believe that an individual can fall in love more than once. Jones wrote this about his multiple affairs, including a two-year fling with Mary Wilson of The Supremes.
One other was with former Miss World Marjorie Wallace, who was nineteen at the time. Jones's relationship with Wallace was uncovered in 1976 when they were pictured kissing on the beach in Barbados.
When Jones figured that Trenchard would eventually find out about the infidelity, he broke things off with Wallace. However, his wife ended up learning about the affair and was reportedly furious. Jones shared he allowed her to have a go at him while he took it.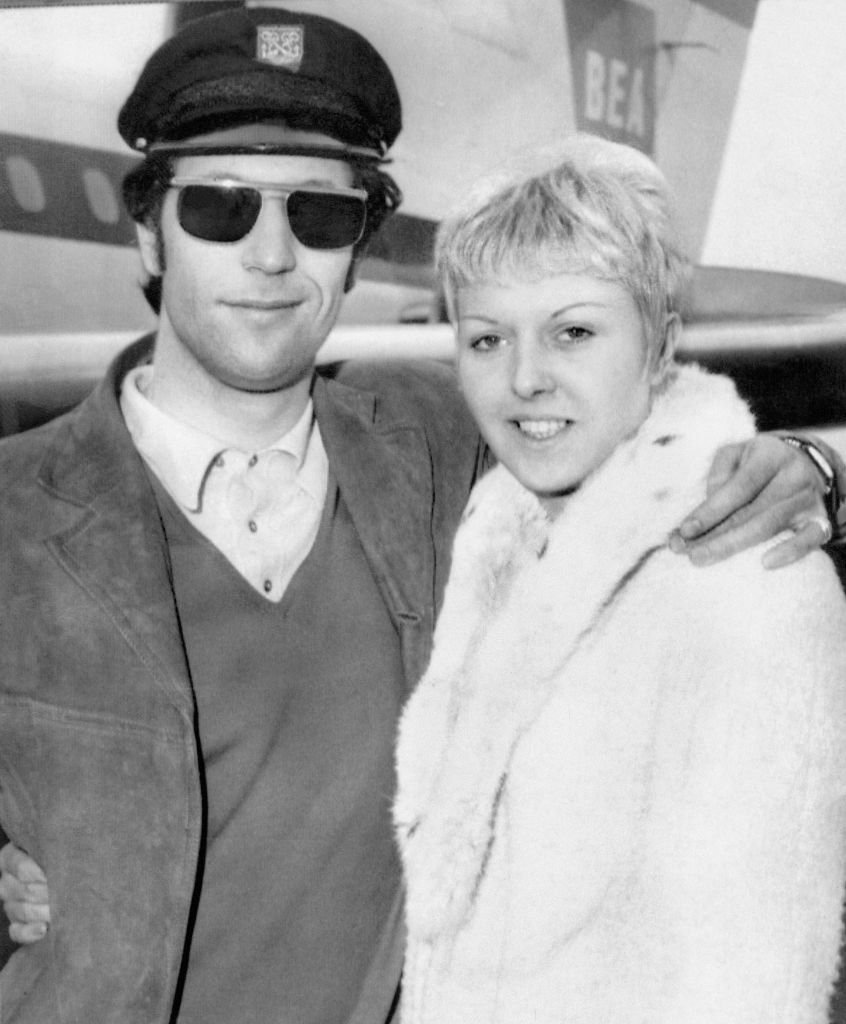 Tom Jones pictured with his wife Linda after arriving from France, April 8, 1965 | Photo: Getty Images
TRENCHARD'S PASSING
After that, his affairs made international news which strained their marriage. At one point, Trenchard even suffered a miscarriage. It tore her apart when she learned her husband fathered an illegitimate child, Jonathan.
From thereon, she retreated from traveling with Jones on tours and stayed home most of the time. Trenchard tragically died in 2016 following a short struggle with cancer.
Speaking to Sunday Mirror after her passing, Jones said he was skeptical about making it on his own. He said there were days when he did not want to get out of bed after losing his wife.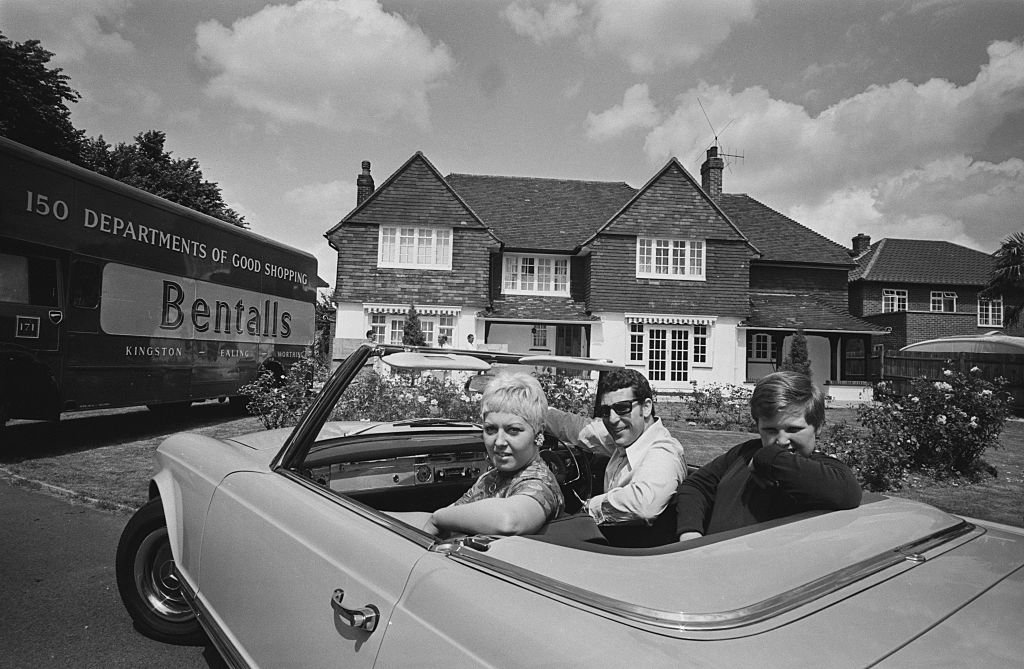 Tom Jones with his wife Melinda Trenchard and their son Mark as they move into their new home in Sudbury, 1967 | Photo: Getty Images
The couple lived together in a mansion in Los Angeles. Following Trenchard's death, he moved out and returned to the UK, purchasing a flat in London.
He said moving back to the UK was always what his wife wanted to do in her final years but could not because of her illness. To date, Jones is a grandfather to his son Mark's two kids, Alex and Emma.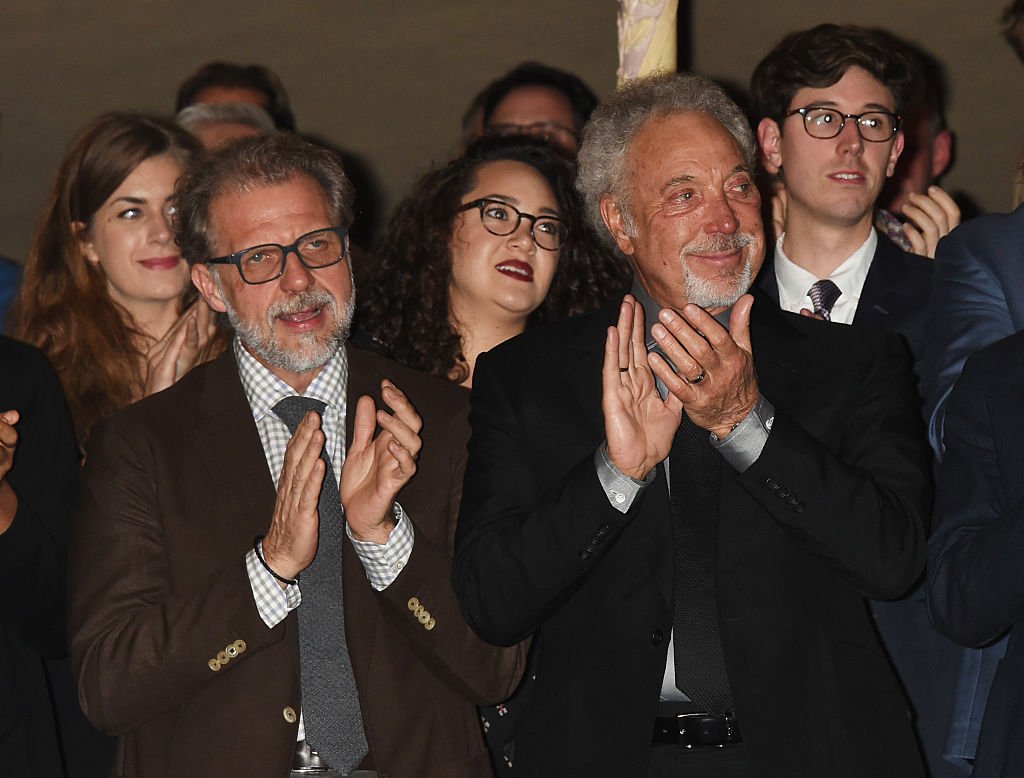 Tom Jones and son Mark Woodward (R) applaud Burt Bacharach at the curtain call during the press night performance of "Close To You: Bacharach Reimagined" at The Criterion Theatre on October 15, 2015 in London, England | Photo: Getty Images
HIS CAREER
Apart from his eyebrow-raising love life, Jones is best known for his hit songs such as "Delilah," "It's Not Unusual," and "A Boy From Nowhere."
Growing up, he was influenced by American blues, rock 'n roll, and R&B. He produced hits in the United Kingdom and the United States for decades.
Because of his extensive musical background, Jones landed a gig as a judge on the UK reality singing competition, "The Voice," in 2012. From 1969 to 1971, he starred on his TV show "This Is Tom Jones."
He also branched into film, appearing as himself on "The Simpsons," hosting award shows and acting in movies such as "Mars Attacks!" (1996) and "Agnes Brown" (1999).
Please fill in your e-mail so we can share with you our top stories!
The information in this article is not intended or implied to be a substitute for professional medical advice, diagnosis or treatment. All content, including text, and images contained on news.AmoMama.com, or available through news.AmoMama.com is for general information purposes only. news.AmoMama.com does not take responsibility for any action taken as a result of reading this article. Before undertaking any course of treatment please consult with your healthcare provider.