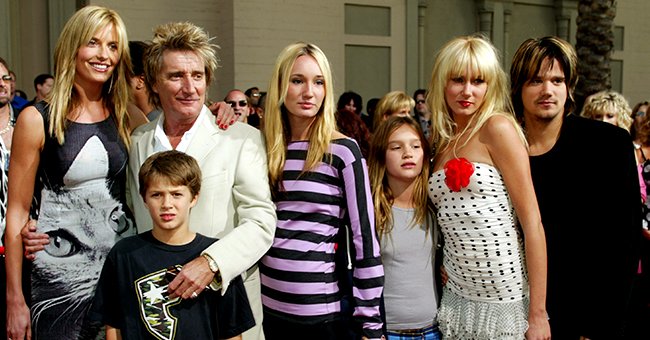 Photo: Getty Images
Rod Stewart Fathered 8 Children with 5 Different Women — Meet His Blended Family
Rod Stewart is a British songwriter, rock and pop singer, record producer, and the father of eight children at 76. Rod had several relationships and fathered children with five different women.
While the age difference between his first and last is 47 years, Rod Stewart has learned to be a father who meets his children's individual needs.
Rod Stewart's reason for having so many children was the "naughty winkle" he had when he was younger. However, he is always happy to see his children's genuine smiles.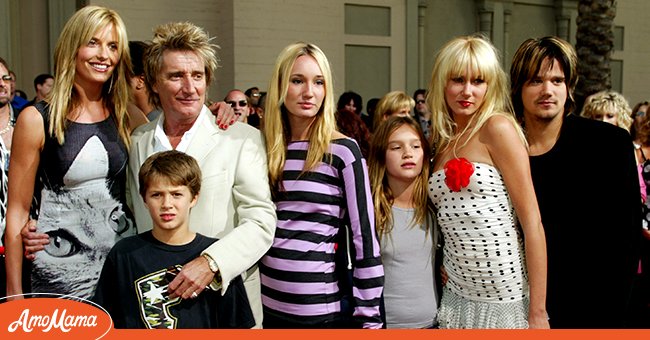 Rod Stewart, Penny Lancaster, Liam, Ruby, Renee, Kimberley, and Sean at the 31st Annual American Music Awards on November 16, 2003, in Los Angeles | Photo: Getty Images
ABOUT ROD STEWART
Roderick David Stewart is a British singer-songwriter, born on January 10, 1945, and was involved in several odd jobs before his singing career took off.
In the 1960s, he was a part of several bands and toured the United Kingdom and the United States. He also performed as a solo artist and had hit singles like "Maggie May" and "Stay With Me."
He moved to the United States in 1975, reached the top of the U.S. charts, and developed a reputation for his partying lifestyle while releasing smashing hit singles.
Even though the early 1980s were challenging for Stewart, he made a comeback in 1993 with "Unplugged and Seated." He started remaking classic songs and won his first Grammy in 2004 for "Stardust: The Great American Songbook, Volume III."
He returned to rock music in 2006 with "Still The Same: Great Rock Classics of Our Time." The album was a success and reached the top of the pop charts.
In 2012, Stewart wrote his memoir "Rod: The Autobiography." In 2013, he made an impressive return to songwriting with his album "Time."
STEWART'S RELATIONSHIP WITH HIS CHILDREN
At 76, Stewart is a father of eight children with five different women, and the ages of his children range between ten and 57. The proud father revealed that having a "naughty winkle" when he was younger led to his multiple children.
Being a father to many also means Stewart has to play the role of eight different fathers because he has to meet the needs of each child according to their age.
He understands that he has to treat each child as an individual with individual problems. Being a father has also taught him to listen and not blow his top.
STEWART RECONCILES WITH HIS DAUGHTER
At 17, he had his first child, Sarah, on November 6, 1963, with his art student girlfriend, Susannah Boffey. They panicked and decided to give Sarah up for adoption.
Sarah's adoptive parents were Gerald and Evelyn Thubron, and she had no relationship with her father until her adoptive parents died in 2007.
However, she had learned about Stewart being her father when she was 18, and after her adoptive parents died, they had a tentative reconciliation.
Stewart revealed that he felt guilty, but Sarah has been able to forgive, and their relationship has blossomed into genuine mutual affection that is much more relaxed.
THE STEWART CLAN
His second child, Kimberly, was born to his first wife, Alanna, a model and actress, on August 21, 1979. Kimberly has a daughter, Delilah Genoveva, born on August 21, 2011, with actor Benicio del Toro.
While still with Alanna, they had a second child, Sean, on September 1, 1980. Sean became a musician and is known for his role on the A&E Network reality TV series "Sons of Hollywood" in 2007.
Alanna and Stewart split in 1984, and he had a daughter, Ruby, on June 17, 1987, with his model girlfriend, Kelly Emberg. Ruby also took an interest in music and even had her band.
After he and Emberg broke up in 1990, he got married to New Zealand model Rachel Hunter, and they had Renee Cecili on June 1, 1992.
Renee studied at the London Contemporary Dance School and is a dancer and a yoga and meditation teacher. Hunter gave birth to Stewart's sixth child, Liam McAlister, on September 5, 1994.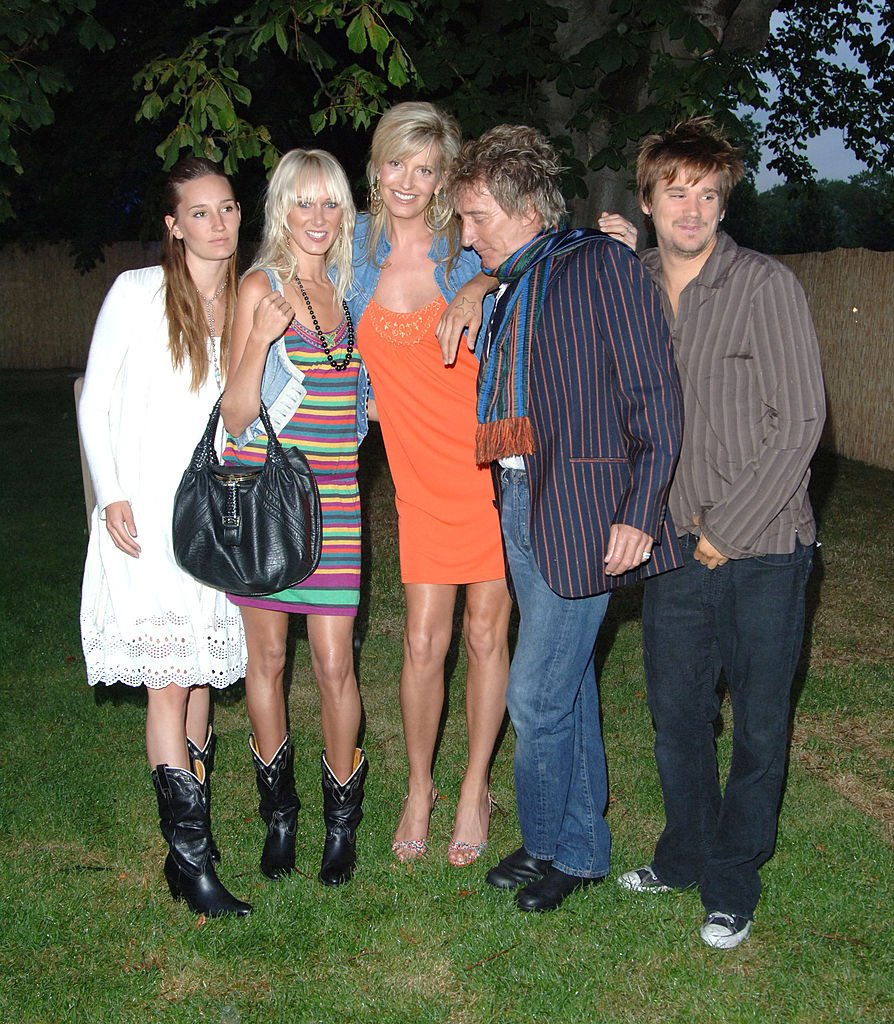 Kimberly Stewart, Penny Lancaster, Rod Stewart, Sean Stewart, and Guest at Jimmy Choo Serpentine Gallery Summer Party | Photo: Getty Images
Liam is a professional hockey player. In November 2005, while engaged to Penny Lancaster, Stewart welcomed his seventh child, Alastair Wallace.
Lancaster is an English model and presenter on the talk show "Loose Women." She and Stewart tied the knot in 2007. In February 2011, the couple welcomed Stewart's last son, Aiden Patrick.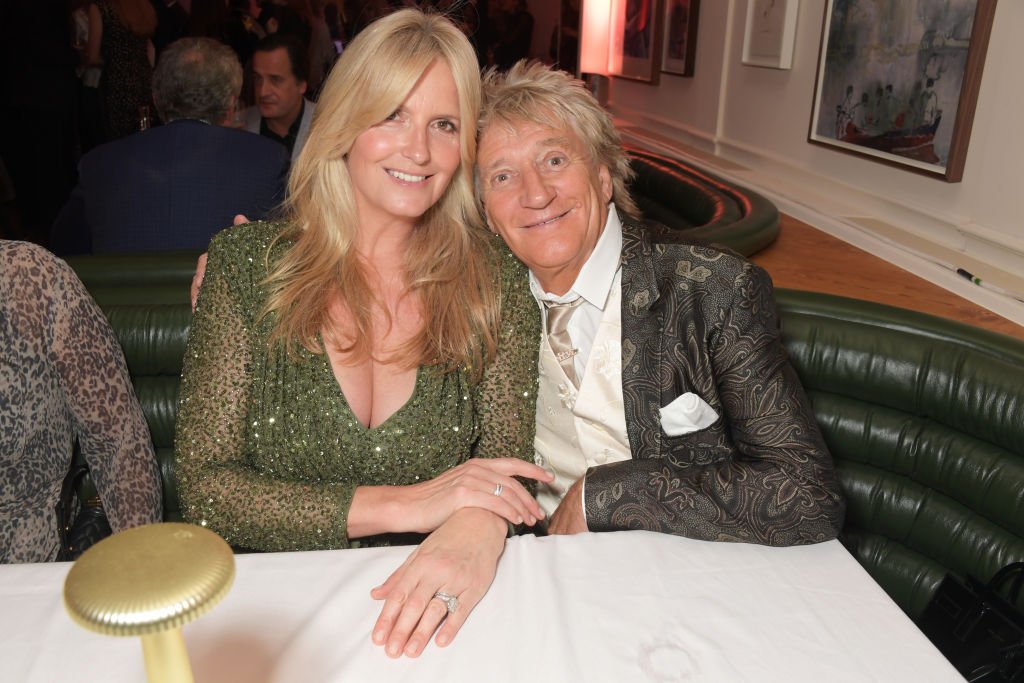 Penny Lancaster and Rod Stewart at the Langan's Launch Night on October 28, 2021, in London | Photo: Getty Images
STEWART'S CURRENT MARRIAGE
Even though his previous relationships did not last, Stewart did not give up on love. His past relationships also taught him lessons that made him better.
Stewart now believes that no one should take intimacy for granted in any relationship, and it has been the one ingredient that has helped his marriage with Lancaster.
Please fill in your e-mail so we can share with you our top stories!