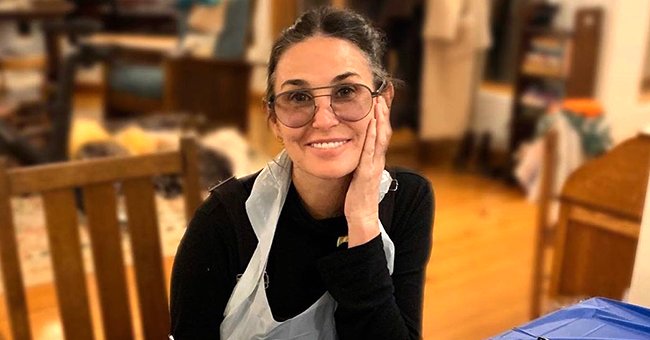 Instagram.com/demimoore
Inside Demi Moore's Idaho Mansion Where She Raised Their Kids & Quarantined with Ex Bruce Willis
Demi Moore took over the cinemas in the early 1990s, and at the time, she was married to Bruce Willis. They were seen as a power couple until they divorced in 2000.
Even though they were divorced, the couple who shared three daughters made sure to always appear as a family to give their girls a positive growing environment.
In 2020, Demi Moore and Bruce Willis even quarantined together with their daughters on the property where the girls grew up.
ABOUT DEMI MOORE
Demi Moore, whose birth name is Demetria Gene Guynes, was born on November 11, 1962. She is one of the world's most famous actresses of 1990s cinema.
Her mother and stepfather raised Moore, who did not have a very smooth childhood. At 14, her family had moved over 30 times, and at 16, she dropped out of high school.
In 1981, Moore landed a role in "General Hospital" and married Musician Freddy Moore. She took his surname and never changed it when their marriage ended five years later.
Moore acted in several movies and series but had her breakout role in "St. Elmo's Fire" in 1985. The following year, she gave an impressive performance when she starred opposite Rob Lowe in "About Last Night."
In 1990, she got her biggest break with the romantic drama "Ghost" and appeared nude and pregnant on the cover of Vanity Fair, causing a controversy.
The following year, she co-starred with Tom Cruise on "A Few Good Men," In 1993, she starred alongside Woody Harrelson in "Indecent Proposal."
By 1995, Moore had made movie history by becoming the highest-paid actress in Hollywood for her role in "Striptease." In 1997, she produced the Austin Powers movie and its sequels.
Moore continued to work on different interesting projects, and in 2011, she gave an impressive performance when she starred alongside Jeremy Irons, Kevin Spacey, and Paul Bettany in "Margin Call."
Between 2014 and 2016, she had prominent roles in "Very Good Girls," "Forsaken," and "Wild Oats" before releasing her memoir "Inside Out" in 2019.
MOORE AND BRUCE WILLIS'S RELATIONSHIP
In July 1987, after ending her relationship with her then-fiancé, Emilio Estevez, she started dating Bruce Willis. They had met at the premiere of "Stakeout."
In November of the same year, they got married inside their suite at the Golden Nugget hotel after an impromptu trip to Las Vegas, and this was Willis's first marriage.
On August 16, 1988, they welcomed their first child Rumer Glenn. She was followed by Scout LaRue, who was born on July 20, 1991, and Tallulah Belle, born on February 3, 1994.
Emma Heming, Rumer Willis, Bruce Willis, Tallulah Belle Willis, Demi Moore, and Scout LaRue Willis pose backstage as Rumer makes her Broadway debut on September 21, 2015, in New York | Photo: Getty Images
After 11 years of marriage, the couple split in 1998, and their divorce was finalized in 2000. Moore claimed that Willis wanted her to be a stay-at-home mom even though she was the bigger star then.
She also claimed that Willis once told her that he didn't know if he wanted marriage. After their divorce, the couple ensured their daughters had a positive and nurturing childhood.
To date, they have made sure to appear as a family, and in 2020, they went a step further as they quarantined together.
MOORE'S MANSION
They were not alone with their daughters during the quarantine as Willis's wife, Emma Heming, also quarantined with them at Moore's country home in Hailey, Idaho.
Moore had bought the home after her split from Willis, and this was the home where they raised their children. She was excited to be together with her daughters and was grateful for their blended family.
The property features massive grounds sprawling with trees where Moore loves to become one with nature. When she's not outdoors, she's creating fun memories inside her kitchen.
On some mornings, Moore is out on the front deck rescuing some birds and even gets to hang out with them till they regain their strength and are ready to fly.
Moore has a cozy dining area with floral arrangements to add a touch of softness inside the home. She is also seen getting her dinner guests ready. Identical floral arrangements can also be seen in the kitchen.
The living area is where the family sometimes gets together to spend quality time or where Moore gets to do a little shooting in front of the fireplace with her daughters.
With all the places to sit around the house, Moore showed that the bathroom is another wonderful place to work from once you add a couch in it.
MOORE AND WILLIS QUARANTINE TOGETHER
Once the pandemic hit, the family knew they needed to go through that phase together and chose Moore's mansion as the quarantine location.
However, Willis arrived at Moore's home earlier than his wife Heming because she had to deal with a medical emergency, and traveling around became more stringent.
The family bonded together wearing matching green and white striped pajamas, and their pets were not left out. When Tallulah shared the image on her Instagram, she captioned it "chaotic neutral."
Willis and Heming have been married since 2009, and they share two daughters, Mabel Ray, born in April 2012, and Evelyn Penn, born in May 2014.
MOORE AND WILLIS'S PARENTING AND CHILDREN
After graduating from the University of Southern California, their first daughter, Rumer, a songwriter and singer, started acting and has featured in "Empire," "The House Bunny," and more.
Scout, their second daughter, also explored a career in Hollywood, dabbling into music production and launching a clothing brand in 2016.
Tallulah, their last child, also pursued a career in acting and starred in "The Whole Ten Yards," "Moonrise Kingdom," "The Scarlet Letter," and more. While Moore and Willis are proud of their children, they are also proud of their cohesive co-parenting style.
According to their daughter Rumer, they have all strived to have deep, meaningful, and honest communication. She believes that no matter the relationship, having good tools for communication is unbelievably important.
She further revealed how grateful she is that her parents never pitted the kids against each other or made them choose between holidays.
Please fill in your e-mail so we can share with you our top stories!