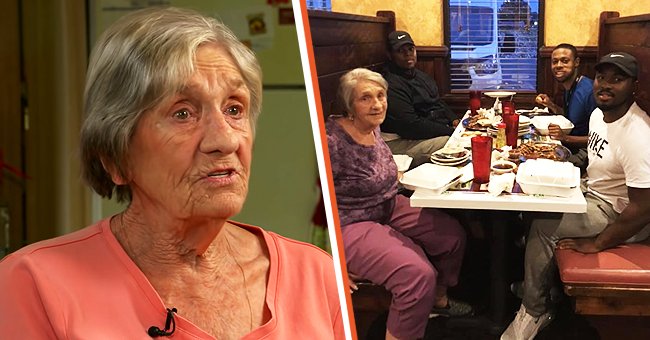 youtube.com/CBS Evening News facebook.com/Jamario Howard
Young Man Invites Elderly Widow to Dinner after Noticing Her Alone in Restaurant: 'It Was a God Thing'
When a young man saw an elderly woman eating alone, he approached her and asked her if she wanted company. The special encounter meant a lot to her and went viral online.
In 2019, Brad's Bar-B-Que in Oxford, Alabama, was the venue where an unlikely friendship began. When 80-year-old widower Eleanor Baker went to have dinner, something unexpected happened.
It was the day before what would have been her 60th marriage anniversary, and she was eating alone. However, a group of young men entered the establishment, and one noticed her. He hated seeing her alone.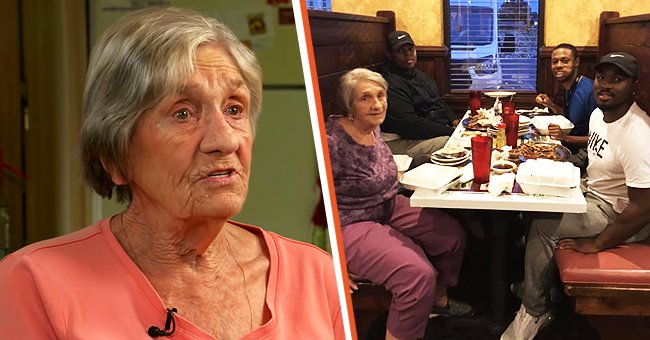 A widow who was eating alone the day before her marriage anniversary [left] Elderly woman eats with a group of caring youngsters [right] | Photo: youtube.com/CBS Evening News
THEY STRUCK UP A CONVERSATION
Instead of pushing her to the back of his mind, he decided to take action. Jamario Howard went up to her table and asked her if she minded having some company. To which Baker replied: "Go right ahead."
The pair quickly struck up a friendly conversation. When Howard found out about her anniversary the following day, he invited her to sit at his table. The encounter meant the world to the woman.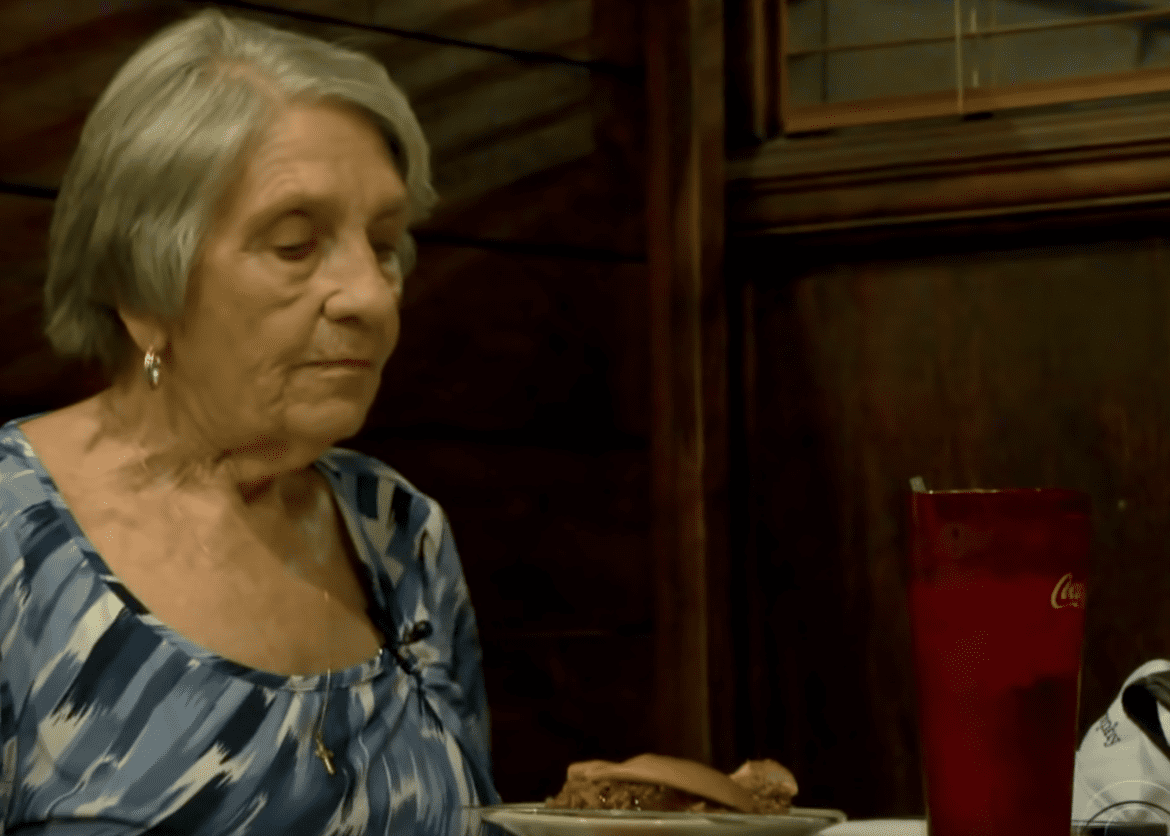 A widow was sitting by herself when a stranger asked if he could join her | Photo: youtube.com/CBS Evening News
She expressed: "I think it was a God thing. I think God sent me there." The widow who lived alone with her dog was stunned by the experience and the kindness of strangers, who she now calls friends.
Baker, who enjoyed her time with Howard, Tae Knight, and JaMychol Baker (no relation), stated: "It was really just a nice, pleasant evening." Meanwhile, Howard expressed: "I already feel like we're her grandkids."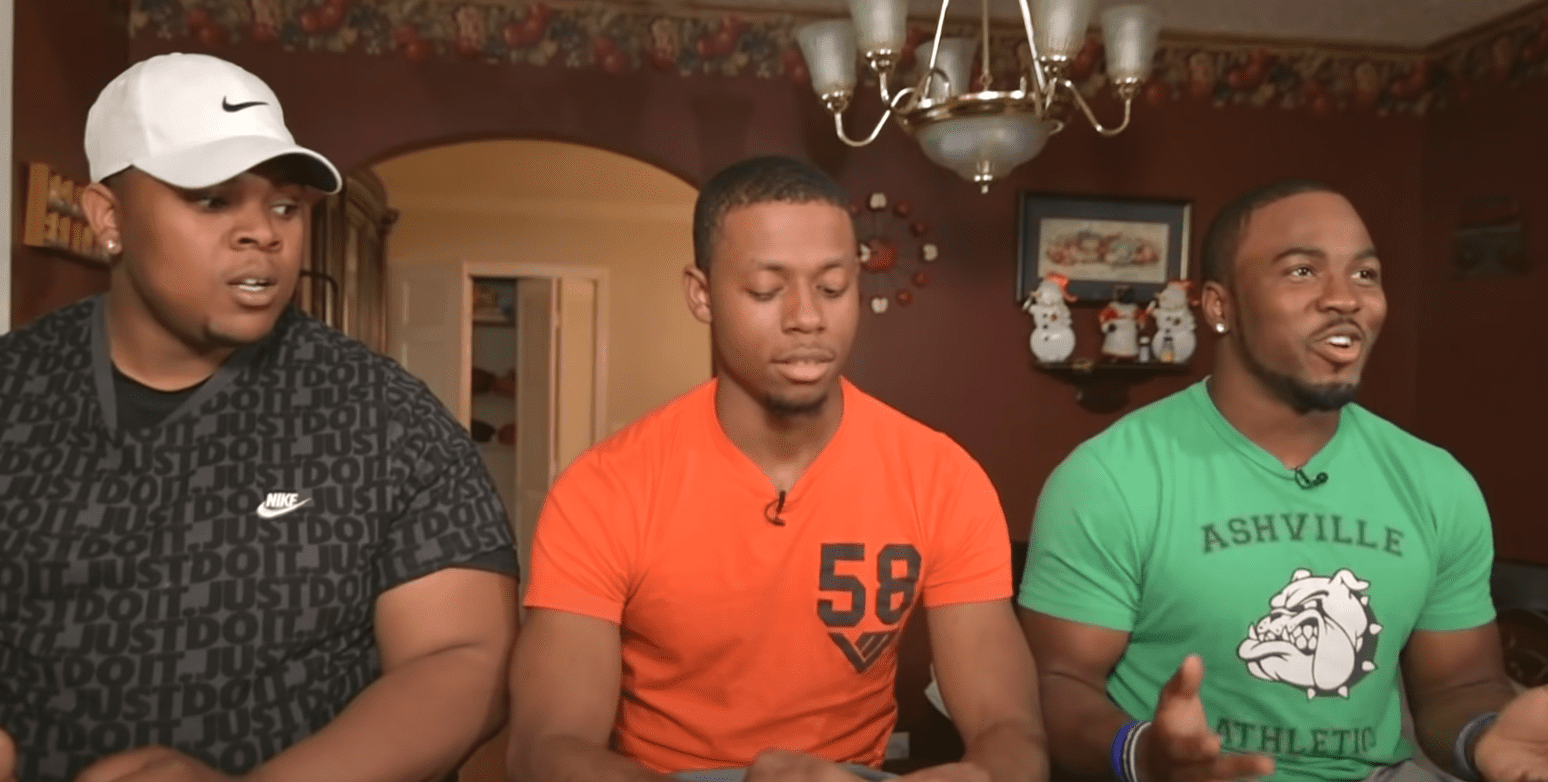 Group of youngsters who asked an elderly woman to sit with them for dinner | Photo: youtube.com/CBS Evening News
When asked if she had room in her life for the three strangers, Baker quickly responded with an "of course!" The men revealed that while Baker was happy to have their company, she also made their night.
Knight said: "'Cause when we left there, that's all we talked about." Howard shared that he always dreamed of changing the world. He just didn't know what to do.
Howard stated: "I'm not rich. I'm not famous. And I'm not very smart either, so I can't be president." However, he did find a way to make a difference — by taking the time to care for the people around him.
Netizens thanked the men for their caring gesture and commended them for making a difference in the woman's life. One user wrote: "With all the ugliness in the world, you and your friends gave it a little beauty."
Some also applauded Howard's parents for how they raised him. A commenter said: "No parent could be any prouder than yours must be." They called him an angel and wished him well.
Another user added: "Jamario (and friends), what a wonderful deed you all did for this woman. What goes around comes around, and this kindness will be shown to you all. Bless you!" Undoubtedly, their gesture changed the elderly woman's life, but it also changed theirs.
Please fill in your e-mail so we can share with you our top stories!