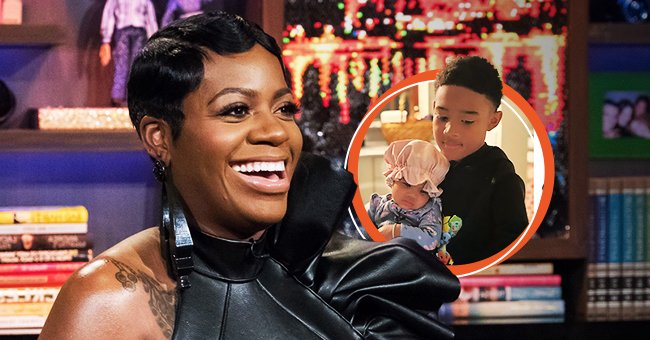 Getty Images | Instagram.com/tasiasword
Fantasia Barrino Shares Glimpse of 10-Year-Son Caring for His 'Fighter' Baby Sister Who Was Born a 'Little Too Early'
"Bittersweet" songstress Fantasia Barrino is a mother of three, and she is not ashamed to show her children off to the world. The star welcomed her youngest, daughter Keziah London, in May 2021.
In a recent Instagram post, Fantasia Barrino shared a cute photo of her son Dallas Xavier, 8, holding and caring for his little sister.
The photo featured Xavier dressed in a black sweatsuit sitting at the table, with his little sister held affectionately on his laps. Little Keziah looked cute in a blue onesie with white flowers imprinted on it.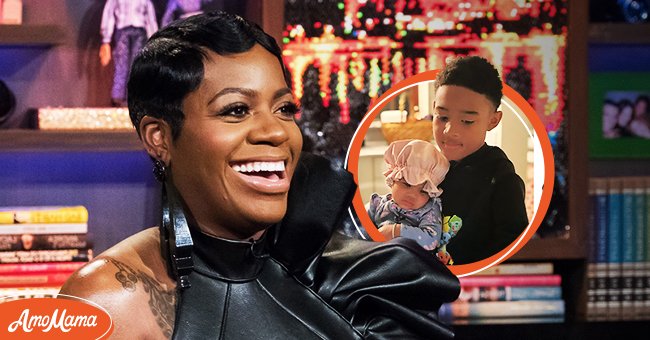 Fantasia Barrino on "Watch What Happens Live With Andy Cohen" | Photo: Getty Images. Inset: Barrino's son Xavier holding his baby sister Keziah | Photo: Instagram .com/tasiasword
She wore a cute pink bonnet and a little bangle on her wrist and also appeared to focus on Xavier's hand as they sat bonding.
BORN PREMATURELY
Barrino and Kendall Taylor welcomed their baby girl, Keziah, back in May. Announcing the news of Keziah's arrival on Instagram, the "American Idol" winner shared photos of the little girl but kept her face hidden.
A few days later, she announced that her daughter had been born prematurely and would be spending a while in the Newborn Intensive Care Unit. She ended up spending close to a month in hospital.
In one of her posts, the singer referred to her daughter as the epitome of strength, determination, and perseverance, saying she was a "fighter," just like herself.
"Keziah was born a little too early, but she is a fighter just like her mother. When you see the words Strength, Determined, Perseverance, and Unbreakable, think of Fantasia Monique Taylor." She wrote.
On June 22, the "Free Yourself" singer announced that she could finally take her baby girl home and shared a cute photo of the little girl in a white romper with cute matching booties.
BABY KEZIAH'S FIRST PHOTO
The new mom updated her fans on Keziah's progress for months, gushing over how big she'd grown. Barrino shared the first photo of the three-month-old showing off her pretty brown eyes on the Instagram page dedicated to baby Keziah.
The little girl was clad in a pink polka dot onesie and snuggled next to a stuffed bear. Fans could not stop gushing over the little girl, noting the uncanny resemblance with her dad. Others agreed that she carried her mother's beauty.
Barrino and Taylor are parents to four children. Besides Keziah, Barrino has two sons from her previous relationships, Dallas Xavier and Zion Quari, while Taylor is also a father to Treyshaun.
Please fill in your e-mail so we can share with you our top stories!