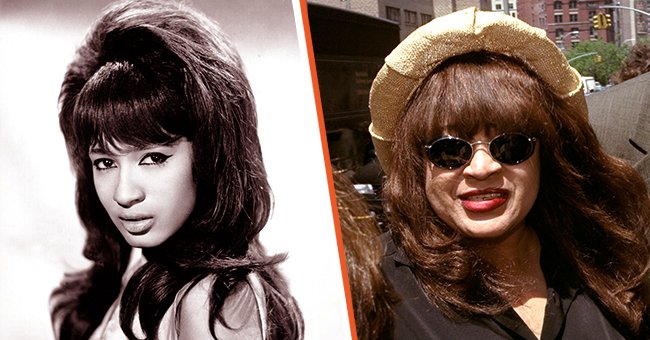 Getty Images
The Ronettes' Singer Ronnie Spector Married 15-Years-Younger Fan Who Would Save Her from Bad Dates
Ronnie Spector was married several times in the 78 years of her life. One of her marriages was the infamous one to Phil Spector, but after him, she married someone who would be there for the rest of her life.
Ronnie Spector was welcomed into the world as Veronica Bennett before she teamed up in 1957with her older sister Estelle to form the Ronettes. One other person who joined them was their cousin Nedra Talley.
The band struggled to find fame until they were signed with record producer Phil Spector in 1963. Ronnie and Phil promptly started to fall in love with each other.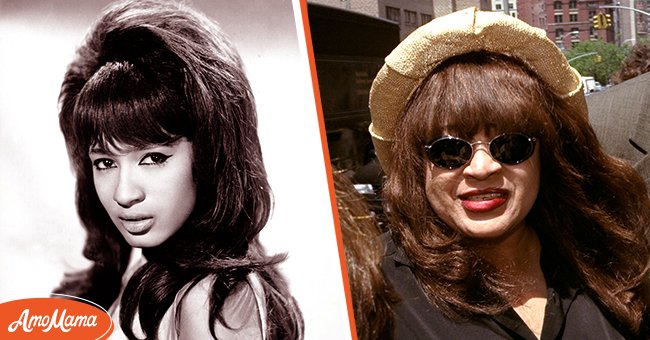 Ronnie Spector of the vocal trio "The Ronettes" poses for a portrait circa 1964, and her at the New York County Supreme Court on June 9, 1998 | Photos: James Kriegsmann/Michael Ochs Archives/Getty Images & Thomas Monaster/NY Daily News Archive/Getty Images
RONNIE'S MARRIAGE TO PHIL
In a 2013 interview, the songstress said she was so in love with the record producer. She explained that the feelings she felt came back to her every time she sang her band's song, "Be My Baby."
The couple tied the knot in 1968 after the band dissolved and before Phil announced he was retiring a few months later and forced his wife to go with him. She later told The Times that she hadn't realized he'd want her to retire with him.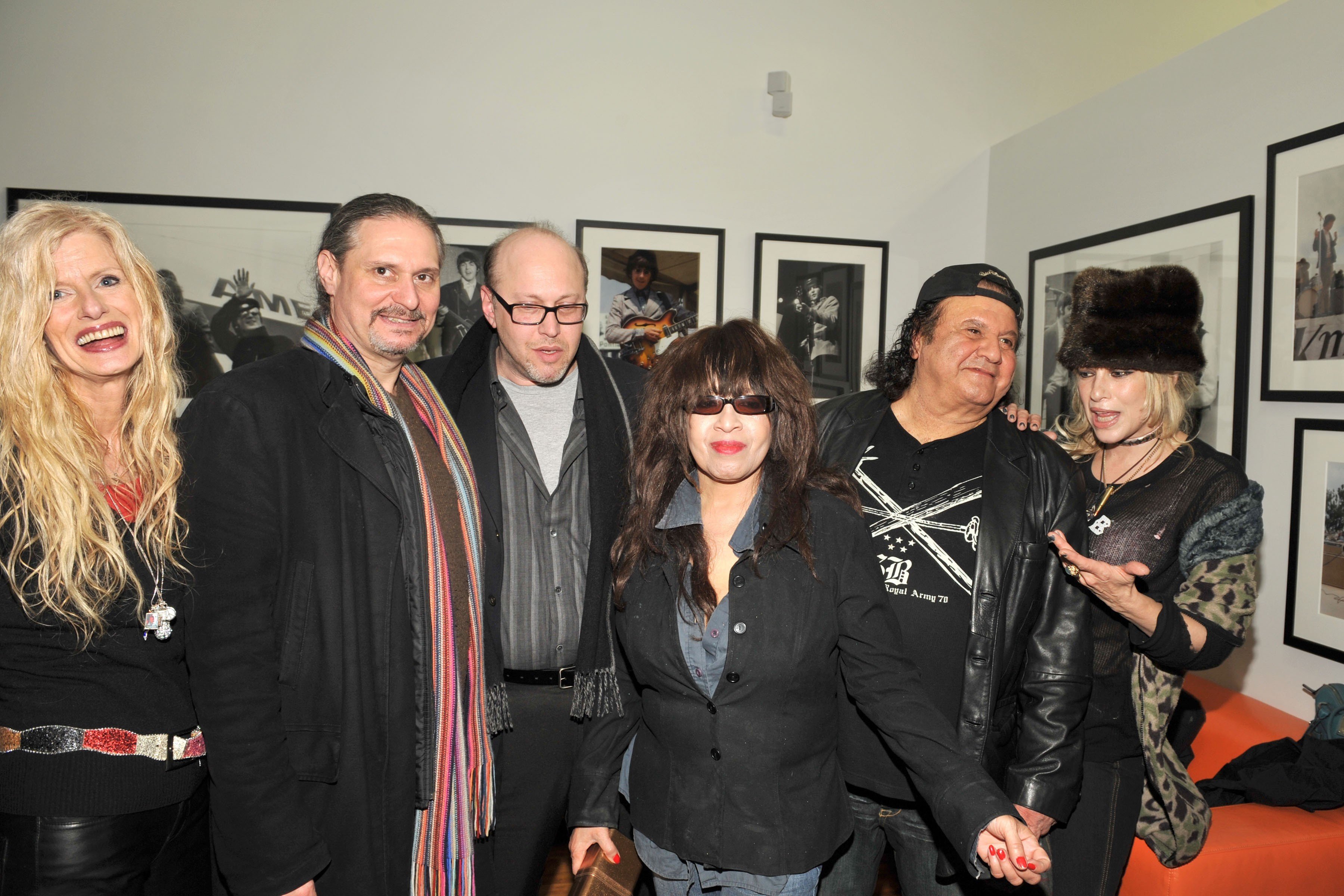 Jonathan Greenfield, Ronnie Spector, Pete Bennett, and Deborah Greenfield at the NOT FADE AWAY Gallery Opening on March 3, 2009, in New York | Photo: Patrick McMullan/Getty Images
Ronnie explained that if she had known she wouldn't be singing anymore, she wouldn't have married him. For four years of turbulent marriage, she stayed isolated and abused by her husband until she divorced him in 1972.
INDUCTION OF THE RONETTES
Around 14 years ago, the Ronettes were inducted into The Rock & Roll Hall of Fame. Last March, Ronnie shared a Facebook throwback photo on the day the induction was done, showing her and her band members receiving their accolades.
Keith Richards was the one who inducted them even though lots of things happened that evening that almost prevented the ceremony from occurring. The Ronettes' appearance together was their first one in 41 years.
GETTING UNPAID ROYALTIES & INCOME
In 2001, Ronnie and her bandmates won a lawsuit against Phil for unpaid licensing income and royalties for the Ronettes' recordings. The victory that got them $2.6 million came after 13 years of litigation.
RONNIE'S REACTION TO THE LAWSUIT
The win was a great thing for the trio since they'd only ever received a one-time check of $14,482.30 from Phil. Speaking to The New York Times in June 2000, the lead singer had this to say about the ruling:
"'I'm amazed it's over. I can have my career back!''
While Ronnie battled it out with her former husband over royalties and such, she had the support of her new husband and manager, Jonathan Greenfield. The pair met at a time when Greenfield was just a fan.
She was 36, and he was a smitten teenager 15 years her junior. The pair started as friends, and Greenfield also served as some sort of security when Ronnie would have bad dates and needed them gone.
RONNIE'S FAMOUS LOVES & JONATHAN'S DEVOTION
Ronnie met Greenfield in the mid-seventies at a Manhattan nightclub. At the time, she was dating David Bowie, was seeing John Lennon when he wasn't around Yoko Ono, and hung out with Richards.
She said Eric Clapton also had a thing for her, but Greenfield made himself useful in a managerial sense. His devotion was what won Ronnie over as she'd just gotten out of her bad marriage and wanted a stable relationship.
Greenfield's dedication as his wife's manager and guide is quite evident in how he coached her before her New York Times interview in June 2000. She described him as a gentleman for how he treated her.
Ronnie also credited Greenfield for the lawsuit results, but he scolded her for her low self-esteem, and the conversation ended with a pep talk. The couple now has two grown children together.
Sadly, on January 12, 2022, Ronnie's Facebook account revealed, via a family statement, that the musician had passed away. She died at age 78 after a brief battle with cancer.
The legendary singer was surrounded by family and died in her husband's arms. Her family asked for donations to be made to one's local women's shelter or the American Indian College Fund in place of flowers before immortalizing Ronnie as such:
"Ronnie lived her life with a twinkle in her eye, a spunky attitude, a wicked sense of humor and a smile on her face. She was filled with love and gratitude."
The late star had always been supportive to others and was full of love. Ronnie was also an advocate for the LGBTIQ+ community. Last June, during Pride month, she shared a message of support.
She [Zendaya] said it was strange to speak of the iconic star [Ronnie Spector] as if she wasn't around anymore because she was still full of life.
The Facebook post revealed that the Ronettes' first fans were gay people. She urged her other fans to respect and accept people who were different from them to bring compassion, love, and understanding to the world.
In September 2020, Deadline revealed that A24 was organizing a film package that will star Zendaya in the role of Ronnie in a movie about her life. Deals were closed for Ronnie's life rights so the film could go ahead.
They also secured rights for her memoir, "Be My Baby." The publications also reported that Pulitzer Prize-winning playwright Jackie Sibblies Drury might be slated to write the script for the film.
ZENDAYA PAYS TRIBUTE TO SPECTOR
After hearing the news of Ronnie's death, Zendaya took to Instagram to pay tribute. Alongside two photos of the late singer, the Emmy Award-winning Zendaya shared how the news of Ronnie's death broke her heart.
She said it was strange to speak of the iconic star as if she wasn't around anymore because she was still full of life. Zendaya shared how she'd never seen the late star without her iconic red lips and teased hair, showing how she was a true rockstar throughout.
Please fill in your e-mail so we can share with you our top stories!