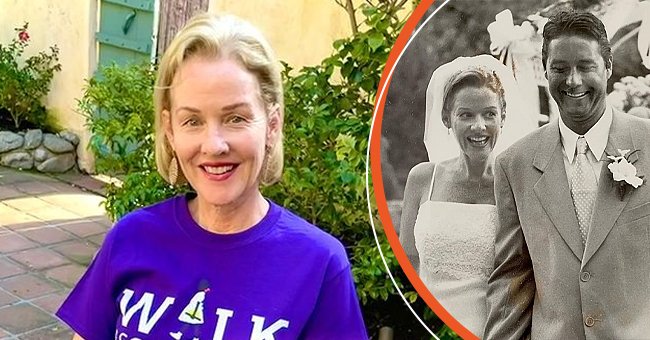 instagram.com/penelopeannmiller
Penelope Ann Miller Filed for Divorce & Custody of Her 2 Kids in 2012 However She Changed Her Mind Shortly After
Penelope Ann Miller filed for divorce from her husband, James Patrick Huggins, but later withdrew her filing in 2012. It was not the only time rumors sparked of the couple's separation.
In 2017, reports surfaced that "The Artist" star Penelope Ann Miller had successfully divorced her husband, but the rumors are seemingly untrue according to her social media account.
The "Carlito's Way" actress married her second husband, James Patrick Huggins, in 2000. Shortly after they tied the knot, Miller and Huggins welcomed their first children, their daughter, Eloisa May.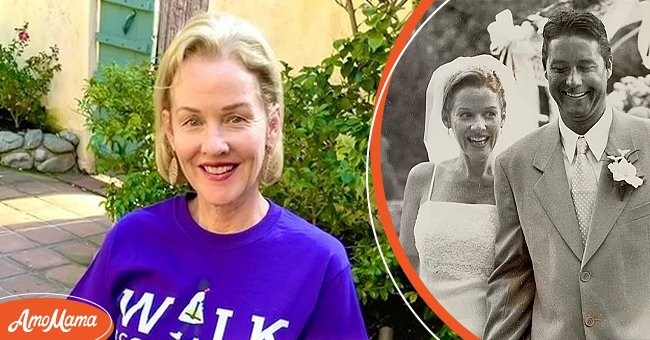 Penelope Ann Miller posed for a picture on Instagram, 2021 [Left] Miller and her husband James Huggins on their wedding day, 2000 [Right]. | Photo: Instagram/penelopeannmiller
Eight years later, on March 23, 2009, Miller and Huggins became parents for the second time as they welcomed Eloisa's younger
The "Awakenings" actress's marriage was on the rocks in 2012 as she filed for divorce from her husband of 12 years and cited irreconcilable differences. At the time, E! News reported the date of their split was "to be determined."
However, the couple reconciled as a few months later, Miller changed her mind and filed papers to the Los Angeles court to dismiss her request for separation from her husband.
Unfortunately, Miller's 2012 divorce filing was not the only time rumors of the couple's separation filled media reports. In 2017, reports surfaced that Miller again filed court documents to divorce Huggins.
According to one report, the divorce allegedly turned "nasty" as Miller obtained a temporary restraining order against Huggins because of a claim that Huggins's alcohol abuse caused harm to their children.
Furthermore, the report claimed the "Kindergarten Cop" actress was granted sole and legal physical custody of their daughters. However, it seems that report might not necessarily be accurate, at least according to Miller's Instagram account.
Miller and Huggins seem to still be together as in May 2021, "The Freshman" actress shared a tribute to husband for their 21 wedding anniversary alongside a black and white photo from their wedding day.
In her sweet message, Miller described Huggins as her partner "in marriage, parenting, friendship, growing up and love, love, love." So presumably, the pair never got divorced in 2017 or perhaps got back together.
Furthermore, Miller shared photos from the family's 2021 Christmas celebrations. The images included a picture of the family (including Huggins) and a look at their Christmas decorations and presents.
Miller and Huggins might have gone through a few tricky patches in their marriage through the years, but it seems they overcame their troubles as they are still celebrating their marriage to this day.
Please fill in your e-mail so we can share with you our top stories!