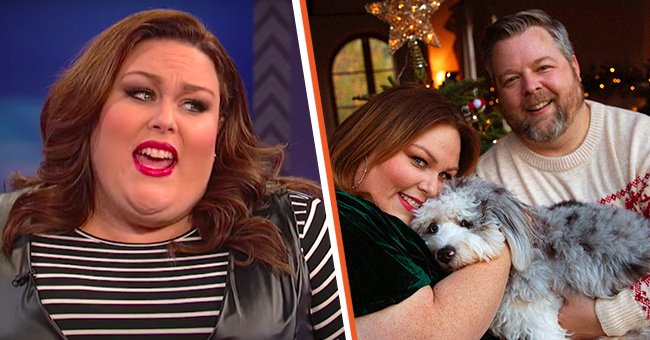 instagram.com/chrissymetz | youtube.com/The Wendy Williams Show
Chrissy Metz's Ex-husband Martyn Eaden Filed for Divorce in 2014 — Her Love Life Flourished after They Split
Chrissy Metz sparked engagement rumors after the paparazzi spotted her with a ring on that finger. The rumors came out several years after Metz divorced her ex-husband in 2014.
Chrissy Metz is known for her role as Kate Pearson in the family drama "This Is Us." Her acting has earned her several accolades, including two Gloden Globes nominations, an Emmy nomination, and two Screen Actors Guild Awards.
With Metz being on top of her game, there is no wonder fans are interested in her personal life, especially who the actress has dated, is dating, and her previous marriage and divorce to British screenwriter Martyn Eaden.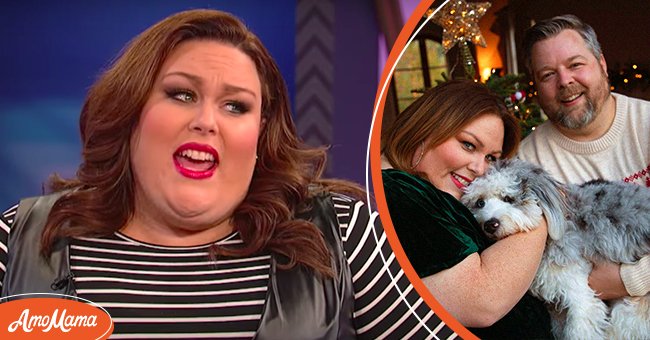 Chrissy Metz on "The Wendy Williams Show" in 2017 [Left] Metz and her boyfriend Bradley Collins celebrating Christmas 2021 with a selfie on Instagram [Right] | Photo: YouTube/The Wendy Williams Show & Instagram/chrissymetz
Metz and Eaden met on a dating app when Eaden lived in Sheffield, South Yorkshire, England. For over a year, the couple had a long-distance relationship, with Eaden flying to the states to visit Metz.
Then a year into their relationship, Eaden proposed, and the couple married in a small ceremony in Santa Barbara, California. Neither of the couple's families attended the event because they did not have the funds to travel.
In her 2018 memoir "This Is Me: Loving the Person You Are Today," Metz details the deterioration of their marriage. They were both uncomfortable opening up to each other and focused on their careers.
One point of contention in their relationship was Metz's relationship with her body. She had started going to Overeating Anonymus, and Eaden had started going on hikes with a female coworker, which Metz did not like.
She explained that she felt guilty about her anger towards her husband and was trying to get control of her relationship with her body and break her habit of comfort eating. However, it affected how she spent time with Eaden:
"I was trying so hard to... break my habit of eating my emotions and of equating food with sharing love. I didn't know how to spend time with Marty without using."
Finally, after visiting Eaden's parents, the couple decided to divorce. Metz had asked Eaden if he still wanted to be with her, and he responded by calling her "selfish" and "narcissistic" because she made everything about herself.
According to Nickiswift, Eaden filed for divorce in November 2014, but Metz never responded to the filing. So he requested the judge to grant his divorce uncontested, and the judge approved it in December 2015.
Although many divorced couples move on with their lives without each other, Metz and Eaden remained friends and even regularly updated each other on their lives via text message.
Metz admitted that she loves her ex-husband and always checks on him. She is committed to and working on being a better ex-wife than a wife.
After her divorce, the "American Horror Story" alum's love life has not slowed down. Instead, she dated a few men, including cameraman Josh Stancil. The former pair met while filming "This Is Us."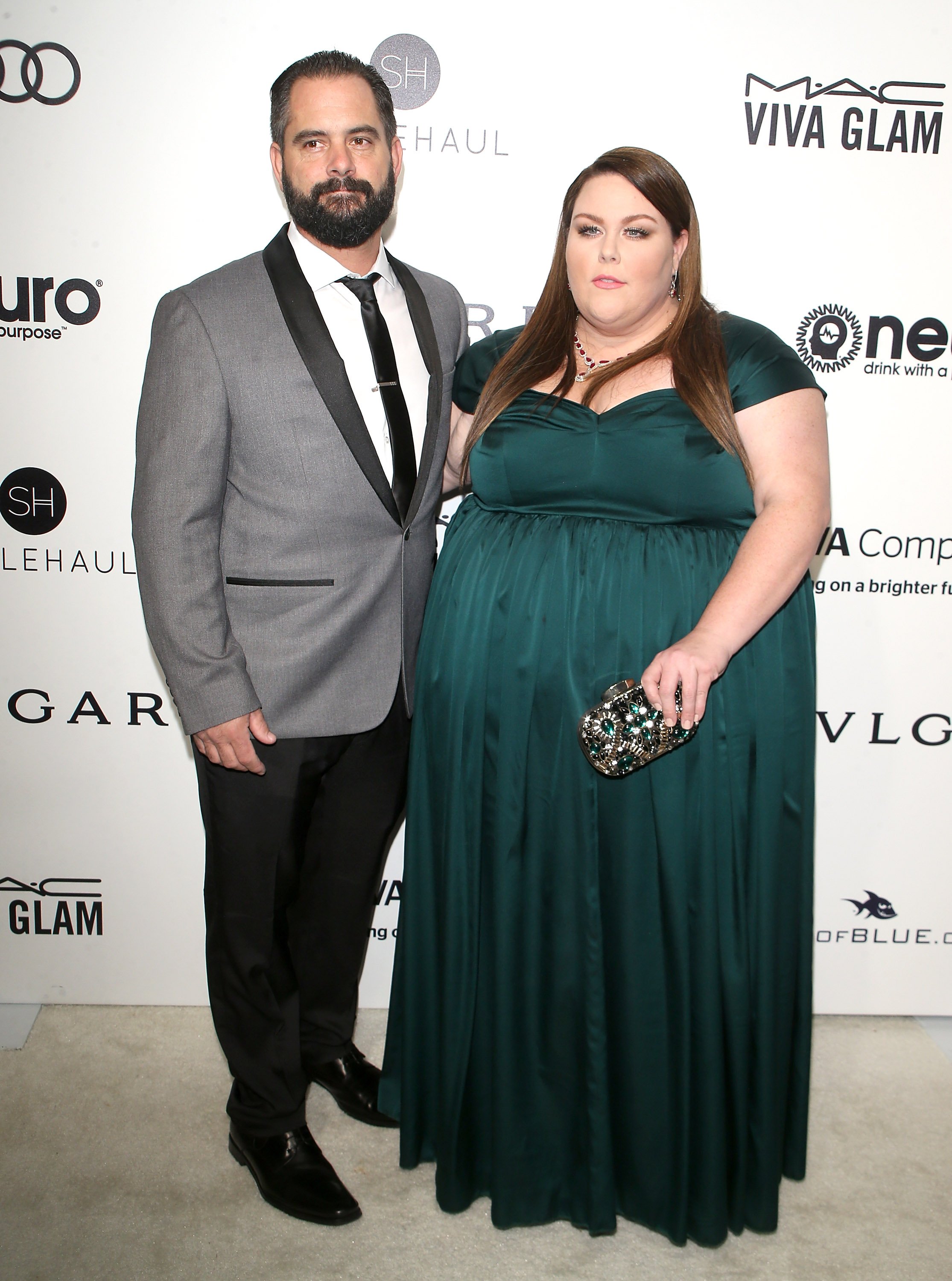 Chrissy Metz and Josh Stancil at the 25th Annual Elton John AIDS Foundation's Oscar viewing party, 2017, West Hollywood, California. | Photo: Getty Images
Stancil and Metz dated for over a year before she appeared on "The Wendy Williams Show" in 2018 and told Williams she was dating herself. However, she
"I'm always friends with people who I was previously with, which is important to me, you know? Because you care about the person. You don't just dump them off."
The "This Is Us" star was not single for long because she dated composer Hal Rosenfeld later that year. After paparazzi spotted them at The Living Room for Jazz Night, People Magazine confirmed their relationship.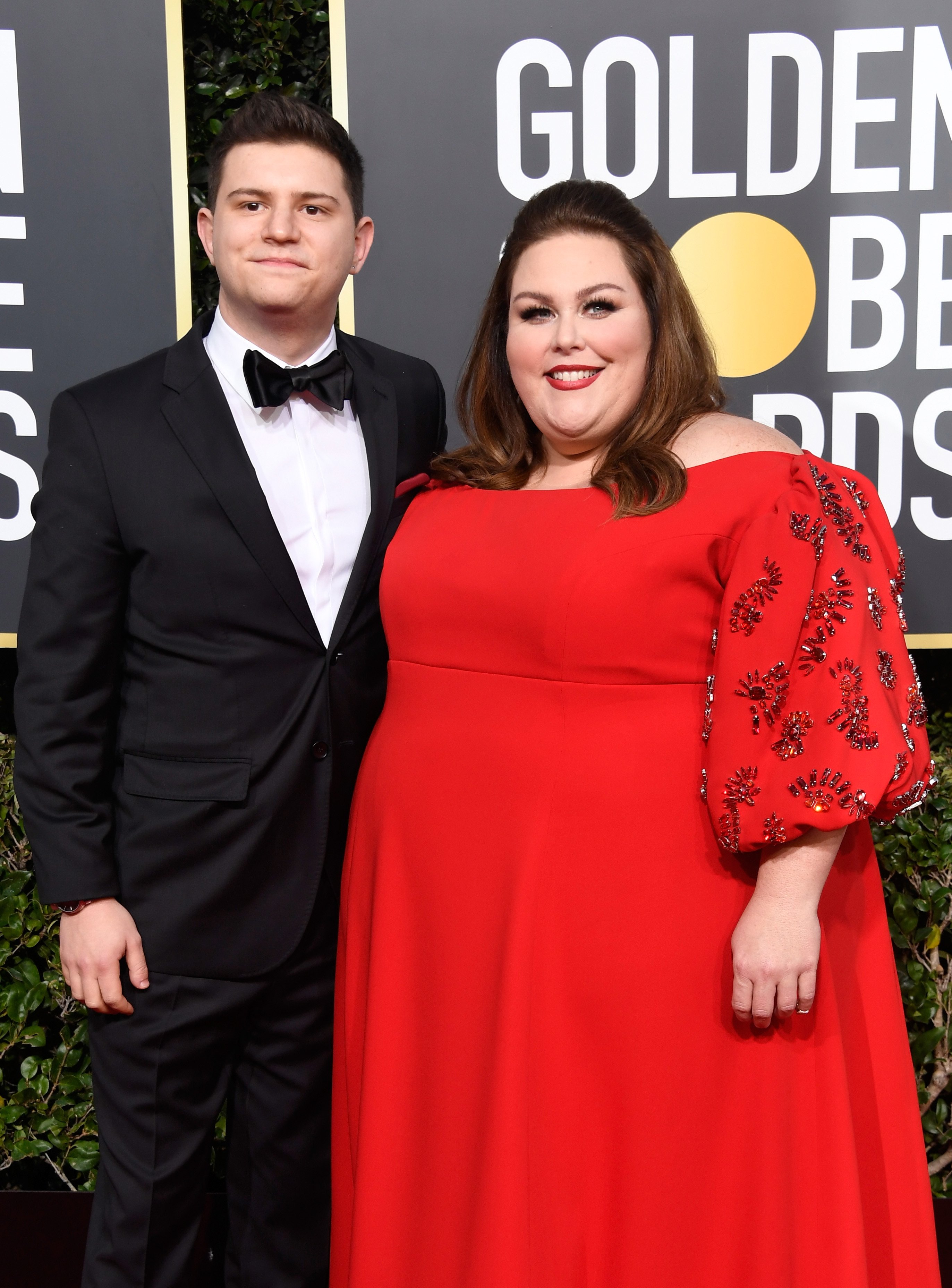 Hal Rosenfeld and Chrissy Metz attend the 76th Annual Golden Globe Awards, 2019, Beverly Hills, California. | Photo: Getty Images
Rosenfeld and Metz seemed to have fun and appreciate being together. He joined her 38th birthday in Palm Springs. Metz
glimpses of celebrations on Instagram, including an adorable photo of her cuddled into his side, captioned:
"Reminiscing about one special birthday weekend with a few special people at such a special place."
Later, Rosenfeld shouted her out on his own Instagram as he wrote for Thanksgiving that he was grateful for the amazing, beautiful, and supportive woman in his life alongside a few adorable snaps of the pair together.
However, speculation that the couple broke up surfaced in June 2019 as Metz posted a cryptic quote on her Instagram account and wrote she was learning to be open, see other perspectives, and change.
However, the quote hinted that Metz and Rosenfeld were no more. The quote said after the "Honeymoon" phase of a relationship is over, a person needs to decide whether they want to love the "human individual" or walk away.
It seems like Metz decided to walk away from her relationship with the composer. She is now dating her current boyfriend, Bradley Collins, and the two seem very happy as they regularly gush about each other online.
Metz is not embarrassed to admit that she met Collins through the popular dating app Bumble. After swapping a few messages, the couple quickly realized they had more in common than they first thought.
Collins is in the music publishing business, and Metz is a singer, so they have likely been in the same room and circle of friends for a while but never met each other.
Metz made their relationship Instagram official in October 2020 for National Boyfriend Day. She shared an adorable photo of the pair posed together and captioned it:
"Happy #nationalboyfriendday to my dreamboat! Bradley, from the first moment I laid eyes on you, I wanted and needed to know you."
She added that she felt lucky to love him and was smitten, or fans could #Collinsmesmitten. Collins has been equally forthcoming with his love for his wonderful actress girlfriend.
The Nashville native shared that he was "Metzmerized with love, laughter, and kindness" from their first date. With all the couple's public displays of affection for each other, it's no wonder there were rumors of an engagement.
While appearing on SiriusXM's The Covino & Rich Show, Metz revealed she was not engaged. Instead, the ring outlets assumed was an engagement ring was a Christmas gift from Collins and was honeycombed shaped.
Collins and Metz are not engaged and have not publically shared whether they plan to one day get engaged. However, time will tell if this happy couple might walk down the aisle one day together.
Please fill in your e-mail so we can share with you our top stories!