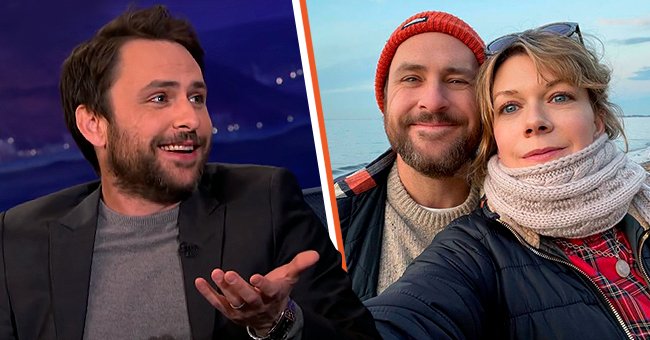 instagram.com/maryelizabethellis | youtube.com/Team Coco
Meet Charlie Day's Stunning Wife — He Won the Chance to Talk to Her by Arm-Wrestling a Friend
Mary Elizabeth Ellis is an "It's Always Sunny in Philadelphia" star, like her husband, Charlie Day. However, the actress is also known for her extensive work on other TV shows.
Charlie Day and his wife Mary Elizbeth Ellis star in the FXX TV show "It's Always Sunny in Philadelphia." Day portrays one of the main characters, Charlie Kelly, while Ellis plays The Waitress, who Charlie obsesses over.
Her character on the show is not entirely out of her real-life scope as she used to work as an actress for a couple of years, including at a Jewish cultural center called Skirball in Los Angeles and the Olive Garden in Burbank.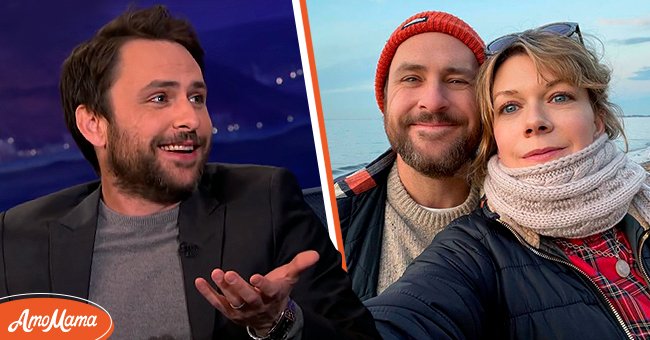 Charlie Day during an interview on "Conan" in 2014 [Left] Day and his wife Mary Elizabeth Ellis posed for a selfie for Thanksgiving on Instagram [Right] | Photo: YouTube/Team Coco & Instagram/maryelizabethellis
The "Santa Clarita Diet" actress admitted that during those jobs, she
she was "paying [her] dues," and eventually, something good would happen to her. She was right, of course, because she has made an impressive career for herself in Hollywood.
Although Ellis gained a lot of recognition as the nameless character on "It's Always Sunny," she has had a fantastic career independent on her husband, including starring and guest-starring in several TV shows.
She co-wrote and starred in the film "A Quiet Little Marriage" in 2008, later starred in the short-lived 2011 NBC sitcom "Perfect Couple" and acted in "The Grinder" alongside her TV husband, Fred Savage.
Ellis has also guest-starred in a few shows, including "Brooklyn Nine-Nine," as a sexy medical examiner, and Nick's ex-girlfriend Caroline in Fox's "New Girl."
Day and Ellis married in 2006, a year into producing the now-15 season-long "It's Always Sunny in Philadelphia." Funnily enough, their love story could have been a plotline in the sometimes controversial show as they met in a bar.
During an interview on "Conan," Ellis told Conan O'Brien how she met her husband. She was 22 years old, had just graduated from the Meadows School of the Arts at Southern Methodist University, and lived in New York.
At the time, Ellis was performing in a play entirely in rap, and Day was involved in a different production. After their separate performances, the two casts went to a bar where they met each other.
However, Ellis revealed that there was a chance the two would have never met because Day only spoke to her because he won an arm-wrestling match against his friend. Ellis shared with O'Brien:
"He and his friend both taught I was cute, so they arm-wrestled to see who could talk to me."
Luckily Day won the match, and the couple later got married. Five years after tying the knot, Ellis and Day revealed they were having their first child together.
At the time, Day was preparing for the release of "Horrible Bosses," which was a break-out role for him and contributed to a lot of his future success as it was one of his first feature films.
During the 2011 Comic-con in San Deigo, Day gushed about his future baby. He shared he and Ellis were excited to welcome the baby, and Ellis was handling pregnancy well.
Day and Ellis then welcomed their son, Russell Wallace Day, in December 2011. The new parents told E! News that they were "overjoyed and overwhelmed at the amount of love that ushered our baby into the world."
Russell's name is sentimental to his parents as Russel comes from Ellis's family and pays tribute to a late friend, and Wallace is from Day's family tree.
Although being a parent can be daunting, motherhood has not affected Ellis's sense of humor. Instead, her lifestyle now matches her wit, which she described as "dorky-mom-pun humor." Now she can enjoy her humor without shame as she is a mother.
The loving parents rarely post photos of their son online. However, they regularly post adorable glimpses into their life together and pay tribute to each other for various milestones.
For their 15th wedding anniversary in March 2021, Ellis shared a gorgeous throwback from their wedding day. In the caption, Ellis penned that she missed dancing with Day, suggesting they throw a party. She continued:
"Thank you for your partnership, the stick to it-ness, the tears, the make ups, the hugs, the trips,... the care with which you approach our relationship. I love you. I love US."
Besides pouring her husband with love and affection and gushing about their romantic relationship online, Ellis is not afraid to share how she feels about their working relationship and his hit show.
Any situation, especially working with a spouse, comes with ups and downs. For Ellis, one of the pecks of working with Day is spending time and having the catered set lunch with him.
However, one of the challenging aspects of working with her husband is when he is behind the camera and directing her scenes because she admitted she does not take direction well.
Although she thinks she is "pretty perfect" with her acting skills, Ellis will (eventually) admit that she does need to learn to take direction on set from Day.
The actress also found another bonus of working together: the ability to hash out arguments as their "It's Always Sunny" characters. Ellis dished that role-playing is like therapy:
"It's good therapy. Yeah. Everyone should do it. Like role-playing of like, "I'm your stalker, and you're awful to me." "
Ellis has also discussed how she feels about the content in the controversial and raunchy show. During an interview with GQ, she admitted the scripts would sometimes make her cringe, and the swearing upsets her father.
She also admitted that people share their enjoyment for "It's Always Sunny" and Day's other works during inappropriate times, including at her hometown church in Mississippi.
Of course, that has not stopped the actress from doing a stellar job portraying the wacky, alcohol-and-man-loving waitress on the show, making audiences fall in love and root for her character.
Day and Ellis have both created a wonderful life together, from their independent careers, their time on "It's Always Sunny in Philadelphia," to raising their son, Russell.
Please fill in your e-mail so we can share with you our top stories!