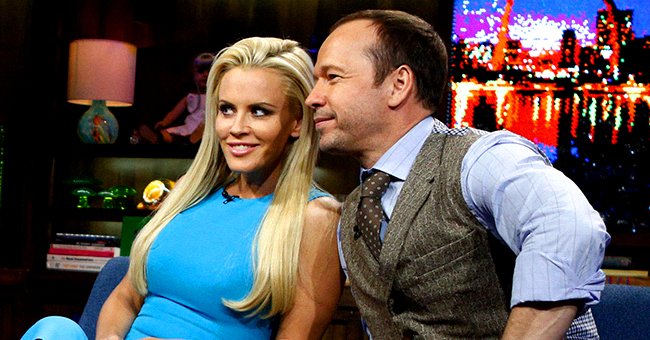 Getty Images
Blue Bloods' Donnie Wahlberg Proposed to Jenny McCarthy With a Help of Her Son Who Gave Her 3 Paper Notes
Donnie Wahlberg married his "Blue Bloods" co-star Jenny McCarthy, and the two have one of the most romantic relationships ever. This celebrity couple's relationship is top of the notch through dating to their engagement, and here is an insight into their romance.
"Blue Bloods" Donnie Wahlberg met his sweetheart Jenny McCarthy long before proposing. Although they got married in 2013, their romance sparked on the model's show, "The Jenny McCarthy Show," where they exchanged several flirtatious comments.
When the multitalented singer and his equally versatile bride started dating, Wahlberg wasted no time taking significant steps in advancing their relationship. The singer-songwriter's proposal came with a ring that got everyone talking.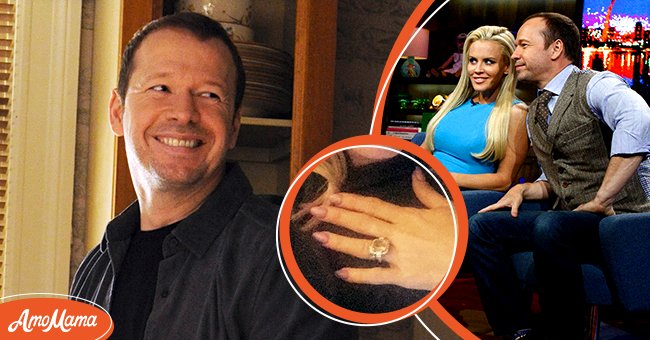 Photo of Donnie Wahlberg smiling away from the camera. [Left] | Donnie Wahlberg and his wife Jenny McCarthy ona TV show. [Right] | Photo: Getty Images
However, he couldn't have gotten McCarthy to say "yes" without the help of her son, who walked his mom down the aisle at their wedding. Read on for more details about Wahlberg and McCarthy's charming romance.
SPENDING JULY 4TH TOGETHER
After exchanging several tweets on social media, Wahlberg and McCarthy made their relationship official. When news of their relationship first became public, a source said the "New Kids on The Block" artist and his comedian sweetheart were having lots of fun.
Another source also said the couple had a blast celebrating with some of their friends on July 4th, 2013. However, the fun never ended for the lovebirds as things only got better as the relationship advanced.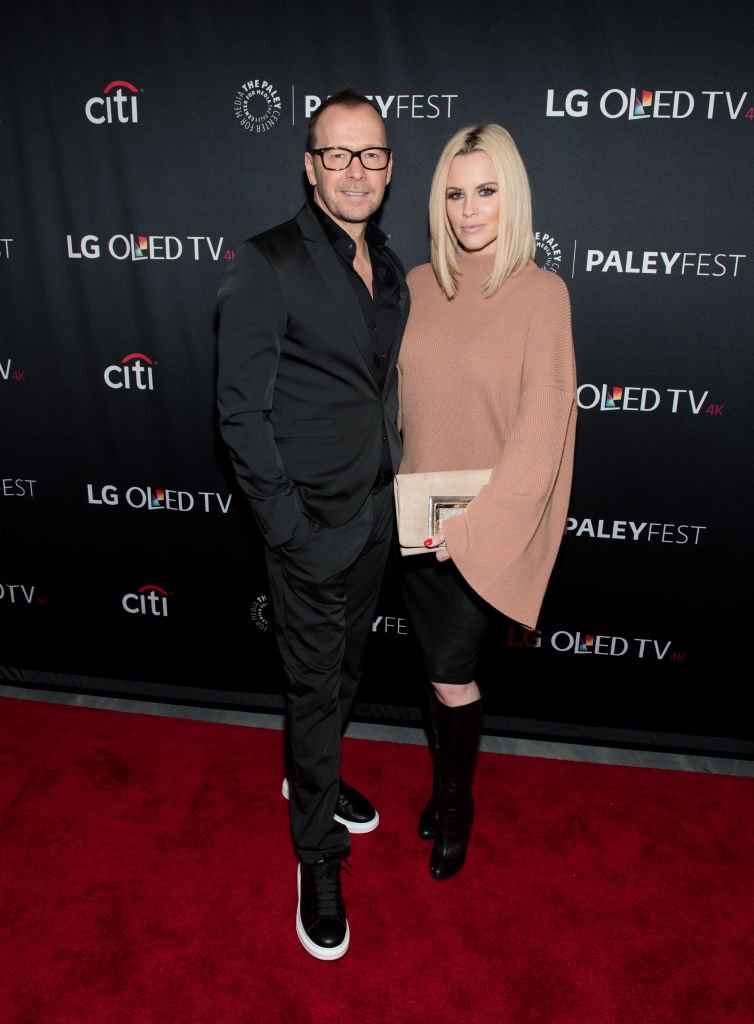 Donnie Wahlberg and Jenny McCarthy attend the "Blue Bloods" screening during PaleyFest NY 2017 on October 16, 2017 in New York City. | Photo: Getty Images
Wahlberg and McCarthy's attraction began when the record producer made a guest appearance on the "The Jenny McCarthy Show." During their discussion, the duo shared flirty charts with McCarthy asking the music star if he talks dirty when having sex.
However, Wahlberg replied by saying, "I do," along with a confirmation that his "dirty talks" never come out wrong. McCarthy and the "Please Don't Go Girl" singer have a beautiful romance, but they have both had experience of broken relationships before finding love.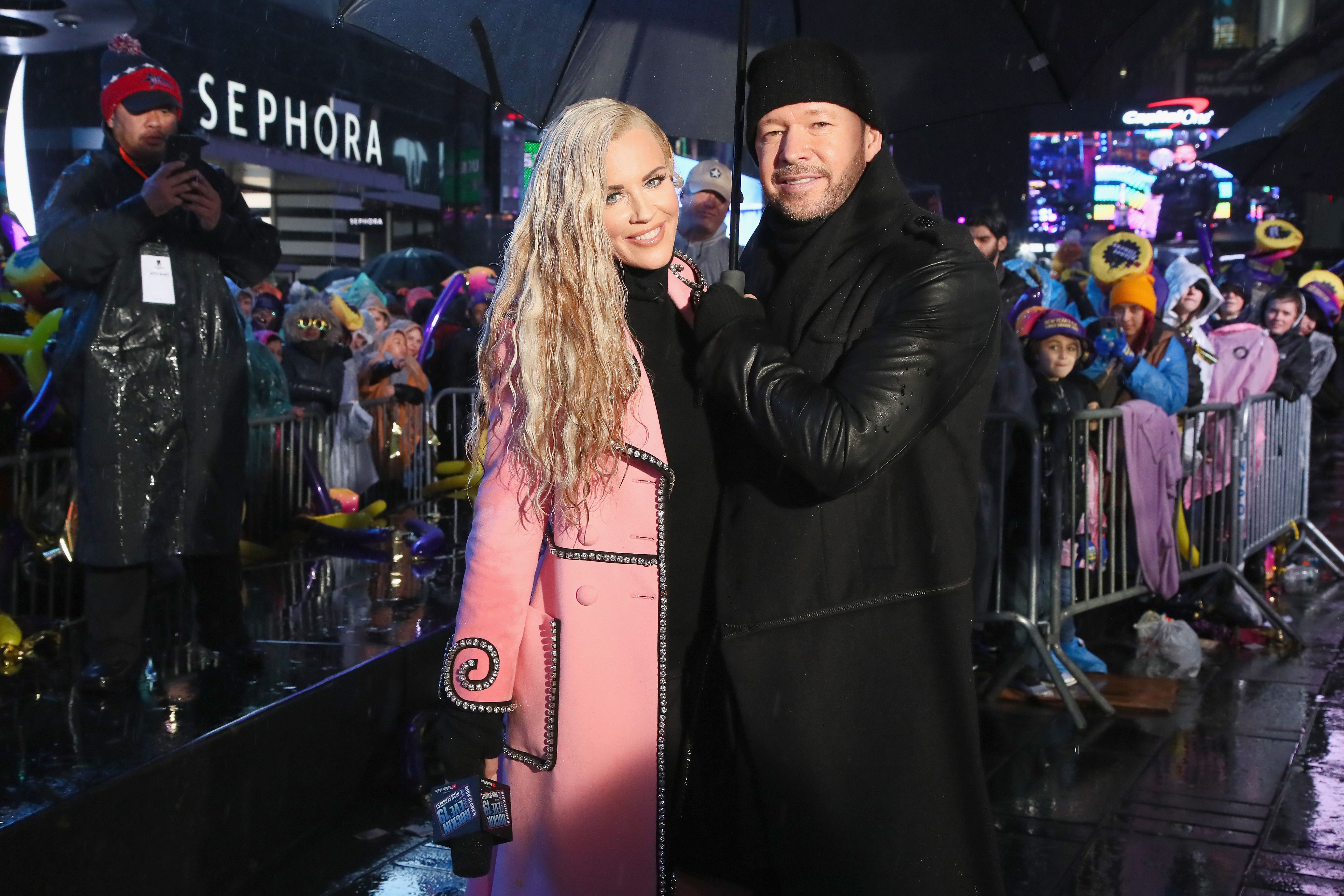 Jenny McCarthy and Donnie Wahlberg pose during Dick Clark's New Year's Rockin' Eve With Ryan Seacrest on December 31, 2018. | Photo: Getty Images
Wahlberg and his wife Kim Wahlberg called it quits in 2008 after about nine years of being married. The former couple had also given birth to two children before Kim filed for divorce.
According to legal documents filed with the Los Angeles Superior Court, Kim cited "irreconcilable differences" as the reason for her decision. The singer's ex-wife also requested custody of their sons, Alexander and Elijah.
Wahlberg waited to finalize his divorce from Kim before going public about his relationship with McCarthy, who has also had her share of heartbreaks.
MCCARTHY'S BROKEN RELATIONSHIP
The blond beauty's first marriage was to American actor John Asher. Before their divorce in 2005, the former couple gave birth to Evan, born in May 2002. The advent of her son led to the beginning of a new era for McCarthy.
Evan's birth inspired the comedian's bestsellers book about pregnancy and babies. McCarthy also started focusing more on how to help people with autism after her son was diagnosed with the ailment.
Thankfully, Evan's situation improved as he grew older. A report once revealed that his speech therapist said Evan went from not answering a question to having an entire conversation.
However, while McCarthy struggled with how to help her son, she and Asher called it quits, but that wasn't her last broken affair before finding love again with Wahlberg.
The 49-year-old mom of one previously dated actor Jim Carrey, and the two were together for five years before they broke up in 2010.
ENGAGEMENT AND EXTRAVAGANT RING
When Wahlberg proposed to McCarthy, he did it with the help of her son, who stood beside him as he knelt on one ring and presented her unique engagement band.
During an interview with PEOPLE PANDORA Jewelry at Beauty & Essex in NYC, McCarthy shared the captivating sorry behind her engagement to Wahlberg.
According to the TV personality, Wahlberg had initially planned to propose on a boat, but he changed his plans at the last minute. So instead, the music star decided to get McCarthy's son on his new technique, which turned out perfect.
McCarthy revealed Evan kept saying a surprise was coming, and when the surprise did come, she hadn't expected it, and she told Wahlberg could not have done it any better. However, the doting mom was happy her new beau got Evans involved as she believes it would help him in the future.
However, while Wahlberg's proposal style was unique, the ring he presented was what got much talking. Wahlberg proposed to McCarthy with one of the most beautiful expensive engagement rings ever.
It has been over Seven years since McCarthy and Wahlberg tied the knots
More interestingly, in the interview with PEOPLE, McCarthy revealed she influenced Wahlberg's ring idea. Speaking about her engagement, the comedian said after Wahlberg asked what ring she would like:
"I said I wouldn't want a big diamond; I've done it. I like sapphires for their stone, their meanings behind it."
Despite already creating an idea of what she would like, McCarthy said she was surprised when the 52-year-old "Step By Step" singer gave her a yellow sapphire ring which means wisdom and prosperity.
As many continued to wonder how Wahlberg found such a beautiful ring, Daniel Arik, owner of Newport Jewelers, shared details of how the songwriter came up with the 10-Carat Yellow Sapphire Stunner.
According to Arik, Wahlberg already knew what he wanted and was part of the design process. Arik said the ring was created out of what Wahlberg liked from other sets of rings.
He went on to reveal the soon-to-be husband was blown away when he saw the final results of the over 10 carats ring with 18-karat white gold band covered with diamonds. Its beautiful design also has a row of diamonds around the center.
Wahlberg's proposal came one year after the two started dating. During an episode of "The View," the happy bride to be revealed, the former "New Kids on the Block" orchestrated a plan in which her son handed her pieces of paper that said, "will," "you," and "marry."
After the last piece was handed, Wahlberg then appeared with a shirt that read "me?" The View co-host gushed as she recalled Wahlberg getting down on one knee to propose.
WAHLBERG AND MCCARTHY ON SAYING "I Do"
McCarthy was already in wedding mode even before setting the date. In an interview, the actress revealed she wanted a traditional ceremony. McCarthy ruled out the usual white wedding dress, said "no" to ballgowns, and instead said an Ivory-colored gown was perfect for her age.
As the mom of one mentioned what she wanted for her wedding, she talked about wanting a spring wedding, not minding how long she had to wait.
Although "The View" star did say she would wait a year if she had to for the weather she wanted yet, the couple got married in August 2014.
They tied the knot at the historic Hotel Baker in St. Charles, Illinois, in Chicago. However, the romantic ceremony was more special with Evan, 12 walking his 41-year-old mom down the aisle.
Shortly after saying "I do," McCarthy's marriage band was off her hands again, but this time it wasn't because of a divorce but because she lost it after putting it on a room service table.
According to the new bride's statement in an interview, she was at the hotel with her husband and had to remove her wedding ring when they were about to get "romantic."
She placed the ring on the room service table, and after workers came to clean the room, the ring was gone, but McCarthy said:
"If you're gonna lose your wedding ring, you should lose it that way."
Thankfully the ring wasn't gone forever, as Wahlberg later revealed that he found the expensive bling. In an interview with PEOPLE, Wahlberg revealed McCarthy made a mistake when she said she placed her ring on the room service table as he found it in the sheet later.
It has been over Seven years since McCarthy and Wahlberg tied the knots and the bond and notably gotten stronger. The couple celebrated their 7th year together and decided to renew their vows, with Wahlberg paying tribute to his wife on social media.
The music star shared a photo of their beautiful anniversary with a message where he praised McCarthy for her support and declared his love. He also called her his soul mate on his post.
Please fill in your e-mail so we can share with you our top stories!