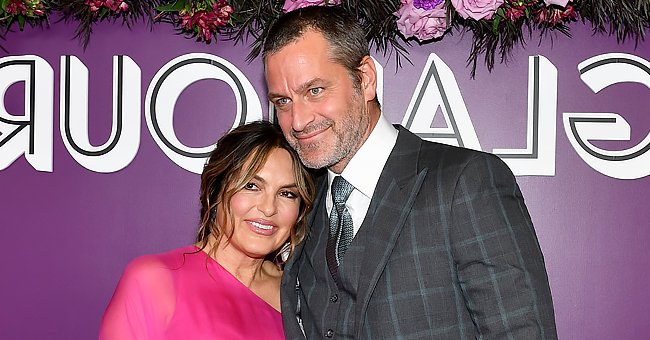 Mariska Hargitay & Peter Hermann | Source: Getty Images
Mariska Hargitay & Her Husband Are Happily Married for 18 Years after He Made Her Cry on Their First Date
Over the years, Golden Globe award-winning actress Mariska Hargitay has lived happily with her actor husband for nearly two decades, despite the circumstances of their first meeting. Here are insights into the story.
Undoubtedly, Mariska Hargitay has added significant value to the entertainment industry and her world. In addition, the actress/director dubs as a philanthropist who has already established her legacy at 58.
Hargitay was born in 1964 and did not grow up with her actress mother, Jayne Mansfield, who she lost in an accident. Still, she did not let that hamper her growth.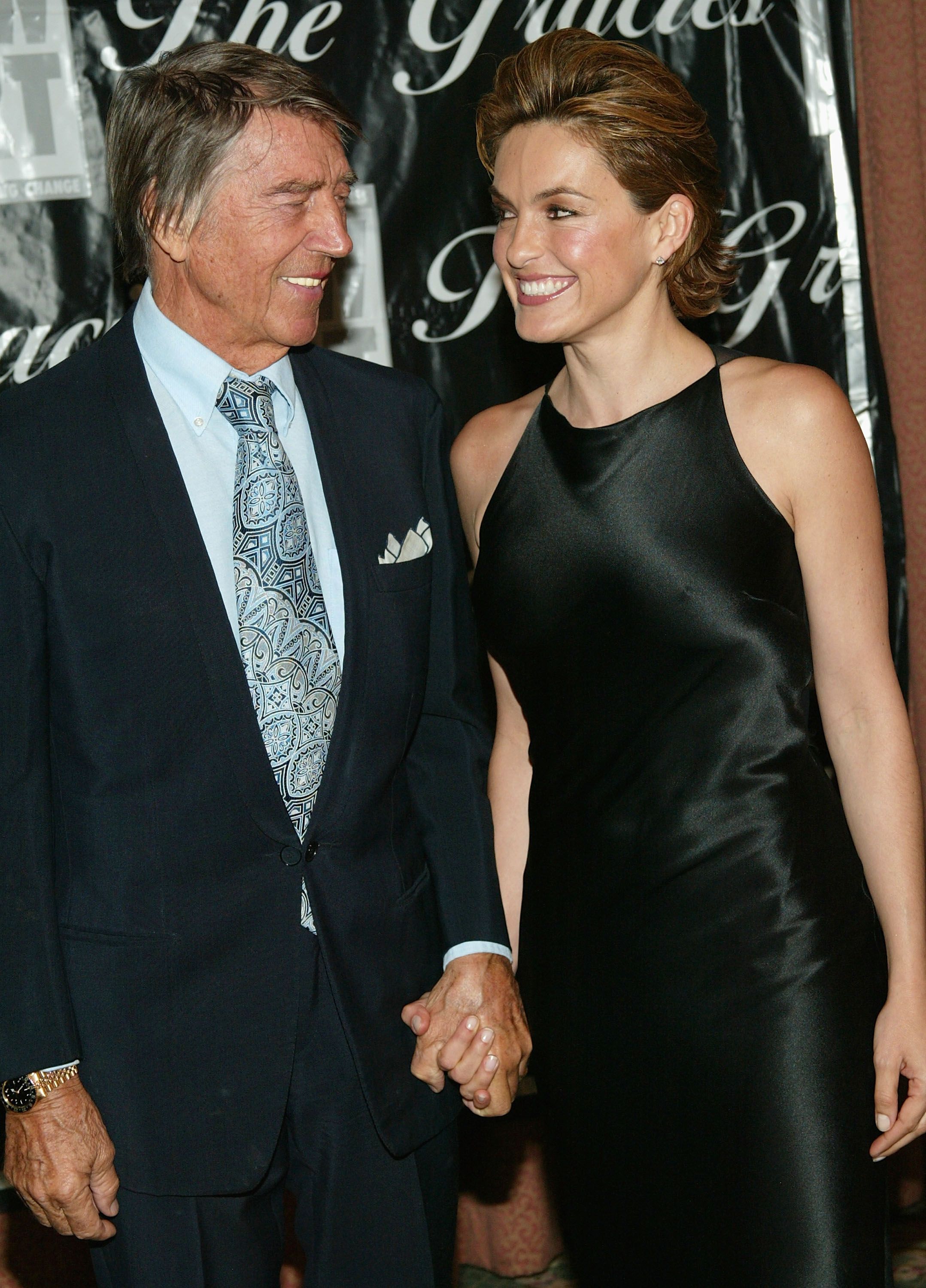 Mickey and Mariska Hargitay at the American Women in Radio and Television Gracie Allen Awards gala on June 22, 2004. | Source: Getty Images
Luckily for the family, her stepmother supported them financially, providing a normal childhood for the young child and her siblings.
By the time Hargitay was in college, she was sure of her dream to become an actress. She studied theater at UCLA and later appeared in a 1984 motion picture, where she played Donna.
Hargitay inherited her mother, Mansfield's acting skills, but not her approach to stardom. However, unlike the older actress who changed her name and hair color, the UCLA alum retained her originality.
At first, she bagged minor roles in hit series because of her attitude to change her looks, but as the years progressed, the actress became a regular face on the highly-rated show "ER."
In 1999, Hargitay became a cast member of "Law & Order: Special Victims Unit," playing Olivia in the crime series that skyrocketed her to the upper echelons of the Hollywood ladder.
The actress became one of the highest-paid and received nods from the industry via awards, including the Golden Globes and Primetime Emmy. While on the same show, she met the man that changed her life forever.
Mariska Hargitay Met Her Mr. Right While Working
Hargitay did not meet her Mr. Right the first day she walked on set. She was already a successful actress before sharing contact with Peter Hermann, a colleague on "Law & Order: Special Victims Unit."
The pair became acquainted in 2001 after Hargitay initiated a conversation by cracking a joke, which unexpectedly did not appear funny to the guest actor. After that, their friendship improved; they talked about religion and agreed to attend church together.
Nearly two decades later, the couple has shared their lives as one happy family. But, according to a co-star and family friend, Christopher Meloni from "Law & Order: Special Victims Unit," he noticed that Hargitay was smitten with Hermann almost as soon as the actor appeared on set. Meloni said in an interview for PEOPLE that he saw her looking at him and how she was acting towards Hermann but she was like "Tee-hee, tee-hee, I don't even care about him or anything like that."
Although she argued about her feelings for him with Meloni, that did not stop her from agreeing to date Hermann a few months later.
While recounting the genesis of their romance, Hargitay confessed that it was love at first sight and a feeling peculiar with her relationship with Hermann. The couple's first date was not in a fancy restaurant, but a church, which according to Hargitay:
"...was like getting hit with a lightning bolt."
This feeling left her in tears, and she confessed to her date that it was overwhelming to meet the man of her dreams in such a manner. Hargitay also told a close pal how her day went, adding that Hermann would be her husband.
Before walking down the aisle, the couple created many memories by going out on dates. During one of their alone time/street walks, they witnessed an unpleasant scene described by Hermann as his "New York moment."
The couple saw a herd of rats strolling down the street, and while it scared Hargitay, it embarrassed her lover, who still laughs about the unique scene years later.
The Couple's Happy Ending
Meloni, who first spotted the spark between the two, never doubted their love, despite their relationship struggles. While speaking to a reporter, the actor mentioned that he once saw Hargitay in tears.
After having a deep conversation about it, she told him that things might not work with Hermann, but he was confident that the pair would work through their difficulties and be married in five months.
As Meloni predicted, the lovers became husband and wife in 2004. It was a magical celebration with a gorgeously dressed bride and groom. The actress was adorned with a dress from the Carolina Herrera brand and was joined by her sharp-looking groom.
The couple hosted two hundred guests on their big day, including family and friends. They enjoyed their reception at a Montecito estate, leaving friends with the impression that their love was heaven-made.
Venturing into a New Phase
Two years later, the couple became parents to their son, August. Even with her career, Hargitay still wanted to become a mother. After receiving news of the pregnancy, the on-screen star said:
"Nobody wanted to be pregnant more than me. From the minute I found out, I was wearing full-on maternity pants. My stomach was totally flat, mind you, but I was just so excited."
But this came with its share of sacrifices. During the pregnancy stage, Hargitay struggled with maintaining a healthy weight which resulted in gestational diabetes.
The first time mom wanted a healthy process, so she ate a lot. Then, after childbirth, Hargitay tasked herself with keeping fit and achieving her desired weight.
Throughout the procedure, the new mom was confident in her body to slim down and did not feel depressed, even though she wanted to exercise.
A few years after her first pregnancy experience, August cried out for a baby sister. Before then, his parents considered adopting. So it was like a dream come true when their only son asked for a bigger family.
The family pursued a closed adoption and had no luck until the third attempt. Finally, they only had the baby for two days before the birth mother asked for the infant back.
This was devastating to the family, but it did not stop them from enlarging their clan. Thankfully, an African-American mother consented to trust them with her baby. Despite the different races, the new mom was confident in their parenting skills, which made them proud.
More than a year after baby Amaya (their first adopted child that joined the pack), the couple unexpectedly got a call from the hospital. Their lawyer asked if they would parent a boy born two months prematurely.
They gave a positive answer and raced to the hospital to meet the mother. At the time, the couple was grieving the loss of a dear friend. So after adopting baby number two, they named him Andrew, after their deceased friend.
Mariska Hargitay's Family Is a "Happy Chaos"
Being a mother to three babies and having a busy schedule is not easy, but the family woman admits that she is hanging on well, especially with the lessons learned. In her words:
"The thing that's made me a better parent is my kids. Because they taught me to really listen. My husband is my North Star, and my kids are my teachers."
The actress added that every family is unique. While learning from her team, she subscribed to impacting them with her upbringing: Hargitay enjoyed genuine love and attentiveness from her stepmother and father.
She has built a "happy, joyful, chaotic, crazy unit with her kids." Thankfully, Hermann is also hands-on in parenting with his wife. Although they have different roles, they complement each other so well.
The Untold Secrets about This Hollywood Couple
People are often intrigued about how the Hollywood stars have carried their relationship, especially with all the craziness. This couple opines that there is really no secret except respecting the fundamentals.
The long-term couple with three kids explained that marriage is not easy but not complex either. However, they have been able to succeed by attentiveness, showing kindness, and genuine love, all equal to the fundamentals in the relationship.
Please fill in your e-mail so we can share with you our top stories!