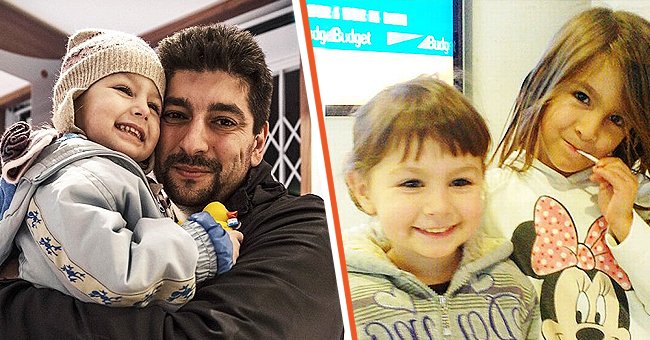 twitter.com/ChrisSpags | twitter.com/IrishMirror
Mother Secretly Took Daughter, Father Refuses to Give Up His Search and Years Later Gets Her Back
A mother of two gave in to selfishness when she secretly fled to her hometown with one of her daughters, but her ex-lover refused to accept the separation as fate. Instead, he toiled for years to bring the child home and reunite the siblings.
This is a story of how an only child, Craig Michael, became a father to two adorable girls and struggled to keep them together, despite his ex-lover's destructive behavior.
Michael was saddened after losing his youngest daughter, Crystal, to her mother. This was because it happened in the most heinous of ways. His former partner left their home unannounced with the child.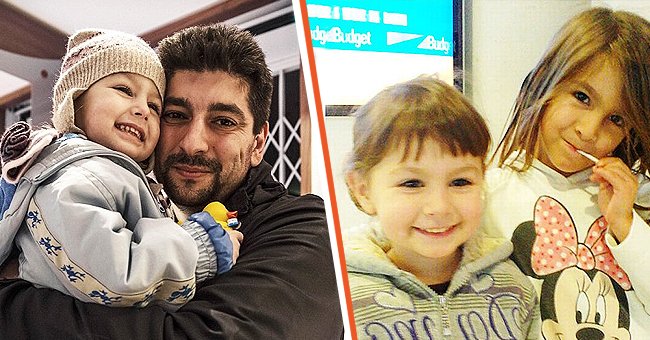 Craig Michael in a warm embrace with hid daughter Crystal [left] Craig Michael's daughters, Castalia and Crystal | Photo: twitter.com/ChrisSpags twitter.com/IrishMirror
After years of seeking assistance from the court, he decided to take laws into his own hands, maintaining his position as a law-abiding citizen.
Michael planned with a former soldier to forcefully get his daughter in Poland. Instead, they sprayed her grandfather with pepper spray to ease their escape.
BUILDING A FAMILY WITH HIS LOVER
Michael hails from north London, but he settled in Cyprus in 2005. He retired as a store detective and found a passion for body inks, leading him to open a tattoo parlor.
He met Marta at the tattoo parlor, a lady whom he married and had two daughters with – Castalia and Crystal. The girls were born in 2009 and 2010, respectively.
Even though the kids' births were not planned, Michael was thrilled to assume a fatherly role, and with their big house and enough money, they lacked nothing.
Marta claimed her grandfather died, and she wanted to go to Poland with the children the following year. However, Michael did not want his daughters gone again because a previous vacation in Poland cost Castalia to miss school.
MARTHA KIDNAPS HER DAUGHTER
The refusal was a bitter pill to swallow for the mother of two, so she secretly fled with their youngest child, Crystal. It left Michael devastated, he alerted the authorities, and they put a stop list on both kids to prevent their mother from taking them.
CHRONICLES OF THE DEVASTATED FATHER
It was hard for Castalia to live without her sister. She cried tirelessly, asking for Crystal's whereabouts. Naturally, this hurt Micheal, and he pledged to reunite the sisters.
He tried several options; first, he opted for a lawyer in Poland to apply for Crystal's return through the Hague Convention.
The case reached the court in 2012, and Marta claimed that his irresponsible patterns and abusive behaviors caused her to leave with the child. The judge dismissed the claims and ordered the return of the girl.
After Marta's refusal, a second-order stated that Crystal should be forcibly removed. However, nothing was persuasive enough for the Polish, so her ex-husband tried to wander around the country, looking for their daughter.
In all, he spent 35,000 pounds (about $47,000), without any positive result. However, in 2014, Michael, scared to lose his daughter forever and bent on fulfilling his promise to Castalia, hired a former soldier working with the Child Abduction Recovery International.
They located his daughter within a day and spent nearly two weeks monitoring her at her grandparents' home in southern Poland. Then, when the time came, Michael and the rescuer hid in a bush, in the cold.
The ex-soldier snatched Crystal and spirited her away to Michael, who was overwhelmed to see his child. She did not recognize him at first, neither could she speak English.
She later became familiar with her dad after continuously hearing the polish word for "daddy." Finally, the team headed to the Czech Republic and journeyed to Austria before going home.
Martha pleaded guilty to child abduction and was slammed with a suspended sentence. Meanwhile, Michael was arrested alongside his accomplice, Mr. Whittington, by the Beirut police following the recovery process.
It did not take long for Crystal to adapt to her environment. Initially, the young lady did not speak English but somehow communicated with her sister.
Their bond was instantaneous, and the relationship bloomed. According to their father, they have now become inseparable. Also, Crystal is grounded in English and back to normal school life, with her beloved sister by her side.
Please fill in your e-mail so we can share with you our top stories!