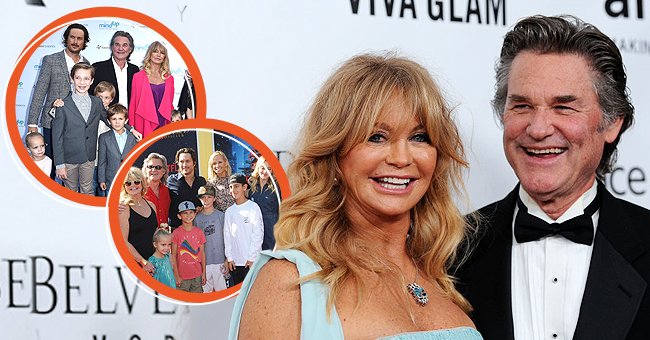 Getty Images
Goldie Hawn and Kurt Russell's 4 Kids Believe in Marriage Unlike Their Parents - Meet Their Families
Goldie Hawn and Kurt Russell did not get married but have remained together for many years. The actors are parents to four kids who do not share their idea of marriage.
Known for some of the greatest movies in entertainment history, Goldie Hawn and her longtime partner, Kurt Russell, have one of Hollywood's longest-standing relationships.
Hawn and Kurt have been together for almost 40 years but never married. However, this has never been a problem in the couple's relationship, and they have notably been living in total bliss with their blended family.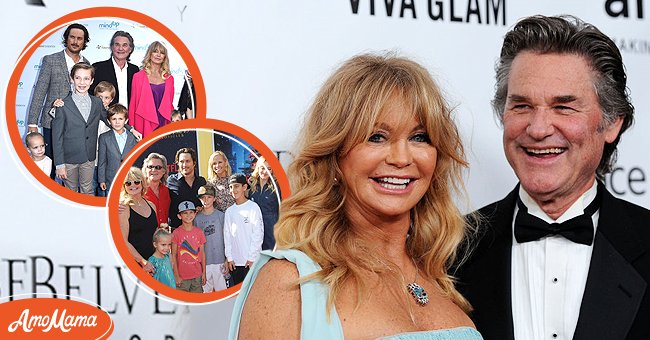 Goldie Hawn, Kurt Russell and their kids [left] Goldie Hawn and actor Kurt Russell at amfAR The Foundation for AIDS 4th Annual Inspiration Gala on December 12, 2013 | Photo: Getty Images
BROKEN RELATIONSHIPS BEFORE FINDING TRUE LOVE
Hawn and Kurt have been together since the 1980s, and their rock-solid relationship is blessed with four children; Oliver, Kate, Boston, Wyatt, and their grandchildren. But, before they became a couple, the two had already experienced their fair share of broken relationships.
Hawn was married to Billy Hudson from 1976 to 1982. The ex-couple had two children, son Oliver, born in 1976, and Kate in 1979. On the other hand, Kurt was married to Season Hubley in 1979, and they had a son, Boston, before going their separate ways in 1983.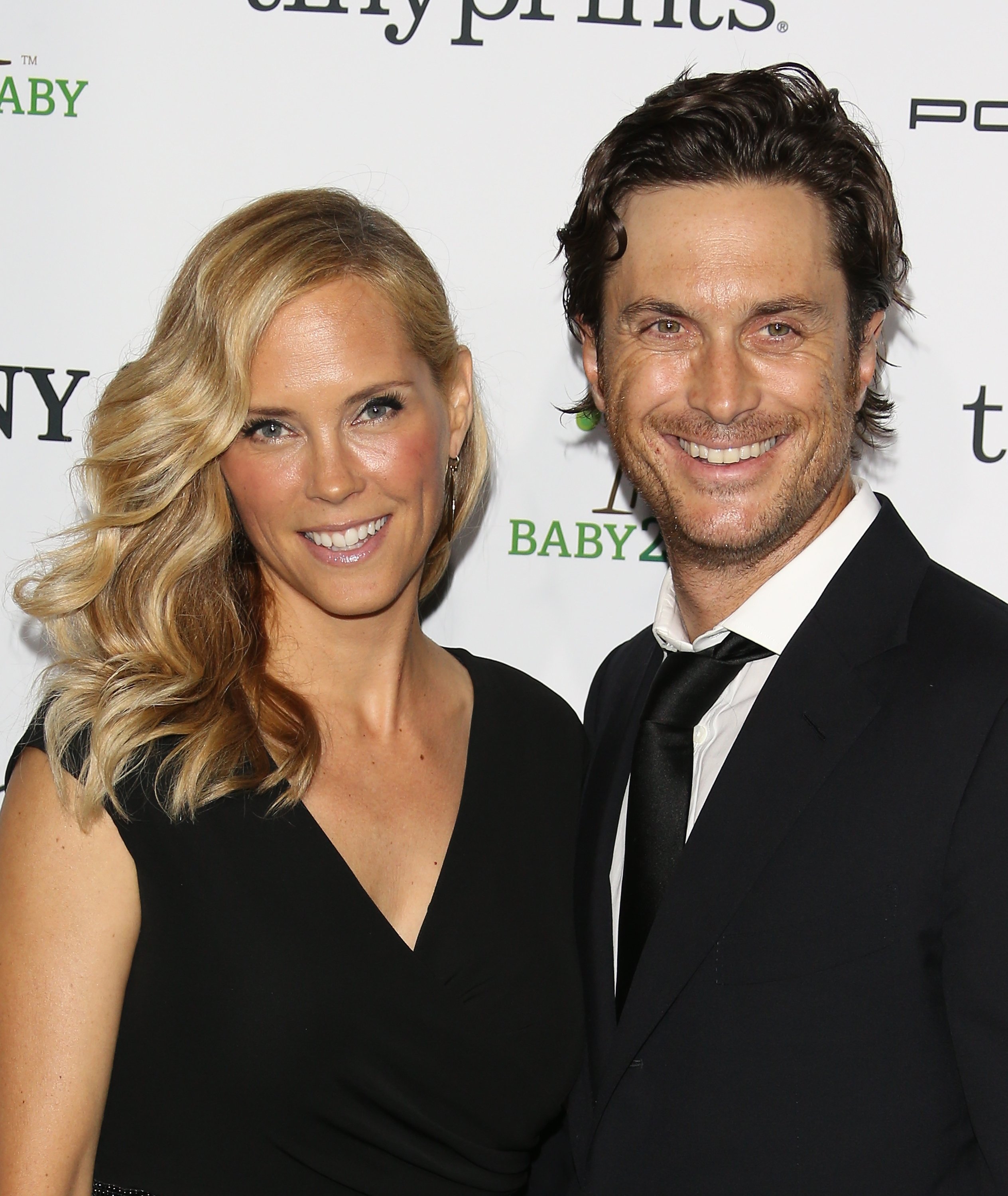 Erin Bartlett and Oliver Hudson at the 2014 Baby2Baby Gala on November 8, 2014 | Photo: Getty Images
Shortly after their divorces, Hawn and Kurt met on the set of "Swing Shift," and they soon started dating. Hawn then gave birth to son Wyatt in 1986, and the couple continued enjoying their relationship without considering marriage.
However, while Hawn and Kurt never saw marriage as necessary, they encouraged their kids to embrace a different belief.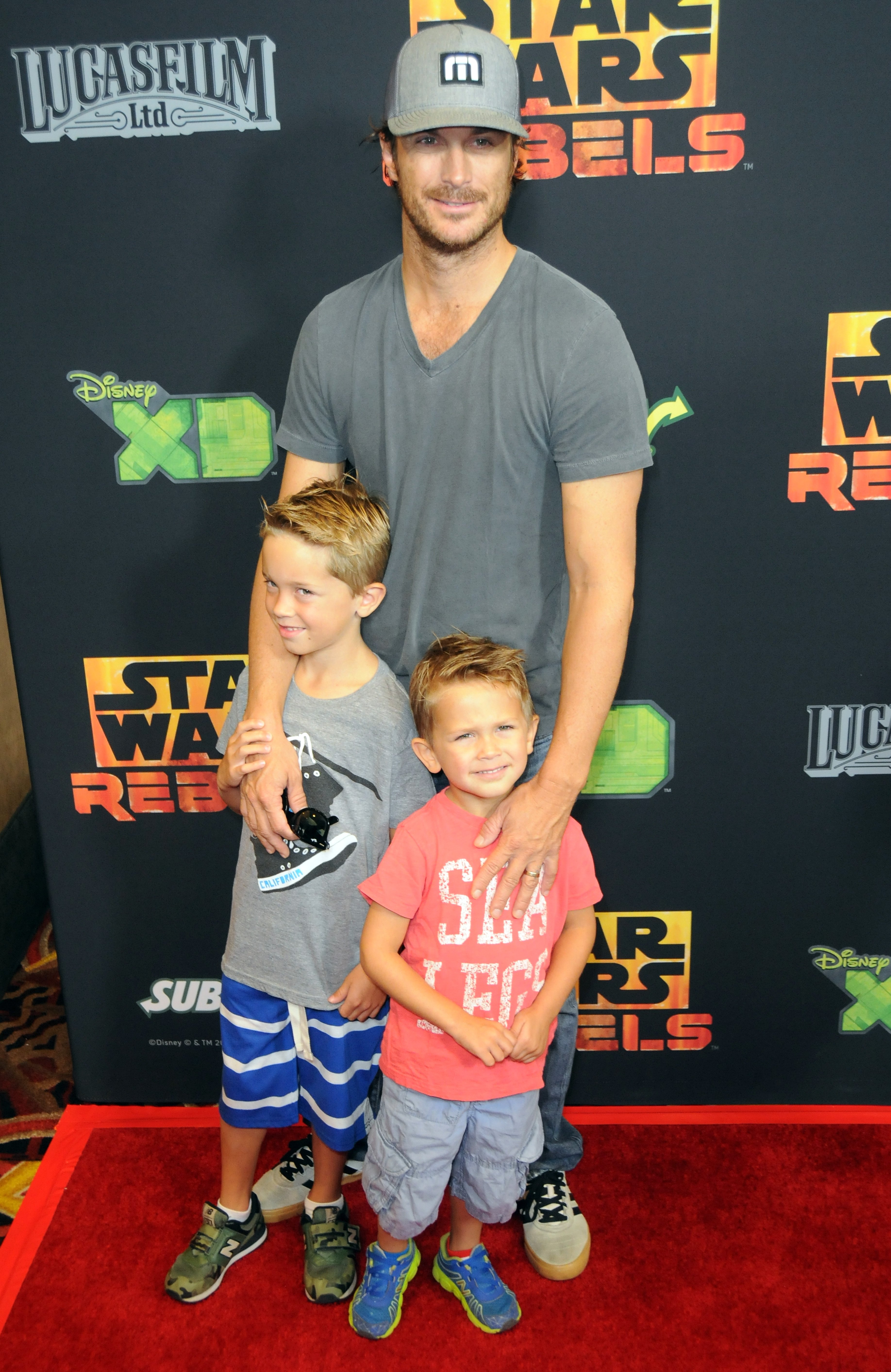 Oliver Hudson and sons arrive for Disney XD's "Star Wars Rebels: Spark Of Rebellion" Special Screening on September 27, 2014 | Photo: Getty Images
Like her, Hawn's first son Oliver has made a name for himself in the movie industry. He is best known for films like the CBS comedy series "Rules of Engagement," "ABC's Nashville," "Scream Queens," and "Splitting Up Together."
Oliver found love when he started dating Erinn Bartlett. Unlike his parents, the actor married Bartlett in 2006, and it turned out it was Hawn who had encouraged her son to walk down the aisle.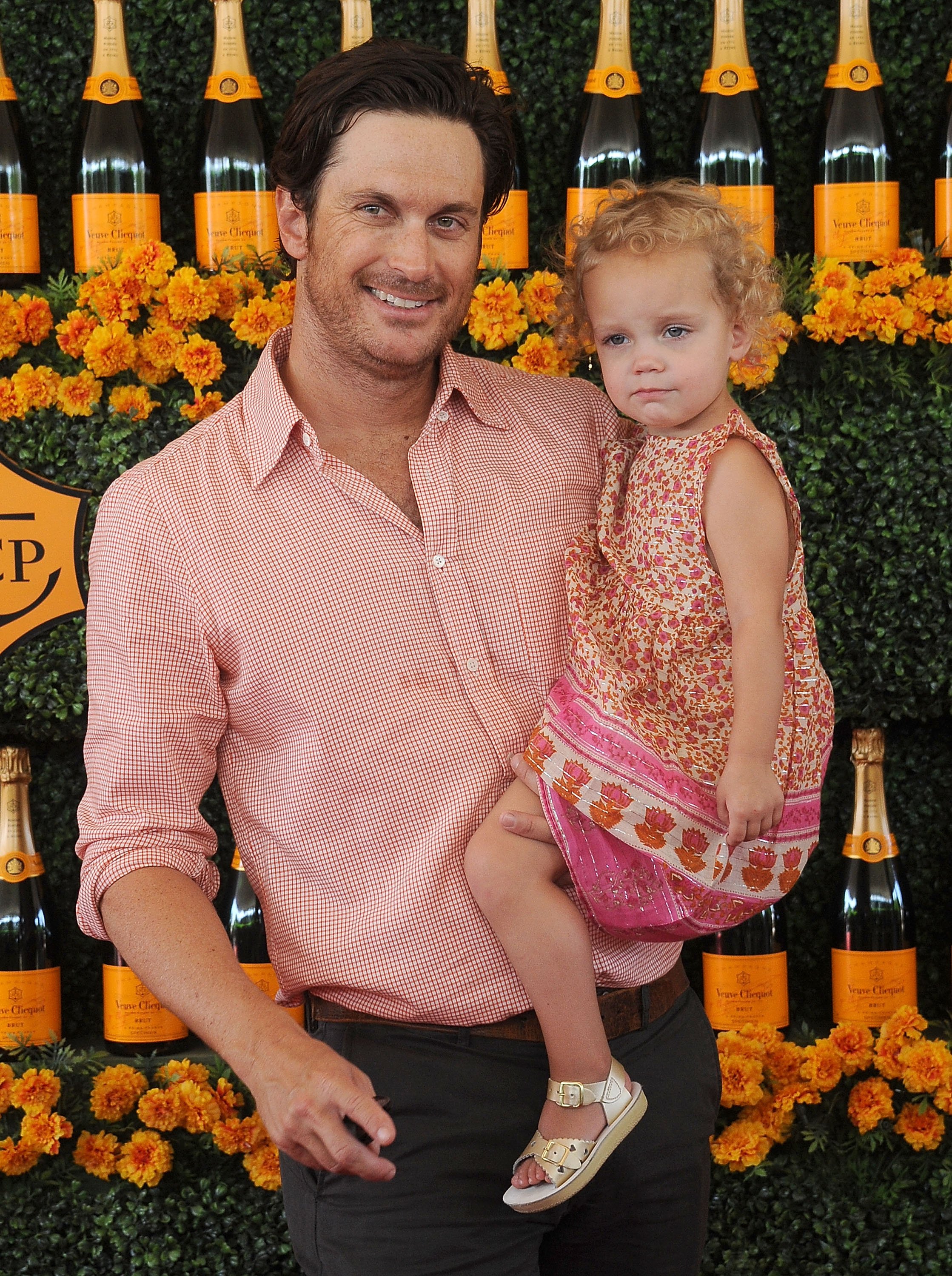 Oliver Hudson and daughter Rio Hudson at the Sixth-Annual Veuve Clicquot Polo Classic on October 17, 2015 | Photo: Getty Images
Once speaking on his relationship, Oliver revealed that he never intended to marry. Instead, he wanted a romance like Hawn and Kurt's. But Oliver explained that he loved Bartlett so much when he showed his mom a ring he had bought.
She said: "What are you doing? Do you want to spend the rest of your life with this person or not?' And I said, 'Yes, I do. I'm deeply in love, but I'm just scared. And she says, 'It's a token. You don't have to get married right away.' And so I gave her the ring, and it was very scary, and we were engaged for two and a half years."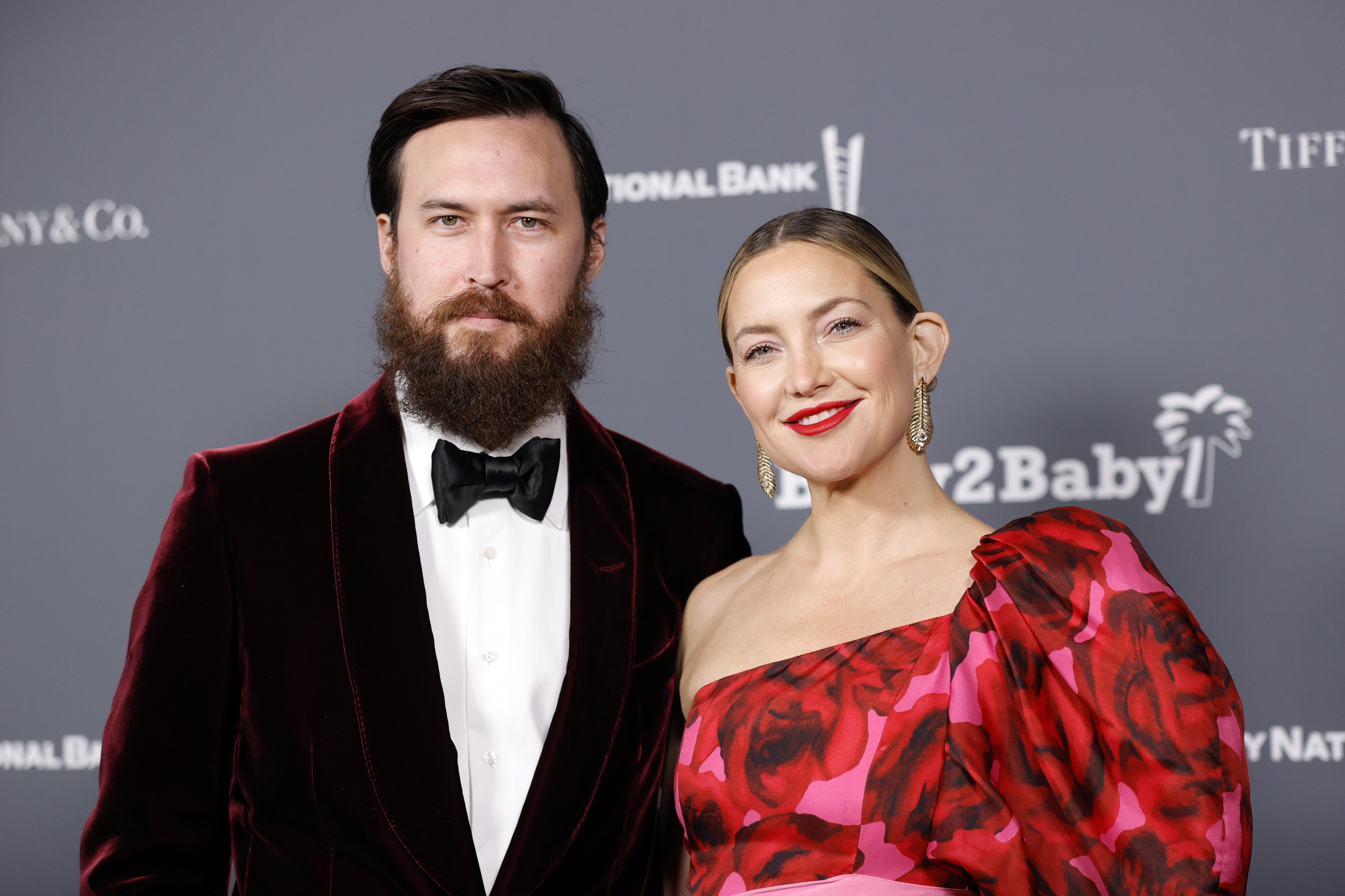 Danny Fujikawa and Kate Hudson attend the Baby2Baby 10-Year Gala presented by Paul Mitchell on November 13, 2021 | Photo: Getty Images
After tying the knot, Oliver and Bartlett became doting parents to Wilder Brooks, Bodhi Hawn, and Rio Laura. The 45-year-old "Splitting Up Together" actor and his family have a close bond with Hawn and Kurt.
In a recent interview, Oliver revealed that he and his family moved into Hawn and Kurt's home while his house was being redecorated. Oliver, who gushed over Hawn's cooking, says he and his family are happy spending time with the older couple.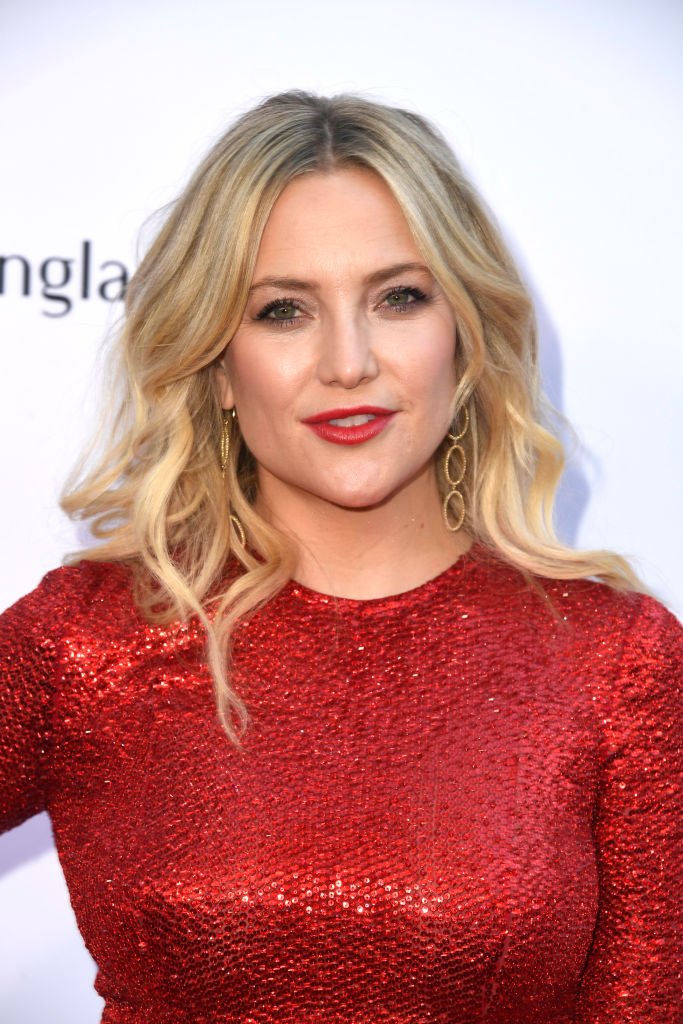 Kate Hudson at The Daily Front Row's 5th Annual Fashion Los Angeles Awards | Photo: Getty Images
Hawn and Kurt's family sure have a knack for acting. The "Overboard" actress's daughter Kate is also a movie star with acting credits in different notable productions, including "Almost Famous" and "How to Lose a Guy in 10 Days."
The 42-year-old actress is a doting mom who has had her fair share of broken relationships. Kate was married for the first time to Chris Robinson. Before they split in 2007, the former couple had a son Ryder, born in January 2004.
After Robinson, Kate moved on with singer Matt Bellamy. She and Bellamy never married, but they welcomed son Bingham in 2011 before calling it quits.
Kate found love again when she started dating Danny Fujikawa. The pair welcomed their daughter in October 2018 and announced their engagement three years later. Since Kate and Fujikawa's relationship made headlines, the two have stopped at nothing in showing off the beautiful bond.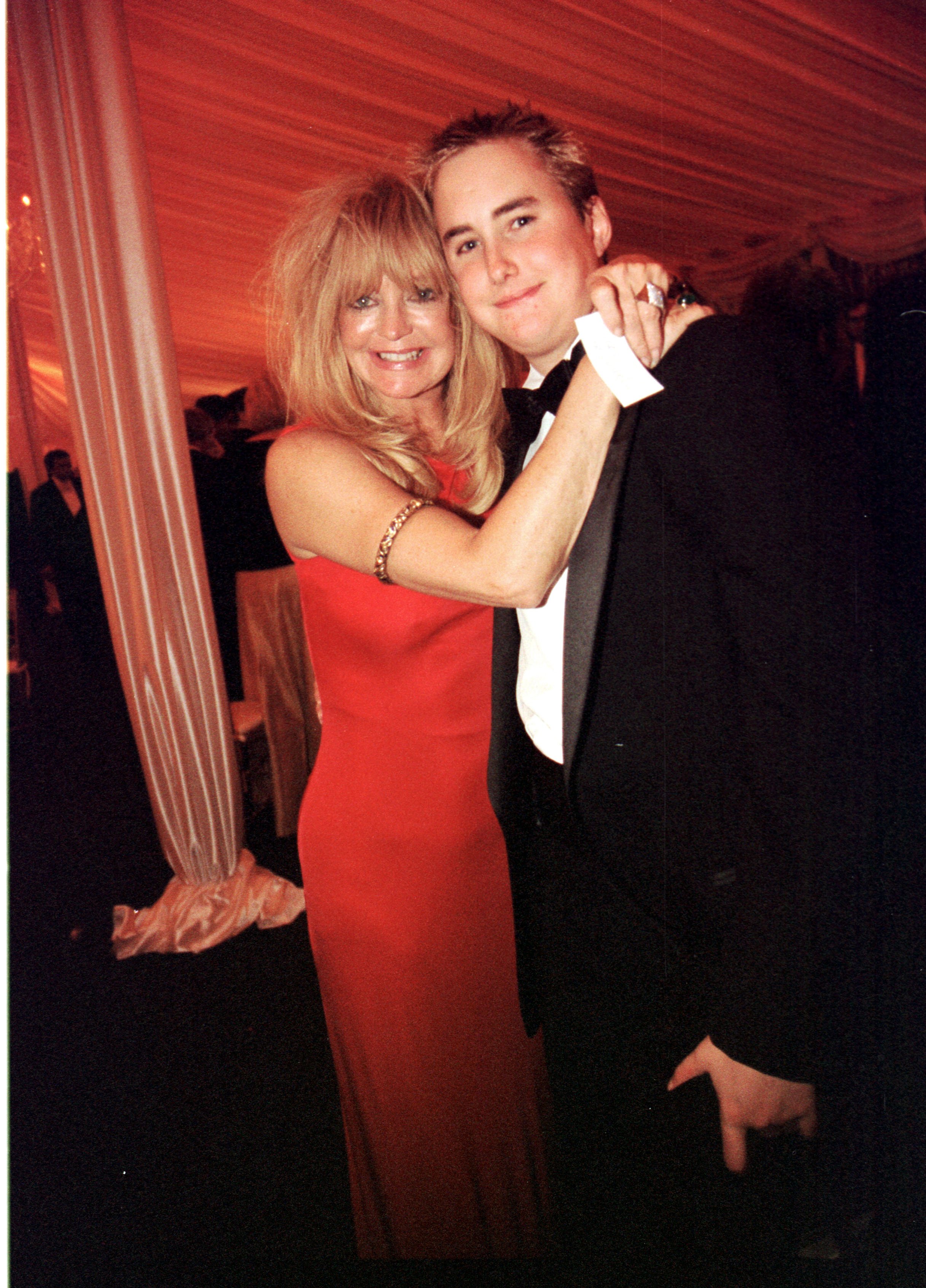 Goldie Hawn, Kurt Russell and their family at the ceremony honoring Goldie Hawn and Kurt Russell with a Star on The Hollywood Walk of Fame on May 4, 2017 | Photo: Getty Images
Although Kate's children have three different fathers, the actress is doing just fine co-parenting her kids. Kate undoubtedly loves being a mother, and she has several photos of her children on social media.
Kate's Instagram page has a full gallery of her relationship with her kids. The mom of three once shared snaps of Fujikawa, Bingham, and her daughter Rani enjoying "ice cream and naps."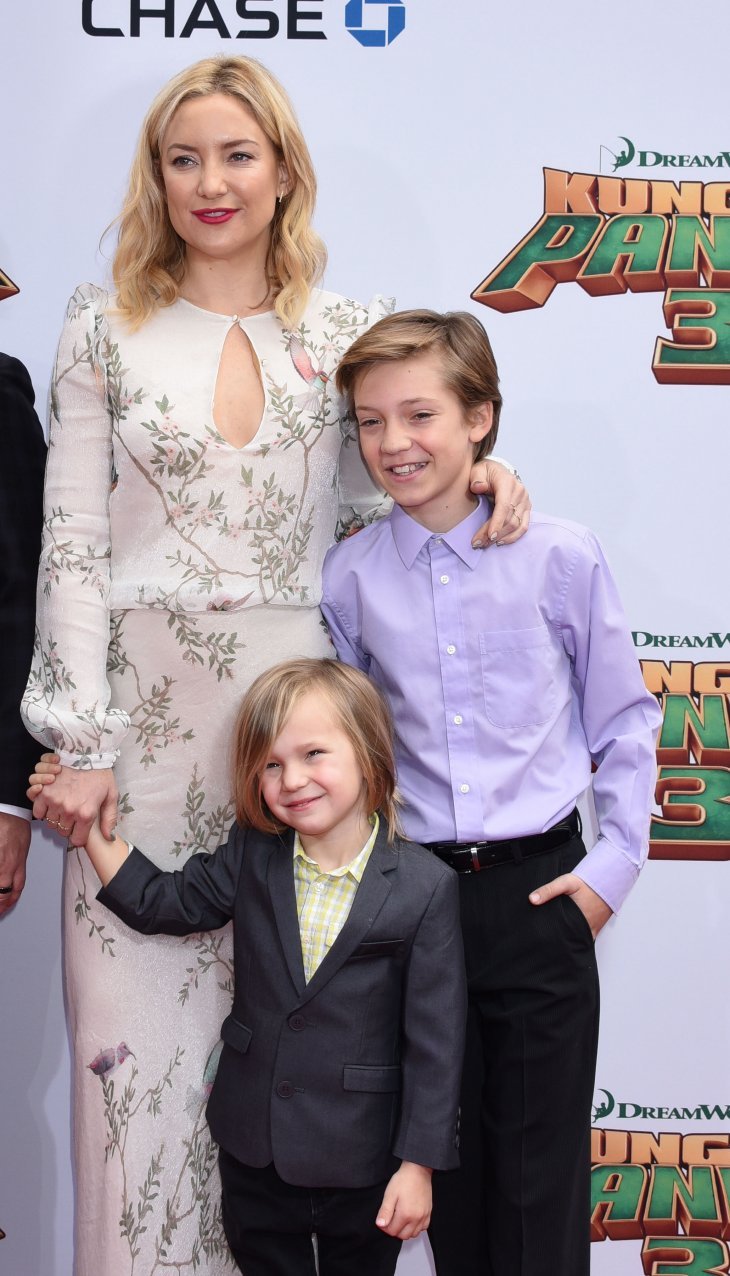 Kate Hudson and sons Ryder and Bingham at the Kung Fu Panda 3 World Premiere on January 16, 2016 | Photo: Shutterstock
The doting mom also shared several snaps of Rani on September 26, 2021, as she celebrated national daughter's day.
Kate wrote as her caption: "National daughters day IS TODAY apparently! So I didn't miss it but sharing my family life with you brings me joy, and I can't miss a chance to say how Rani Rose is a treasure to us in our fam, and I'm so grateful we are blessed with a baby girl. Balance is a beautiful thing."
Motherhood has sure played out well for the 42-year-old movie star, and she might just be ready to expand her family. Once speaking on her relationship with Fujikawa, the actress revealed her fiance needs a boy.
Hawn and Kurt's son Wyatt started his career as a hockey player before following his parents' career path. He has been married twice and is a dad of one.
Wyatt was first married to Sanne Hamers, but the relationship soon became sour, and they called it quits in 2017. However, the actor found love for the second time when he met Meredith Hagner. Wyatt and Hanger got married in 2019 at a ceremony held at Hawn's house in Aspen, Colorado.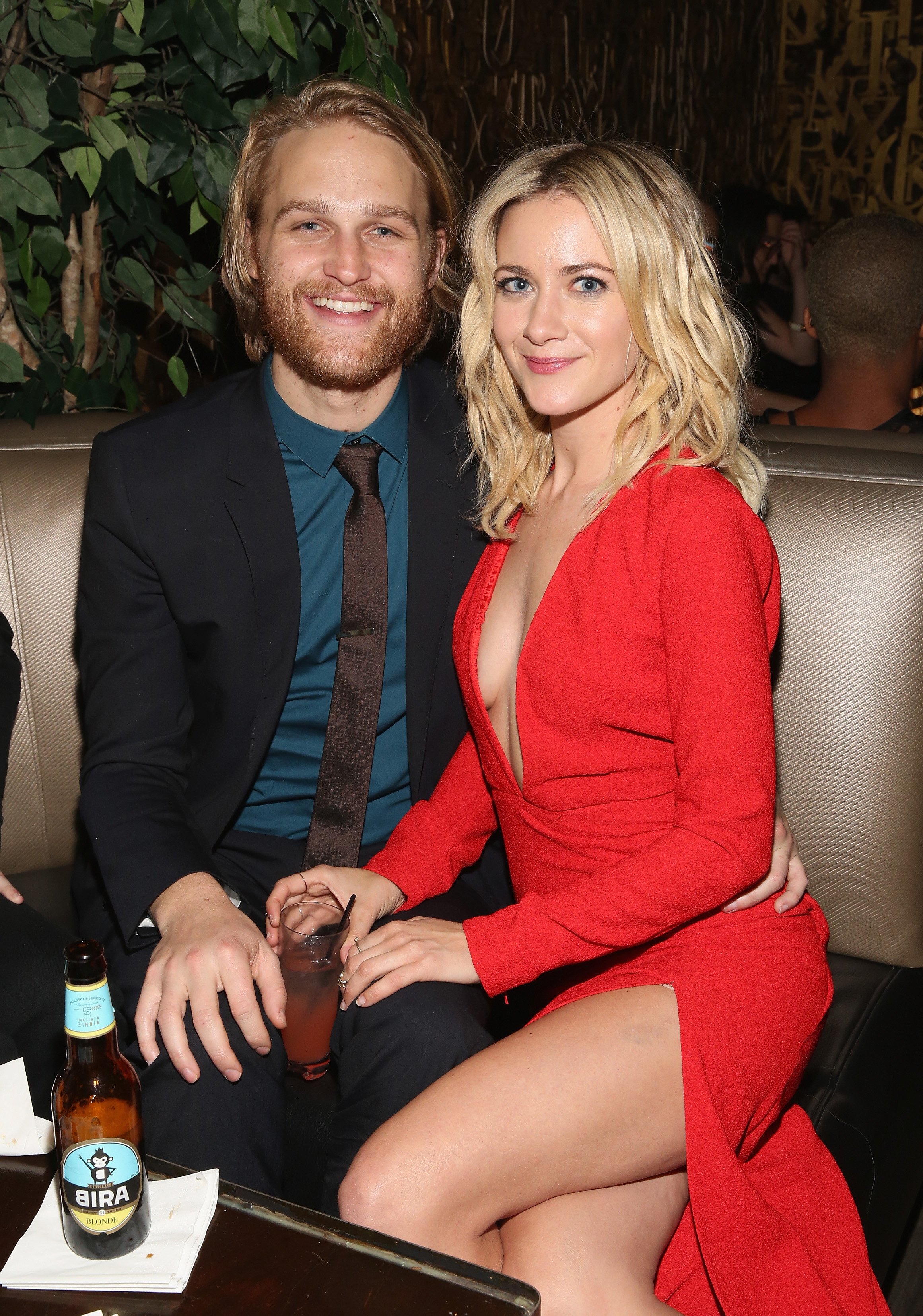 Wyatt Russell and Meredith Hagner attend 2016 Tribeca Film Festival After Party at 1OAK on April 16, 2016 | Photo: Getty Images
Shortly after tying the knot, the couple announced that they were expecting their first child.
After their first announcement, Hanger shared countless photos of her baby bump with fans on social media.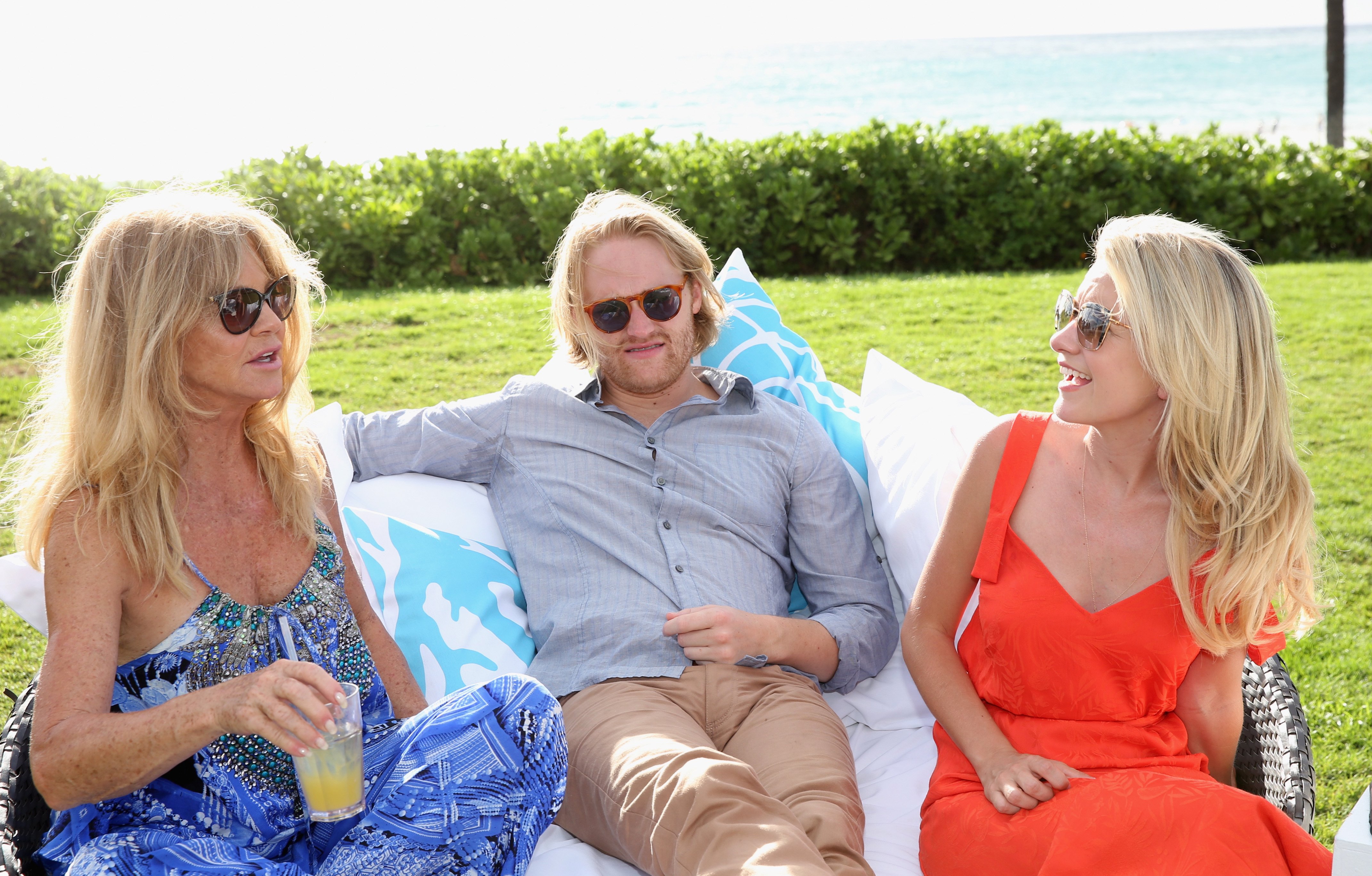 Goldie Hawn, actor Wyatt Russell, and actress Meredith Hagner at Grand Wailea on June 15, 2016 | Photo: Getty Images
Hanger also shared an image of her baby shower with her sisters-in-law, Kate and Erinn Bartlett, and mother-in-law, Hawn.
In addition, she documented her pregnancy's second trimester and revealed on social media that a lot of that time was spent on the road with Wyatt in their van.
Unlike Hawn's kids, Kurt's son with his ex-wife, Season, followed a different career path. He lives a reasonably private life and rarely makes public appearances.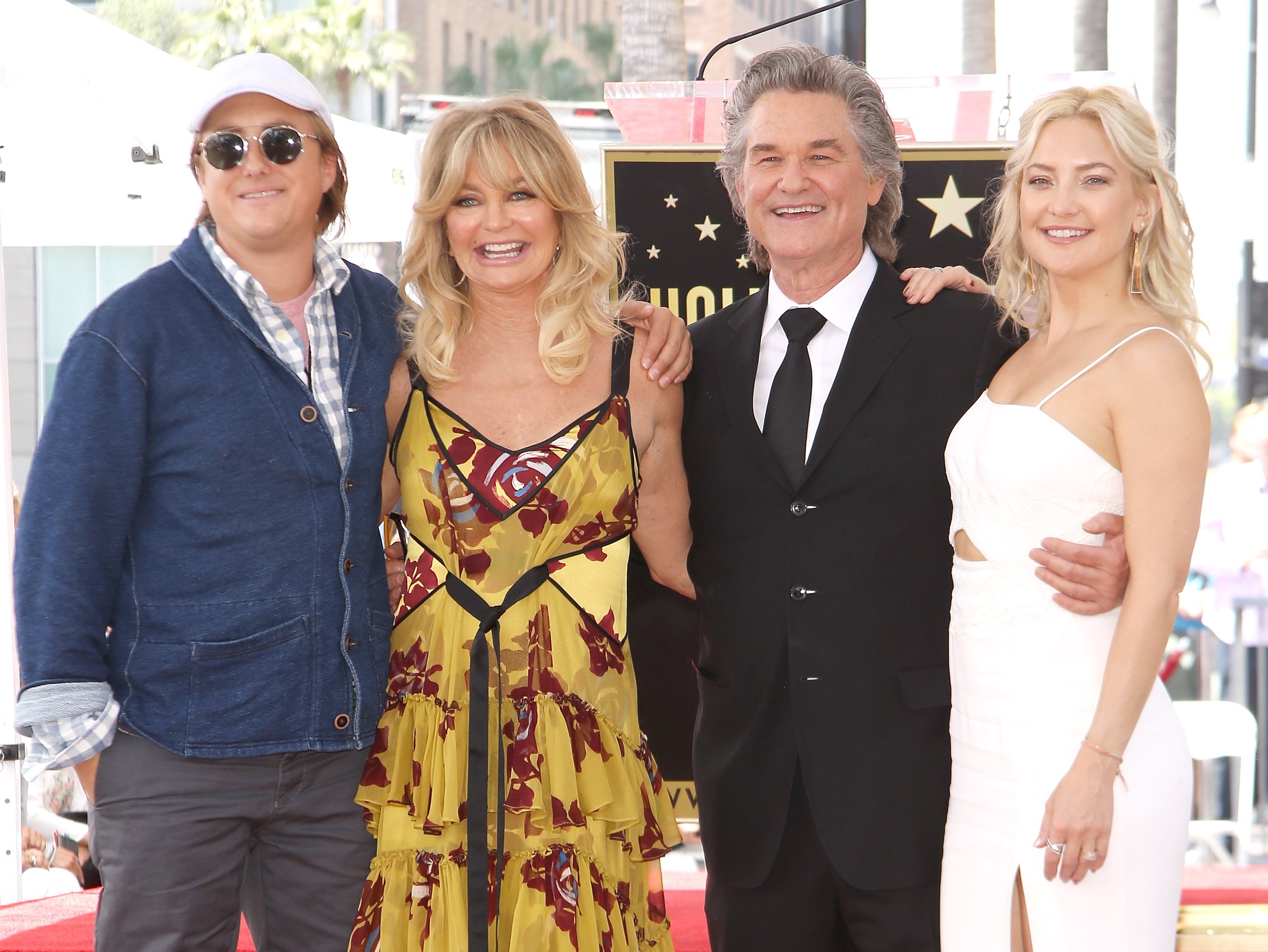 Goldie Hawn, Kurt Russell and their family attend the ceremony honoring Goldie Hawn and Kurt Russell on May 4, 2017 in Hollywood, California | Photo: Getty Images
Boston made a rare appearance when Hawn received a star on the Hollywood Walk of Fame in 2017.
Please fill in your e-mail so we can share with you our top stories!