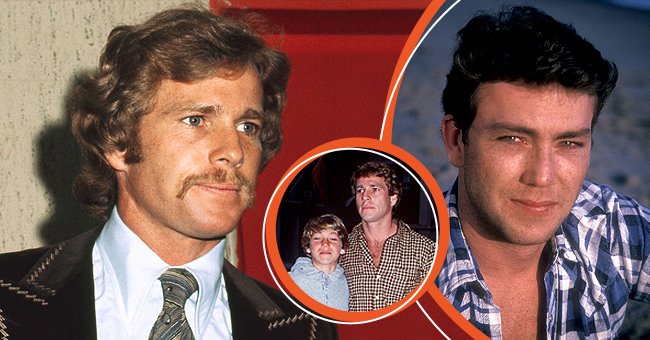 Getty Images
Ryan O'Neal's Son Griffin's Life Was Ruined by Family's Mess Yet He Helped Struggling Half-Brother Get Better
Griffin O'Neal blamed his actor father, Ryan O'Neal, for ruining the family, and the two have remained estranged. Yet, despite the bad blood, he provided some help to his drug addict half-brother.
Ryan O'Neal was born in Los Angeles, California, as Charles Samuel Eldridge Patrick Ryan O'Neal III. Initially, he was an amateur boxer before finding his way to television.
During his prime, he worked as an actor and producer. His most notable works include "Love Story," "Barry Landon," and "Paper Moon."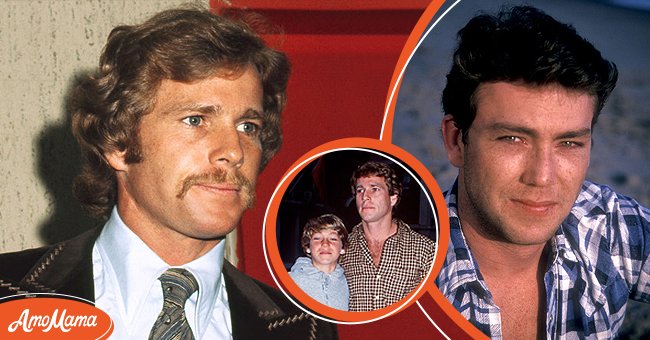 Portrait of Ryan O'Neal at an event. [left] Ryan O'Neal with his son Griffin O'Neal in New York, circa 1970. [centre] Portrait of Griffin O'Neal, circa 1992 [right]. | Photo: Getty Images
Ryan, an 80-year-old, has been estranged from entertainment scenes for some time now, and as far as his personal life is concerned, he has a complicated relationship with his kids.
RYAN O'NEAL'S CONTROVERSIAL FATHERHOOD
Ryan was never the ideal lover or father. He was married twice. His first wife was Joanna Moore, an actress with whom he shared two kids, daughter Tatum and son, Griffin. His second wife was Leigh Taylor-Young, and they shared a son named Patrick.
The producer's last born is Redmond, whom he welcomed with his longtime on-and-off lover, Farrah Fawcett. Ryan never married Fawcett, but the pair were engaged before her death in 2009.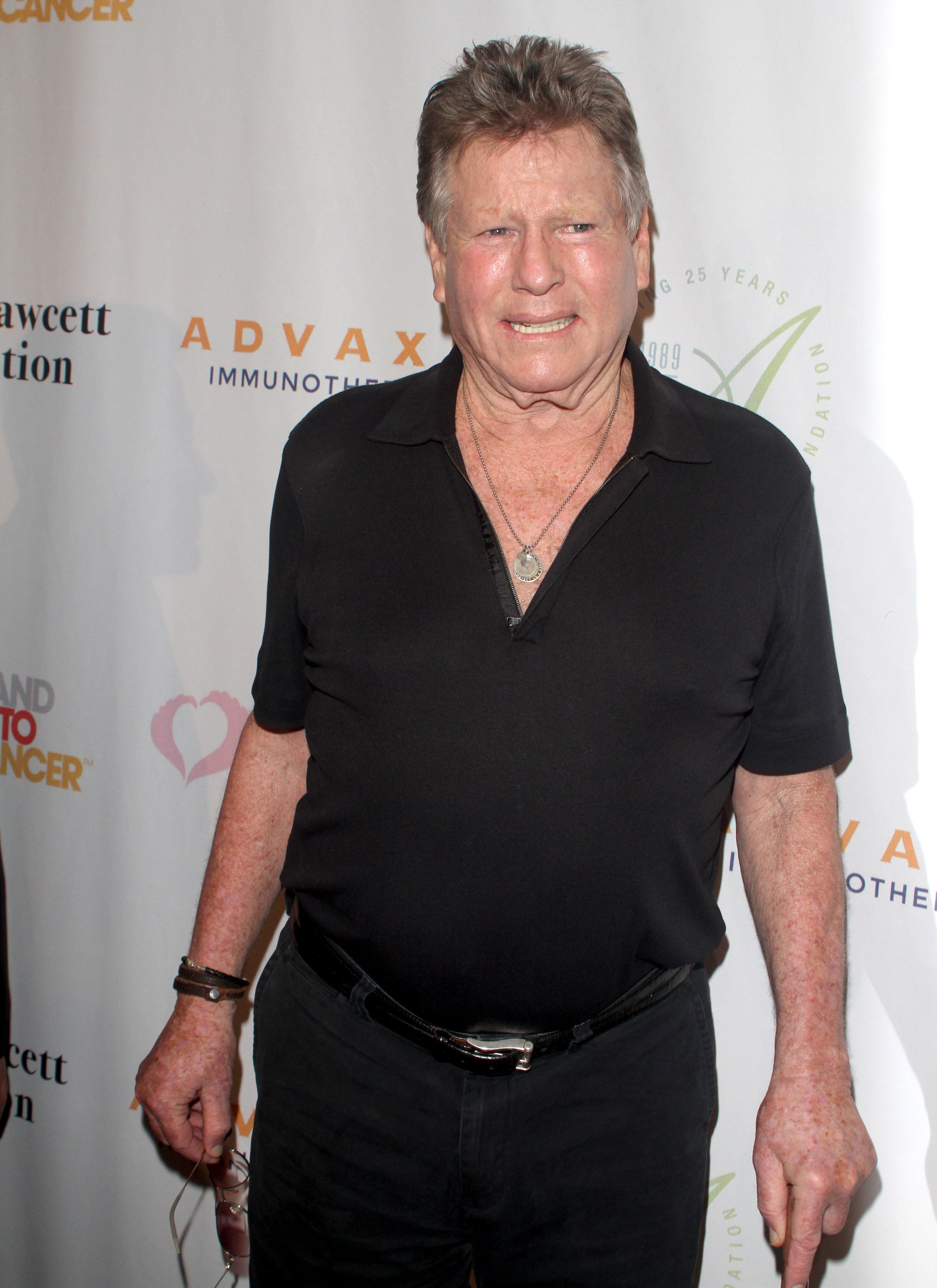 Ryan O'Neal attends the Farrah Fawcett Foundation 1st annual Tex-Mex Fiesta at Wallis Annenberg Center for the Performing Arts on September 9, 2015 in Beverly Hills, California | Photo: Getty Images
Ryan was one of Hollywood's most undisciplined stars. He never quite respected his relationships, and whether he was married or not, the actor invited other women into his bed.
His atrocities were so bad that during Fawcett's funeral, he was hitting on his daughter, Tatum— the duo had been estranged for years before meeting at the funeral, and he mistakingly thought she was someone else.
Ryan's love for women made it impossible for him to function as a parent. Tatum once recalled that at 18, she caught her dad in bed with her best friend, Melanie Griffiths.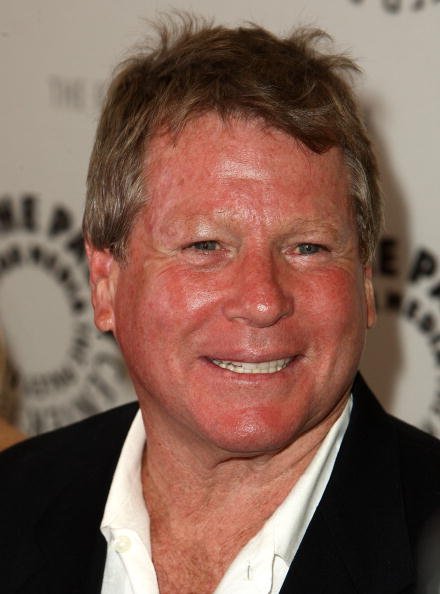 Ryan O'Neal arrives at the premiere of NBC Universal's "Farrah's Story" held at The Paley Center for Media on May 13, 2009 in Beverly Hills, California | Photo: Getty Images
The actor was very unconcerned about his kids' emotions, and when he realized Tatum slit her wrist in a suicide attempt, he dismissed it, adding that she cut the wrong side.
After his divorce from Moore, he never had time for the kids. Instead, he hosted parties, had lovers, and got hooked on alcohol and other substances.
According to the writer, Leslie Bennetts, who once interviewed the actor, Ryan's mother was also a drug addict, so his DNA mixed with his eccentric attitude made it a generational curse.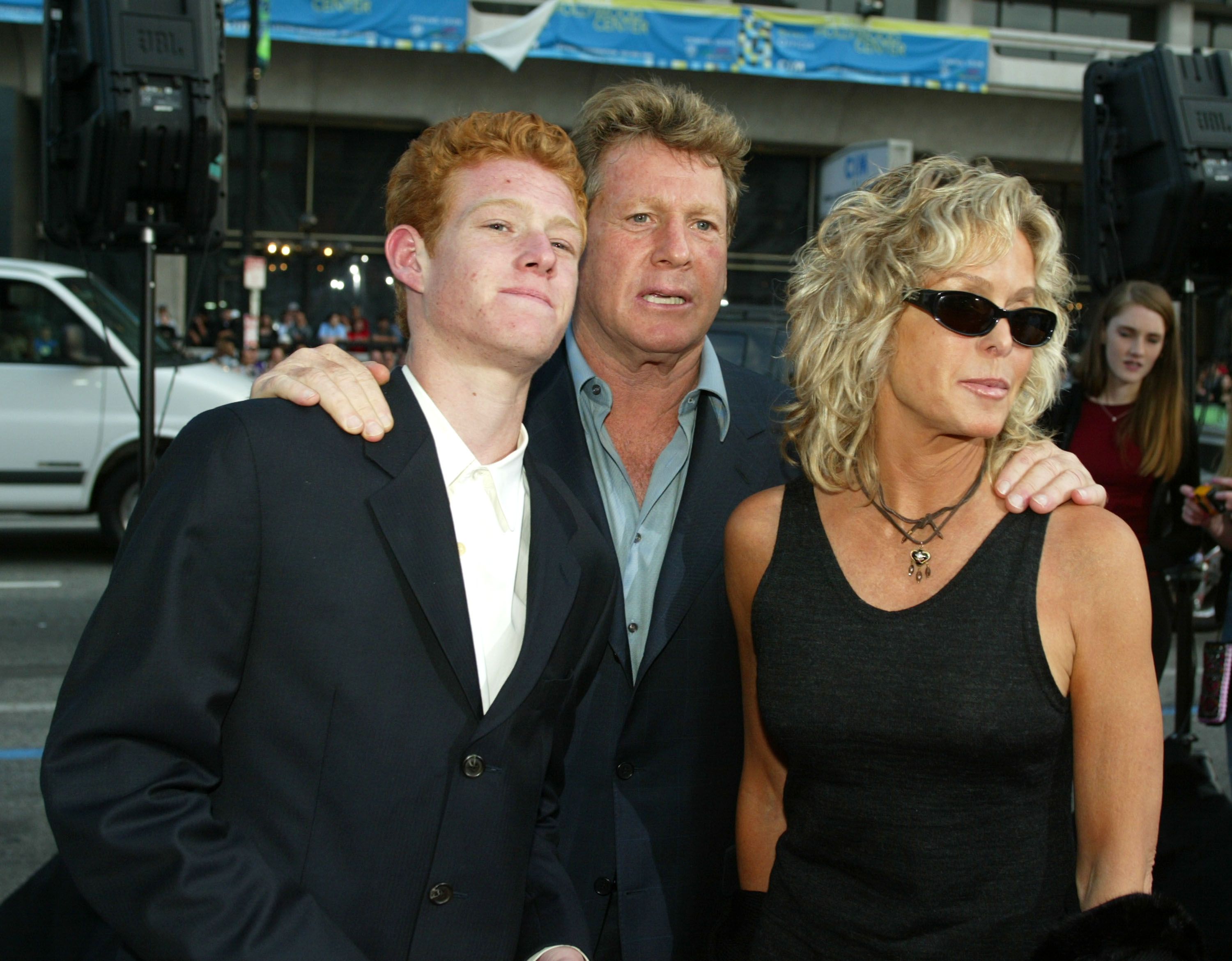 Ryan O'Neal, Farrah Fawcett and Redmond O'Neal in 2003 at Los Angeles. | Photo: Getty Images
His eldest kids, Tatum and Griffin, inherited the curse, as they were hooked on substances. Thankfully, they later became clean. Patrick escaped the family mess, but it found its way to Redmond, who did drugs with his father. Sadly, he has had to pay for the destruction it caused his life by serving a jail term.
GRIFFIN O'NEAL ON HOW HIS FAMILY'S MESS RUINED HIS LIFE
Moore's kids have been vocal about their childhood experiences and how they shaped their adulthood. The details include their father's carefree attitude, their mother's addiction problem, and their relationship with Fawcett.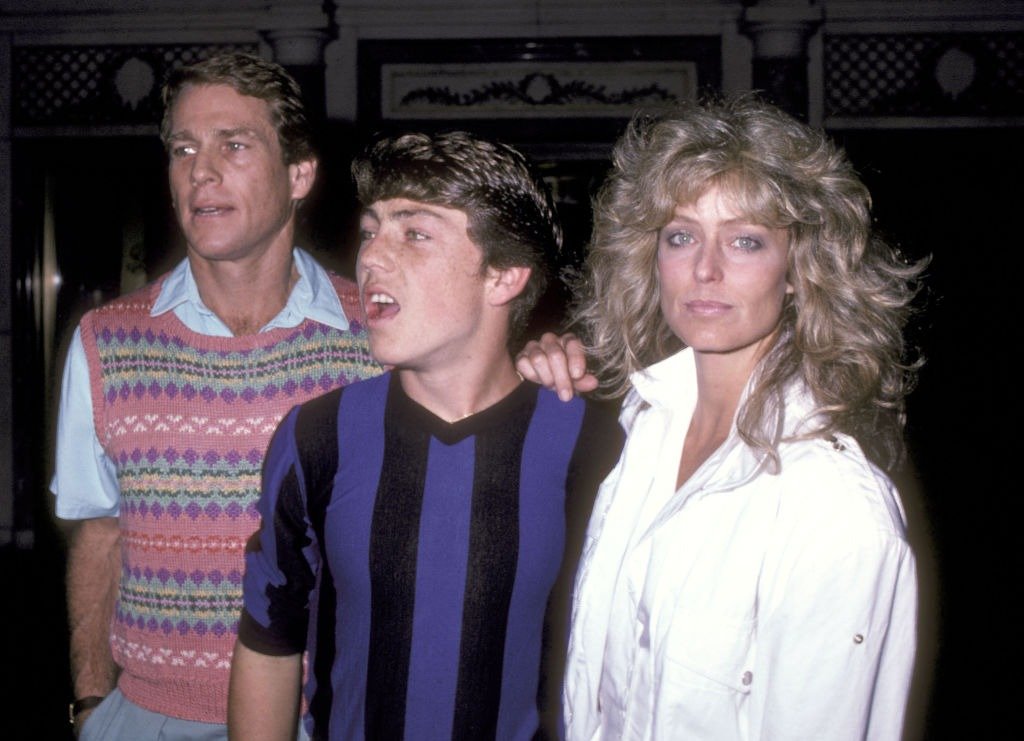 Ryan O'Neal, his son Griffin O'Neal and Farrah Fawcett attends a performance of "Nine" at 42nd Street Theatre on June 16, 1982. | Photo: Getty Images
Griffin admitted that drugs and alcohol had destroyed his family, leaving them depressed. He added that it was a continuous cycle, but he chose to walk away from it.
Ryan's eldest son shared the blame between his parents, stating that Moore lived on the bottles and constantly consumed weight-loss drugs to maintain her beauty—she was an actress.
According to Griffin, his mother had lived a rough life as an orphan and struggled with emotional stability. This affected the way she raised them.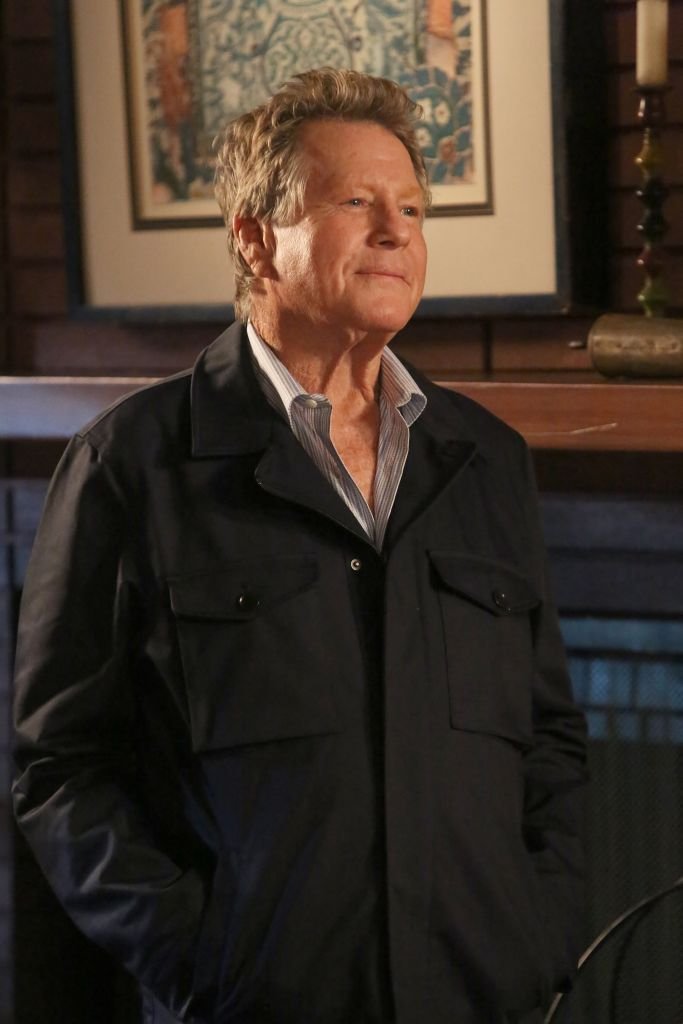 Ryan O'Neal as a guest star in the "The Brain in the Bot" episode of BONES in 2016 | Photo: Getty Images
At just 9, Griffin was introduced to drugs, and while he took the substances, he also became the family's joint roller. Griffin got a hold of his life after three decades.
Ryan's son revealed that drugs and alcohol were in excess around the home, and he abused many types, including cocaine.
Eventually, it became challenging to keep a clean record, as he served jail terms for speed and DUIs. Finally, in 2015, Griffin admitted that he had been sober for nearly four years and had kept his distance from his dad.
HELPING HIS BROTHER DESPITE DAD'S VIOLENCE
Even though Ryan dismisses it as lies, the eldest siblings have corroborated each other's stories on their dad's negligence. They also added that he was a violent man.
In her 2004 memoir "The Paper Life," Tatum explained that Griffin was often the object of their dad's violence. According to the author:
"Most of the time, I couldn't protect Griffin from my father. He was always covered with bruises, which he'd account for with crazy stories about falling downstairs with his hands in his pockets."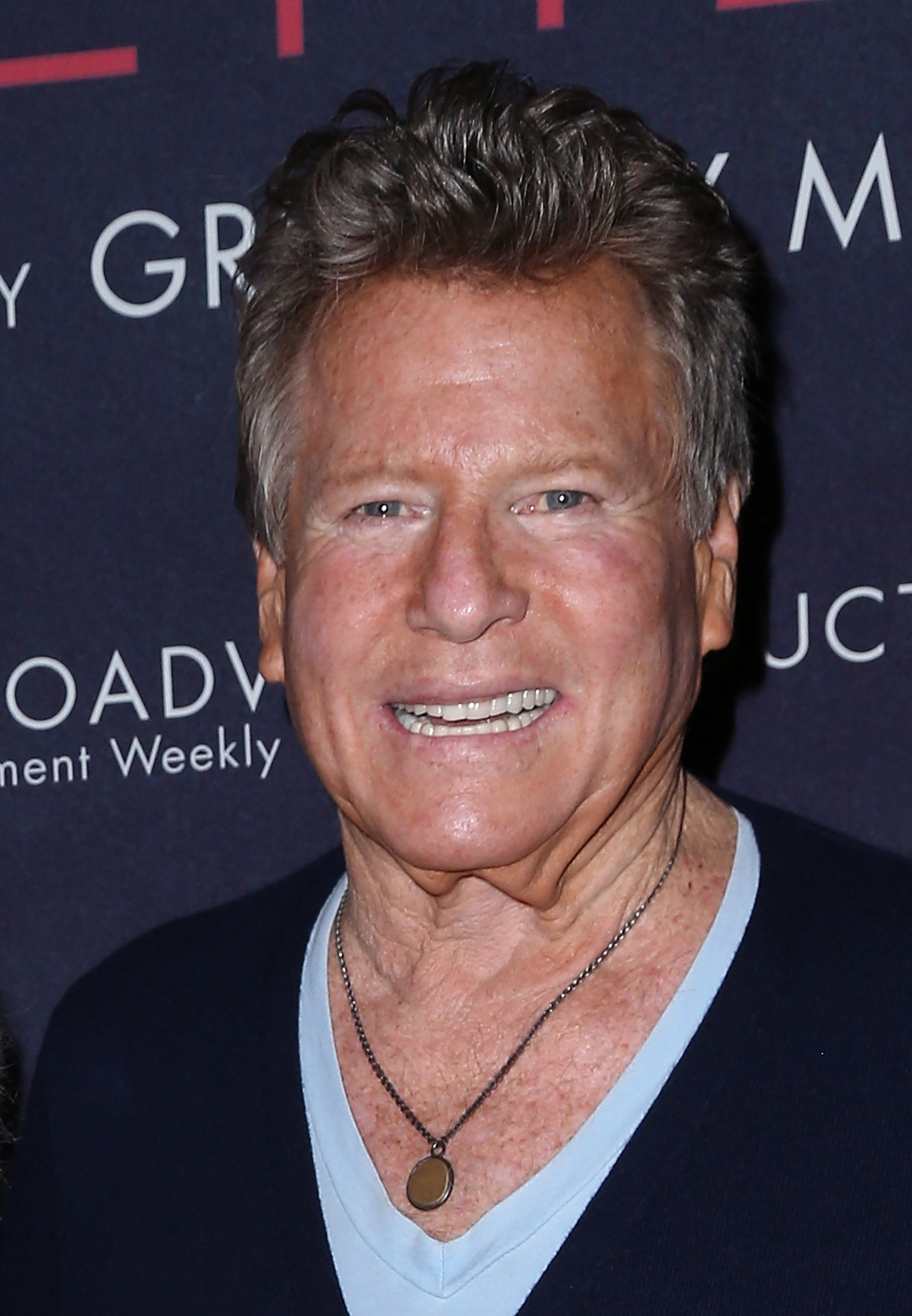 Actor Ryan O'Neal attends the curtain call for "Love Letters" at the Wallis Annenberg Center for the Performing Arts on October 14, 2015 in Beverly Hills, California. | Photo: Getty Images
Four years after this admission, the authorities were called to Ryan's Malibu home, where they arrested the father of four over an alleged assault against his son, Griffin.
The Los Angeles County Sheriff's Department claimed that neither of them needed medical attention, but Ryan was charged with assault with a deadly weapon and negligent discharge of a firearm.
After suffering so much as a child, Griffin revealed that he never became stone-hearted. The eldest O'Neal confessed that he intended to help his young struggling brother, Redmond, before the assault incident in 2007. In his words:
"The last time I saw my dad, he shot at me because I was trying to help his son [Redmond] get sober, so I haven't talked to him in nine years."
Unfortunately, Griffin could not help his half-brother. Shortly after the assault charge, Redmond and his dad were arrested for methamphetamine possession and released on a $10,000 bail.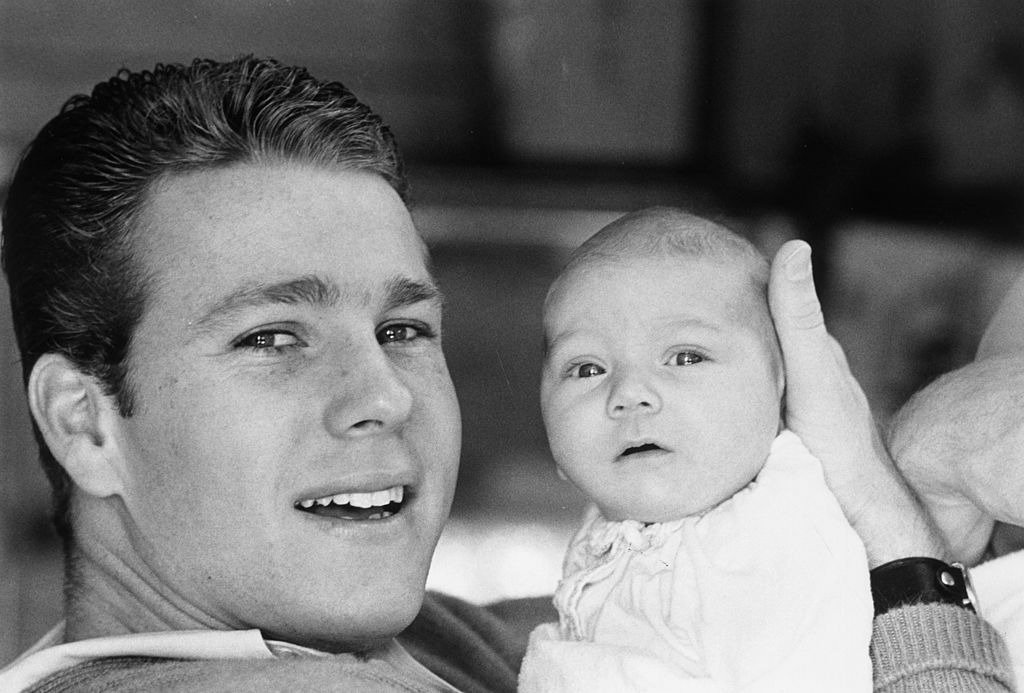 Actor Ryan O'Neal smiling and supporting the head of his eight month-old baby, Griffin. | Photo: Getty Images
In 2018, Redmond was suspected of stabbing two men who looked at him. He was finally arrested and charged for armed robbery after being identified as a suspect in a 7-Eleven stickup.
GRIFFIN'S RELATIONSHIP WITH HIS FAMILY AFTER GETTING CLEAN
A few years after maintaining sobriety, Griffin explained that his story might inspire others struggling with drugs. He was checked into rehab at a young age and graduated from high school during his third stint in rehab.
Griffin was able to leave the struggles behind because he moved away from home and was determined to begin a new life.
Since his relocation, he never spoke to his dad. However, once while speaking to Larry King, he revealed that he calls Ryan his name and not the "dad" title because the actor never performed fatherly duties.
On the other hand, Ryan does not want to have any relationship with his first son. During Fawcett's funeral, he allowed Tatum and Patrick into the event but hindered Griffin from paying his last respect.
Griffin is also estranged from his sister. However, he added that she is an incredible person and pledged his support for her son, Kevin McEnroe, who wrote a book about their mother.
Please fill in your e-mail so we can share with you our top stories!