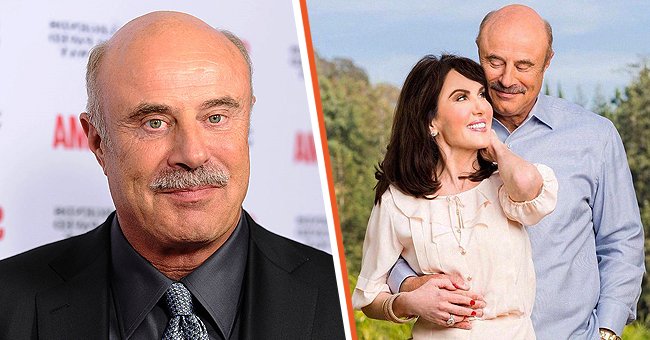 Dr. Phil McGraw and Robin McGraw | Source: Getty Images | Instagram.com/robin_mcgraw
Dr Phil & Wife of 46 Years Fell in Love at 1st Sight Yet He Wed Another Woman & Cheated on Her
During his three-year marriage to high school sweetheart Debbie Higgins, Dr. Phil McGraw cheated, but the famous author found love again soon afterward.
Dr. Phil met his wife, Robin McGraw, at just 19 years old when he went home to visit his parents because he was ill. She looked a bit unkempt, and her hair was dangling everywhere, but that did not stop Phillip from being attracted to her.
According to Robin, the feeling was mutual, and she knew he would be the one. But despite their instant connection, Phillip got married a year later to a different woman he had given a promise ring. Take a look at his marriages.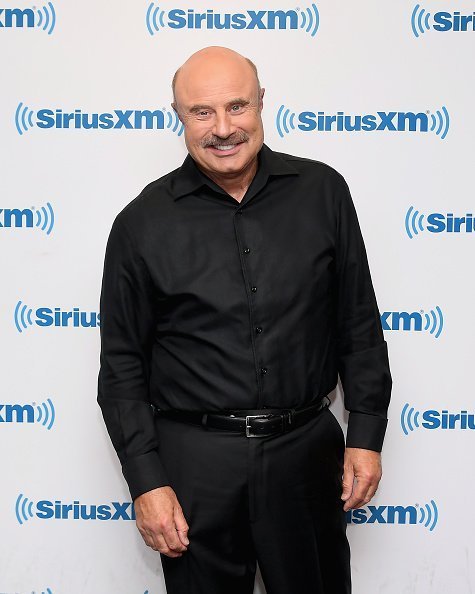 Dr. Phil McGraw at SiriusXM Studios on April 24, 2019. | Source: Getty Images
Dr. Phil's First Marriage to a High School Sweetheart
Phillip and Debbie Higgins fell in love while in high school, and their romance continued even after they had graduated. The actor continued to woo Debbie and even gave her a promise ring.
Debbie moved to Springfield to study social work at Southwest Missouri State, while Phillip was given a football scholarship at the University of Tulsa, Oklahoma.
The pair started making trips between Springfield and Tulsa to keep their romance alive. After two semesters, Debbie had to drop out because she ran out of money.
She moved back home to Kansas and enrolled in a Junior college and Hairdressing school. However, Phillip was not pleased with the arrangement, so he asked her to move to Lubbock, working at a health club.
Finally, Debbie conceded, and on May 11, 1970, the same day a tornado struck the town and killed 26 people, she joined him in Lubbock.
Six months later, the lovebirds tied the knot at Southbridge Presbyterian Church in Roeland Park, Kansas, which was also Higgins' childhood church.
Present at the ceremony was the bride's sister, who was her matron of honor, and one of the groom's sisters who stood as a bridesmaid.
However, the ceremony was far from perfect because the napkins for the wedding wrongly printed "Debbie and Ed." Afterward, the new Mr. and Mrs. McGraw had their honeymoon in Vail, Colorado, before returning to Lubbock.
The bride's mother was then concerned that her youngest daughter had moved so far away, so after two years of marriage, the couple moved to Kansas, and there Phillip opened the Gracian Health Spa in Topeka.
Not long after, things between the couple started going badly. Phillip was romantic and attentive during courtship, but his behavior changed after marriage.
He was not as affectionate and passionate as before and rarely told his wife he loved her. Finally, Phillip became so controlling he denied his wife access to the business and forbade her from visiting the spa.
The couple is worth a combined $460 million after Phillip's rise to fame as a TV personality and author.
Phillip expected his wife to look a certain way to please him, so he even had her lift weights to improve her chest size. Debbie shared her marital problems with her mother and brother, who explained:
"Debbie was supposed to be this dutiful wife who just sits around and waits for him to come home, the typical '50s wife, kind of 'Leave It to Beaver.'"
Afterward, he started freezing her out emotionally and verbally. Phillip stopped talking to her when he came home from work and even once told her she did not have the mental capacity to have a conversation with him.
Once they went on a family trip from Topeka to Wichita Falls, and throughout the trip, the couple did not say a word to each other. According to Debbie:
"That's how a bad marriage goes bad. 'They beat you down, beat you down. And you start to question yourself.'"
Phillip also started cheating on Debbie. She was told about his adulterous behavior by friends and neighbors who revealed he brought women home when she was not around. Debbie subsequently confronted him, and she explained:
"When I confronted him about his infidelities, he didn't deny these girls and told me that it had nothing to do with his feelings toward me, to grow up, that's the way it was in the world."
Phillip's lack of remorse for cheating on his wife proved to be the breaking point in their fragile marriage and the pair divorced shortly after.
The news of their divorce did not surprise most people, especially the couple's friend who described Higgins as being rough-edged, unpolished, and not the kind of girl someone as driven as Phillip should have married.
Some people believed she was a stereotypical bubblehead cheerleader who got outgrown by her husband and were expectant of that to happen.
Their divorce was finalized in December 1973, and neither of them saw each other until their 30 years high school reunion in Kansas, where Debbie, who was now Debbie McCall, said hi to Phillip and his new wife.
Dr. Phil Found Real Life with Robin McGraw
Shortly after his divorce from Debbie, Phillip met Robin, and the two instantly connected. According to Robin, she knew Phillip was the one from the moment they sat down on a date together.
In August 1996, a couple of years after they met, the lovebirds exchanged marital vows and just three years later welcomed their first child, son Jay McGraw on September 12, 1979. Their second son, Jordan McGraw, was born on October 21, 1986.
In a post on her Instagram, Robin explained that the pair met as young, poor college students who had to work two jobs each to pay for their wedding ceremony. She even had to put her $99 wedding dress on Layaway. Robin, who is also now a successful author herself, said:
"We didn't have much back then, but we had the promise that we would love, cherish and respect each other for the rest of our lives."
Nowadays, the couple is worth a combined $460 million after Phillip's rise to fame as a TV personality and author. Robin declared that being very open about their relationship has kept the duo stronger over the years. The mother of two disclosed:
"We talked about our needs, and I told him that I couldn't be married in a home with conflict. I told him I don't live in a fairy tale, but I needed to be treated with dignity and respect."
She explained juggling their careers and responsibilities as parents and lovers have not been easy, but they have been able to scale through because the pair enjoy being together. Robin declared:
"A lot of people say it is 50/50 but we both think it's 100/100. So, we both focus on the marriage – and we did our homework before we got married. We learned each other's needs, and we focus on that to this day."
The pair have been together for more than 46 years now, and it seems their relationship is still waxing stronger with no signs of relenting.
Please fill in your e-mail so we can share with you our top stories!