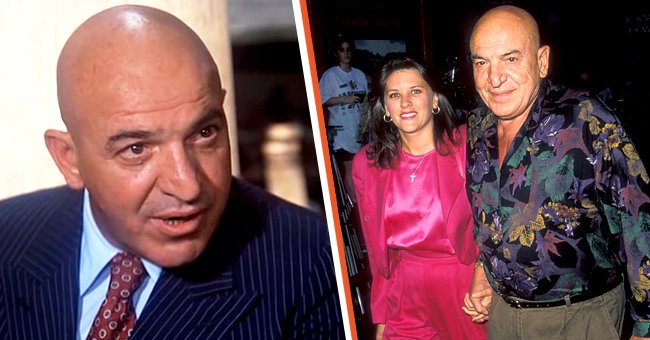 Getty Images, Youtube.com/SV77
'Kojak' Star Telly Savalas Was Tamed by 3-Decades-Younger Travel Agent Who Was Instantly Attracted to Him
Telly Savalas came from a Greek family and started his acting career totally without professional training. He shaved his head, and that changed his destiny.
Also, a singer, the actor, who had a longtime relationship with a British actress, was married three times and was the father of six children.
However, things took a different turn after his last marriage before he died in 1994. Here's a look at the life of Telly Savalas and the women that were in the actor's life.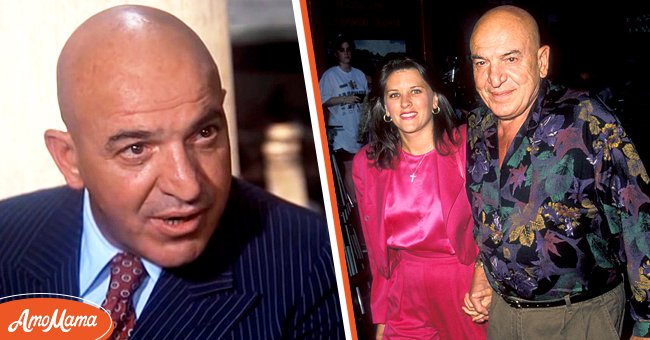 Telly Savalas in an episode of "Kojak" [left], Telly Savalas and Julie Savalas at the "Air America" Hollywood Premiere on August 9, 1990 [right] | Photo: Getty Images, Youtube.com/SV77
The life of Telly Savalas looks like it was a movie script. He had a tumultuous youth with a Greek immigrant father who made and squandered fortunes.
The "Kojak" star served for three years in the army during World War II before they honorably discharged him as disabled. He later got a B.A. and went on to graduate school in psychology.
After answering a TV casting call, Savalas, best known for playing Lt. Theo Kojak on the CBS series "Kojak," became an actor by chance as he didn't have professional training.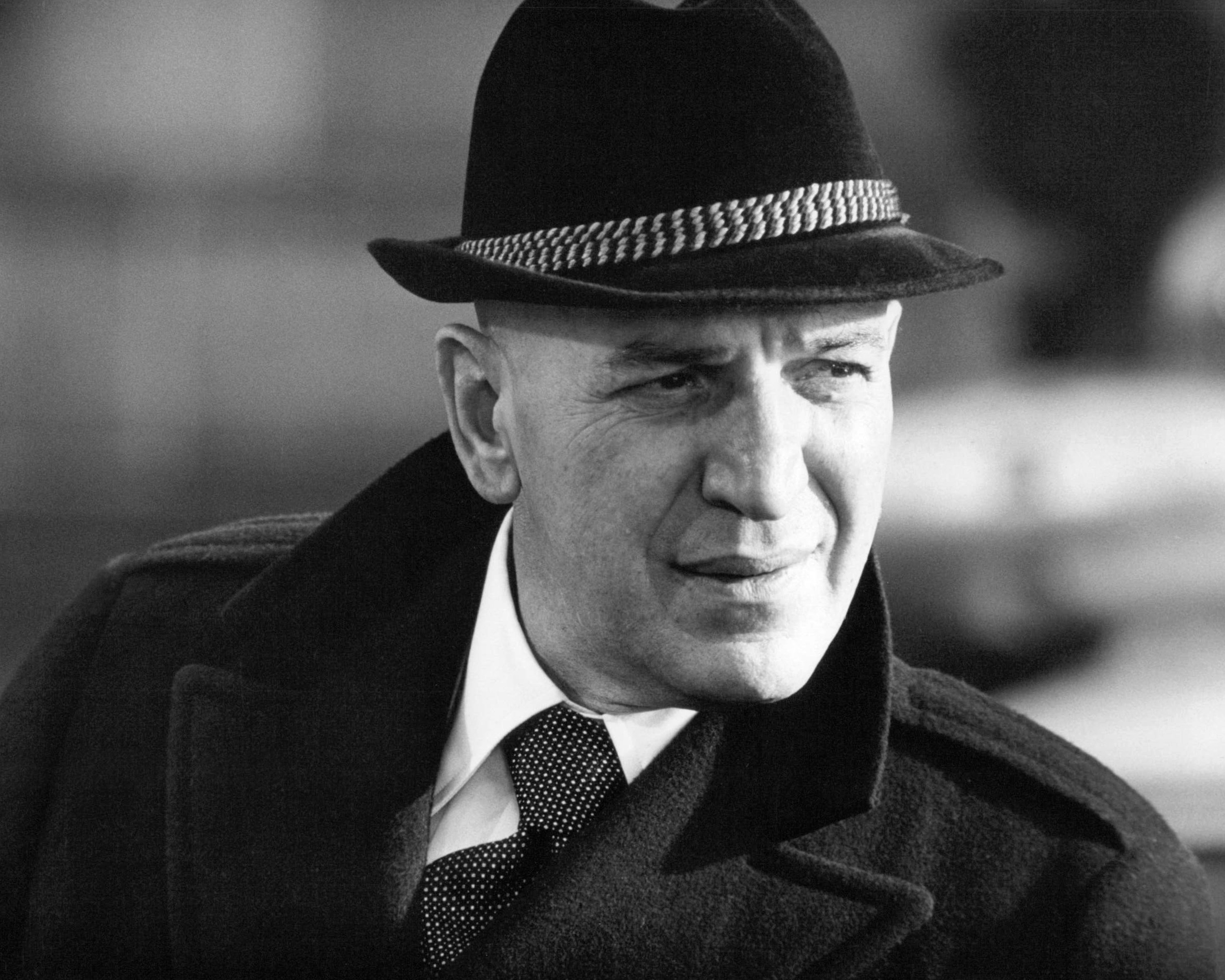 Telly Savalas as Detective Lieutenant Theo Kojak in "Kojak," circa 1975 | Photo: Getty Images
The actor's destiny changed when director George Stevens ordered him to shave his head for "The Greatest Story Ever Told." He said,
"Once I became bald, women seemed to find me more attractive."
Savalas has appeared in "Birdman of Alcatraz," "Battle of the Bulge," "The Dirty Dozen," "Kelly's Heroes," "Horror Express," "Lisa and the Devil," and "Escape to Athena."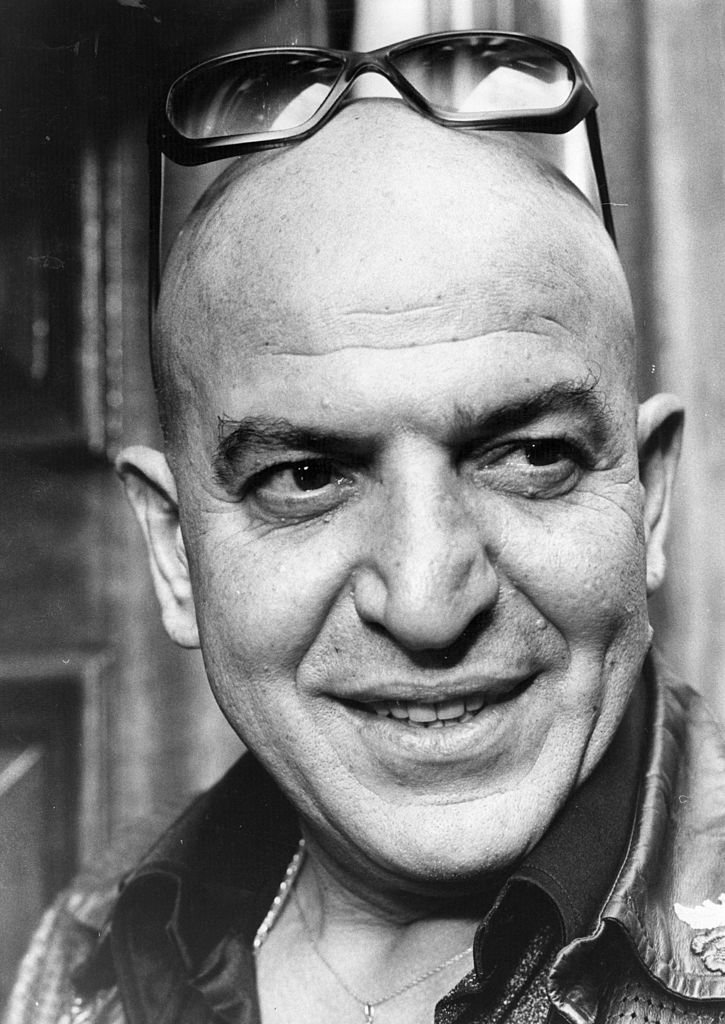 Telly Savalas famous for his role as Kojak in the television police drama of the same name | Photo: Getty Images
TELLY SAVALAS'S TWO MARRIAGES AND LONGTIME ACTRESS GIRLFRIEND
Savalas got married for the first time in 1948 when he was 26. He was married to Katherine Nicolaides for nine years before they divorced. They had a daughter Christina who was born in 1950.
While working at the Garden City Theatre Center, he met and fell in love with Marilyn Gardner, who became his second wife on July 21, 1960.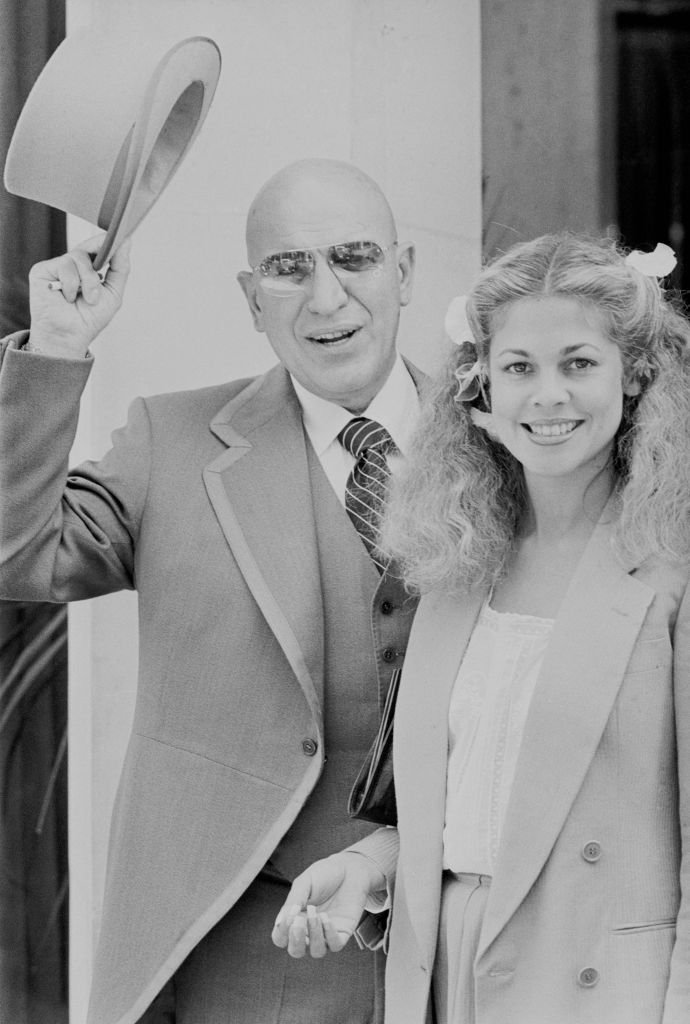 Telly Savalas with girlfriend Sally Adams on June 20, 1977 | Photo: Getty Images
The couple, who were married for 14 years, had two daughters together, Penelope and Candace. When they were married, they lived in London, but Savalas was a restless expatriate, making films on Europe's spaghetti-western circuit.
Savalas was offered the lead in the 1973 movie "The Marcus-Nelson Murders." He said he accepted the role without knowing the consequences.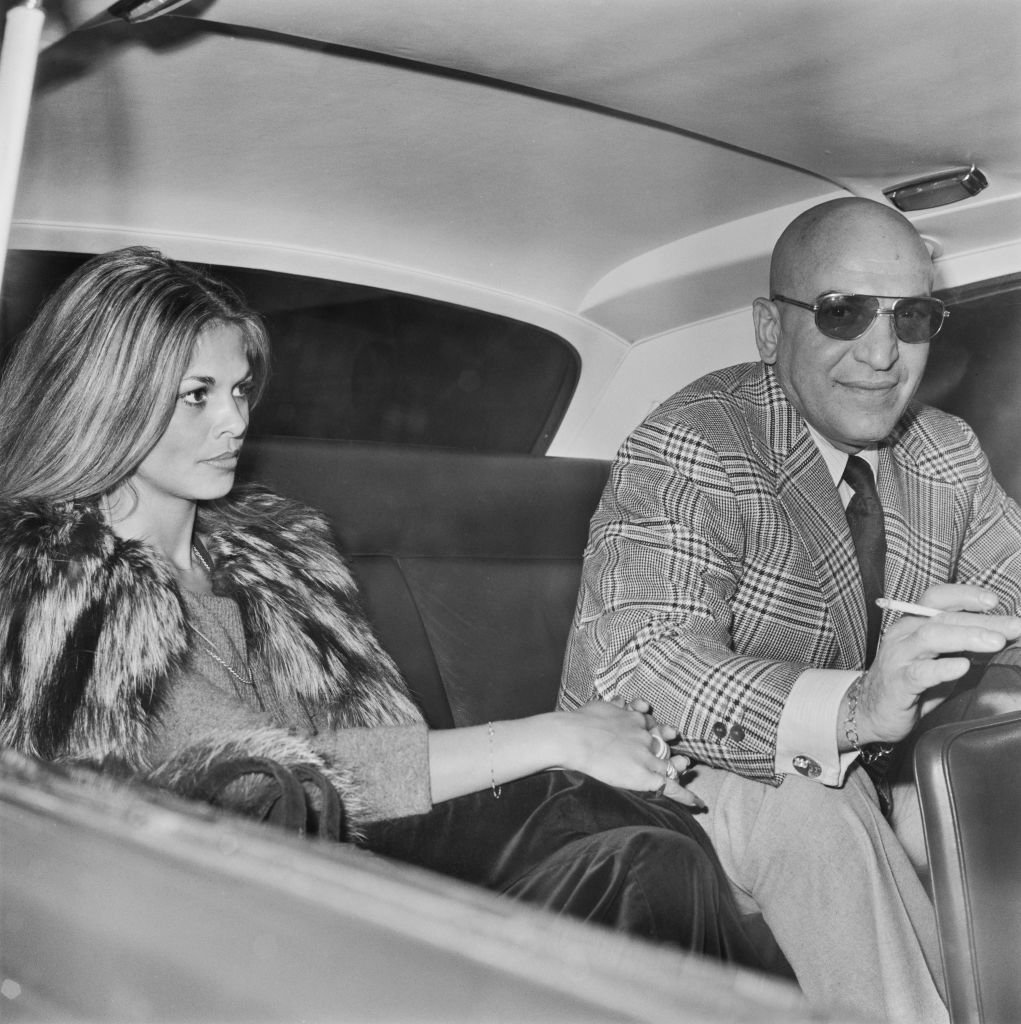 Telly Savalas with girlfriend Sally Adams on September 25, 1974 | Photo: Getty Images
He said he wasn't emotionally ready for a series and would never have agreed to do the movie if they had told him about the "Kojak" series. He liked to move around and saw himself starring in the film as an accident.
In 1969, while filming "On Her Majesty's Secret Service," he met the British actress Sally Adams and they lived together from 1969 to 1978.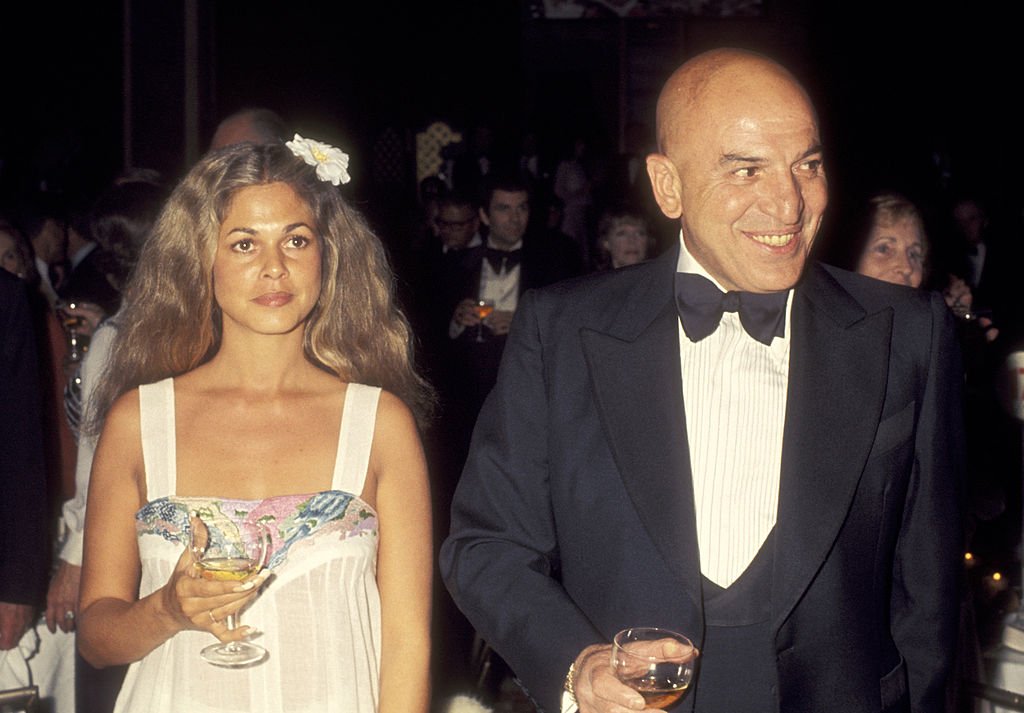 Telly Savalas with Sally Adams at The White Cliff of Dover Appeal Dinner on May 6, 1977, in Beverly Hills | Photo: Getty Images
They never got married but had one son. In 1980, Adams filed a five million dollars palimony suit against Savalas and eventually settled for a reported one million dollars.
Savalas described himself as the "total slave" of women, but not every woman was impressed by his devotions. One of those women was his co-star, Lynda Day George, in "She Cried Murder."
After their 1973 movie, she said, "when he finally finds it isn't necessary to conquer every woman he meets, he'll begin to enjoy life."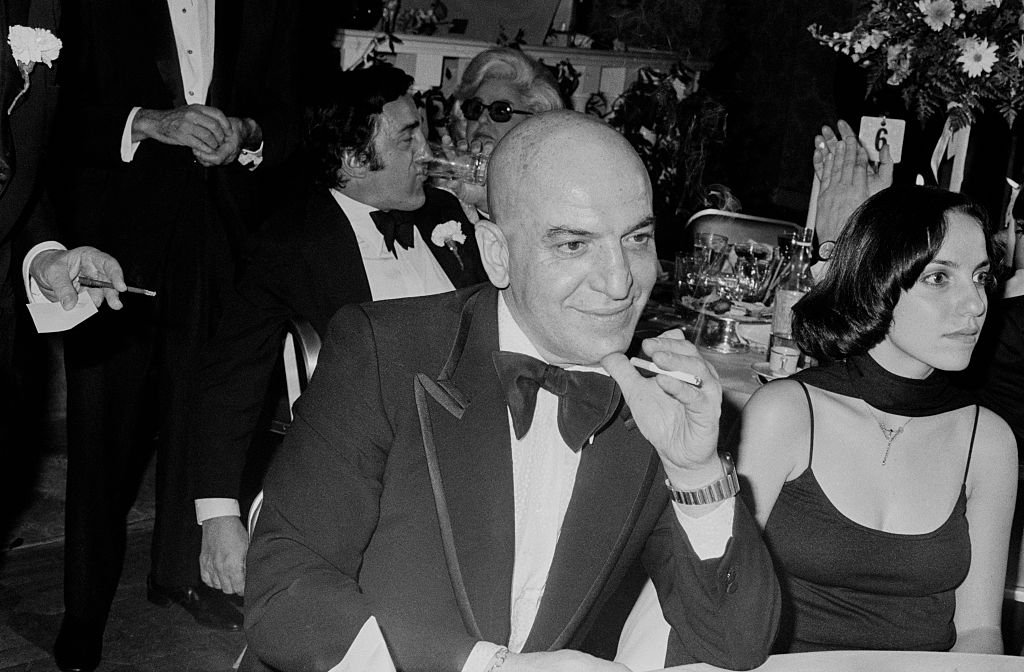 Telly Savalas with his girlfriend at a formal dinner; circa 1960 in New York | Photo: Getty Images
THE WOMAN WHO TAMED SAVALAS
With the success of "Kojak," Savalas became an unlikely sex symbol and had a reputation as more of a tomcat despite his look. With an array of women by his side, he described himself as,
"Romeo inside a gorilla exterior."
However, things changed when he met his third wife, Julie Hovland, a former travel agent 33 years his junior. She was said to have tamed him.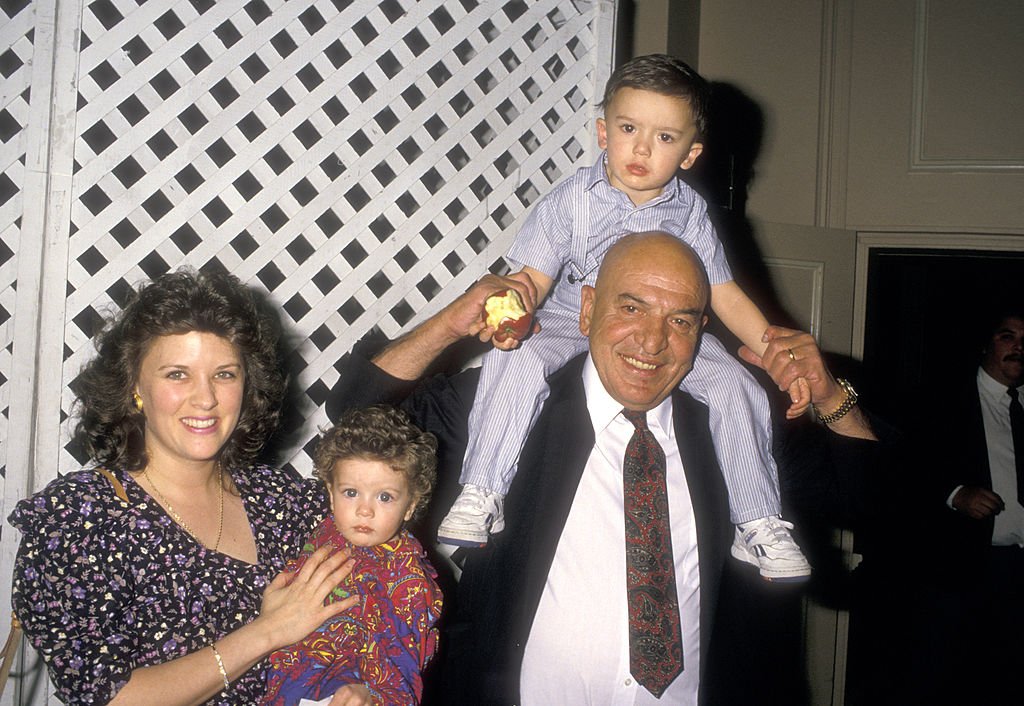 Telly Savalas, Julie Savalas, son Christian and daughter Ariana at the Young Musicians Foundation's Seventh Annual Celebrity Mother/Daughter Fashion Show on March 24, 1988, in Beverly Hills | Photo: Getty Images
Savalas and Hovland met one evening when he was hanging out in the bar at Sheraton Universal Hotel, where he has lived. Once he spotted her, he sent his older brother, Gus, to meet her with a message.
His brother went over to her to ask if she would like to drink with Savalas. Hovland recalled, "I thought, 'Who is Telly Savalas?' But when I saw him, I recognized him immediately."
Even though he was older than her by over three decades, she was instantly attracted because he had such charisma and an aura of power about him, and Savalas was also captivated by her.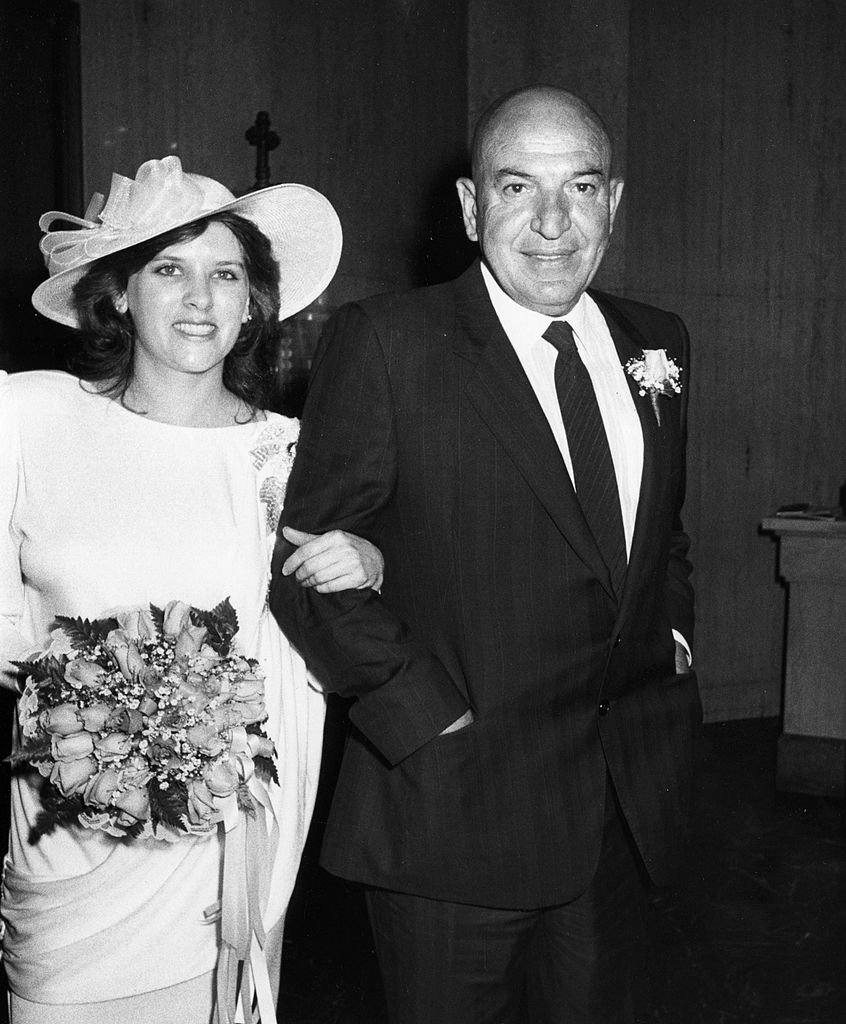 Telly Savalas and Julie Savalas on their wedding day on March 8, 1986, at St. Sophia Church in Los Angeles | Photo: Getty Images
They got married in 1984, and Savalas described her saying, "My glue is you, baby, and I'm not a poet." The couple had two children, Christian and Ariana, and every day, he made sure to bring a surprise home for them.
He taught his son to fly a kite, and while his wife was strict with their kids, he was more lenient. He never worried about spoiling them because he loved just looking at them and wanted to live long enough to raise them.
Although he loved his fame, Savalas preferred to spend time with his family. He was close to his siblings and got his younger brother George a role as the bumbling Detective Stavros on "Kojak."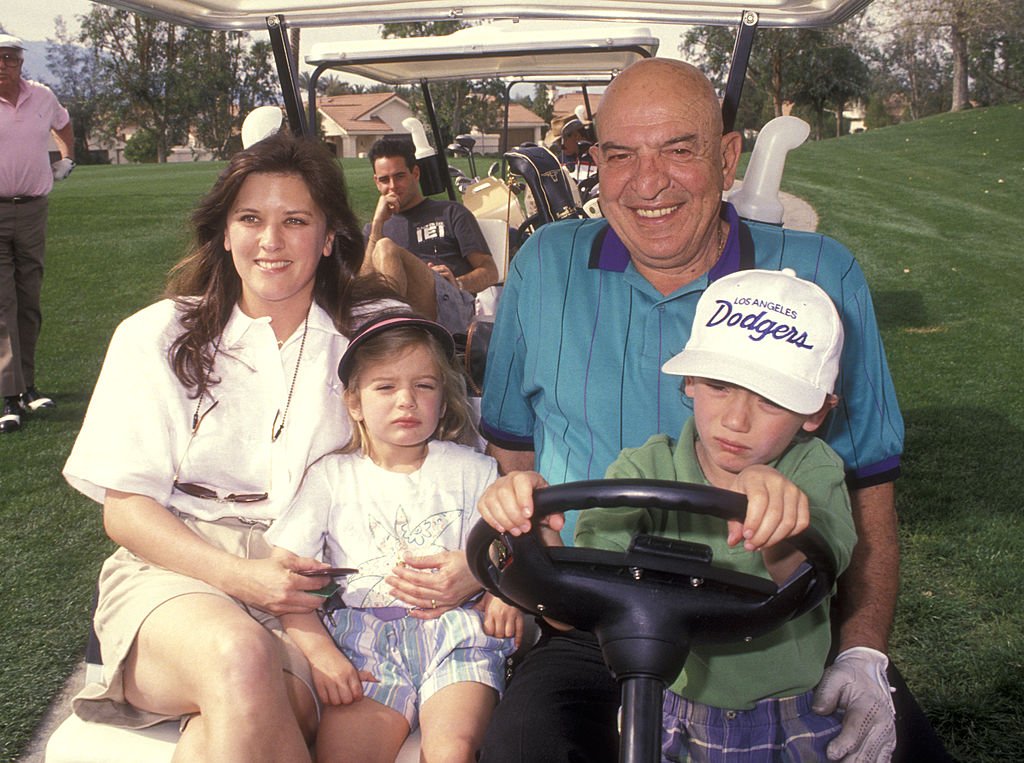 Telly Savalas and Julie Savalas, son Christian and daughter Ariana at the Fourth Annual Frank Sinatra Celebrity Invitational Golf Tournament on February 29, 1992, in California | Photo: Getty Images
Despite having six kids from four different women, everyone got along. His youngest daughter, Ariana, said,
"It's hard for people to understand, but there are no real divorces in Greek families. We all got together at Christmas."
In 1989, Savalas was diagnosed with urologic cancer. By the time they diagnosed him, cancer had spread to the underlying muscle layers of the bladder wall.
Telly Savalas as Detective Lieutenant Theo Kojak in "Kojak," circa 1975 | Photo: Getty Images
After his diagnosis, he opted for cystoscopy followed by radiation. For a few years, he seemed stable as he had cystoscopies almost every three to four months to check for new growths.
By December 1993, cancer had spread to his bones and other organs. The spread of cancer made him very sick for about six weeks, and by this time, the paparazzi heard that he wasn't doing well and swarmed around the hotel.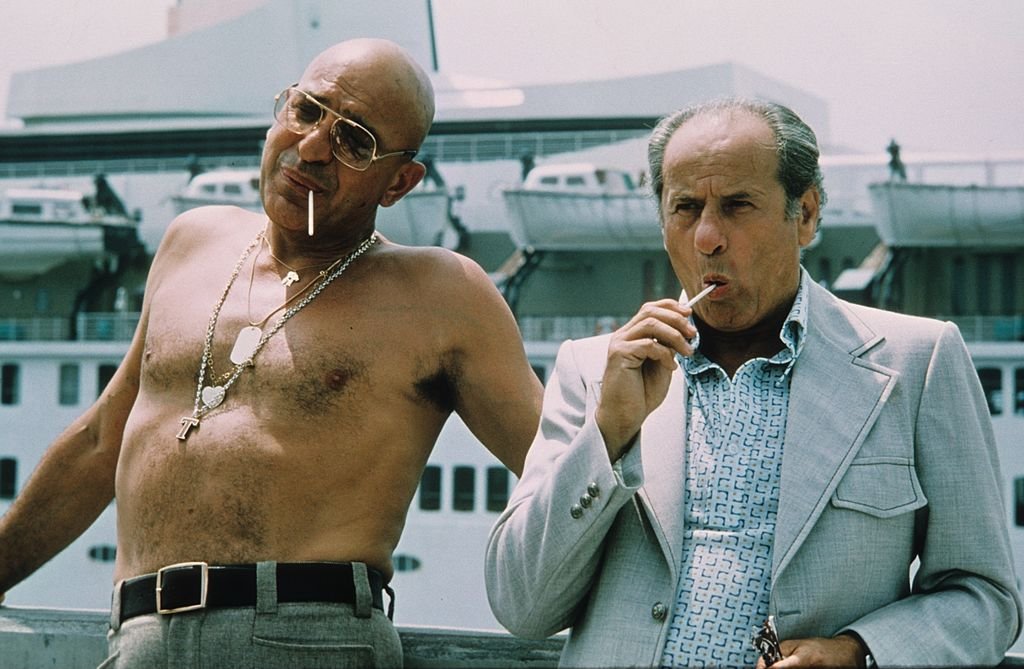 Telly Savalas during the filming of "Kojak" in Los Angeles, circa 1975 | Photo: Getty Images
In 1994, a day after his 72nd birthday, Savalas lost his life from prostate and bladder cancer complications. He passed away in his sleep and died five days after the Northridge earthquake.
The earthquake was one of the strongest to hit California, but the hotel structure had survived, and Savalas died in peace. Also, the quake had caused the paparazzi to scurry away.
Please fill in your e-mail so we can share with you our top stories!