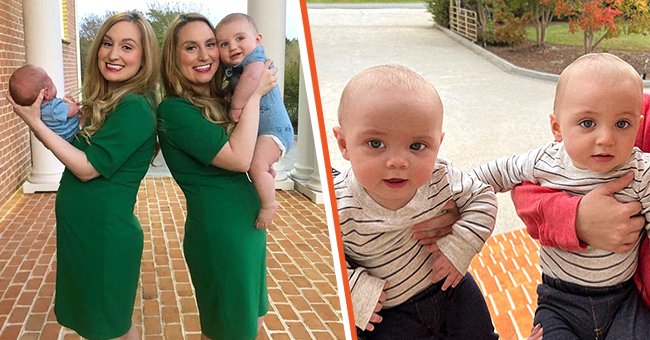 instagram.com/salyerstwins
Twin Sisters Married on the Same Day Give Birth to Genetiс Siblings Three Months Apart
Last year, twin couples went viral after welcoming their sons and genetic siblings three months apart. Here's the whole story that left many netizens in bewilderment.
In 2021, identical twin sisters Brittany and Briana Deane, who met and married identical twin brothers, Josh and Jeremy Saylers, welcomed their babies within months of one another.
The sisters attended a festival dedicated to twins when they met their husbands in 2017. During an interview, one of the twins opened up about their first impression of Josh and Jeremy.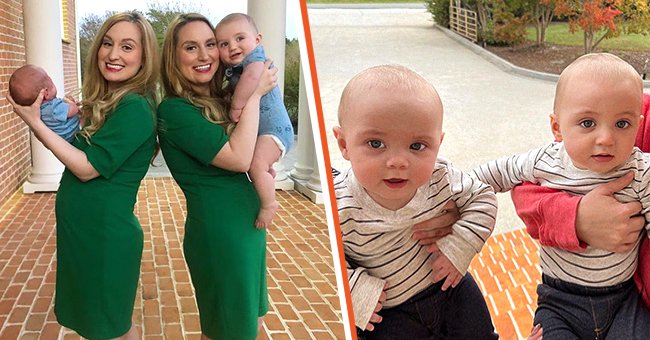 Brittany and Briana Deane holding their sons, Jett and Jax while smiling [left] Genetic siblings and quaternary multiples, Jett and Jax looking all cute in their mother's arms. [right]. Photo: instagram.com/salyerstwins
HEARTWARMING TWIN LOVE STORY
When she and her twin first spotted their husbands, the woman admitted that they thought the men were the most handsome guys they had seen. But, on the other hand, Josh and Jeremy had made a pact to fall in love and marry a set of twins.
So when they saw Brittany and Briana, kicking off a relationship was not a difficult task. After dating for just six months, the brothers proposed at the same time with identical diamond-coated rings made by Jerrick's Fine Jewelry.
The loved-up couples finally walked down the aisle in a joint wedding in August 2018. They exchanged vows in Twinsburg, Ohio, looking delectable in identical outfits, in front of 15 other sets of twins. Six months later, the memorable occasion aired on TLC.
THE SISTERS' PREGNANCY/BABIES' BIRTH
After their marriage made the headlines, the foursome broke the internet in August 2020 when they took to their joint Instagram account with a Baywatch-themed photoshoot to announce that the twin sisters were pregnant.
Both couples explained that they were thrilled to experience overlapping pregnancies. In addition, they were excited that their kids would be cousins and genetic siblings, and quaternary multiples.
On January 21, 2021, Brittany and Josh welcomed their son, Jett, with the parents expressing their joy via social media. Three months later, Briana and Jeremy announced the birth of their son, Jax, with a lovely picture of the infant on Instagram.
In the caption, the happy dad revealed that he was proud of his wife's strength, adding that he was grateful Jett and Jax would grow up together.
Indeed, the parents were determined to raise their kids together, as the two families of three lived under one roof. During an interview with Entertainment Tonight, Jeremy revealed that even though Jett was his nephew, he felt like his father.
Furthermore, he explained that staying together and raising the genetic siblings under the same roof made it feel like one family unit. Even though they struggled with privacy, the parents were convinced that living together would strengthen the bond between families.
Josh and Jeremy felt lucky and happy they each married the right woman with the way their families looked. Brittany and Briana also felt blessed to marry men that loved them. Also, they were lucky to have a set of twins who did not mind dressing identically.
The couples are often spotted in snapshots, donning similar outfits. Social media users are optimistic that the twins' marriages would last a lifetime.
Please fill in your e-mail so we can share with you our top stories!