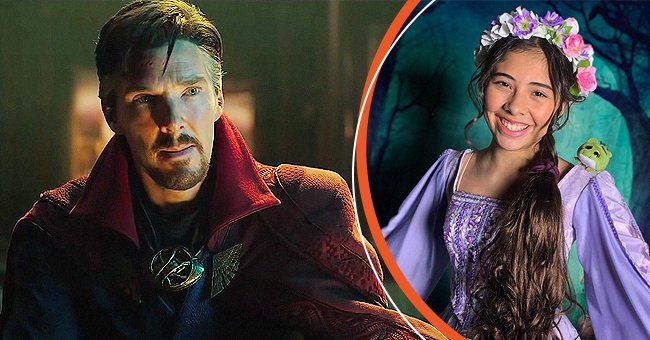 youtube.com/KinoCheck.com | instagram.com/_xochitl.gomez
Who Is Xochitl Gomez? Meet the Actress Who Will Play America Chavez in 'Doctor Strange 2'
Xochitl Gomez is a young actress audiences need to keep their eye on as she just landed a part in the Marvel Cinematic Universe and is bound to do amazing things in her career.
Xochitl Gomez will appear in her first Marvel film as America Chavez in "Doctor Strange and the Multiverse of Madness," alongside Benedict Cumberbatch, when it releases in May 2022.
Although Gomez is only 16 years old, she is making an impressive name for herself in the entertainment industry for her credits in Netflix's "The Babysitter's Club," "Roped, " "Shadow Wolves," and "Gentefied."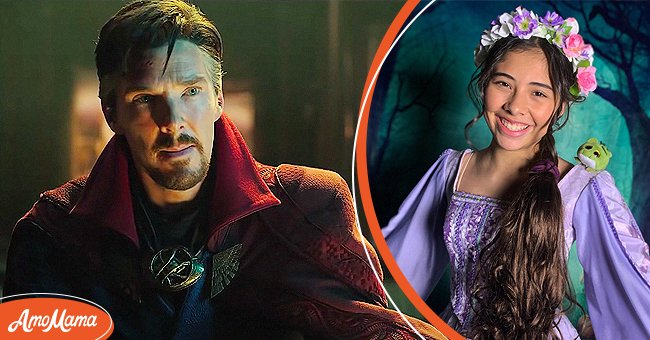 Benedict Cumberbatch as Doctor Strange in "Doctor Strange 2: In The Multiverse of Madness" trailer 2022 [Left] Xochitl Gomez dressed as Rapunzel on her Instagram, 2021 [Right] | Photo: YouTube/KinoCheck.com & Instagram/_xochitl.gomez
The actress already has a few fantastic achievements under her belt, including being named on the Forbes 30 under 30
for 2022 and nominated for Best
for her role in "Shadow Wolves" for the Young Artists Awards.
Gomez gained a lot of her popularity with her role as Dawn Schafer in Netflix's "The Babysitter's Club," based on the books by Ann M. Martin. The young actress told HollywoodLife what drew her to Dawn:
"She's very confident and I'm confident, so that's probably one of the things that stood out the most. She has a way of keeping people together, especially when things start to crumble."
Although Gomez loved bringing the beloved book character to life alongside her costars, Sophie Grace, Shay Rudolph, Momona Tamada, and Malia Baker, she had to leave the series to portray America Chavez in the new "Doctor Strange" film.
While speaking to Entertainment Tonight, Gomez acknowledged she could not do both roles because of COVID-19, so she could not move to and from the different venues.
Although she was sad not to be involved in season 2, she remarked Kyndra Sanchez, who is taking over the role as Dawn, will do a fantastic job, and the two have become friends.
Of course, Gomez is moving on to bigger things. She explained that she was excited and honored to portray the Latinx queer superhero. She added:
"That, not only a Latina, but just a girl, a young girl, a superhero, and it means so much. I'm just so happy I get to be the one that plays that character."
Besides being honored to play the groundbreaking character, Gomez admitted she was overwhelmed and shocked when she found out she got the part. She even admitted she felt so emotional she cried a few tears.
The filming of "Doctor Strange and the Multiverse of Madness" wrapped earlier this year, and the teenager celebrated by posting a TikTok video of herself dancing behind the scenes.
America Chaves or Miss America will join WandaVision (Elizabeth Olsen) and others to help Doctor Strange (Cumberbatch) confront a multiverse that is now in pieces.
Like the other superhero characters, America has a few superpowers, including superhuman speed, strength, durability, the ability to fly, and teleport. She can also punch star-shaped portholes through dimensions, which will come in handy when saving Earth.
Please fill in your e-mail so we can share with you our top stories!