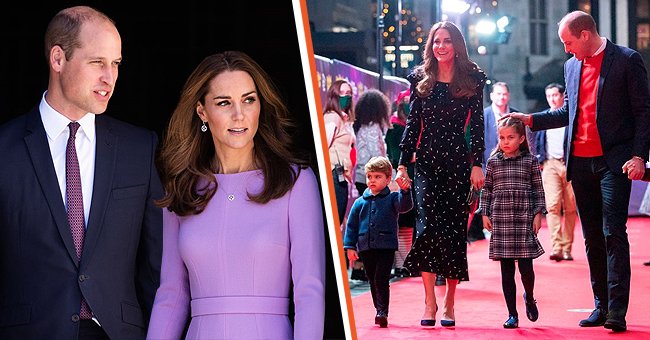 GettyImages
Kate Middleton Is Reportedly 'Stricter' than Prince William & Has Own 'Rules' for Their Kids That 'Work Well'
Prince William and his wife, Kate Middleton, are among the most famous royal couples and have been married for more than a decade. However, the duo has different approaches to raising their kids.
Royal couples often enjoy the spotlight and have a huge fanbase. Like Queen Elizabeth and her late husband, Prince Philip, Prince William and his wife, Kate Middleton, are two of the most popular British couples.
The Duke and Duchess of Cambridge have been together for most of their adult lives and have proven to be inseparable. The couple currently shoulder lots of royal responsibilities but still prioritize their family.
When spotted out together, fans can see the pure bond between William and Middleton. However, the couple reportedly adopts different approaches regarding their parenting style. Here's a look at their love and family.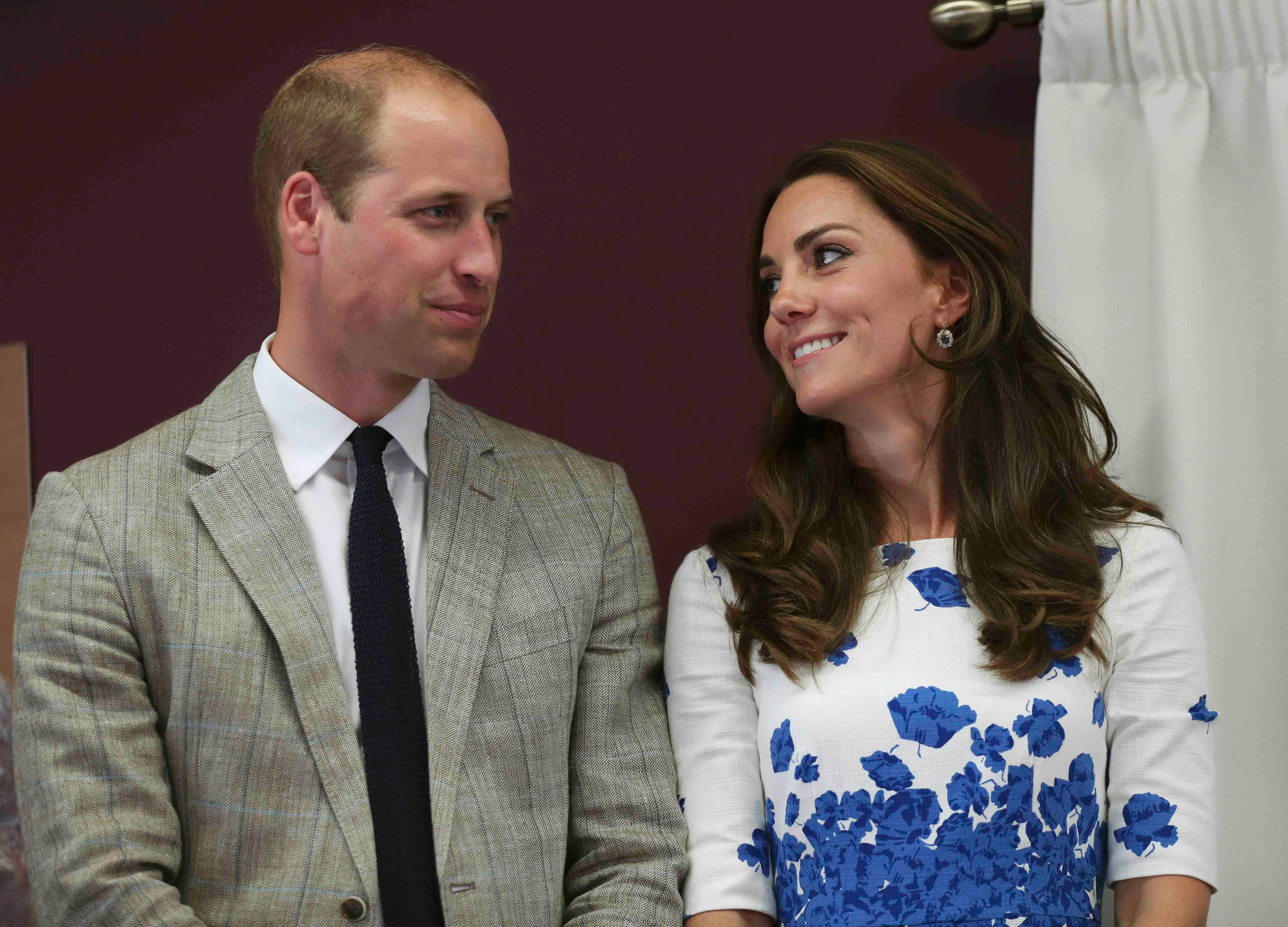 Prince William and Duchess of Kate during their visit to Keech Hospice Care on August 24, 2016, in Luton, England | Photo: Getty Images
William and Middleton's 2011 royal wedding at Westminster Abbey had the world spellbound. The event was one of the most-watched occasions of the year. However, the couple's romantic journey began several years before that.
William met his future wife during their college days at St. Andrews University in Scotland in 2001. They both lived at St Salvator's Hall residence. But, the Duke's arrival was met with much fanfare and media attention. However, Middleton was a relatively unknown figure in their early days in school.
The duo studied art history and often ran into each other in the hallway. Slowly, a friendship began between them. They began to bond over their mutual interests and have breakfast together. In addition, Middleton volunteered her notes to the young prince if he missed any classes.
At first, the couple was mutual friends. They did not explore any romantic interests in their first semester, but William later confessed that he felt something was unique and different about Middleton.
However, sparks began to fly during their second semester after Middleton took part in a charity fashion show in lingerie. The Duchess of Cambridge, often thought to be a shy girl, became the talk of the school. William, who was in the audience, immediately had a change of heart. The young prince was stunned by Middleton's beauty.
The following year, things got more severe after William and Middleton moved into an off-campus apartment. Although a relationship did not start immediately, the Duke of Cambridge was bent on impressing his new heartthrob.
As Wiliam recalled, he tried to score good points by flaunting his cooking skills; sadly, things never went according to plan. Instead, the now-39-year-old ended up with burnt food and soon set things on fire. However, he could often count on Middleton's help if things went sour.
A romance grew between the two over the next few months. They eventually told their roommates the truth. Soon, almost everyone at St. Andrews was aware of their relationship, and stories spread worldwide.
Their relationship soon received widespread media attention. In 2004, a lovely picture of the young couple skiing together in the Swiss Alps became the talk of the world. Middleton was thrown into the spotlight after being spotted with William. But their relationship began to show some cracks after they graduated.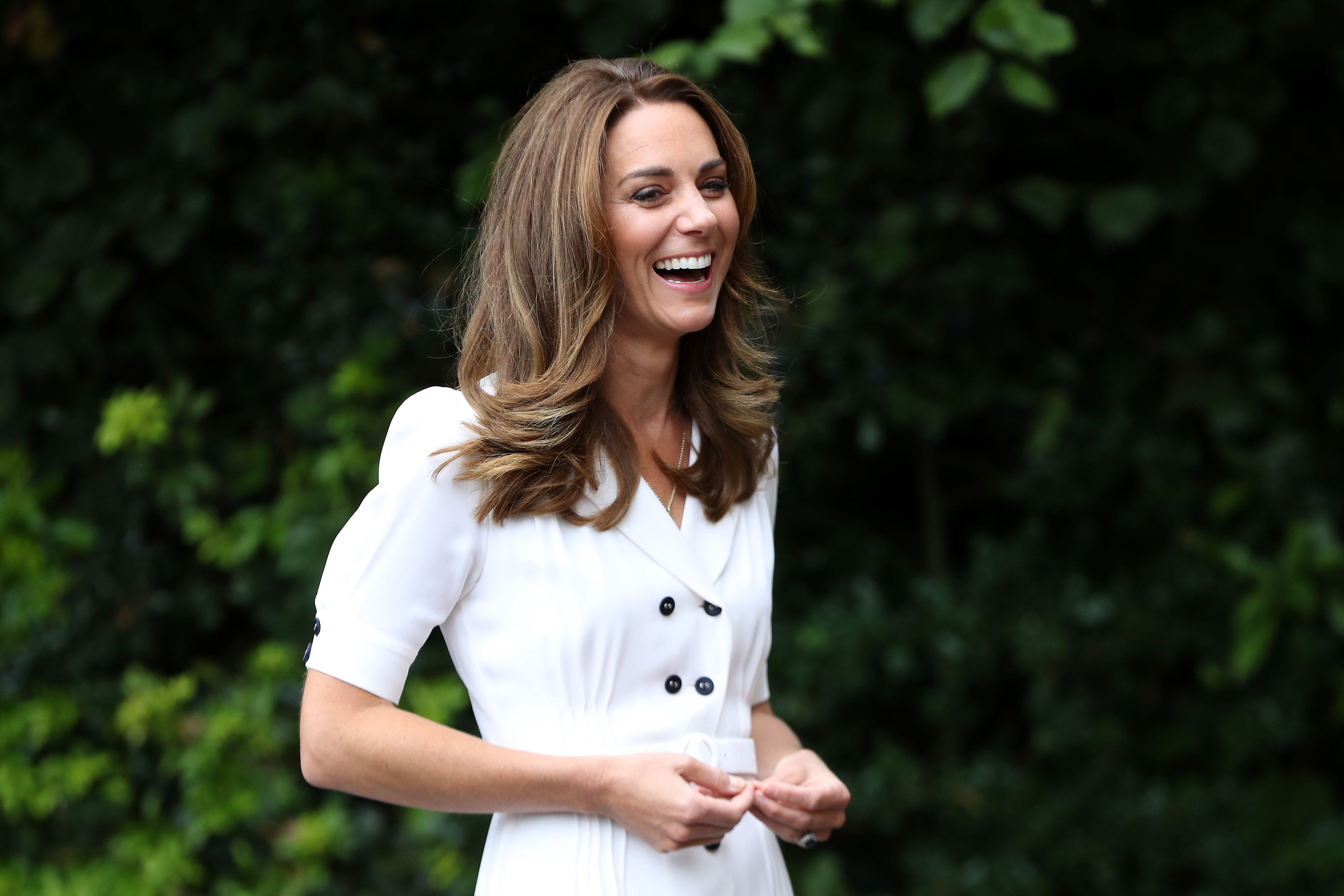 Kate Middleton visits the Baby Basic UK & Baby Basics Sheffield in England on August 4, 2020 | Photo: Getty Images
Their college years were green. However, life after school stalled their young romance, and soon they had to split. Due to their different life choices, the couple had little time to spend together. In addition, William underwent his military service putting a strain on their love.
At the time of their split, the duo was widely expected to be engaged. However, the breakup came as a shock to their fans. Pictures of William partying made the rounds on the internet, and Middleton confessed her disappointment.
The couple had been together for four years and were going through a rough time; still, Middleton hoped for a reconciliation. Instead, shockingly, William ended things via a phone call.
Soon, different accounts of their breakup emerged. Most sources pointed to their lack of time and Middleton's need for a serious commitment. William later sought his father, Prince Charles' counsel, noting he was constantly pressured to propose.
However, the Prince of Wales told William it would be unfair to continue the relationship if he had no plans to marry Middleton. It was a tough decision for the Duke of Cambridge, but ending things was his preferred action.
The breakup was a difficult moment for both parties, but it helped them realize how bonded they were. Recalling the heartbreak, Middleton said,
"At the time, I wasn't very happy about it, but actually, it made me a stronger person."
Months after splitting, rumors of a reconciliation between the couple emerged. Such stories were confirmed after Middleton attended the Concert for Diana at Wembley Stadium, organized by Prince William and Harry to mark the 10th anniversary of Princess Diana's death.
The couple dated for some time before enjoying their next big moment: William's proposal. The royal couple announced their engagement on November 16, 2010. Surprisingly, William proposed to Middleton with Princess Diana's sapphire-and-diamond engagement ring.
William popped the big question during a trip to Kenya. According to him, the proposal did not come as a big surprise since they had already considered getting married. However, it took the pressure off their shoulders.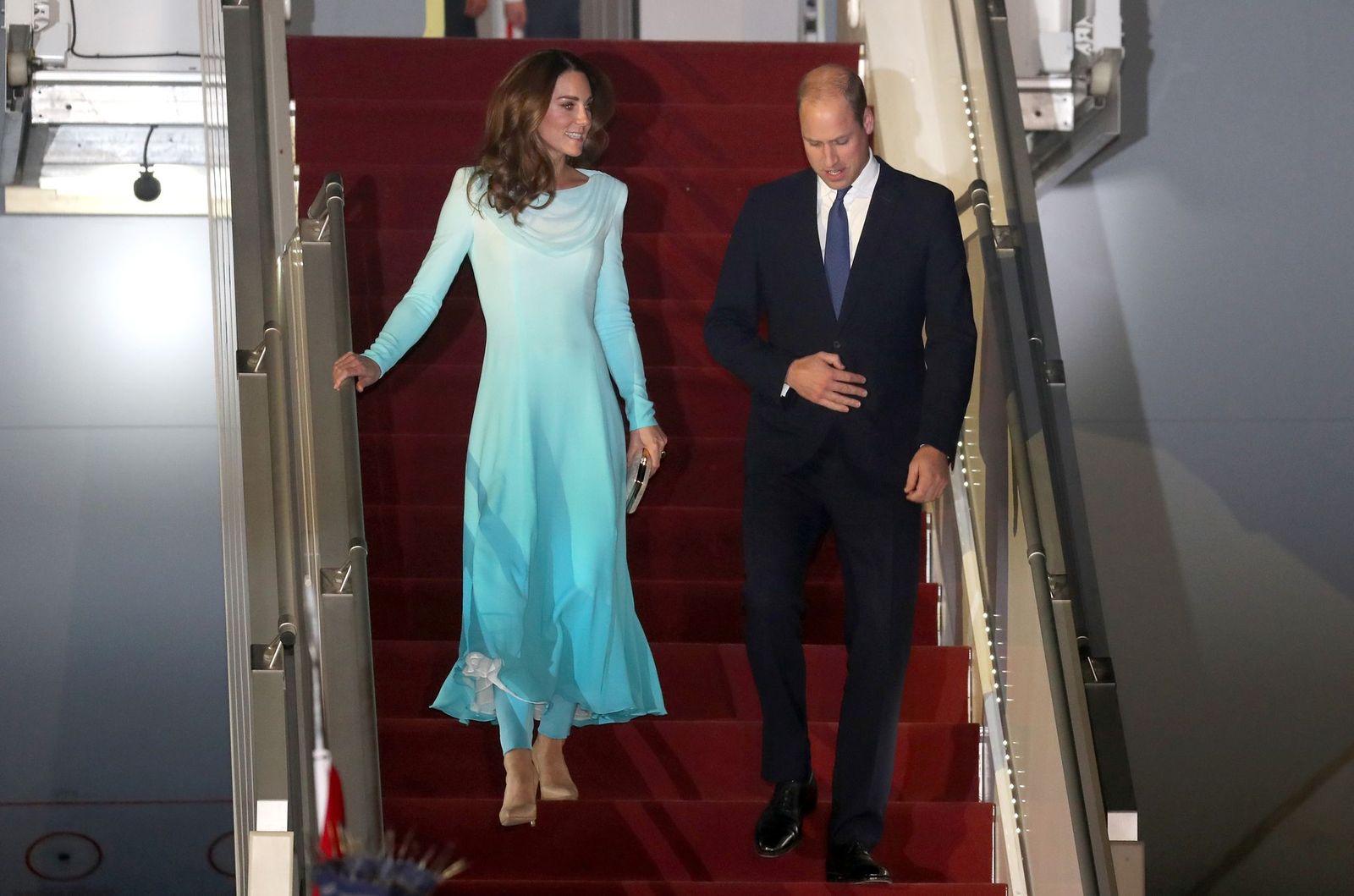 Kate Middleton and Prince William at Kur Khan airbase ahead of their royal tour of Pakistan on October 14, 2019 | Photo: Getty Images
After their engagement, Williams and Middleton had their much anticipated royal wedding on April 29, 2011. Middleton wore a lovely Alexander McQueen lace gown designed by Sarah Burton. Furthermore, the event was well-covered and graced by dignitaries like Sir Elton John, David, and Victoria Beckham.
Shortly after their wedding, the Duke and Duchess of Cambridge embarked on their first royal tour. The couple visited North America in 2011, and Middleton made a stunning impression with her diplomatic sense of fashion.
William and Middleton started a family and share three children; Prince George, Princess Charlotte, and Prince Louis. Despite their intense bond, the couple has different parenting styles.
Close sources revealed that the Duke and Duchess of Cambridge have differing approaches to ensuring their children are not out of line. However, none of these measures involve any harsh steps.
The couple does not approve of shouting at their kids; instead, they outline the consequences of each action to the erring child. However, the private source disclosed that Middleton is stricter than her husband with the kids.
Gemma Berg, a children's expert, told Express, "From what I can gather, Kate and William have a healthy relationship with their children encouraging them to talk about how they are feeling, which as we know is imperative for young minds, getting into the habit of expressing their emotions at an early age to avoid possible mental health issues in the future."
William and Middleton often try to make their kids feel respected, even if they step out of line. The Duke has been spotted squatting to the height of his kids to address any wrongdoing.
The couple tries to bend some traditional royal family rules to suit their modern parenting style. However, ensuring their children learn etiquette and good manners remains their priority.
William reportedly opened up about life as a father. The 39-year-old described it as the most incredible feeling of his life and the scariest. The Duke of Cambridge admitted to struggling with his parental duties due to his father's absence as a child.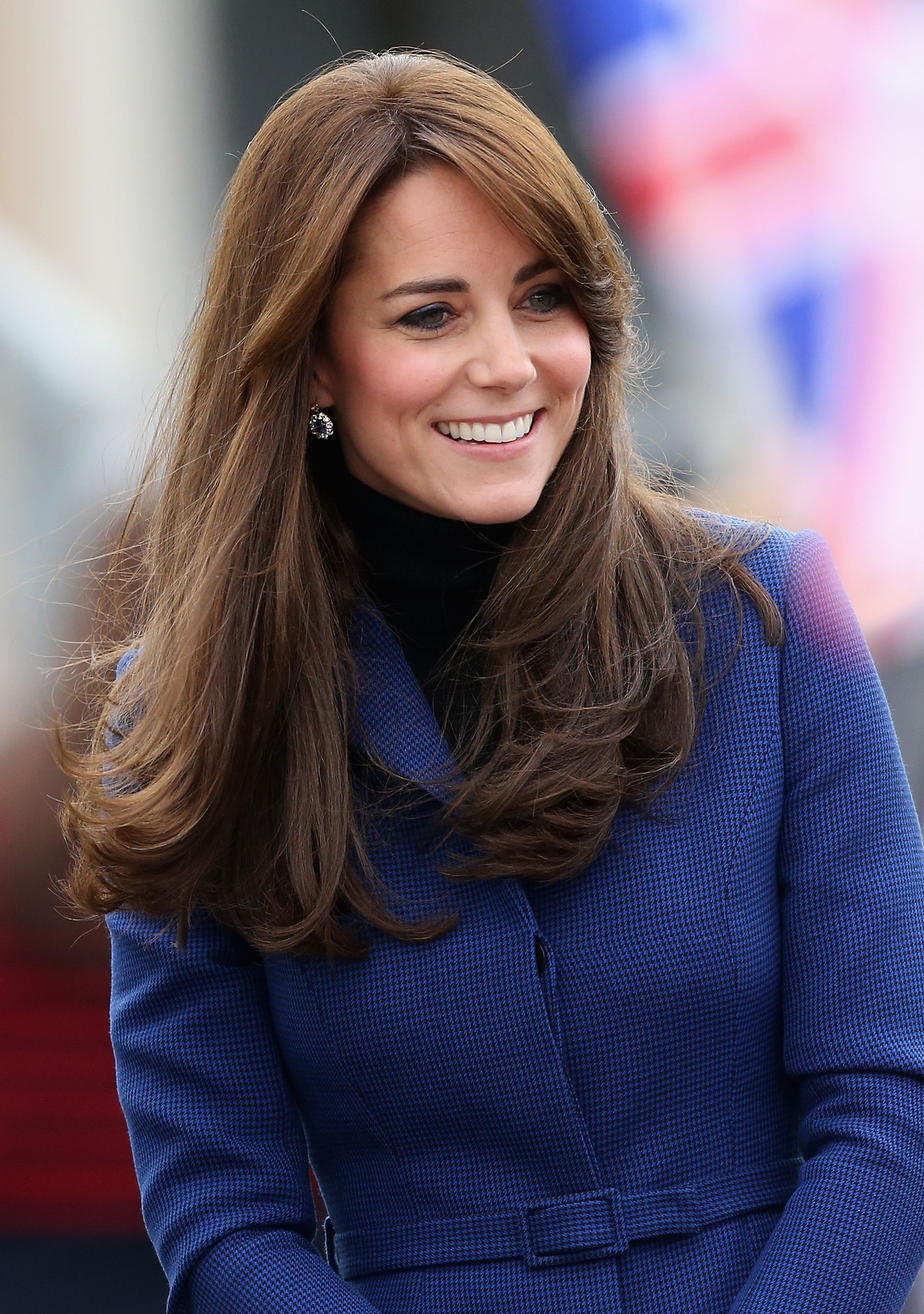 Catherine, Duchess of Cambridge arrives at RSS Discovery as part of an away day to the Scottish City on October 23, 2015 in Dundee, Scotland | Photo: Getty Images
However, parenting sometimes brings back old memories for William. The father of three noted that being a dad reminds him of his childhood days with his late mom, Princess Diana.
In the documentary "Football, Prince William And Our Mental Health," William confessed that fatherhood reopened suppressed emotions after his mom passed away in an accident in 1997. However, the Duke of Cambridge is proud of the job he's done so far with Middleton by his side.
Please fill in your e-mail so we can share with you our top stories!