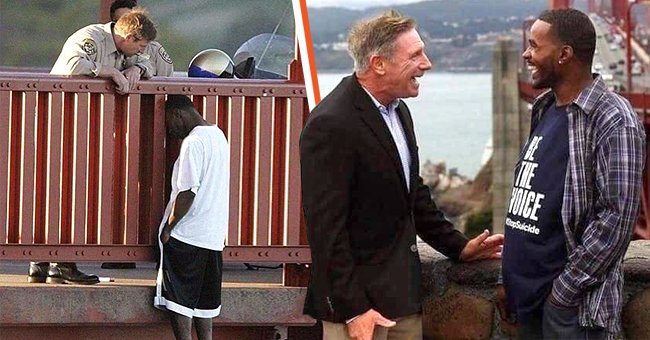 twitter.com/RJSzczerba
Officer Saves Man from Jumping off a Bridge, Meets Him 10 Years Later at the Same Spot
When a father faced a hefty hospital bill after the birth of his baby, he felt hopeless because he could not pay it. He thought about taking his life on the Golden Gate Bridge, but then he heard someone's voice.
Kevin Berthia was in a dark place in his life as he slowly climbed over the Golden Gate Bridge railing. He thought he had no other options and readied himself for the jump, but a voice suddenly grabbed his attention.
It was not a thundering voice from heaven—instead, it was that of Kevin Briggs. Briggs worked as an officer at California Highway Patrol and approached the scene when he saw Berthia's intentions in 2005.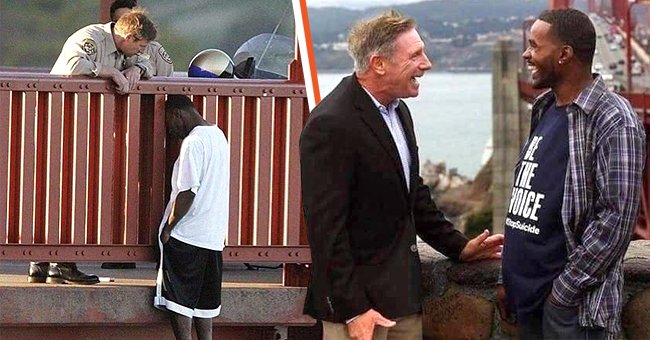 Kevin Berthia holding onto the Golden Gate Bridge as an officer speaks to him [left]; Berthia with Officer Kevin Briggs who convinced him not to jump [right] | Source: twitter.com/RJSzczerba
THEIR UNFORGETTABLE ENCOUNTER
The pair spoke for more than an hour, and Berthia shared things with the officer that no one else knew. He had $250,000 worth of hospital debt and was worried about supporting his family. Despite these concerns, Briggs encouraged him.
After their conversation, the officer was relieved to see the young man reconsider his actions as he climbed back to safety. It was an encounter that neither of them would forget, and ten years later, their paths crossed again.
During a ceremony in honor of life-saving officers, Briggs was reunited with Berthia. The young man called the moment "phenomenal" and shared that he was unsure how he would react upon seeing the officer after so many years.
He explained that his nerves disappeared when he saw Briggs, who felt like an old friend. Berthia shared:
"He walked up to me and I just shook his hand. It felt like I had known this man my whole life."
HE TURNED HIS LIFE AROUND
Berthia had transformed his life and was happily married with two kids. He revealed that his conversation with the officer encouraged him to seek help and follow a road of mental recovery.
People often asked Briggs what he told Berthia during their long chat on the bridge in 2005. He told the young man that things would get better and helped him see that life was worth living.
Their reunion was made possible after Briggs spoke about his encounter with Berthia for a documentary. The officer kept Berthia's identity private but shared a striking photo of their time on the bridge.
Berthia's back was facing the camera, and his head was drooping as he clung to the railing. The officer could be seen as he attempted to console the man. Seeing the duo back at the same spot years later was inspiring.
In 2015 Berthia looked like a new man as he smiled from ear to ear. Briggs was overwhelmed by the attention the story received and stated that it was "very humbling" to read all of the positive feedback.
The pair also met again with their families after the ceremony and made plans to keep in contact. Berthia said: "Now that I have his number, I don't see us not being friends."
Briggs was also emotional during the ceremony and said Berthia was the one who saved his own life. The officer explained: "I said that he did it himself. He had the courage. It's his call. It's his choosing."
Berthia was now a hero, just like Briggs. By having the courage to share his story, he added his voice to suicide prevention and showed many people that life is worth living because situations will improve.
ANOTHER JOURNEY FROM HOPELESSNESS TO JOY
Whether it is financial struggles or feelings of worthlessness, people can become suicidal for many reasons. Gabe Adams-Wheatley's rare condition of Hanhart syndrome caused him to face numerous challenges growing up.
He had no limbs and was abandoned by his birth parents, which left him feeling worthless. In 2014 he attempted to take his own life, but thankfully he failed.
His life changed when he discovered a passion for dancing and gained a devoted life partner. Now, Adams-Wheatley is grateful for life and started sharing videos online after realizing his worth.
He encourages other people and makes a difference, much like Berthia, who uses his story to show people that they can have hope for a better tomorrow.
The National Suicide Prevention Lifeline is 1-800-273-8255. Other international suicide helplines can be found at befrienders.org
Please fill in your e-mail so we can share with you our top stories!
The information in this article is not intended or implied to be a substitute for professional medical advice, diagnosis or treatment. All content, including text, and images contained on news.AmoMama.com, or available through news.AmoMama.com is for general information purposes only. news.AmoMama.com does not take responsibility for any action taken as a result of reading this article. Before undertaking any course of treatment please consult with your healthcare provider.