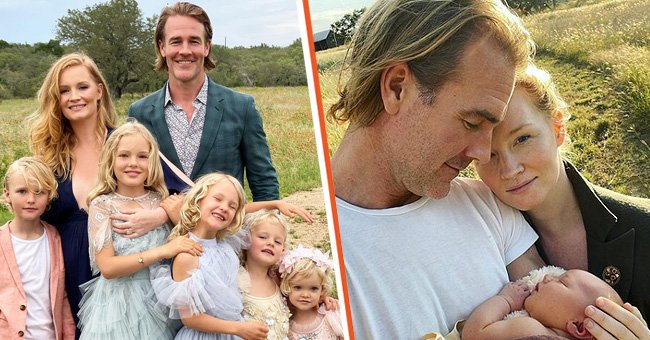 Kimberly and James Van Der Beek with their kids | James and Kimberly Van Der Beek | Source: Instagram/vanderjames
James Van Der Beek Witnessed His Wife's 5 Miscarriages Before Welcoming 6th Child Into the Family
James Van Der Beek and his wife Kimberley have been together for more than ten years. During that time, the couple has dealt with struggles of loss and pain, but they've pushed forward regardless.
James Van Der Beek started dating Kimberly Brook in July 2009. At the time, the former "Dawson's Creek" actor was going through a divorce from his wife of six years, actress Heather McComb.
The two stars finally reached a divorce settlement in March 2010. The following month, April 2010, James announced through Twitter that he would be a father for the first time.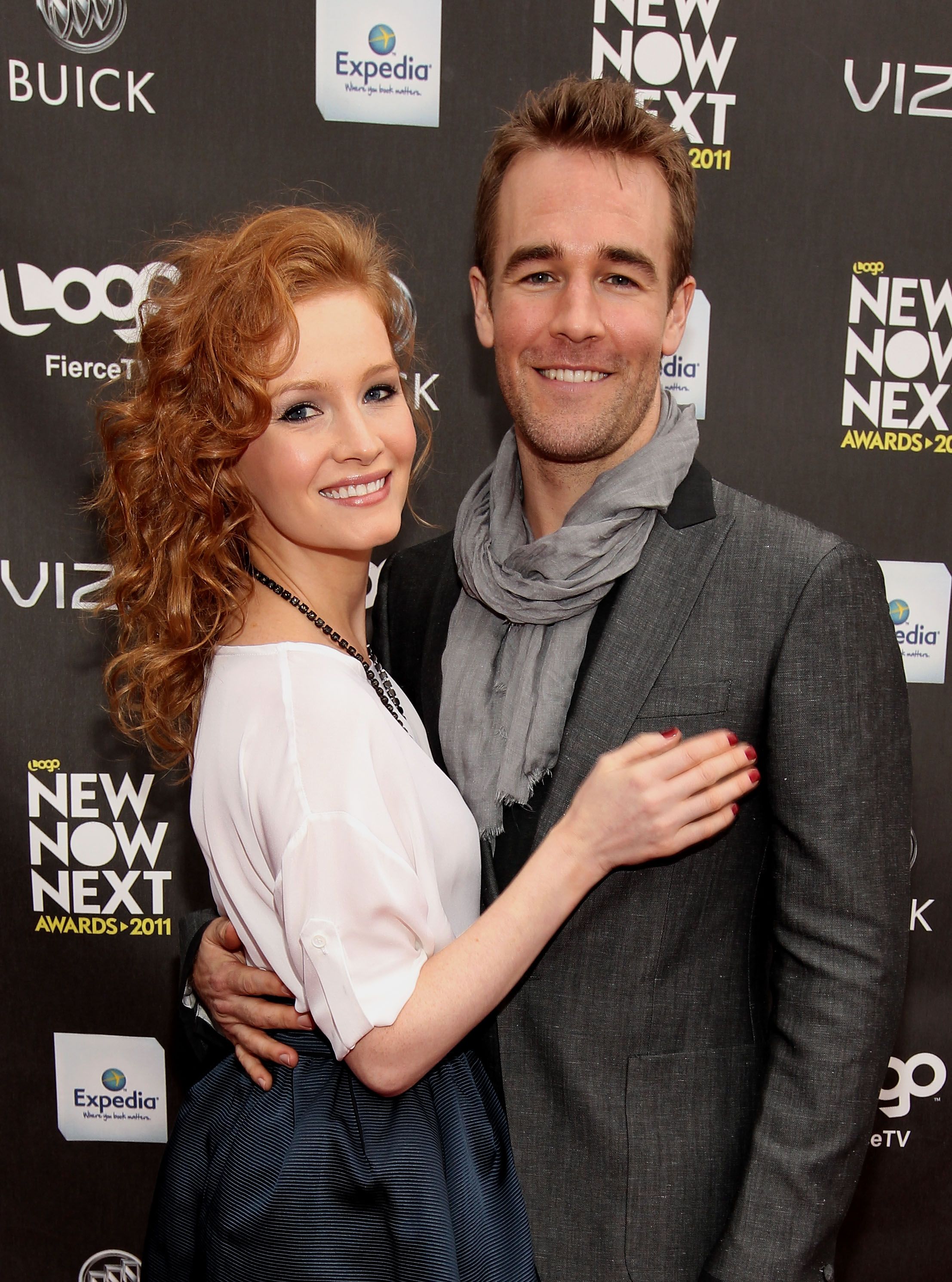 Kimberly and James Van Der Beek at Logo's "NewNowNext Awards" on April 7, 2011, in Hollywood, California. | Source: Getty Images
In September 2010, the then-33-year-old actor revealed that he and his wife had welcomed daughter Olivia. James confessed to his Twitter fans that he was blessed to have become a father.
Welcoming a Brood of Five
Olivia was welcomed on September 25, 2010. A few years later, in 2018, James revealed that being a father for seven years had taught him that the moments of connection were what mattered.
The star encouraged other parents to focus 100 percent on their children in his Instagram post. He shared how the kids would make the days happier and the years worthwhile.
James and his producer wife welcomed their son, Joshua, on March 13, 2012. Soon after his birth, the "Varsity Blues" actor confessed to Us Weekly that they were in love with their first son.
The star said he adored being a father, and he never realized he would feel this way when he became a father, now understanding what other people meant.
Kimberly and James' second daughter and third child, Annabel Leah, was born on January 25, 2014. The actor shared a throwback photo of one of his children in 2019 and jokingly admitted that he had no idea who it was!
James hilariously admitted that he was pretty sure that the child was his. He explained that he later realized it was his third child due to the time stamp on the image.
The couple's fourth child was another baby girl named Emilia, who was welcomed on March 23, 2016. James shared the first-ever social media photo of Emilia when he celebrated her first birthday.
He celebrated his child's milestone by describing her as determined, sweet, and a magical soul. The "Rules of Attraction" star said having Emilia expanded his heart when he thought it wasn't possible.
Kimberly and James welcomed another daughter, Gwendolyn, on June 15, 2018. On the day of her birth, her father noted how every child had awakened different energy in him.
His fifth child caused the truth to come up while her mother was carrying her. All of James' children, except Olivia, were born at home with the assistance of a midwife and doctor.
Struggling with Miscarriages
The "Don't Trust the B— in Apartment 23" star and his wife welcomed their sixth child, Jeremiah, in 2021. The actor took to Instagram to share video footage and images of the newborn baby bonding with his siblings.
However, 17 weeks into another pregnancy, the couple lost another child before Jeremiah's birth but chose to keep it to themselves. The couple went through blood transfusions as doctors tried to save their child.
James recalled how he stood by helpless as Kimberly bared the brunt of the pregnancy. The actor shared how he realized at that moment that he and his wife had to take better care of each other.
James and his wife experienced numbness, denial, anger, and shock as the trauma hit them. He knew there wasn't a way to ease the pain except to vow to take good care of one another.
The announcement came seven months after James shared about his wife's five miscarriages on "Dancing With the Stars" in 2019. The star also revealed that Kimberly almost lost her life in the process.
In October 2019, James opened up in an Instagram post about how his wife had three miscarriages before hearing the good news that another child was on the way. At the time, the couple was parents to five children.
She acknowledged how she might've died if the donations hadn't been available.
Kimberly got to give her side on the story in an October 2020 interview in an Instagram Live post. The star's wife admitted that one of the miscarriages "almost killed" before being hospitalized for both of her most recent losses.
She knew she would have a miscarriage before it happened and knew hospitalization would follow before the decision was made. Kimberly and her husband named their last two miscarried babies John and Zachariah.
Welcoming Jeremiah
Despite having several miscarriages, James and Kimberly welcomed their sixth child on November 22, 2021. The actor announced the news on Instagram with several images of the newborn baby boy.
The star explained that they'd kept the pregnancy a secret as the last two miscarriages happened late in her term, and it terrified him when they found out they were pregnant.
The couple lost their last two children due to Kimberly having an "incompetent cervix." James said having his son was a blessing in his post, and they were happy to have him join the family.
After having the miscarriages, the couple partnered with the American Red Cross to encourage blood donations and raise awareness. Kimberly noted in May 2020 that her life had been on the line before she received blood transfusions from donations.
She acknowledged how she might've died if the donations hadn't been available. In James's last Instagram image in the thread, he was seen cuddling Jeremiah as the little boy slept on his chest.
Please fill in your e-mail so we can share with you our top stories!