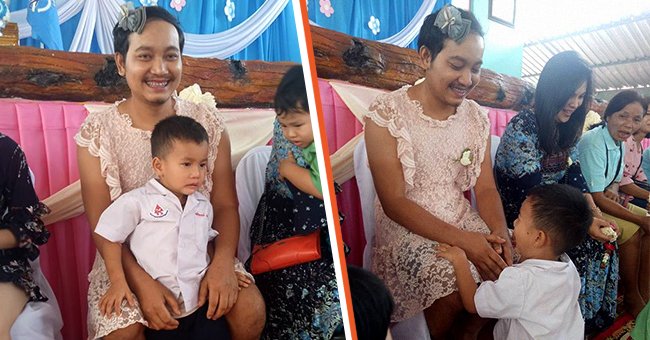 facebook.com/kornpat.sukhom
Single Dad Shows up in a Dress to Mother's Day Event So His Sons Don't Feel Left Out
A single dad from Thailand, Chatchai "Sam" Panuthai, took matters into his hands by showing up in a dress at his children's school Mother's Day celebration event.
Mother's Day is a special day set aside to celebrate and honor mothers for their contribution to building their children's lives. August 12 is the day Mother's Day is celebrated in Thailand, and schools regularly hold a ceremony for kids to honor their mothers.
The 2018 edition presented a difficult situation for single dad Chatchai "Sam" Panuthai from Kanchanaburi, Thailand, a father to two sons, five-year-old Ozone and three-year-old Imsome.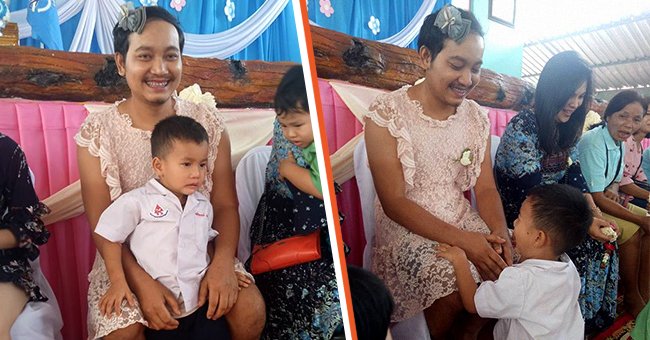 Chatchai "Sam" Panuthai at the Mother's day event at his son's school | Source: facebook.com/kornpat.sukhom
The kid's school held a Mother's Day event and invited their mothers. But the kids' mother could not attend because they were divorced and she had moved to Europe.
Seeing other kids with their mothers while they had none to represent them was turning out to be the kids' reality until their father changed the scenario.
Chatchai came up with a brilliant but weird idea for his kids not to feel left out. The father of two showed up wearing a pink lace dress at the event.
His decision surprised and amused many at the event, and even his sons were confused as to why their dad was wearing a dress.
One of the things kids do at the event is to kneel at their mother's feet to thank her for all she has done for them. So when Chatchai's kids knelt at his feet to thank him, the moment was captured by a family friend, Kornpat Ae Sukhom.
Sukhom subsequently posted the adorable moment on Facebook via multiple pictures, which she captioned "Best Mom of 2018." Afterward, the post went viral with more than 6 million views, and people worldwide praised Chatchai for his thoughtful and beautiful action.
Speaking about Chatchai's decision to show up in a dress, Kornpat Ae Sukhom explained that everyone at the event laughed and enjoyed it. They also took pictures with him and his two kids.
She also revealed they were surprised that the video and photos went viral. Thankfully, the responses from people have been positive, and most are supportive of Chatchai.
TEXAS MOM DRESSED LIKE A MAN
There have also been similar stories to that of Chatchai; one is that of a single mom who showed up at her son's school with a fake mustache on Dad's Day.
While dropping her 12-year-old son Elijah in school, Texas single mother Yevette Vasquez noticed that many cars were parked in the school.
When asked why, Elijah told Yvette that the school was holding its annual "Donuts with Dad" social event, and when his mother suggested she would have dressed up as a man to attend, the little boy's face lit up.
Seeing how excited he was about the plan and only ten minutes before the school day started, Yvette went home and changed into a plaid shirt paired with a basketball cap before completing the look with a fake mustache.
When she got back to the school, the fathers at the event cheered on Yvette for her actions, and Elijah could not hide how happy he was as the kid smiled all through before playing around with his friends.
Yvette later shared the event's pictures online, explaining she would do anything to make her kid smile, and people all over lauded the single mom for her adorable action.
Please fill in your e-mail so we can share with you our top stories!