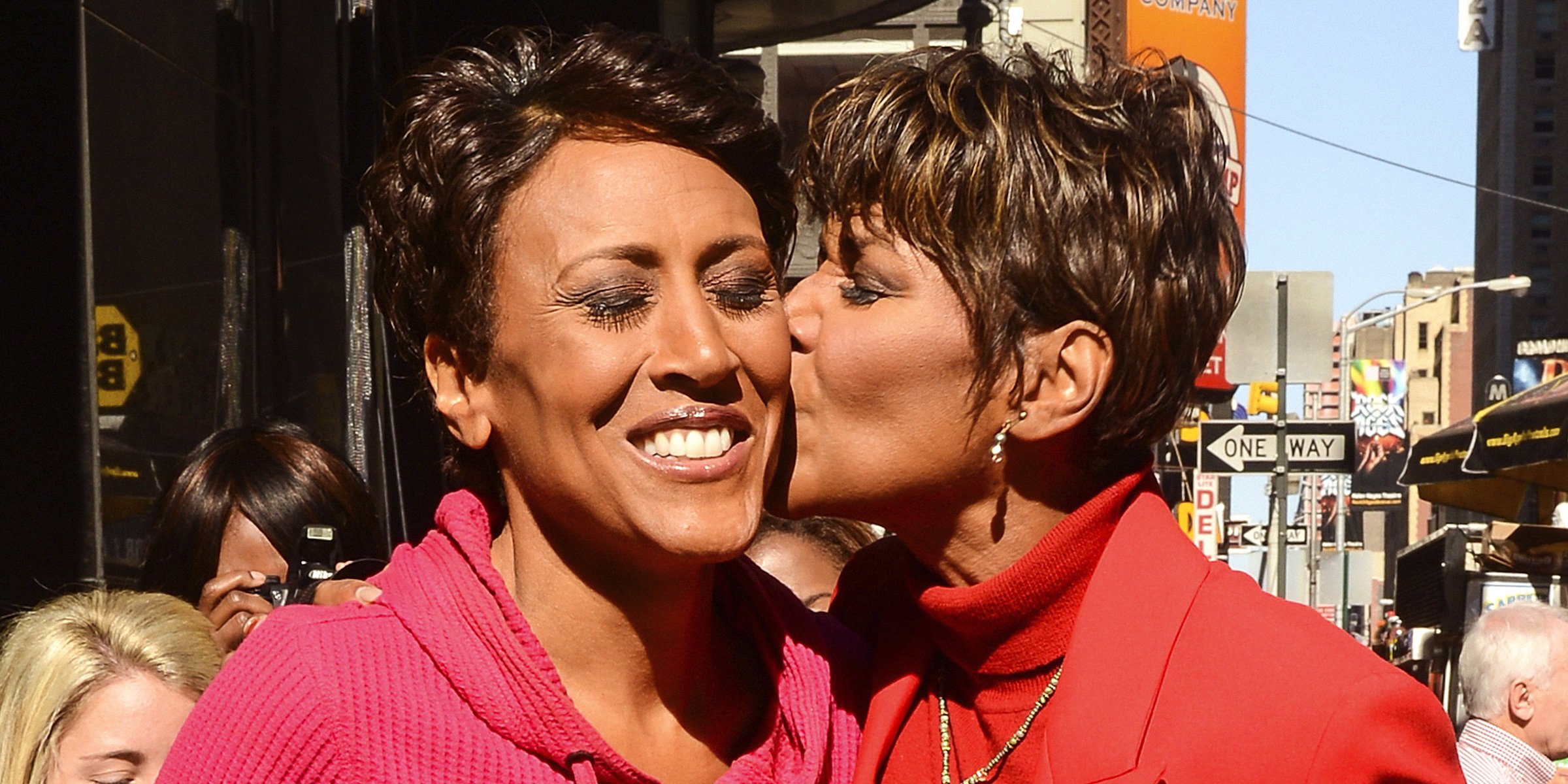 Getty images | Youtube.com/ABC News
Robin Roberts' Sister Was the One Who Saved Her Life When the Anchor Had Just 1-2 Years to Live
"Good Morning America"'s Robin Roberts' life has been riddled with tragedy. She has fought two life-threatening illnesses, one of which her sister saved her from after doctors said she had a year or two to live.
Despite a successful career in TV that has spanned over three decades, Robin Roberts has experienced some of life's most challenging times. Her troubles began when she was first diagnosed with aggressive breast cancer in 2007.
Several years later, she was diagnosed with yet another life-threatening disease. However, true to the adage that blood is thicker than water, her sister saved her life when she donated her stem cells to Roberts.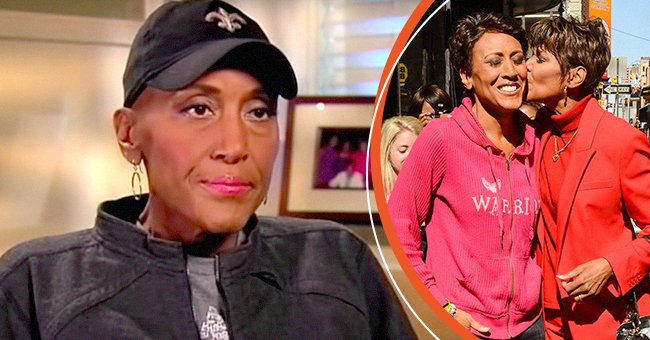 Left: "Good Morning America" veteran anchor Robin Roberts | Source: YouTube/ABC News. Right: Roberts wth her sister Sally-Ann, who was Roberts bone-marrow donor, on August 30, 2012 in New York City. | Source: Getty Images
The Good Morning America anchor faced more tragedy when she lost a close family member and then more devastating news when her long-time partner Amber Laign was diagnosed with breast cancer earlier this year.
Roberts disclosed that they have always supported each other in the 17 years they had been together. She shared that Laign had stood by her during her two illnesses, adding:
"It's my turn now to be there for her like she was for me."
2007 was a year like any other for Roberts. She was up and about her business when she and other colleagues heard that a friend and colleague, Joel Siegel, had passed away from cancer.
Roberts wrote a piece about how Siegel had been a successful advocate for the importance of early cancer screenings. She also wrote about Siegel's brave battle with the illness. And when she went home that evening, she did a self-exam.
However, she had not been ready for what she would find. She discovered every woman's fear after finding a lump on her breast. At first, she was in denial, thinking:
"This can't be. I am a young, healthy woman."
Nevertheless, she visited a doctor who, after a biopsy, confirmed that the lump was indeed an early form of cancer. The TV personality underwent successful surgery on August 3, 2007.
She then moved to her Connecticut weekend home, where she planned on staying during her recovery, but while there, the doctors called with more terrible news. They had determined that chemotherapy would be effective in her recovery journey, followed by radiation.
Roberts says she got into her car and bawled her eyes out. Nevertheless, with the support of her family, she trod on and beat the disease, but her woes were far from over, as she would learn a few years later.
After enduring six weeks of chemotherapy, surgery, and radiation therapy, Roberts was finally cancer-free. But only for a short while. The dawn of 2012 brought a series of tragic events with it.
Roberts received a diagnosis for MSA – bone marrow myelodysplastic syndrome. The doctors believed that the MSA resulted from her chemotherapy treatments five years prior.
To survive this, she would require a bone marrow transplant, without which she had a year or two to live. Fortunately, her sister Sally-Ann was a perfect donor for a bone marrow transplant.
Sadly, the veteran anchor received shattering news a few days before the bone marrow transplant surgery. Her mother, Lucimarian Tolliver Roberts, who'd been recuperating from a stroke, had taken a turn for the worse.
Roberts and her sister flew to Mississippi to be with their mother during her last moments and made it just in time to see her take her final breath. Roberts disclosed:
"I was the one holding her hand when she took her last breath."
She explained her decision to fly out only days before her procedure, saying that she would not have been able to see her mother if she had gone ahead with the treatments.
DOCTORS GAVE ROBERTS A YEAR OR TWO TO LIVE
Following her diagnosis and consequent news that she had only a year or two to live if she did not have a successful transplant, Roberts and her doctors embarked on a journey to look for her perfect match.
No one on the list of potential donors was a good match, even her siblings. Understandably, Roberts began contemplating death. Opening up about her fear at the time, she told ET Online, as reported by Digital Spy:
"[Death] crossed my mind. It's hard not to."
She says her family, friends, faith, and going back to work helped her deal with dark thoughts. Then came some miraculous news. Her sister Sally-Ann was a perfect match.
Roberts was an emotional wreck when she called her sister to tell her that she was a match and ask if she still wanted to go through with it. She would disclose that it was not uncommon for people to list themselves as donors then later change their minds.
Fortunately, Sally-Ann was more than ready to save her sister's life, and when Roberts asked if she still wanted to go through with being her bone marrow donor, Sally-Ann replied, according to People:
"Not only is this something I want to do, I feel I was born to be [your donor]."
CANCER KNOCKS ON ROBERTS' DOOR ONCE AGAIN
The transplant was a huge success, and Roberts began working towards her recovery. She shared that doctors required her to be in her New York home, isolated from the outside world.
Anyone who visited her needed to be in face masks and sanitized hands. She needed to make it through the first 100 days, and she would be alright. And after the 100 had passed, she was out of the woods.
She had beaten the second life-threatening illness amid grieving her mother. In 2018, she celebrated her 6th "birthday," a commemoration of the bone-marrow transplant she underwent. She also would not stop praising her sister for "saving her life."
She calls herself blessed that her sister's stem cells saved her. But aside from her sister, she also recognized the support that long-time partner Amber Laign had offered her during the trying times.
Laign, a massage therapist in New York, stood with Roberts through her two diagnoses and recoveries. Roberts says that despite all she was going through, she was glad she didn't have to be alone through it as her girlfriend was always by her side.
It was love that "saved" her. And now, it is Roberts's turn to stand by her girlfriend after yet another devastating blow hit the family. Laign was diagnosed with breast cancer towards the end of 2021.
She has since had surgery and started chemotherapy. Just as Laign was there during Roberts' multiple illnesses, Roberts has stood by Laign through her treatments and looks forward to celebrating her recovery.
Please fill in your e-mail so we can share with you our top stories!