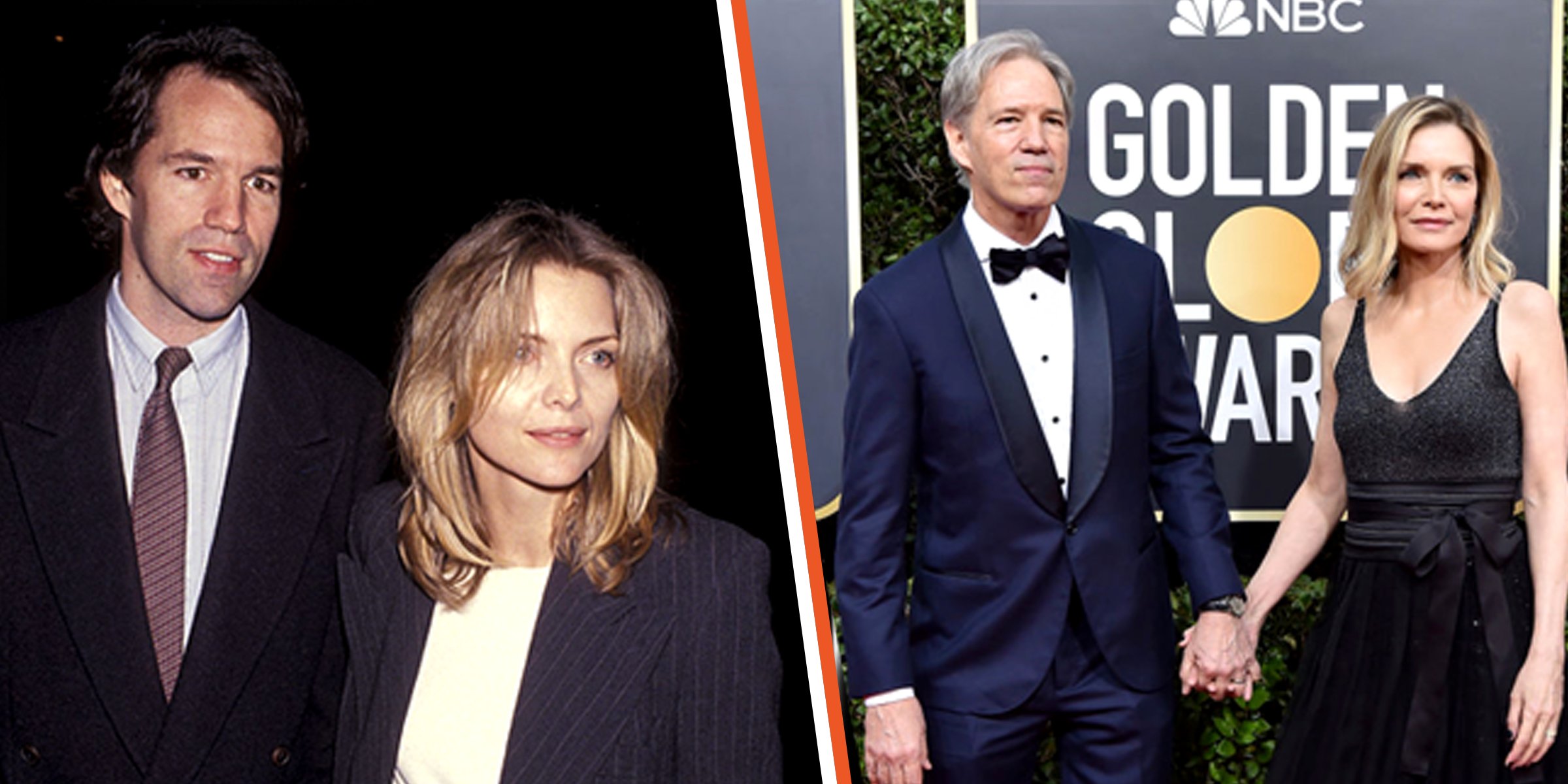 Getty Images
Michelle Pfeiffer 'Chose Really Well' When She Wed Her Husband Even Though It Was Not 'Instant Love'
Michelle Pfeiffer has been married to her husband David Kelley for over two decades. But their marriage almost did not happen because the veteran actress once felt he was a better fit for her sister.
Michelle Pfeiffer is a famous and talented Hollywood actor who rose to fame when she starred opposite veteran Actor Al Pacino in the movie "Scarface."
The actress was born and raised with two sisters and a brother in Midway City, California, and her journey in Hollywood started when she was chosen as Miss Orange County at just 19.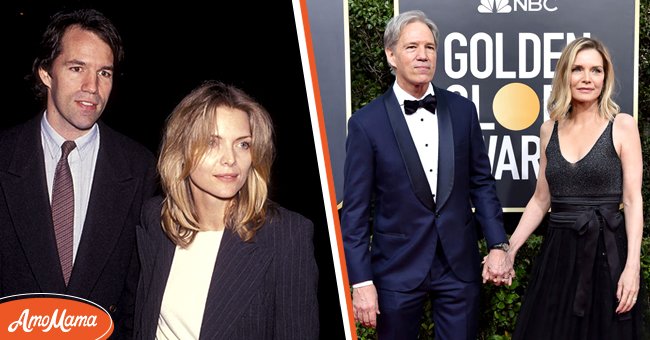 [Left] Michelle Pfeiffer and her husband David Kelley at "The Substance of Fire" Opening Night Play Performance on January 21, 1993; [Right] Michelle Pfeiffer and her husband David Kelley at the 77th Annual Golden Globe Awards at The Beverly Hilton Hotel in Beverly Hills, California on January 05, 2020. | Source: Getty Images
Afterward, the youngster took acting lessons and subsequently made her TV debut, with a feature role in "Falling in Love Again" before starring in "Hollywood Knights."
Starting as a newbie in Hollywood, Pfeiffer became involved with a strange couple who believed and encouraged her to practice breatharianism, the ability to live without food and water.
They put the youngster on an unrealistic diet and were very controlling. As a result, the young actress was drained physically and financially since she had to pay anytime she took lessons from the couple.
Pfeiffer was, however, able to escape from their grasp when she met actor and future husband Peter Horton, who helped her realize she was in a cult with the breatharianism couple.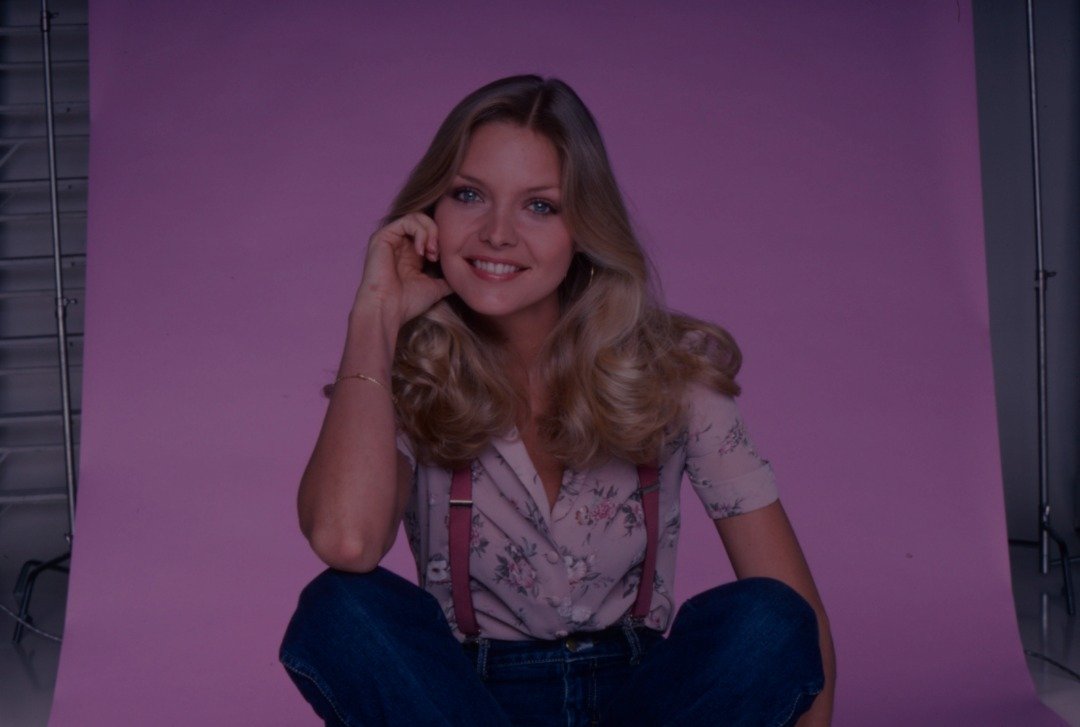 Michelle Pfeiffer promotional photo for the ABC tv series 'B.A.D. Cats'. | Source: Getty Images
HER MARRIAGE TO PETER HORTON
Pfeiffer was 22 years old when she got married for the first time to her equally young husband, Peter Horton. They managed to keep the flames of their relationship burning for seven years before the pair divorced.
Speaking about their relationship, the actress explained that she and Horton were too young when they got married, and as they grew, their needs also changed.
She revealed that they have always been close, even until they separated, and it was pretty challenging for them because they never stopped caring for one another.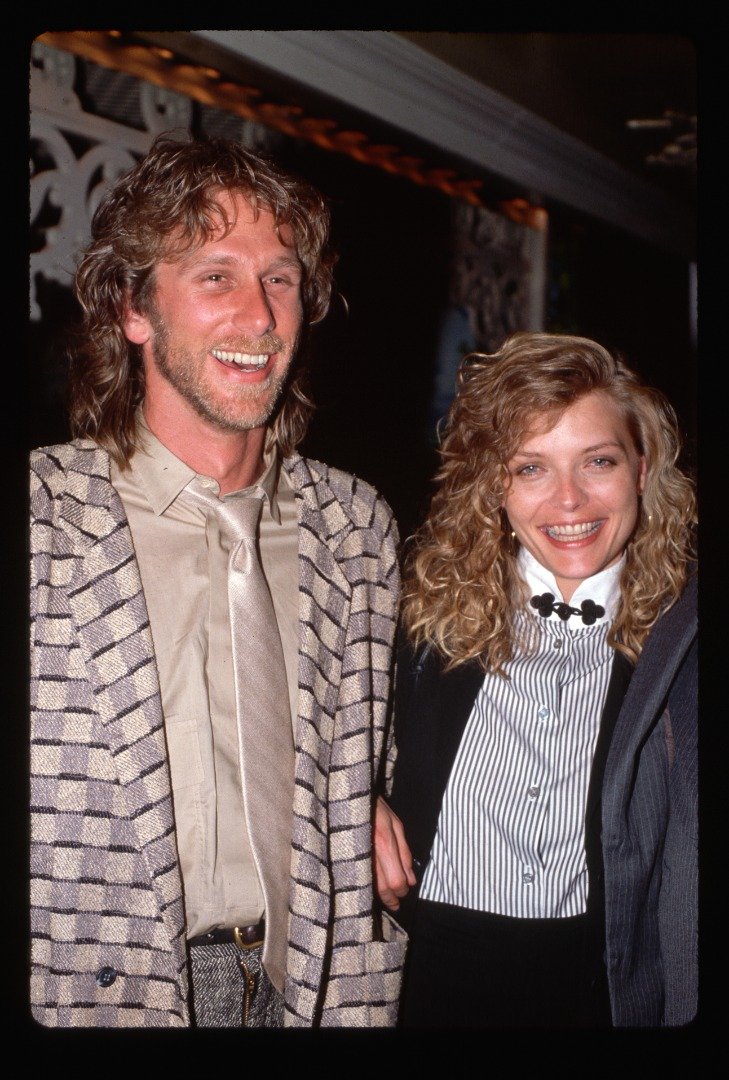 Michelle Pfeiffer and her ex-husband Peter Horton smiling for the cameras at an event. | Source: Getty Images
The pair did not have an angry or bitter breakup; they talked every day on the phone, and Horton even helped pack her car. The actress and her ex-husband also act like best friends whenever they see each other.
Pfeiffer declared that since their separation was not messy, it was difficult for them because they had no anger to cover all the pain and hide behind. The actress revealed she has since changed and sometimes forget that she was once married to Horton.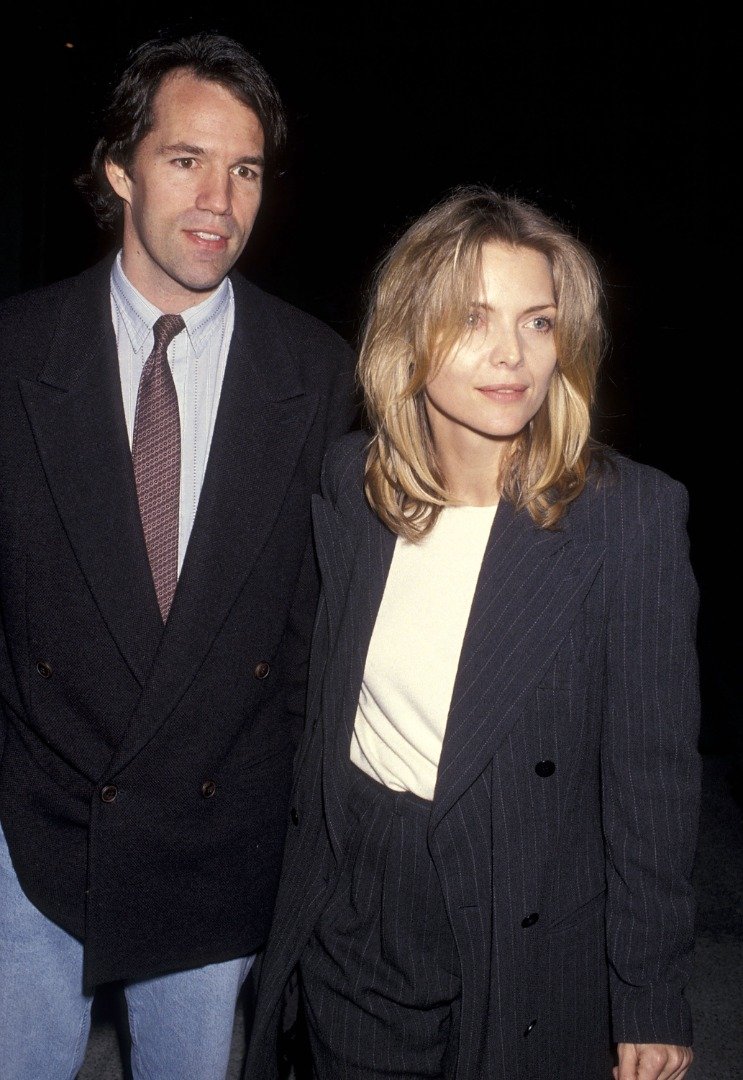 Michelle Pfeiffer and her husband David Kelley at "The Substance of Fire" Opening Night Play Performance on January 21, 1993. | Source: Getty Images
After her divorce from Horton, Pfeiffer started an affair with Actor John Malkovich while filming the movie "Dangerous Liaison." At the time, Malkovich was still married to his wife Glenne Headley, but their marriage was already breaking up.
Unfortunately, Pfeiffer's romance with the actor did not last, and it ended shortly after it began. Speaking about the fling, Markovich explained that the affair with the actress was intense and emotion-filled, which was why it ended quickly.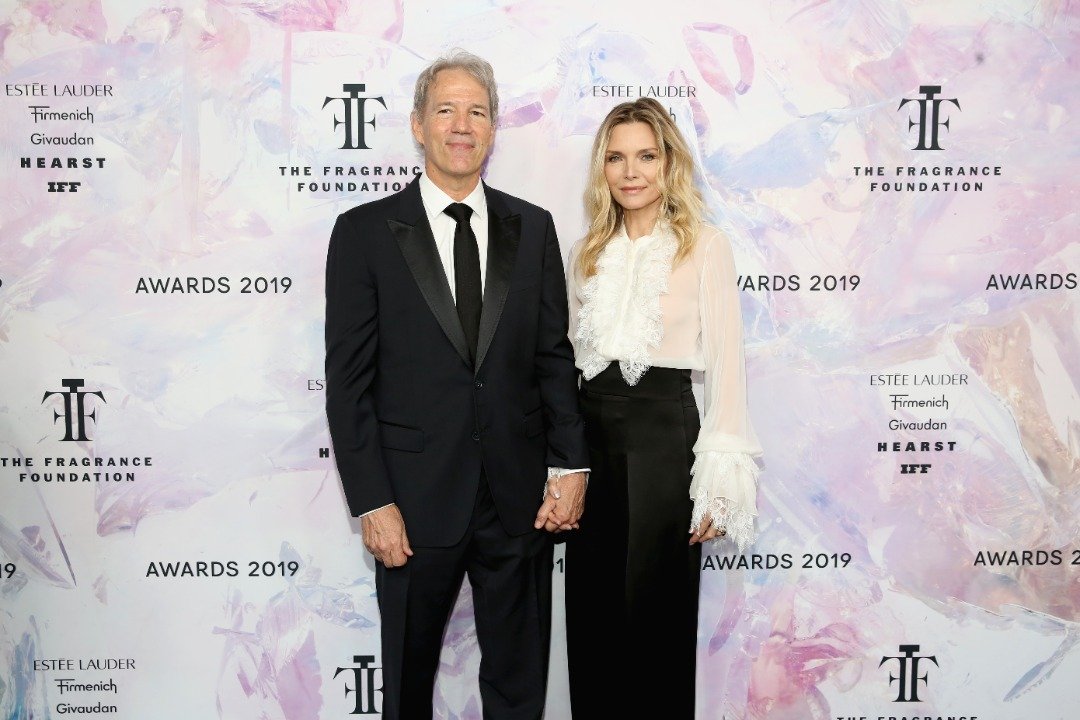 Michelle Pfeiffer and her husband David Kelley at the 2019 Fragrance Foundation Awards at David H. Koch Theater at Lincoln Centeron June 05, 2019. | Source: Getty Images
ADOPTION AND MEETING DAVID KELLEY
In 1993 Pfeiffer was single and, not wanting to wait on getting a man before she could start a family, decided adoption was the way forward.
Her desperation to have kids affected her relationships and skewed her perception of things. To avoid this, the actress filed paperwork to adopt a baby girl.
The adoption process was already going on when Pfeiffer met Hollywood Writer and Director David Helley on a blind date at a restaurant with a group of other people.
The pair barely exchanged words that first night; the actress was engaged with Helley's friend all night while the director looked to be hitting it off with Pfeiffer's sister.
Afterward, the actress decided it would be perfect to set up Helley and her sister since the two seemed to get along pretty well, but the friend who was setting Pfeiffer and Helley up wanted them to try harder.
The pair subsequently went on a one-on-one date, and they became attached. Pfeiffer and Helley started dating shortly after.
Two months into their relationship, the actress's adoption went through, and she became a mother to daughter Claudia. Pfeiffer revealed that having a child to care for early in their relationship would discourage some men, but Helley was very supportive. She said:
"I really got to see him in a situation that certainly would separate the boys from the men. Obviously, he rose to the occasion."
The pair were both young adults, and at an age where they were ready to start a family, they saw themselves as parents before their relationship went further.
Pfeiffer declared that, in a way, it took the pressure off them because it gave them something else to focus on, and they did not have the time to be bored of each other.
She also praised the director's reaction to what would have otherwise been a tricky situation, and his warm reaction to the baby was a testament to the kind person he is.
Pfeiffer has been married to David Helley for more than a decade, and shortly after their marriage, they welcomed their son and second child, John.
After, the actress took a break from acting to focus on raising her kids. She explained that raising kids is so consuming, and time goes by very quickly.
The mother of two places her family as a priority over her career. There was a time the veteran actress felt she had become unhireable due to always putting her kids first.
Speaking about her kids, the actress revealed John and his elder sister Claudia get along very well because they are close in age, but that also has not stopped their moments of sibling rivalry.
The actress declared that her daughter Claudia is not a typical girl but a force to be reckoned with and a beautiful human being.
The mother of two also wanted her daughter to be independent and outspoken, and so far, the girl had done just that. Claudia was becoming everything her mother hoped she would be.
Pfeiffer and her husband also moved their family from the hustle and bustle of Los Angeles to a more serene rural corner in northern California. This move was made so her kids would not get too drawn into the kind of pressure that comes with living in Hollywood.
Even though leaving the comforts and familiarity of Los Angeles was a difficult decision, Pfeiffer explained she was happy with the decision because it was made with the family's best interest in mind.
RELATIONSHIP WITH HUSBAND
Pfeiffer and David Helley have been married for more than two decades which is a rare thing among moviemakers, and the mother of two has heaped praises on her beau. She said:
"I chose really well with David. I got really lucky. And so many years later, I never take him for granted. I've never met a person who has more integrity than my husband. I respect that."
Speaking on the secrets to their long-lasting marriage, the actress stressed that compatibility and respect are essential and that she and Helley are homebodies.
She explained that they love being parents, and the pair both have beautiful families, which makes their approach to things very similar. The mother of two also lauded her husband for his sense of humor and intelligence, making him loveable and romantic.
Please fill in your e-mail so we can share with you our top stories!