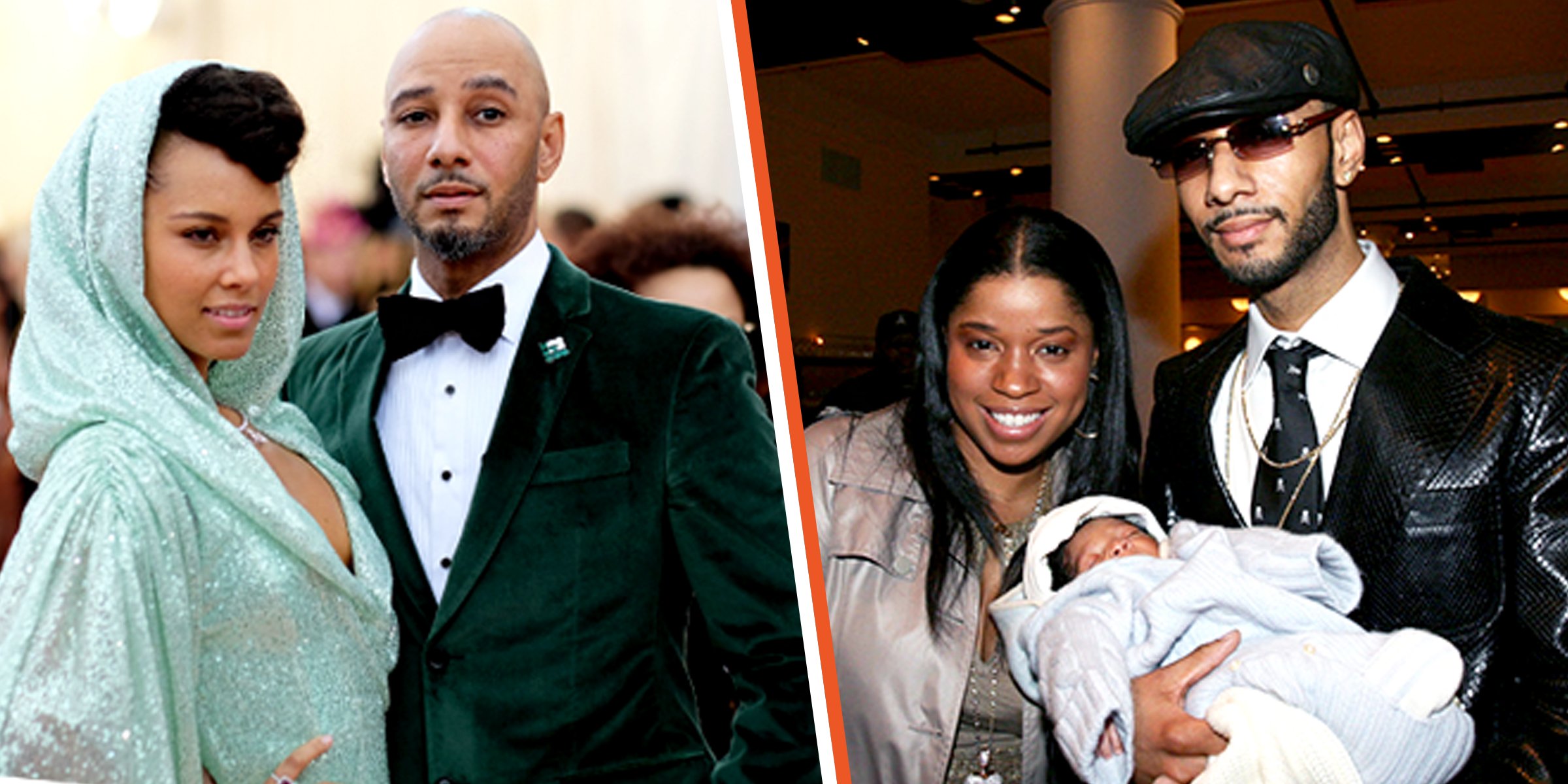 Getty Images
Alicia Keys Rejected Swizz Beatz at 15 - His 1st Wife Accused Her of Being a Homewrecker Years Later
Alicia Keys' name has been mentioned several times for various reasons. In 2009, she trended for the wrong reason after her husband's first wife accused her of being a homewrecker. Find out what happened.
American singer, songwriter, and actress Alicia Keys is among the most prominent stars ever to grace the entertainment industry.
She has released multiple hits and received several awards and honors to her name. To this day, the songstress has a considerable fan base and continues to make incredible music.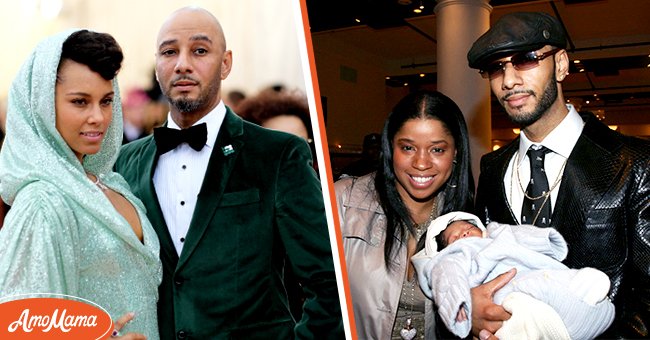 [Left] Swizz Beatz and Alicia Keys at Metropolitan Museum of Art on May 06, 2019 in New York City; [Right] Mashonda and Swizz Beatz during their Baby Shower at 26 + Helen Mills Theater in New York City | Source: Getty Images
Keys is also doing well in other aspects of her life. She is married to Music Producer Swizz Beatz, and they share two children, Egypt and Genesis. While there is no doubt about Keys' career and personal success, there are untold stories of how she achieved it.
KEYS' DIFFICULT CHILDHOOD
One person who played a vital role in Keys' success story is her mother, Terria Joseph. When the Grammy Award-winning singer was two years old, her father, Craig Cook, abandoned her. Joseph was forced to raise Keys in the Hell's Kitchen neighborhood in New York.
According to the singer, it was a very terrible neighborhood. She was surrounded by prostitutes, heroin and crack addicts and theaters that showed sexual content at a young age.
Irrespective of the environment, Joseph taught her daughter to abstain from such lifestyles. Keys learned empathy and promised never to be exposed or vulnerable.
Overall, growing up without a father was very difficult. When the singer turned 14 in 1994, she wrote a letter to her dad. The note, which she called "divorce papers," contained all Keys' feelings about abandonment. The songwriter shared the intimate letter on social media in May 2020.
Over a year later, her series "NOTED: Alicia Keys The Untold Stories" premiered on YouTube. In the series, Keys took viewers on a trip to explore her life's journey. Keys was featured with her mom, talking about life and how they were abandoned. She described how her father's absence made her feel, crediting her mom for being the only one who cared for her.
The mother and daughter let viewers in on the difficulties they faced and how Joseph eventually fought hard to help Keys discover her talent and be the star she is today.
MASHONDA'S SURPRISING REVELATION
Keys and her producer husband have been married since July 2010. The pair boasts about their happy marriage in interviews, but Swizz Beatz was married to another woman at some point in their relationship.
It was revealed that the couple started dating when the producer was still married to his ex-wife, Mashonda. Swizz Beatz and Mashonda married in 2004, announced their breakup in 2008, and finalized their divorce in 2010.
Shortly before the divorce was finalized, Mashonda addressed Keys in an open letter on Twitter, blaming the singer for wrecking her marriage.
She accused Keys of interfering in her union and starting a relationship with Swizz Beatz, even though they were still together. According to Mashonda, she had tried to reach out to the singer before going public, but to no avail.
Mashonda noted that she had no desire to address the situation publicly, but after an "insensitive" tweet from Keys, she could not hold back. Nevertheless, in the concluding part of the note, she extended an olive branch, hoping they could call a truce.
INSIDE KEYS' RIFT WITH JAHNA SEBASTIAN
Apart from Egypt and Genesis, Swizz Beatz has three more kids: Prince Nasir Dean, Kaseem Dean Jr., and Nicole Dean. The producer shares Nicole with Jahna Sebastian.
Sebastian is a spiritual soul healer, singer, songwriter, producer, videographer, and sound engineer. She was romantically involved with Swizz Beatz in 2007, and they welcomed their daughter in 2008.
Although Sebastian is a great mom to Nicole, her motherhood role has landed her in the news for the wrong reasons. In 2020, the videographer was in the headlines after she lashed out at Keys on social media about the "mom" title.
Although she is a stepmom to three children, Keys revealed she would prefer to be called "Umi," the Arabic word for "mother." The singer explained that when Kaseem called her stepmom, she did not get the vibe, hence the alternative.
Unfortunately, Sebastian was not pleased about the revelation and took to Instagram to air her thoughts. In the post, Sebastian wrote:
"I am the Only Mother to my daughter. No one else will be called any kind of 'mom' name in English, Arabic, not an 'Umi' or anything else in other language by her."
After the post was shared, Sebastian received a ton of support. A fan noted that even though Keys wants to have a relationship with Nicole, she should respect boundaries. Another user said she would not want anyone forcing her child to call someone else, mother. A third user wrote:
"So how will her dad feel if she calls another man father? We know men don't like that. How come no one has said anything about that? That's her mother, respect her mother's wishes."
Sadly, it's been almost two years since the post was made, and Keys and Sebastian still have a problematic relationship. On the other hand, the singer and Mashonda have sorted out their differences.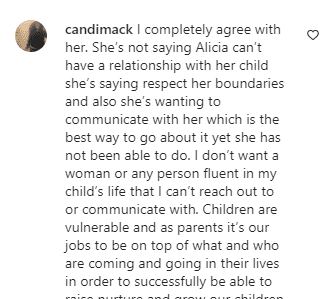 A fan's comments under a post made by Jahna Sebastian | Source: Instagram/jahnasebastian
HOW KEYS AND SWIZZ BEATZ MET?
Keys and Swizz Beatz have been married for more than a decade, but they have known each other since they were teenagers. When they met, the record producer was only 15 years old. Swizz Beatz revealed that a mutual friend introduced them while growing up in New York.
Unfortunately, it was not love at first sight for Keys. She explained that although he looked good and had flashy items, she always thought he was annoying. But her mind changed after they made music together, and Keys saw how smart he was.
KEYS AND MASHONDA'S RELATIONSHIP NOW
Currently, Mashonda and Keys are in a perfect place. Despite their bitter history, the women have sealed the rift between them and thrive as friends.
During an interview with People, Mashonda mentioned that making peace was not easy. She had to go to group therapy with Swizz Beatz and Keys, which helped her let go of any grudges. She declared:
"It took two years into our blending to make it happen, but when we did, it was like turning the light on. We realized we could minimize the impact on our children by reducing the conflict we had with one another."
Keys was also pleased about co-parenting with Mashonda. She noted that the compassion, support, and understanding they found were a powerful testament to the healing that comes when people choose to love. Hopefully, the pair will remain friends and give their kids the best.
Please fill in your e-mail so we can share with you our top stories!