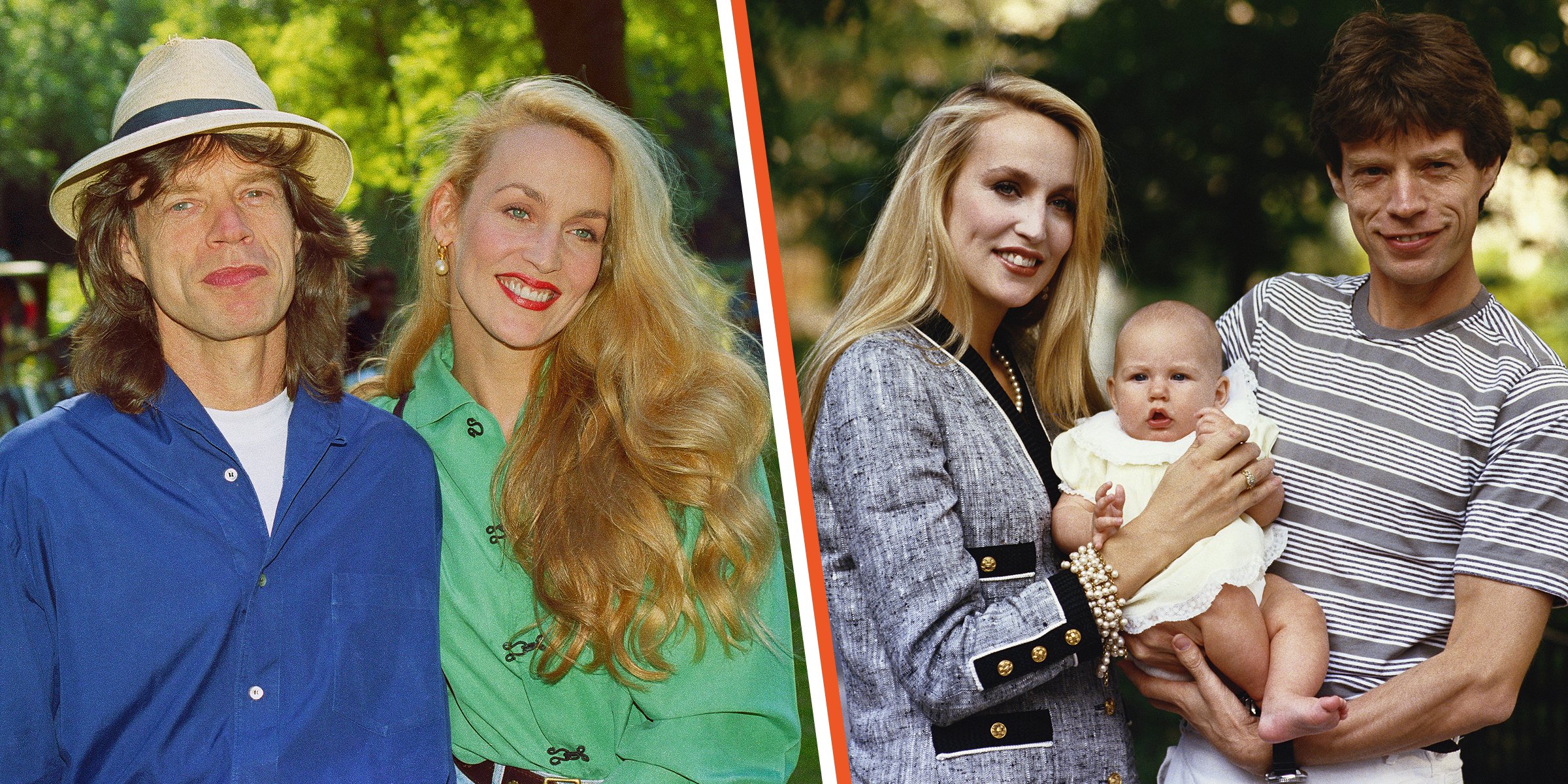 Getty Images
Mick Jagger Seduced His Kids' Nanny & Cheated with Her on His Wife Who Was in the Next Room
Mick Jagger, one of the world's most successful rock stars, remains a living legend with an intriguing past, including an incident where he seduced his kids' nanny and cheated with her on his partner, Jerry Hall.
Mick Jagger's fortune, fame, and relevance throughout the years are overwhelming, many thanks to his position as the lead singer of a world-famous rock band, "Rolling Stone."
Jagger, an English singer, songwriter, actor, and producer, has been married only once. Still, he has been romantically linked to different women, including Jerry Hall, with whom he shared his longest relationship.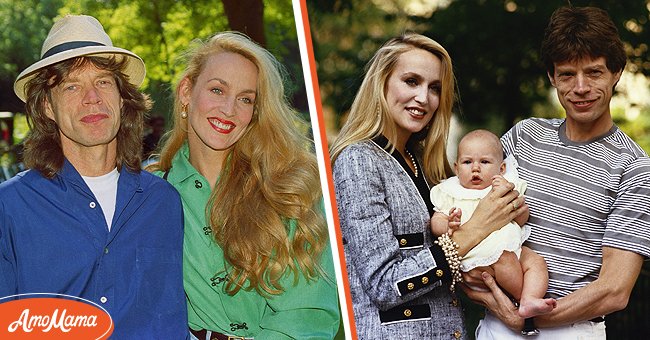 [Left] Mick Jagger and Jerry Hall in Chiswick Park on 26th June 1993 in London; [Right] Mick Jagger and Jerry Hall with their daughter Elisabeth Jagger, circa 1984. | Source: Getty Images
Jagger was seen as an ugly boy before becoming a fan favorite with many female admirers and women at his beck and call.
Jagger's intelligence was outstanding at school, a feature his school teachers admired. But he was not the handsome kid; in fact, his female schoolmates considered him "kind of ugly."
At the time, his mother worked with Avon, a UK cosmetic brand. Jagger,16, used the situation to lure girls home. He invited them to try the brand and even allowed his date to apply makeup on his face.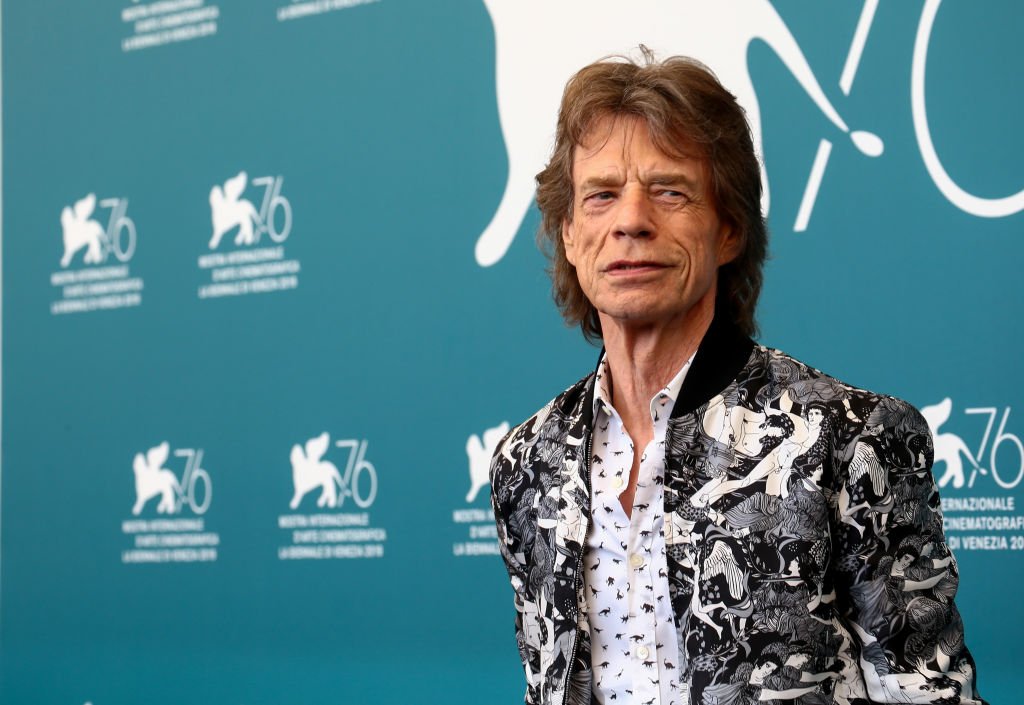 Mick Jagger attends "The Burnt Orange Heresy" photocall during the 76th Venice Film Festival at Sala Grande on September 07, 2019 | Source: Getty Images
While Jagger's looks did not make him eligible to be a lady's man, his career did. After school, the "Rolling Stone" frontman became a music Idol.
Consequently, he created the lifestyle he wanted, including having multiple sexual partners. According to his biographer, Christopher Andersen, Jagger has slept with about four thousand women in his lifetime.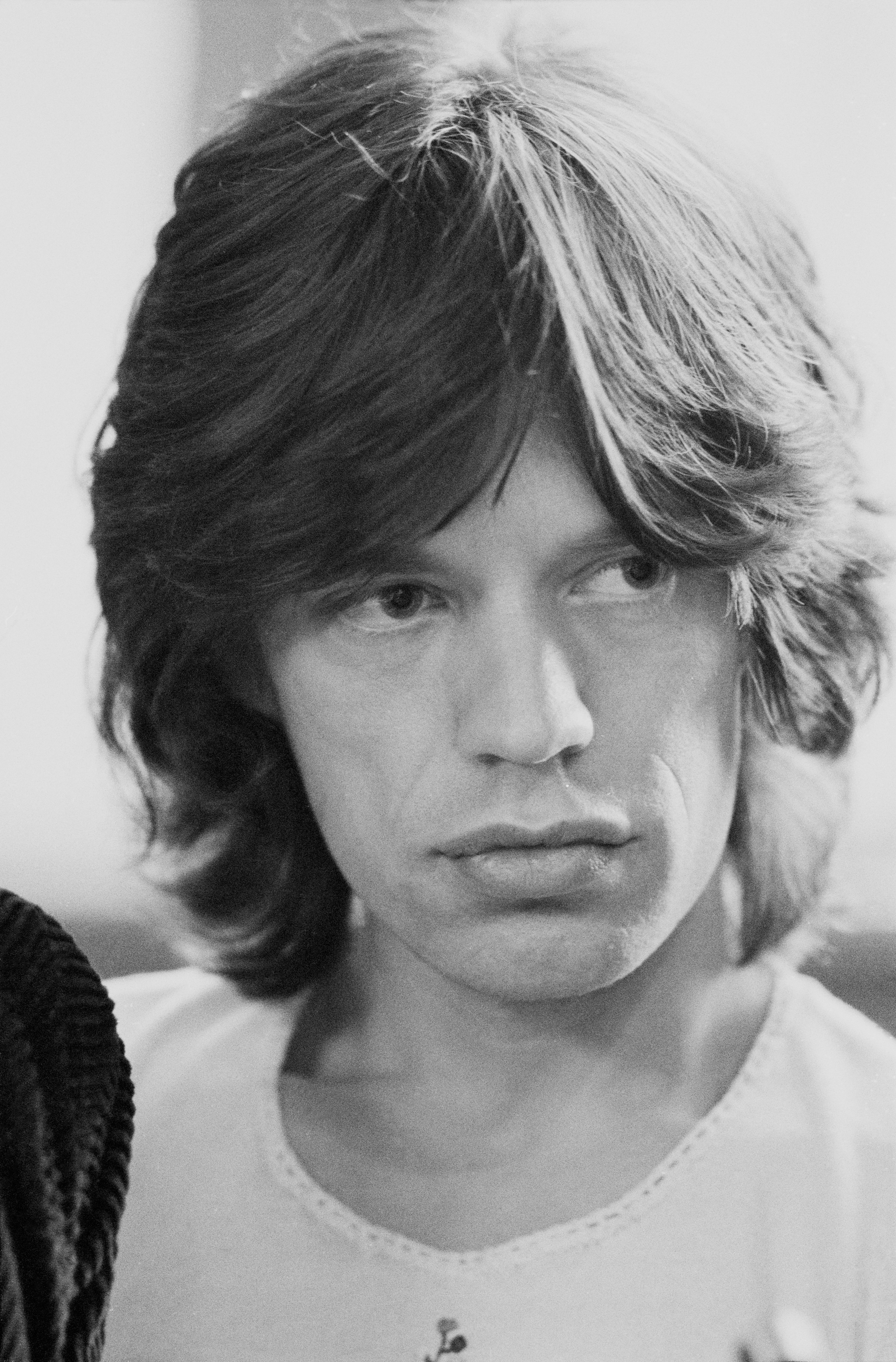 English singer Mick Jagger in London, 1972. | Source: Getty Images
The rock star found ways to satisfy his fantasies whether he was married or in a committed relationship, which led to promiscuity.
Today, he shares eight children with five different women. Here are insights into his relationship with Jerry Hall, the mother of his four kids who thought they were married.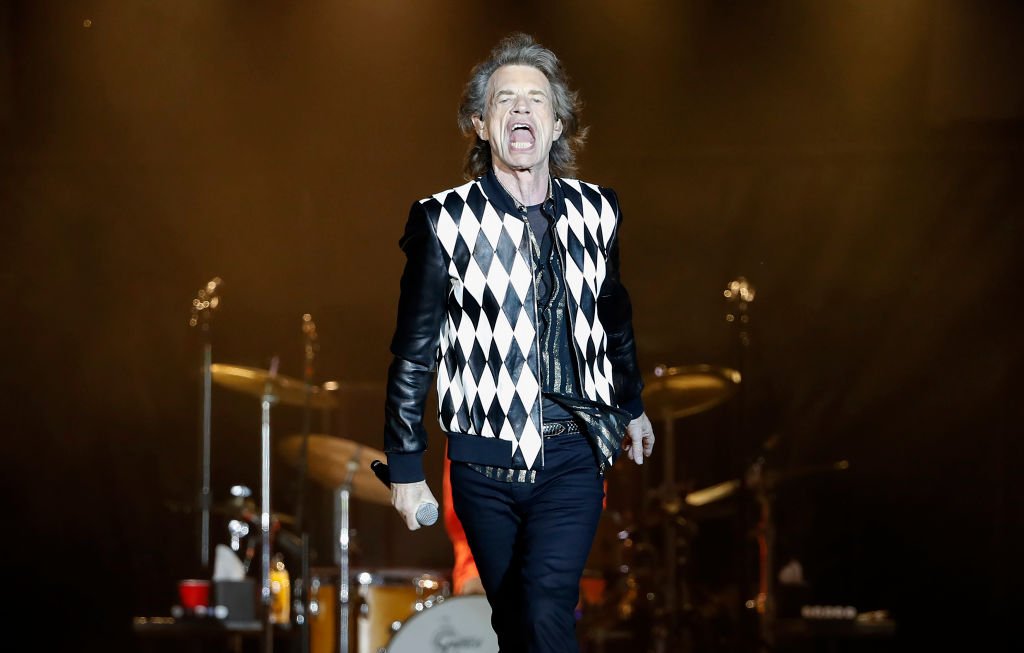 Mick Jagger at his "No Filter Tour" North American Tour at the Soldier Field on June 21, 2019 | Source: Getty Images
MICK JAGGER AND JERRY HALL'S MEETING AND ON-AND-OFF RELATIONSHIP
Jerry Hall's relationship with Jagger was his longest, and it had its fair share of ups and downs, including infidelity, separation, and reunion.
The pair met while they were still with their partners. Jagger was married to Bianca, who became his only wife, and Hall was engaged to Bryan Ferry.
In her 2010 biography "Jerry Hall: My Life in Pictures," Hall maintained that Ferry admired Jagger and became his friend, despite recognizing that the singer was attracted to his then fiancè. In her words:
"Bryan was flattered by Mick's attention, but he could also see that Mick was smitten with me."
In 1979, they called off the engagement, and a 20-year-old Hall who worked as a model and later actress began dating 36-year-old Jagger.
They got engaged, but by 1982, she ended her relationship with Jagger after falling in love with a horse breeder, Robert Sangster.
A year later, they reunited and welcomed their first child, Elizabeth. According to reports, Hall soon grew tired of having a ring on her finger for so long, as Jagger failed to show commitment through marriage.
MICK JAGGER'S FLING WITH A NANNY
On November 21, 1990, Jagger finally shared vows with his longtime partner on the shores of Bali, a Hindu beach. However, the singer's marital status did not hinder his sexual exploits.
On the contrary, this trait was so compelling that Jagger did not mind exhibiting it around his longtime love or with an employee.
After the birth of their son, Gabriel, the couple hired a nanny, Claire Houseman. However, the first meeting between the nanny and Jagger felt awkward for Houseman.
She recalled that he came out of the shower, unclad, and proceeded to greet her with a handshake while his wife, Hall, laid in bed with their child without flinching. According to Houseman, who appeared flustered:
"The next thing I knew, he put out his hands and said, 'Hi, I'm Mick.' He didn't seem embarrassed... It was all so unreal. As for Jerry, She didn't say a word."
Houseman encountered her boss in the kitchen while making coffee the following day. He made a few jokes and ended up seducing the worker whom he cheated with while his wife was in the next room.
The nanny's version of the encounter explained that she was in awe of her boss but was shocked about his behavior even though she was one of his sexual conquests. In her words:
"I must say he is a real charmer. The kitchen was so small we kept bumping into each other...We kissed passionately...It all seemed like a blur to me. Mick went back to his wife."
ANOTHER CHEATING AND SUDDEN TRUTH ABOUT THE COUPLE'S MARRIAGE
It was only a matter of time before Hall found out her husband's demons, not that he covered it up entirely, but it did not seem to bother their marriage until 1992.
Two years after their Hindu wedding ceremony, Hall separated from her partner, claiming that he had an affair with Carla Bruni (who later became France's, First Lady). Shortly after she delivered their third child, Georgia May, the singer left her for his mistress, Bruni.
During a statement, she stated that Jagger's philandering caused unimaginable pain, and they would divorce. Hall said:
"I can confirm that we're separated, and I suppose we will get a divorce. I'm in too much pain for this to go on any longer."
Despite Hall's allegations, and the rumors about Jagger's affair, Bruni denied any romantic involvement with the singer, and she made a comment via a news outlet:
"He's a fossil. His wife can keep him."
Jagger's commitment to the relationship worsened, and in 1999, his affair with a model, Luciana Morad, led to the birth of his fifth child and the end of his relationship with Hall.
This was the last straw for the actress and mother of four. Without hesitation, she proceeded with a divorce but discovered that her Hindu ceremony with Jagger was not legally binding.
So instead, the court granted her annulment. After the episode, Hall confessed her thoughts about the court's decision on what she thought to be her marriage. She said:
"I didn't like the idea of annulling after 23 years and four children. It seemed a bit rude."
MICK JAGGER AND JERRY HALL'S RELATIONSHIP AFTER FINAL SPLIT
After their separation, the pair began a relatively smooth relationship as co-parents and next-door neighbors. In 2003, Hall resided in Richmond Hill District, London, with their four kids.
Her home was a stone's throw from Jagger's, and his dad often visited her, requesting lunch. She confessed that the closeness was somehow a turnoff for the guys she dated. In all, Hall maintained that Jagger is not a deadbeat father. According to her:
''He's the most fabulous ex-husband. He's extremely generous. We never argue about the children. We adore each other."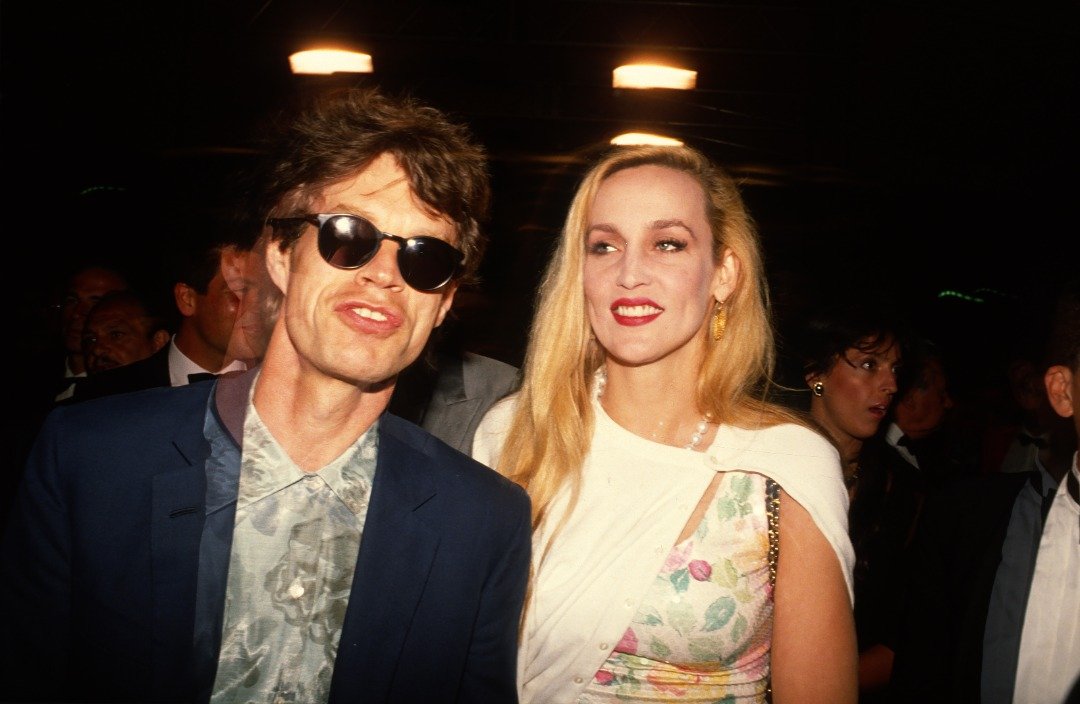 Mick Jagger and Jerry Hall at the 43th Cannes film Festival in May 1990, in Cannes, France. | Source: Getty Images
Their friendship is admirable. However, the mother of four revealed that their romance was tortuous because of Jagger's demons. She said:
"He's a sick, addictive womanizer who made me very unhappy. He's got a Dionysian thing going that just won't stop. It gets tired -- for me, not for him."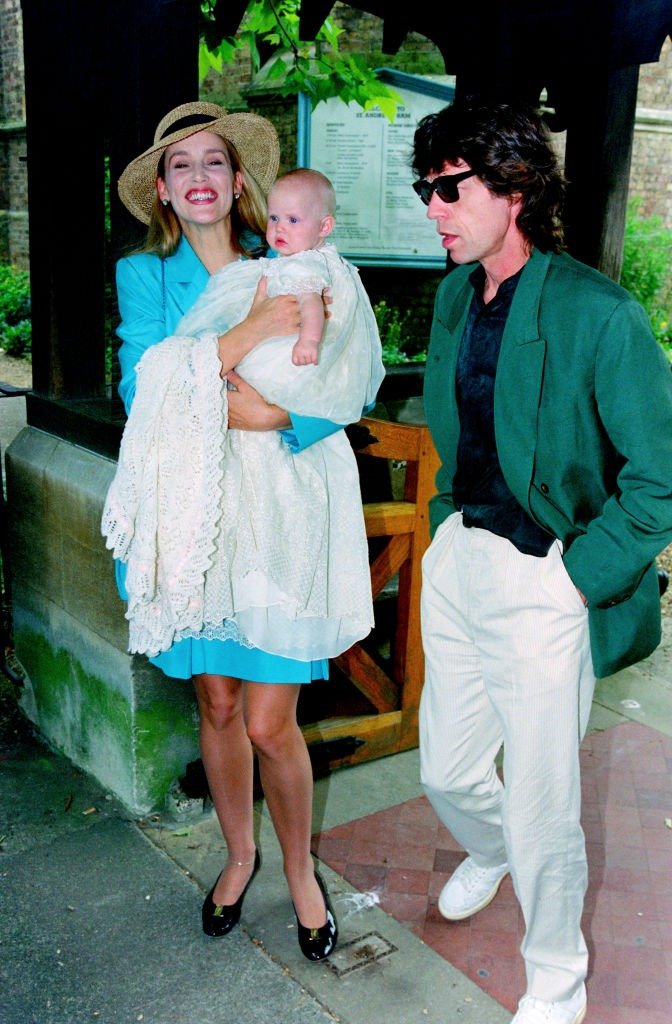 Jerry Hall and Mick Jagger with their daughter Georgia May Jagger during her christening at Saint Andrew's church, Richmond 1992. | Source: Getty Images
Apart from being a happy mom, she derives fulfillment in acting and is grateful she established her career following the separation. In her words:
"The ex-Mrs. Mick Jagger -- I hated that. What a title. That's who I am? Now it's actress Jerry Hall. Thank God I'm myself again. I was famous before I met him, you know."
Hall is also a married woman—this time a legally binding marriage to a wealthy media mogul, Rupert Murdoch. The pair were wedded in 2016, and they do not have a child.
On the other hand, 78-year-old Jagger enjoys his relationship with his much younger lover, Melanie Hamrick, a ballet dancer. They have been together for many years, and Jagger is yet to tie the knot, but the duo has a son named Deveraux.
In all, Jagger is a dad to eight kids, two of whom he welcomed before his relationship with Hall. Despite his kids' birth peculiarities, the singer is a doting father. So far, he has not been in any controversies concerning the care of his offspring.
Please fill in your e-mail so we can share with you our top stories!