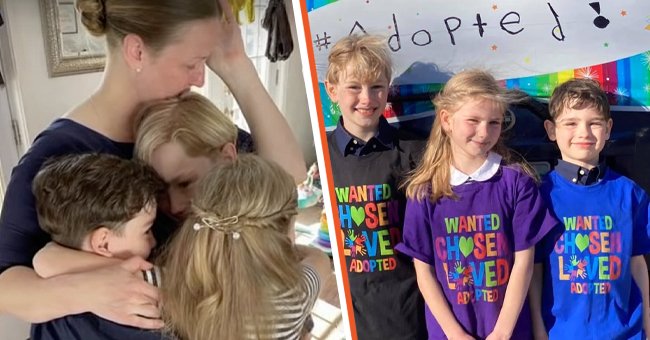 facebook.com/jennifer.tveter | youtube.com/ABC News
3 Siblings Get Adopted Together after Four Years in Foster Care: 'It Means I Have a Family'
One of three siblings who got adopted together has said she wishes to help other foster children like her when she grows up, and she has her adoptive mother to thank for the inspiration.
The foster system can be harsh and uncaring when it comes to siblings in its care, with most of them getting separated more often than not. That was certainly the case for Jonathan, Madeline, and Benjamin, who, for years, had been separated by the foster care system.
Jennifer Tveter, a single lady from Derry, New Hampshire, eventually started fostering them, and things started looking up for the trio.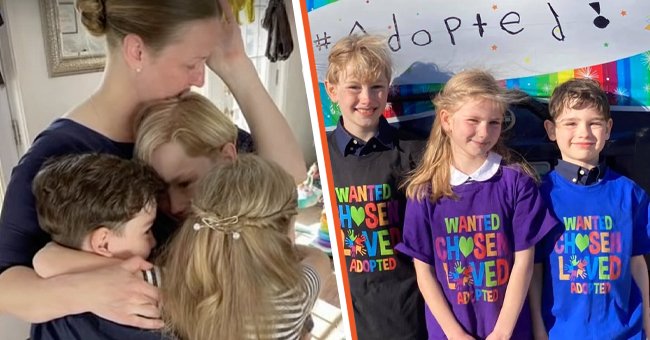 [Left] Jennifer Tveter and her three adopted kids; [Right] Jonathan and his sister Madeline and younger brother Benjamin pictured after their adoption | Source: facebook.com/jennifer.tveter || youtube.com/ABC News
The woman, who works for an anti-domestic violence organization, registered to become a foster parent in 2017, and a year later, she received her license.
When the kids first moved into her home, they weren't legally available for adoption, but Jennifer had fallen in love immediately, quickly devoting herself to healing their trauma. She told Metro.co.uk about how the kids shed their protective husks in her care. In her words:
"The beginning was extremely difficult. We had therapists in our house every single day."
Jennifer described the first year as one that saw her focus on making the kids feel secure. They worked on trauma and crisis control — two things that needed to be out of the way before the kids could settle in nicely.
The second year saw Jennifer pay close attention to their bonding rituals as she taught them how to live like normal, healthy kids.
Fortunately, the children warmed up to her so that when they found out that Jennifer would be adopting them, they were overcome with joy — it meant they never had to worry about being separated again.
Madeline said: "It means I have a family, and we can never get taken away and never get separated, and we can live happily ever after."
To celebrate the news, locals in Derry put together a fun but socially distanced car parade, which was complete with balloons, large banners, and honking horns. Jennifer was just grateful the kids could now focus on being children and growing up. She said:
"Now they just get to be children and heal and be happy and loved, and they are so loved, It's not just me. It's my entire family."
Jonathan, Madeline, and Benjamin dressed in smart clothes for their official adoption ceremony, and they sported proud smiles while they had their photo taken afterward.
Jonathan would later admit that the day was the "best" in his whole life, and his sister, Madeline, had agreed that she was feeling happy as well.
The adorable trio shared their dreams with World News Tonight; Jonathan, the eldest, talked about becoming a "sketch artist for the police," while Benjamin, the second oldest, said he wanted to be a "baker."
Madeline, the only girl among them, said she just wanted to grow up to help foster kids, and nobody had to guess where the inspiration came from.
In a closing message, Jonathan urged other kids waiting for their own final homes not to worry even if "it takes a long time" because they will find their perfect family.
Meanwhile, an update from the family in 2021 revealed that Jonathan, Benjamin, and Madeline also now get to be big siblings to a new baby brother named Finnegan. Fortunately, everything is still going well for the bunch, and hopefully, nothing changes.
Please fill in your e-mail so we can share with you our top stories!