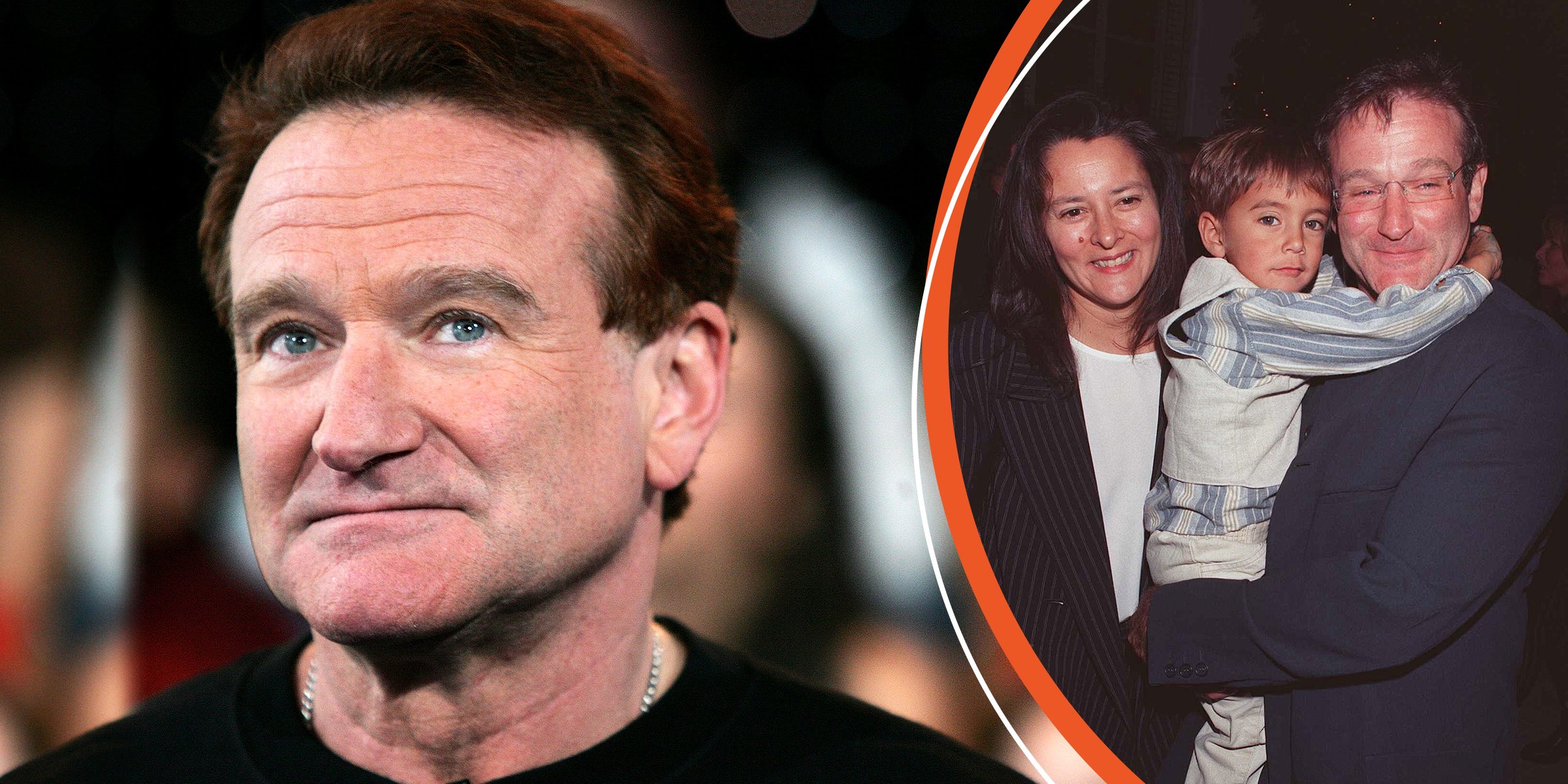 Getty Images
Robin Williams' 1st Wife Was Pushed Out of Kid's Life by His 2nd Wife Who Initially Was His Son's Nanny
Actor and comedian Robin Williams was notable for putting smiles on the faces of his audience. However, the entertainer was not that successful in his love life. He divorced more than once and even banned his first wife from their son's life.
Robin Williams remains one of the greatest comedians ever in Hollywood. Although he did not have the bad boy demeanor, his uncensored mouth, ability to mimic any character, and striking blue eyes were enough to make him a favorite.
At the same time, the celebrity's love life was intriguing. At 35, he had already been married for nearly a decade to Valerie Velardi, with whom he shared a son, Zachary.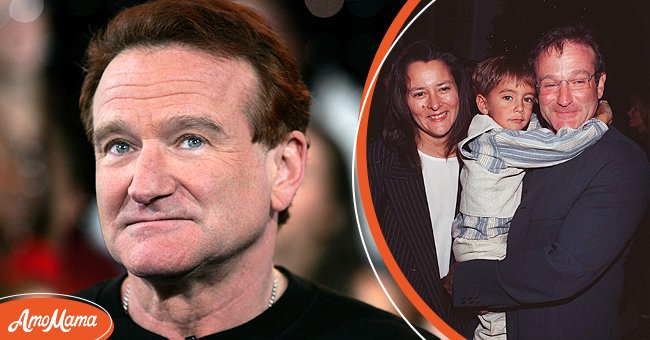 [Left] Robin Williams appears onstage during MTV's Total Request Live at the MTV Times Square Studios on April 27, 2006 in New York City; [Right] Robin Williams with his wife, Marsha Garces and their son, Cody at the premiere of his new movie, "Jumanji."| Source: Getty Images
Unfortunately, while celebrating the release and remarkable success of his "Good Morning, Vietnam" film, Williams struggled with an unsettled mind; his first marriage was strained due to his infidelity, and they sought to separate.
Eventually, the actor and Velardi proceeded with an out-of-court settlement while deciding to share custody of their son. Not long after the separation, the comedian married Marsha Garces in 1989 while she was pregnant with their daughter, Zelda.
Garces had been employed as his son's nursemaid by Velardi. So it was not strange to have the press publish that their affair triggered the divorce. However, Velardi confirmed that it started after their separation.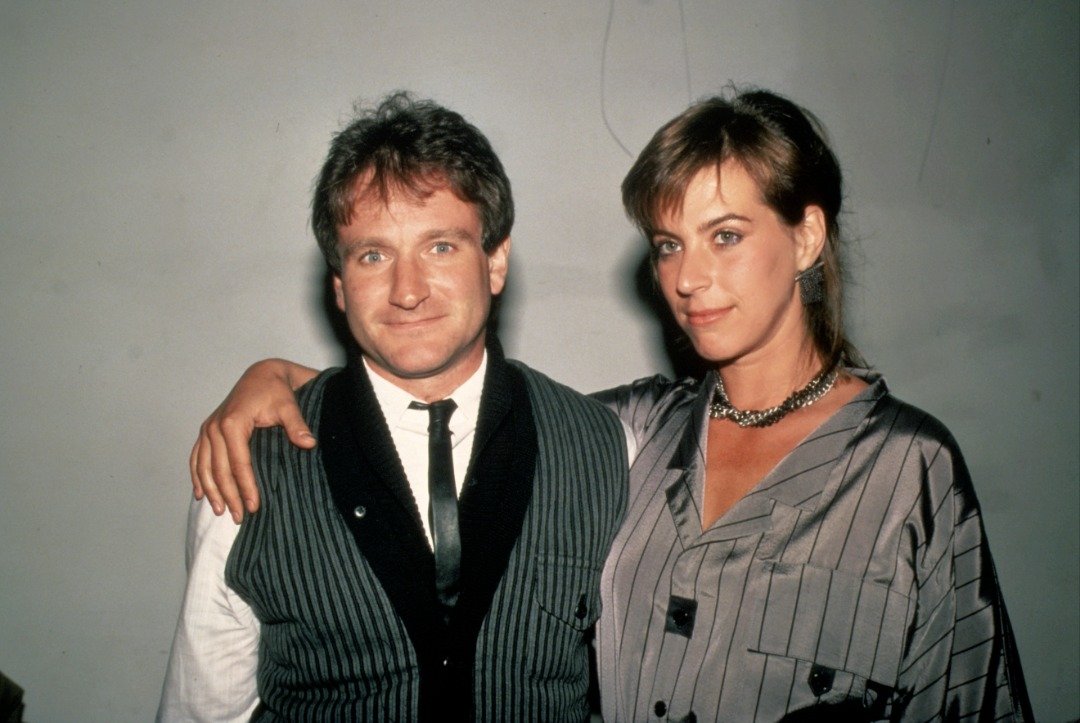 Robin Williams and wife Valerie Velardi circa 1984 in New York. | Source: Getty Images
WILLIAMS'S SECOND MARRIAGE TO MARSHA GARCES
Garces has a Filipino-Finnish origin, and before working as a nanny, she trained as a painter and served as a waitress.
However, her marriage to the actor brought her to the spotlight. The former nanny became her husband's secretary, anchor, and producer. While she served him, she showed genuine concern for his growth.
Garces's impact on Williams' life was profound that even his co-stars noticed it. Paw Dawber, who acted alongside the comedian in "Mork and Mindy," mentioned that her colleague's wife was dutiful.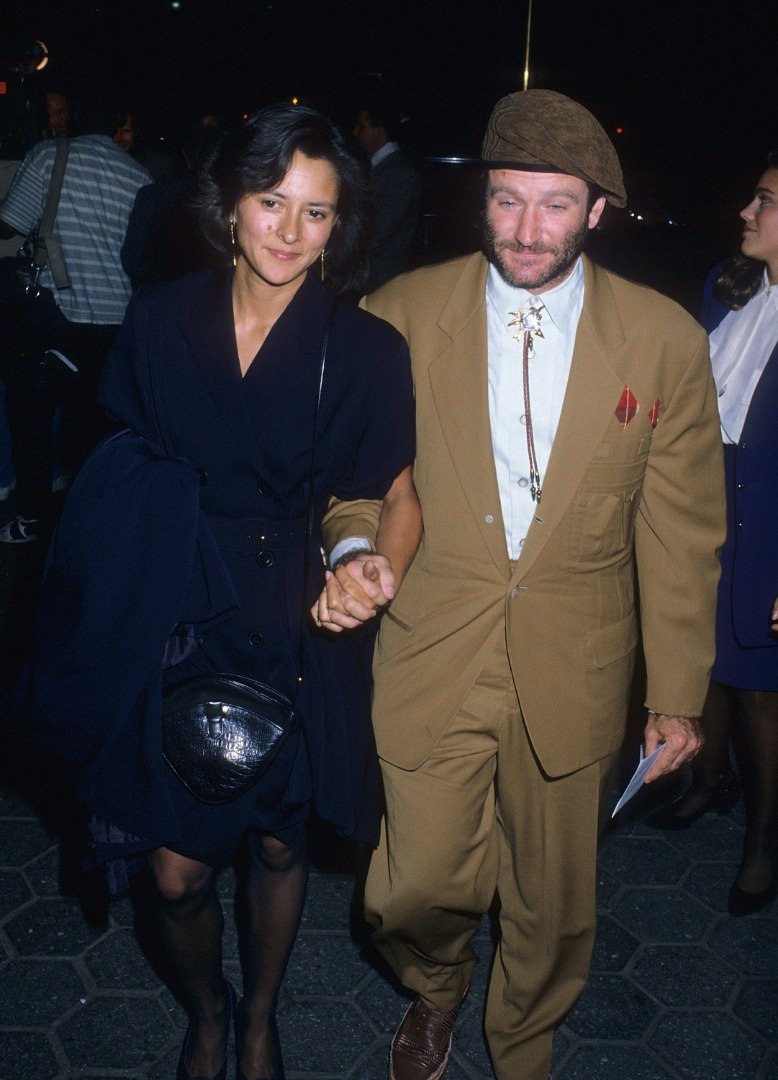 Actor Robin Williams and girlfriend Marsha Garces at the "Memories of Me" Premiere Party on September 22, 1988 at the Tavern on the Green in New York City. | Getty Images
Dawber used other unique adjectives in portraying Garces's impressive work ethic, and Mark Johnson, producer of "Good Morning, Vietnam," corroborated these claims.
Indeed, Williams' second wife nursed him with her love for an incredible amount of years, which was accepted and reciprocated by the actor. While the two lovebirds could not get enough of each other, Williams and his first wife had a slightly challenging relationship.
Although Velardi told the press that their co-parenting game was pleasant, Williams disagreed. The actor acknowledged that the split was difficult, but it ended amicably. However, he revealed there was tension in the family; Velardi was upset that a former nanny usurped her.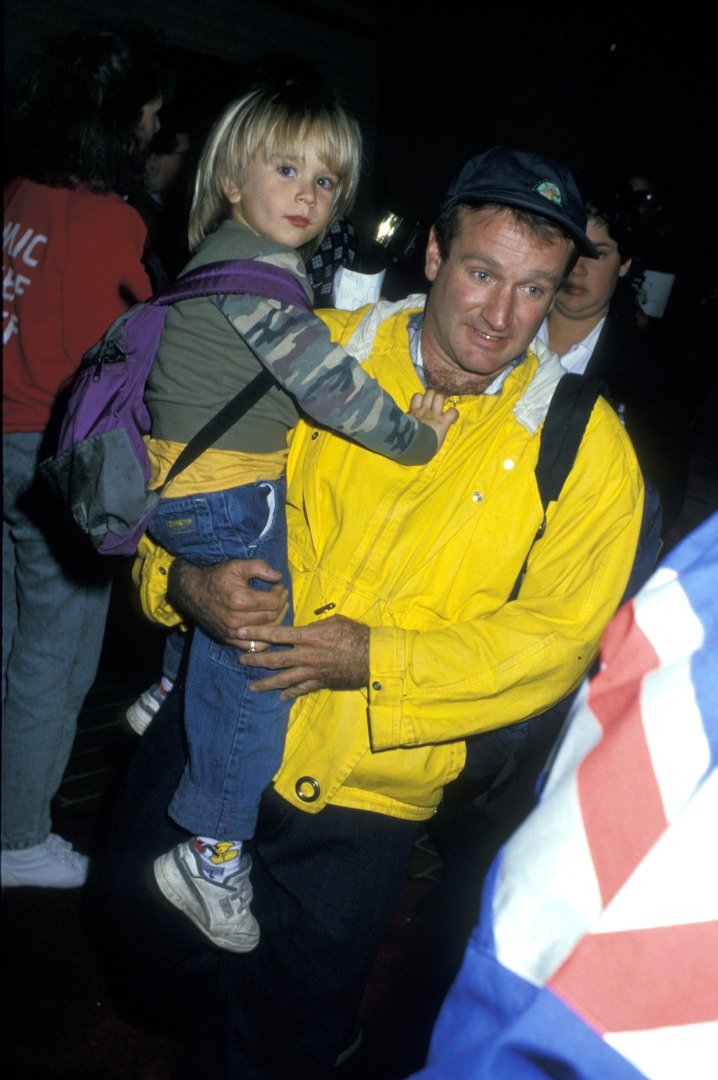 Robin Williams and his son, Zachary Williams. | Source: Getty Images
Despite the nearly invisible bad blood between them, Zachary enjoyed his parents' love. That was not all; the young man was lucky enough to have a compassionate stepmother who cared for him sincerely, raising him alongside his two half-siblings.
Williams's growing family did not deter him from noticing his firstborn. They bonded so well, and he gushed about how bright his mini-me was as a child. The only thing that bothered the actor was that the tension between him and Velardi might affect Zachary.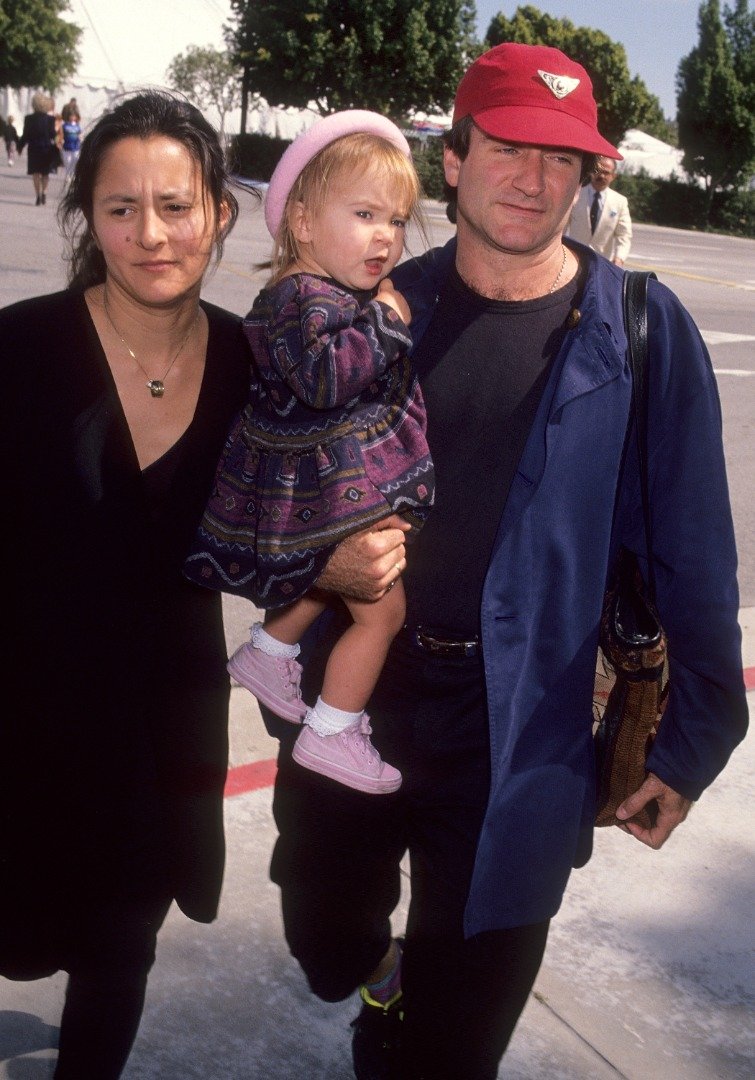 Actor Robin Williams, wife Marsha and daughter Zelda at the "Teenage Mutant Ninja Turtles II: The Secret of the Ooze" Universal City Premiere on March 17, 1991 at Cineplex Odeon Universal City Cinemas in Universal City, California. | Source: Getty Images
Sadly, Velardi was also worried about her son. She mentioned that Garces and Williams treated her like an outcast, adding that her former employee "created a schism" between her and Zachary.
However, they limited her from entering their house, which made Velardi give up her child and disappear for a long time. Velardi's absence did not affect Garces or Williams' treatment of her son.
Instead, the family became close, and a bond was created between Zachary and his siblings, Zelda and Cody Alan. The trio had an invaluable connection with their father until he died in 2014. Williams was also proud of his kids and often praised them.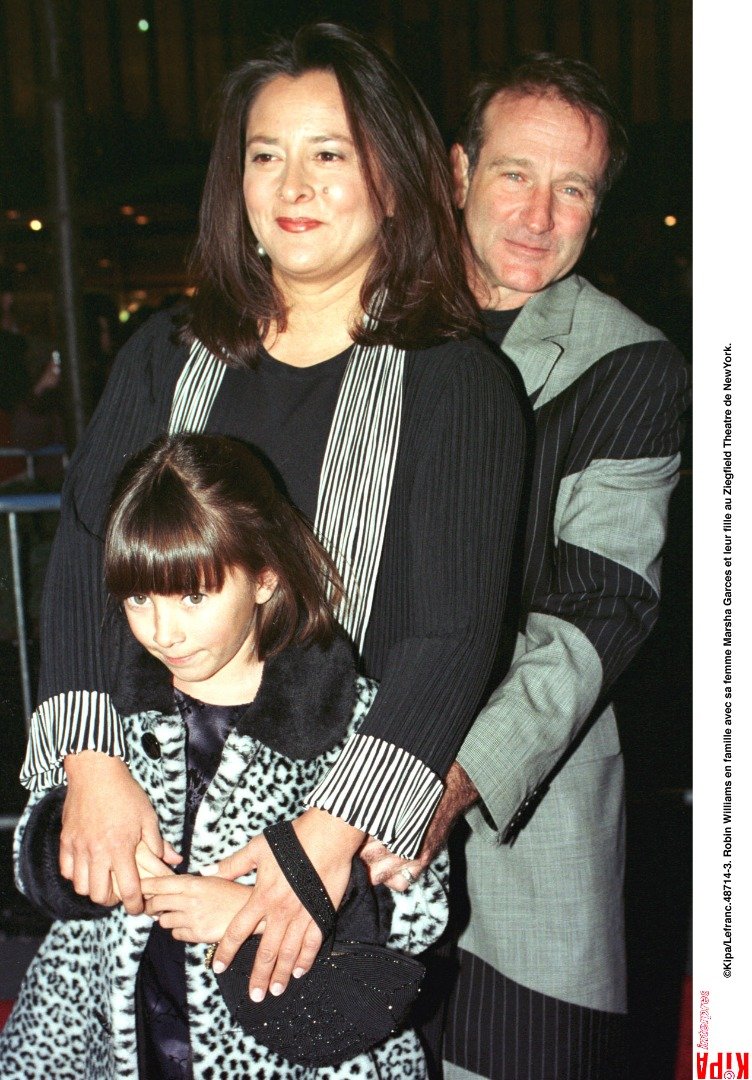 Robin Williams, his wife, Marsha Garces, and his daughter. | Source: Getty Images
WILLIAMS AND GARCES' SHOCKING SPLIT
This was one of the most shocking separations in the history of Hollywood. After spending nearly two decades as a power couple, the pair separated in 2007.
The following year, Garces filed for divorce, citing irreconcilable differences. Close friends explained that their relationship changed after Williams' alcohol relapse in 2006.
He had been sober for twenty years, and choosing to welcome the urge to drink rather than enjoy the love in his marriage hurt Garces.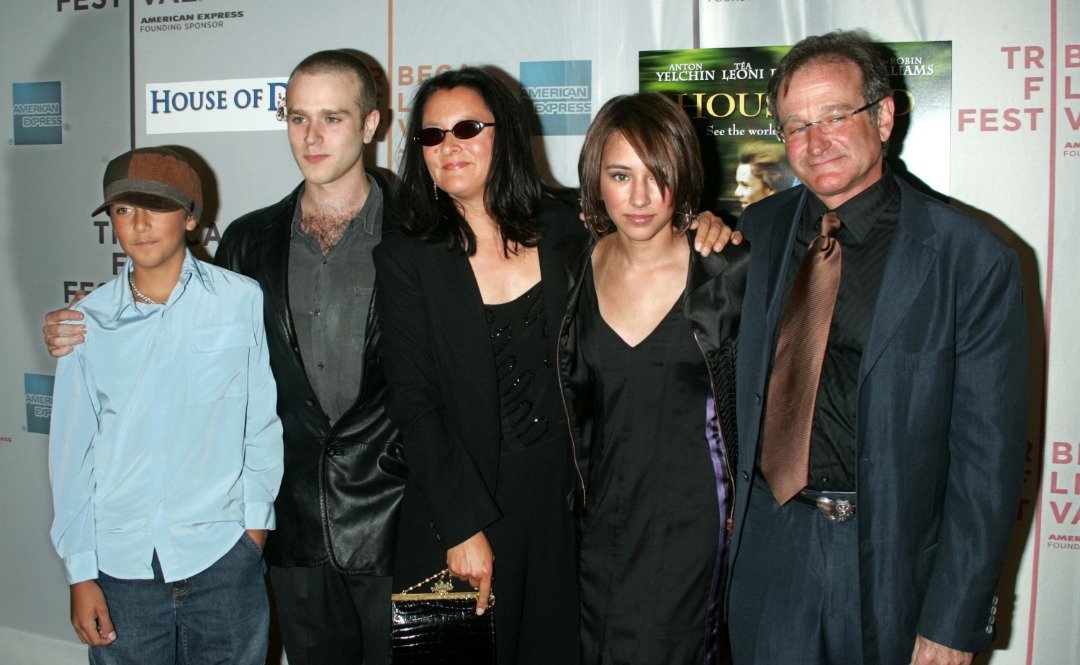 Robin Williams and wife Marcia with their children Zelda, Cody and Zac at the Tribeca Performing Arts Center in New York City, New York. | Source: Getty Images
Their divorce was amicable, and Williams had nothing but praises for his ex-wife. He maintained that she was supportive till the end, helping him through his addiction and rehab.
The resolve to end things hurt both parties, including their children. However, the former lovers focused on healing by advancing their careers.
Garces remained rooted in showing care as she worked as a philanthropist in San Francisco. At the same time, her ex-husband returned to TV and married again.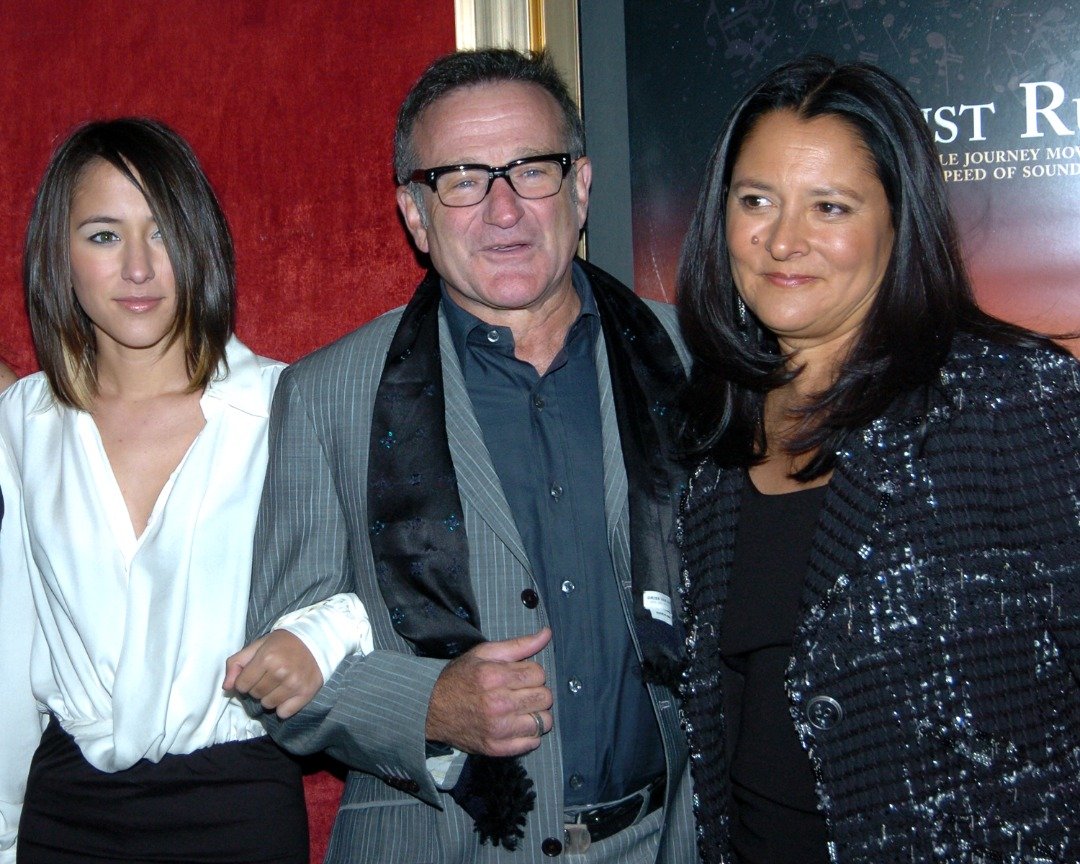 Robin Williams with wife Marsha and daughter Zelda attend the NY Premiere of "August Rush" held at the Ziegfeld Thea. | Source: Getty Images
Unfortunately, emotions were not the only thing lost in this divorce. Despite how amicable his two divorces were, the actor recalled that they cost him a chunk of his wealth: more than 20 million dollars.
Garces, who produced three films for him, requested an equal share of his fortune, alongside primary custody of their youngest son, Cody.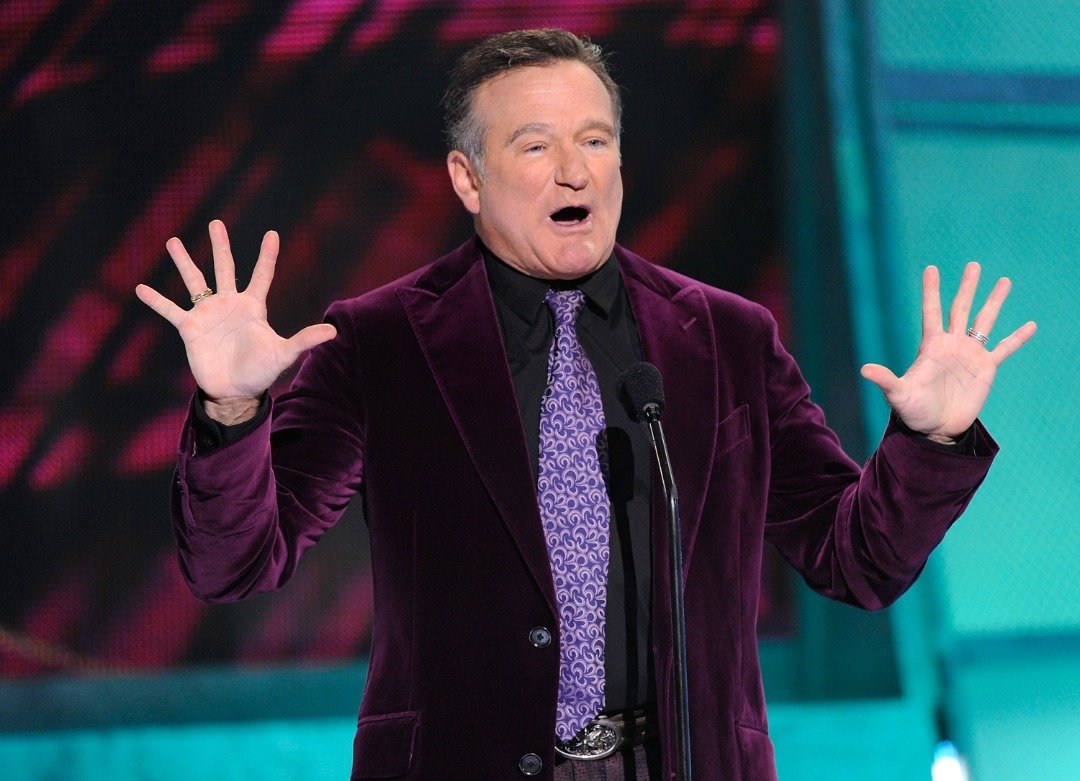 Robin Williams speaks during the 35th Annual People's Choice Awards held at the Shrine Auditorium on January 7, 2009 in Los Angeles, California. | Source: Getty Images
ROBIN WILLIAMS' DEATH BROUGHT PAIN TO THE FAMILY
Williams' death was as shocking as his divorce. The bubbly, razor-tongued comedian and impeccable actor committed suicide at age 63, in his Paradise Cay residence, in 2014.
Before his death, the "Good Morning, Vietnam" star had been misdiagnosed with Parkinson's disease and struggled with depression.
The autopsy showed an absence of illegal drugs in his system, leading many to believe that the actor died because of his Lewy body dementia that stimulated slowed response, physical stiffness, and depression.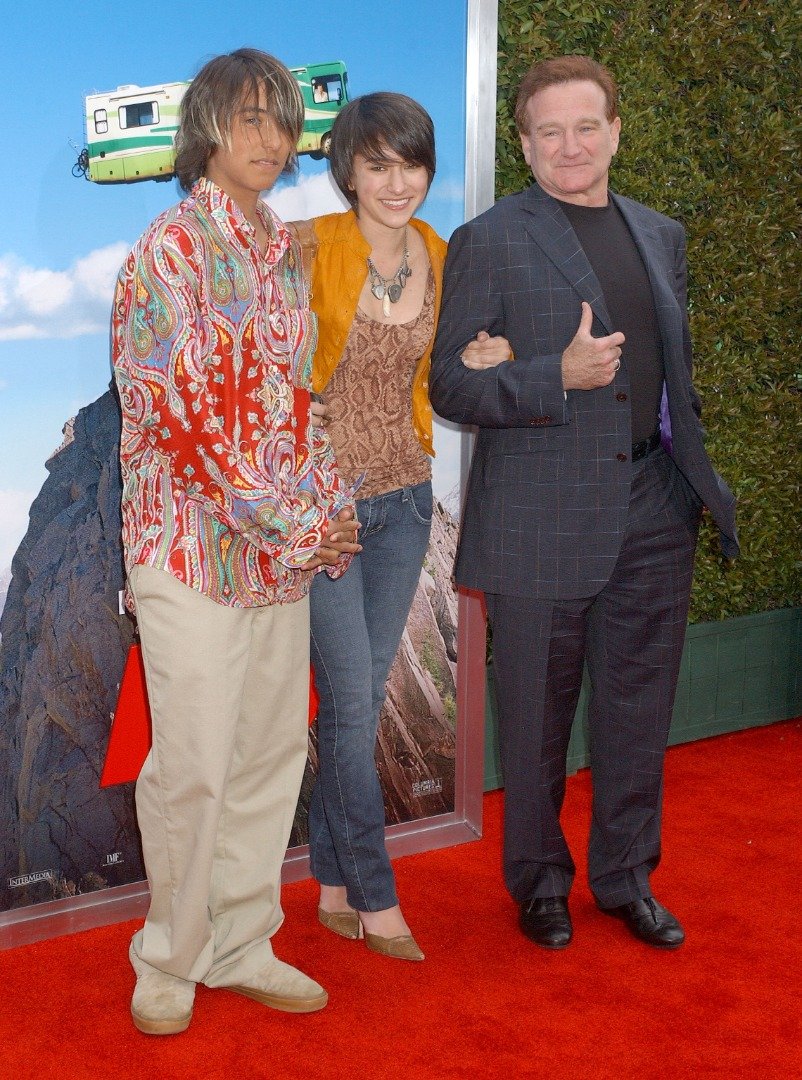 Robin Williams, daughter Zelda and son Cody during "RV" Los Angeles Premiere - Arrivals at Mann Village Theatre in Westwood, California, United States. | Getty Images
Following the tragedy, his kids, his second wife, and his third wife, Susan Schneider, expressed their nerve-wracking emotions.
Garces confessed that she was devastated by the news. However, she charged her audience to remember the unique qualities of her former partner, including his intelligence and generosity.
Schneider, the actor's widow, was "utterly broken" and asked for privacy to mourn her "best friend." She wanted the world to remember his contributions to the entertainment industry rather than his demise.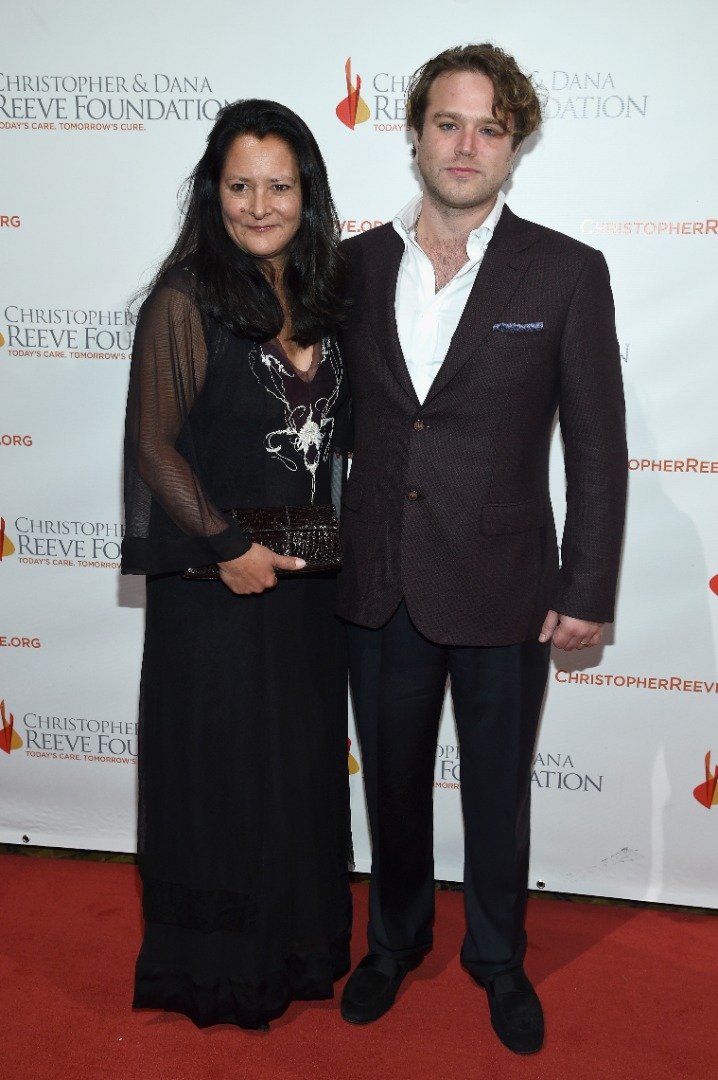 Marsha Garces and Zachary Pym Williams at The Christopher & Dana Reeve Foundation 25th Anniversary "A Magical Evening" Gala on November 19, 2015 in New York City. | Source: Getty Images
Zachary, Zelda, and Cody shared how the news affected their lives. However, they promised to advance his legacy and celebrate his impact.
Indeed, Williams was a great man who lived a fulfilling life despite two failed marriages. He was an excellent entertainer, a loving father, and a gentle husband who will remain in the hearts of many.
The National Suicide Prevention Lifeline is 1-800-273-8255. Other international suicide helplines can be found at befrienders.org.
Please fill in your e-mail so we can share with you our top stories!