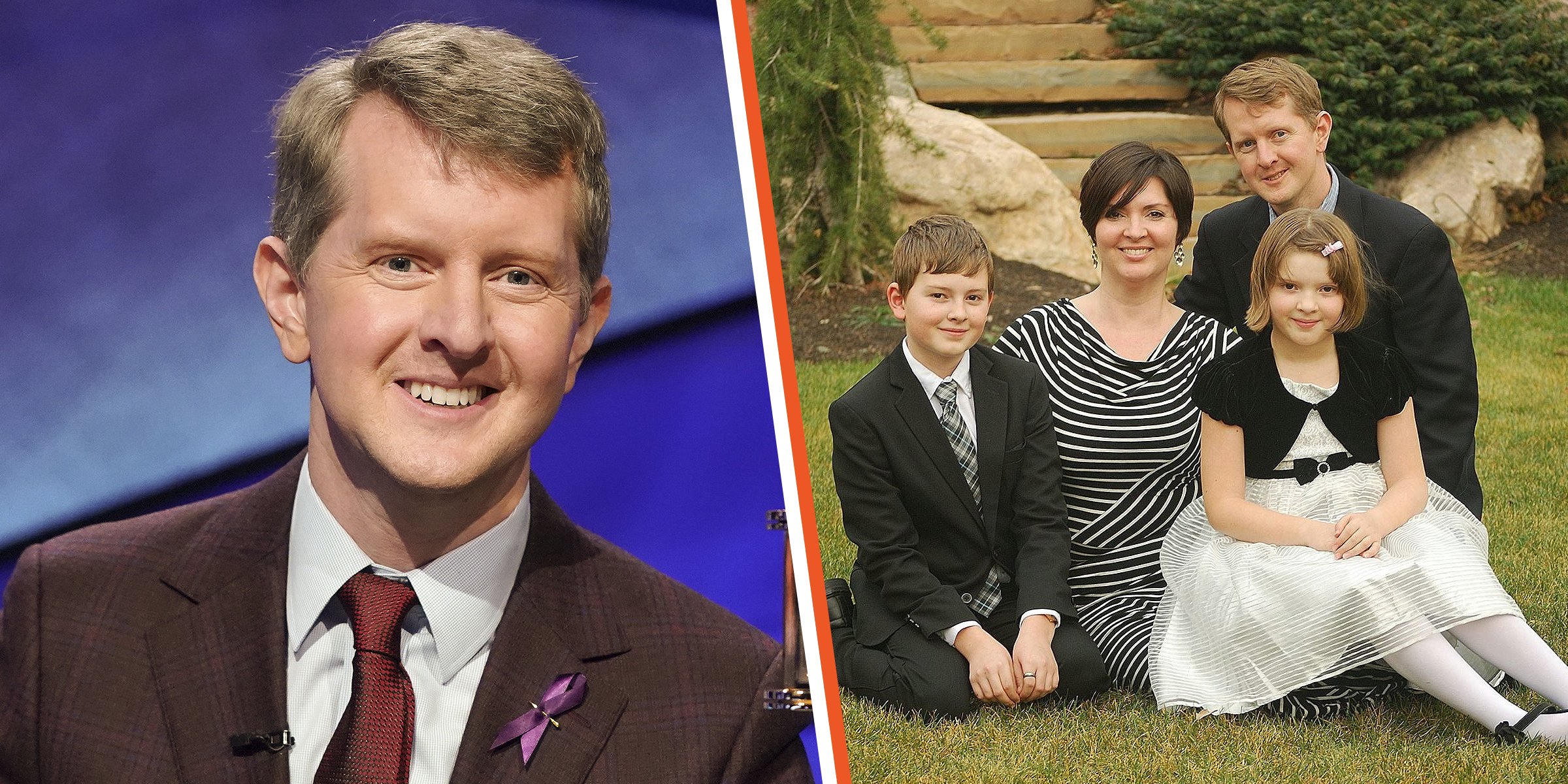 Ken Jennings | Ken and Mindy Jennings with their kids | Source: Getty Images
Ken Jennings Took 9 Months to Ask Wife for a Date - To Avoid Divorce He Told Her His Secrets about 'Jeopardy!'
While in college, Ken Jennings met and fell in love with his wife, Mindy. He worked as a software engineer, and she worked as a school teacher soon after they married — until "Jeopardy!" changed their lives.
"Jeopardy!" champion Ken Jennings met his wife, Mindy, while they were in college. They share two children and net winnings of over $2.52 million from his record-setting 74 victories from the show. Since then, he has created new career paths for himself.
Ken has written several books, started a podcast and blog, and has been active on social media. Mindy and his children have been the subject of many of his stories, and it seems the close-knit family is yet to create even more anecdotes for him in the future.
KEN FELL IN LOVE WITH HIS COLLEGE SWEETHEART
Ken was born in 1974 outside Seattle, Washington. His family spent 15 years in Singapore and Korea, where his father worked as an attorney. In 1996, he transferred to Brigham Young University (BYU) from Washington State, and that's where he met Mindy.
After graduating, Mindy was a theatre major at BYU and worked as a preschool teacher. Ken majored in English and computer science and pursued a career in software engineering. While in college, Ken took nine months to ask Mindy out after telling his roommate that he liked her.
But after plucking up the courage, the pair dated and got married in 2000, shortly after graduating. Mindy recalled how Ken was never arrogant about his intelligence: "He mostly wanted people to know he was funny," she said. "He's not the type of person who wants you to know he knows everything."
MARRIED LIFE: SECRETS, CARPOOLING & YOGURT
While Ken was working in Utah as a software engineer, he auditioned for "Jeopardy!" but it took a year for the show to get back to him. "I totally forgot about it, and suddenly I'm sitting at my boring job, and a guy from 'Jeopardy!' calls me. He was basically like, 'Hey, you're going to be on the show in three weeks.' I panicked," he recalled.
Since the shows were taped months before they aired, Ken always called his wife to tell him the outcomes of the episodes soon after wrapping up taping. "She was always my first call when I got back to the Sony parking garage," he said.
He also had to tell his boss about his participation to avoid getting fired, but he kept the secret from his colleagues, friends, and family. He also told his wife about the "Jeopardy: Greatest of All Time Tournament" because he didn't want her to divorce him, but everybody else remained clueless:
"But my kids didn't know, my parents didn't know. We totally kept it under wrap, I just thought it would be more fun for them to have the surprise, and it was a lot of fun watching it together."
As he became more recognizable, other contestants on the show started disliking him. "I wasn't being a jerk, and I wasn't playing games with anybody. I was trying to be nice. I would always make sure I held the door open for people, but they were going to dislike me anyway. And that's fair enough," he said.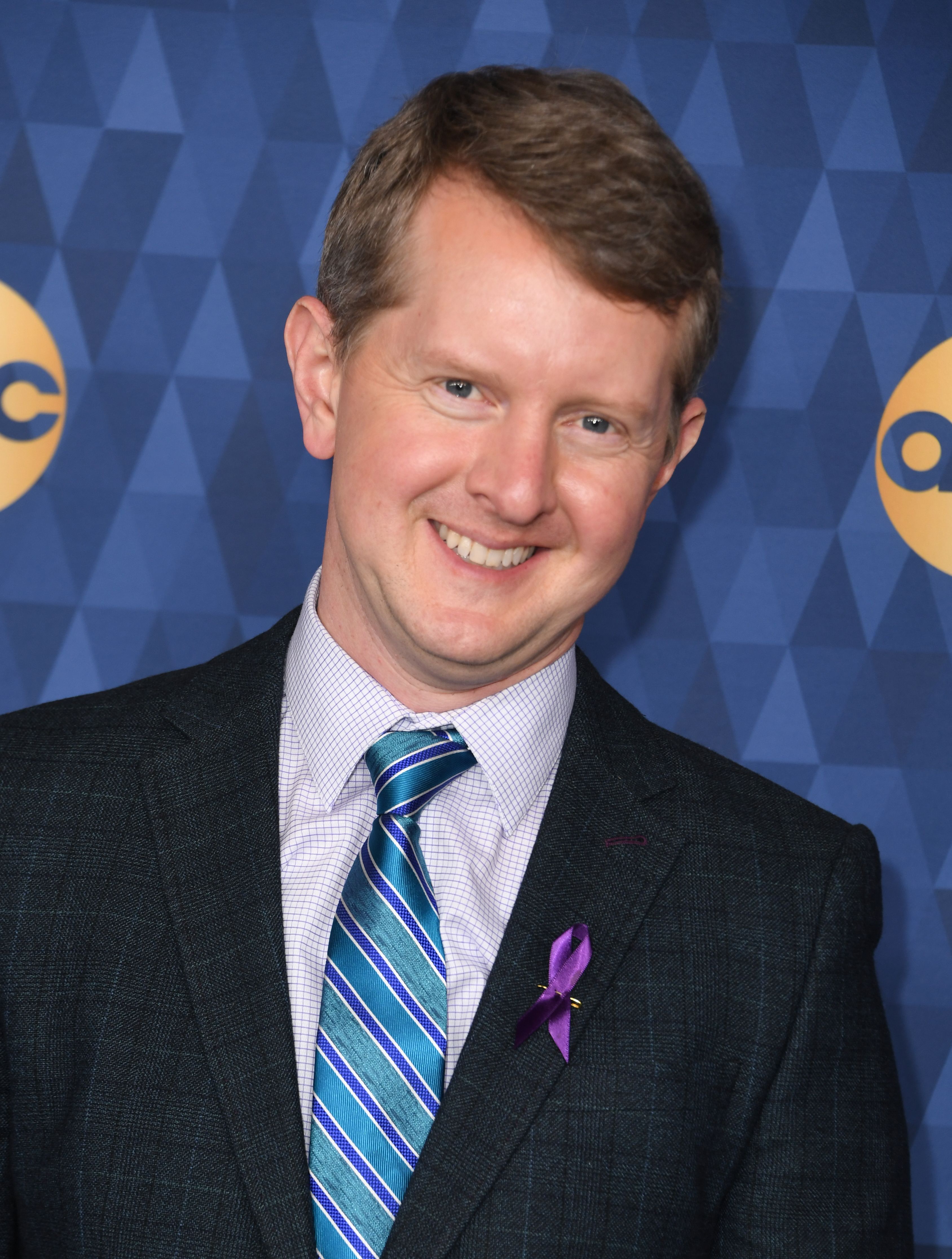 "Jeopardy!" champion Ken Jennings attends ABC's Winter TCA 2020 Press Tour in Pasadena, California, on January 8, 2020. | Source: Valeri Macon/Getty Images
Ken described that since he and Mindy have flexible work schedules, they could be hands-on parents. But the family life relied heavily on carpooling, and even with only two children, someone was always being driven somewhere.
He also shared how much Mindy loved Greek yogurt. "Like most American men in a committed relationship, I have an entire shelf in my fridge devoted to yogurt, even though the last time I opened and ate a thing of yogurt, I think I was watching The Arsenio Hall Show at the same time," he said.
THE COUPLE'S PARENTING IS FULL OF ANECDOTES
Ken and Mindy had their first child, Dylan, in 2002, two years before he shot to fame on "Jeopardy!" Their daughter, Caitlin, was born in 2006. Ken said that the kids were planned, but everything after that was not part of the plan:
"My career change has been the biggest surprise. I was a perfectly happy suburban dad and computer programmer back in 2004, the year I turned thirty. I was not expecting to win...for six months straight and start a new career as a writer and professional know-it-all."
Ken started the "Ken Jennings Blog" shortly after his 74-streak win, where she shared anecdotes of his family life. One of the entries from 2009 is entitled "Bewildering Conversations with a Six-Year-Old," where he detailed a conversation between himself, his wife, and their son Dylan.
He was about to leave for the airport in the entry, and he told his wife that the verbena they had planted was dying. Mindy suggested that they install sprinklers, but Ken explained that he was watering them by hand every day.
"Whatever it is, it isn't water," Ken said. Dylan stared fascinatingly at the watering can and said, "maybe it's lemonade." The couple also shared some of their parenting tips which allow them to have valuable child-free time to enjoy together.
"We have a pretty hard-and-fast rule that the kids have to be in their rooms around 8:30 or 9. They don't have to be asleep, but devices stay plugged in downstairs, so they actually have to do something boring like read a book," Ken said.
MINDY'S ADVICE CALMED KEN'S NERVES AFTER HIS FIRST DAY AS A "JEOPARDY!" HOST
After long-time host Alex Trebek passed away in 2020, Ken stepped in as one of a series of interim hosts. This task left Ken feeling nervous about how well he would do. "I'm with the audience. I don't want to see me out here. I want to see Alex out here. I know exactly how they feel when they see anybody else behind this lectern," he said.
Ken told his wife that he could not measure up to Alex Trebek. "Of course not. But do you think you might stand up to what he did on his first day?" she asked him. This advice calmed Ken down and reminded him that he didn't have the same 37 years of Alex's experience.
Ken shared his admiration for the legendary late host and added that no one would ever replace Alex, but fans and interim hosts could honor his memory by playing the game he loved, and he was happy to help out.
Please fill in your e-mail so we can share with you our top stories!