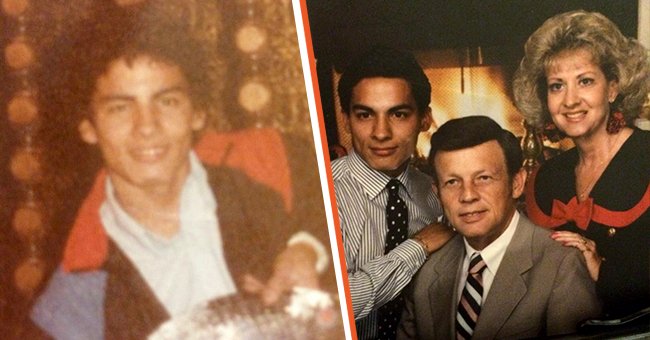 facebook.com/linda.hooper.146
Woman Wants to Quit Job So She Won't Have to Teach a Problem Child, Ends up Adopting Him
When an elementary school teacher came across a mischievous student, her patience was tested, and all she wanted to do was quit her job. Unbeknownst to her, the boy she couldn't tolerate would become an inseparable part of her life one day.
Having a change of heart isn't easy, but sometimes, it might prove to be a soul-stirring occurrence. Nothing lasts forever, and surprisingly enough, our feelings and perceptions about people might likely change over time.
A veteran elementary teacher, Linda Hooper, went through a similar situation, and much to her astonishment, the experience changed her life for the better.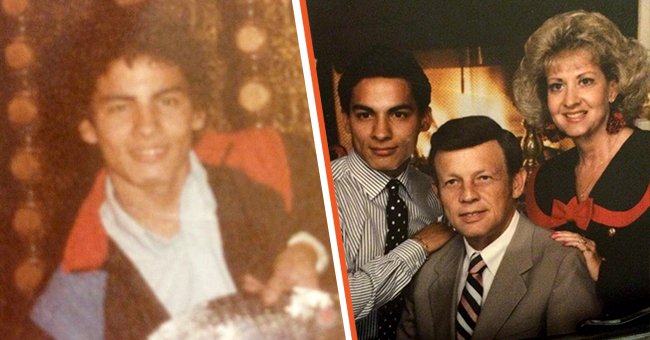 [Left] Cruz Hooper pictured as a young man; [Right] Cruz pictured with his adoptive parents, Gale and Linda Hooper. | Source: facebook.com/linda.hooper.146
It all began in the fall of 1981 when Linda's path crossed with an unusual student at Brown Elementary School in Lubbock, Texas. She recalled being previously warned about his troubling behavior before experiencing it firsthand. Linda revealed:
"He had outbursts, threw chairs. If a child touched him, they'd be down on the floor in two seconds."
The student's name was Cruz Riojas, and he had quite a reputation for stirring up chaos and unrest in every class. He lagged academically and was two years behind in reading. Cruz also had dyslexia and was considered a special education student.
By the time Cruz reached sixth grade, everyone had become aware of his notorious antics. He continued to wreak havoc, and handling him became an enormous challenge. Moreover, his ill behavior sometimes jeopardized his peers.
Here's another story that you might like, and it's about a teacher who adopted a boy after learning he couldn't attend school because of a severe autoimmune disease.
Linda, who had already been warned about Cruz being a "holy terror," became so fed up with his behavior that she went straight to the principal's office and said, "If you put that Riojas kid in my class, I'm going to quit."
The then-12-year-old Cruz was an infamous classroom legend, and nobody wanted him around. While Linda couldn't make good on her promise, she later revealed she wasn't joking then and wanted nothing to do with Cruz.
But the nagging question was: What was the underlying cause behind Cruz's behavioral issues? It seemed his troubled home life was to blame for his disciplinary issues. The boy lived with his biological mother, her "husband No. 5," and four half-siblings.
Sadly, his stepfather subjected him to constant abuse and torture, which took a toll on his emotional and mental well-being. Cruz wore the same green pants, striped shirt, and his sister's shoes to school every day.
Linda said she saw Cruz changing over time. He began asking her if he could help around the classroom. Soon afterward, the teacher and pupil connected beyond classroom hours, and Linda's husband, Gale Hooper, hired him to do odd jobs at their home for cash.
The schoolboy became so fond of the Hoopers, and he often ran 7.5 miles from his house to theirs whenever he fought with his stepfather. His home life continued to worsen, but Linda's home became his sanctuary. Then, one snowy day in February 1983, Cruz had a horrible fight with his stepdad.
His birth mother packed all his stuff in a cardboard box and asked Linda if she could keep him until things settled down. Days turned into weeks, months, and then years, but Cruz never left the Hooper house.
Nobody saw it coming, but almost 35 years later, Cruz and the Hoopers were practically inseparable. Linda said she was particularly grateful to her husband, a retired firefighter, for never questioning her decision to let Cruz stay.
Linda recollected the first time Cruz stopped calling her "Mrs. Hooper." The Lubbock teacher said she was in a grocery store with him, and he wanted everyone to know she was his mother. She shared he repeatedly called her "mom" to get everyone's attention.
Thanks to Linda, Gale, and another devoted teacher, James Harris, Cruz moved out of the special-education program and graduated with his peers. But as time went by, Linda said she developed another fear — she didn't want to lose Cruz. She recounted:
"Until he was about 16, I lived in absolute total fear that there would be a knock on the door saying, 'He is not yours. We want him back. There's nothing you can do about it.' And I would've had to give him up. I had no rights at that time."
The Texas woman said that Cruz hurt his knee one day, and the doctors refused to treat him without a parent or legal guardian present. She then called his birth mom and got her permission, after which Cruz received his emergency treatment.
By this time, Cruz was a teenager but had still not turned 18. Linda mentioned that even though her mom and friends loved Cruz, it was a different era back then, and white people didn't adopt Mexican kids in the early 80s.
No formal adoption happened, even though Cruz asked the Hoopers several times if he could change his last name. Cruz, who graduated from Texas Tech University, called Linda shortly before his 30th birthday and said he wished to be adopted.
Cruz initially thought he was a little too old for adoption, especially after marrying his wife, Anel Montemayor Riojas. In an official adoption ceremony on January 5, 1998, Cruz and Anel legally became part of the Hooper family and changed their surname from "Riojas" to "Hooper."
Linda and Gale, who were already parents to four girls, were delighted to have a son. At the time, Linda expressed:
"He said he wanted to honor us, and it was a big honor. I've always known he loved me, but this really showed he loved us."
Later on, Cruz found a job at a payroll company, Corporate Solutions, in San Antonio and moved there with his wife and his two children. His adoptive parents stated that they were incredibly proud of him.
A LIFE-ALTERING EXPERIENCE
Linda revealed that Cruz remarkably changed her life and the way she taught for 18 more years before retirement. Linda admitted she never imagined that a boy who caused her immense discomfort once would become an integral part of her life.
Cruz explained that he was determined to teach his children about their Mexican history and the Hooper family's culture and traditions. He also thanked Linda and Gale for accepting him into their hearts and changing his life. Further, he added:
"My parents taught me to never give up. Just persevere. My father would always say, 'The light at the end of the tunnel isn't always a train. It's a light, and move toward it.'"
The heartwarming story of Linda and Cruz teaches us that love, acceptance, and empathy are powerful enough to change people and forge profound and everlasting connections. Don't forget to share this beautiful story with your loved ones.
Here's another story that you might like and it's about a teacher who adopted a boy after learning he couldn't attend school because of a severe autoimmune disease. Click here to read the whole story.
Please fill in your e-mail so we can share with you our top stories!