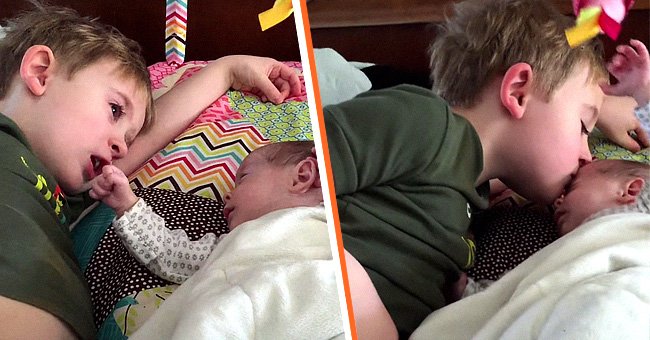 youtube.com/Corey Johnson
4-Year-Old Boy Starts to Cry While Singing Lullaby to Preemie Sister after She Almost Died
When a little boy finally got the opportunity to lay down next to his baby sister, he couldn't hold back his tears as he sang her a lullaby and lovingly gazed into her eyes. Please keep reading to discover the reason behind his emotional reaction.
Children are known for their playful nature, innocence, and loving hearts. They are also quick learners and keen observers who enjoy noticing their surroundings and often pick on information and emotions from the people around them.
The same was true for a four-year-old boy, whose enormous heart was swept over by a wave of sentiments that came rushing to the surface when he saw his little sister.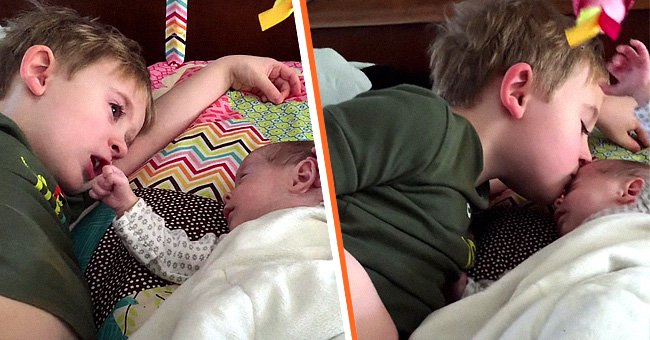 [Left] A teary-eyed Kashton gazes into his sister, Ellis's eyes; [Right] Kashton gently kisses Ellis. | Source: youtube.com/Corey Johnson
When Kashton Johnson from Orlando, Florida, learned that he had been promoted to the status of a big brother, his excitement knew no bounds. He finally had an adorable little sister to play with, baby Ellis, and nothing could be sweeter than that.
However, there was something profoundly unique about how Kashton regarded Ellis, and the siblings shared a special connection that couldn't be put into words. Their mom, Corey Johnson, was deeply moved, seeing her kids get along so well.
A TRAUMATIC BIRTH EXPERIENCE
Baby Ellis's arrival was quite unusual and would forever remain etched in the minds of the Johnson family. She was born prematurely and weighed only two pounds, three ounces at birth.
The mother and daughter duo battled for their lives after enduring a traumatic birth experience, and their family struggled to get back to normal given the nightmare they had lived.
Baby Ellis had a pretty rough beginning, and there were moments of sheer uncertainty where the family didn't know whether she and Corey would come back home.
According to Corey, her daughter was born without a heartbeat, and while the doctors worked to resuscitate her, Corey's heart stopped, and she slipped into a coma. She gained consciousness after three days and finally met her daughter.
Ellis then spent two long months recovering in the NICU and returned home safely in 2015. Corey further mentioned:
"Kashton, her [Ellis's] big brother, was only allowed to see her once in the beginning when we weren't sure if she would survive, and then once at the end of her stay when we knew she was coming home."
A LITTLE BOY WITH A BIG HEART
Kashton silently watched the events unfold around him and absorbed the strong emotions flowing through his family while they waited for Corey and Ellis to come home.
The little boy was deeply impacted by seeing his mom and sister fight for their lives, and the life-altering experience left a lasting impression on his mind and heart. The mom-of-two also expressed:
"I feel like my son was overcome with emotion because he could finally lay next to his baby sister and hold her hand. He had witnessed so much in those two months. I can only imagine this was a moment of sweet relief that we were all together again."
Corey was proven right when she had a first-hand experience of seeing Kashton interact with Ellis and one that she captured and shared with the world. The short video clip showed the older brother lying next to his baby sister.
"What's wrong with your eyes?" asked Corey as she noticed her son crying. "I'm crying 'cuz it's good," chimed the little boy while staring into his baby sister's sparkling eyes.
When Corey told Kashton he would move her to tears too; he responded, "I'm crying 'cuz it's good. It's so beautiful, like this, with Ellis." The doting mom watched her son sing a sweet lullaby to her girl, after which he gently kissed her on the forehead.
Indeed, it's priceless moments like this that one lives for, and Kashton's emotional response showed his outpour of gratitude and love for having his preemie sister beside him.
Corey admitted she was a private person who preferred cherishing family moments by herself; however, something compelled her from within, and she couldn't keep herself from sharing the heart-touching video with the world. She also added:
"I don't just see a big brother loving his baby sister, I see the *beauty* of our story he refers to. To know my 4-year-old is able to feel deep emotion was breathtaking. His love and thankfulness for Ellis were almost palpable. This can only be described as true love…"
Like Kashton, another big brother couldn't keep his eyes off his baby sister and even sang her "You Are So Beautiful." The little girl was more than entertained by her elder brother's stunning performance and appreciated his presence in her own cute way.
She moved her arms and legs to record her positive feedback, cooing and babbling occasionally. The blissful moment was captured and shared online, warming the hearts of netizens far and wide.
If you ask us, these adorable kids are fortunate to have each other and hearts brimming with endless love, gratitude, and pure joy. Please spread some love and cheer and share these beautiful stories with your family and friends.
Please fill in your e-mail so we can share with you our top stories!
The information in this article is not intended or implied to be a substitute for professional medical advice, diagnosis or treatment. All content, including text, and images contained on news.AmoMama.com, or available through news.AmoMama.com is for general information purposes only. news.AmoMama.com does not take responsibility for any action taken as a result of reading this article. Before undertaking any course of treatment please consult with your healthcare provider.